Primarily now known for being a resort community, Oak Bluffs is a beautiful place to visit in Massachusetts. There are also so many things to do in Oak Bluffs Martha's Vineyard!
The island of Martha's Vineyard is beautiful and is right off the coast of Massachusetts. It's popularly visited during the summer months but can be breathtaking year-round. With fun activities, beautiful hotels and inns, and a view of the water almost anywhere you go, you can't go wrong with visiting there.
Here are all of the best things to do in Oak Bluffs Martha's Vineyard!
Have Dinner at Lookout Tavern
When visiting Massachusetts, it's pertinent that you try at least some type of seafood. Luckily, there's a place to try it in Oak Bluffs Martha's Vineyard! Head over to the Lookout Tavern, which specializes in seafood dishes.
The outside of the restaurant looks like a classic New England-style building. There's ample seating outside with umbrellas and also tons of spots to sit inside. It truly does feel like a tavern or a pub, with fun decor on the walls and dark wood accents everywhere.
The menu is filled with every type of seafood imaginable, like shrimp, littlenecks, spearpoint, oysters, and more. However, the absolute must-try dish is the Tavern Lobster Roll. They're kinda famous for it!
See the Gingerbread Houses
Believe it or not, but the Gingerbread Houses are a unique set of buildings that look just like gingerbread cottages! They feature pops of bright color, like, pink, purple, yellow, and orange accents on traditional New England-style buildings.
The buildings genuinely look like they were taken straight out of a storybook. Historically, they were built in the 19th century as a Methodist campground, but so many of the buildings from the campground are still standing today.
There used to be approximately 500 different cottages that were standing in the campground, but around 300 of them are still standing today. If you're lucky enough to visit in August, you can attend the Grand Illumination Night, when the cottages are all decorated and lit up.
Ride the Flying Horses Carousel
One of the most popular things to do in Oak Bluffs Martha's Vineyard is to ride the Flying Horses Carousel. This carousel is actually the oldest carousel in the United States that's still in use today, so it's truly a historic place to visit.
When it was first opened in the 1800s, it was actually located in New York and then got moved to its location later on. The carousel has limited operating times throughout the year, so if riding it (or at least seeing it) is at the top of your list, be sure to do some research.
Visit the East Chop Lighthouse
There are many great lighthouses in Massachusetts, and the East Chop Lighthouse in Oak Bluffs Martha's Vineyard is one of them. This historic lighthouse is a classic one that's white with black on top, like many other lighthouses in New England.
The lighthouse opened back in the 1800s and is one of the few lighthouses that's actually on Martha's Vineyard. It's open seasonally throughout the year, normally at sunset. Many people will stop by to see the lighthouse in the evening and then watch the colors of the sky change while they're there.
Occasionally, there is work being done on the lighthouse to keep it in tip-top shape. If that's the case, the lighthouse may be closed to the public, but this doesn't happen often.
Relax at Joseph Sylvia State Beach
No trip to anywhere along the coast of Massachusetts is complete without visiting at least one beach. So, head to the Joseph Syliva State Beach for a great relaxation time. This beach features tons of sand (about 2 miles of it) and is super serene.
If you recognize this beach, it's because it was actually used to film a lot of the original Jaws movie. The beach can get pretty busy during peak times of the day, usually right after lunchtime. To avoid the crowds, get there early, right when it opens, or come to catch the sunset.
Buy a Souvenir at The Black Dog Store
Even if you've never been to Martha's Vineyard before, you've probably heard of The Black Dog Store before. This clothing store first opened in Martha's Vineyard in the 1970s and has since grown into an entire phenomenon across the United States!
By just visiting Martha's Vineyard, you'll probably see an abundance of people wearing clothing from the store because it's just that popular. Their location in Oak Bluffs even has a cafe where you can grab a coffee and other sweets, and they open really early in the morning for early risers.
During your visit to Oak Bluffs Martha's Vineyard, be sure to stop by the store and grab yourself a souvenir to bring home. You'll fit right in with everyone else and their fun apparel from The Black Dog Store!
Walk Along Inkwell Beach
One of the most popular beaches to visit in Oak Bluffs is Inkwell Beach! This is the top place to go and relax right along the edge of the water. There's some sand where many people usually layout with a blanket and umbrella.
Because this beach is so popular, it can sometimes be hard to find a relaxing spot! Like other beaches in the area, get there early in the morning to avoid the business and at least make sure you're able to get a spot and relax.
This is a top-rated beach to visit in the area among families that are in Martha's Vineyard!
Grab a Pint at Offshore Ale Company
One of the best places to eat in Oak Bluffs is at the Offshore Ale Co! This brewpub makes seasonal drinks throughout the year and also offers tons of great food, too. It's a reasonably popular place to eat among locals and tourists.
The inside of the restaurant is made up of all dark wood, and there's a very nautical theme throughout. There are even some old boats hanging from the ceilings! In addition to the indoor area, there's a great outdoor area featuring fun lights at night as well as umbrellas if it's sunny during the day.
The menu includes all types of classic pub food. There's chicken, fries, soups, burgers, and even pizza, which is what they're well-known for. They also have lots of seafood dishes since they're right by the water, too.
Peruse Featherstone Center for the Arts
For a great indoor activity while in Oak Bluffs, head to Featherstone Center for the Arts. This art gallery is filled with great art to explore. Though it's not super large, it is perfect for those who love exploring arts and culture while traveling.
Throughout the year, Featherstone Center for the Arts offers a variety of different events. They also have classes and workshops that are hosted by different artists! Sometimes they also host fun musicians on their lawn out front as well.
Have Coffee at Mocha Mott's
Mocha Mott's is all of the locals' favorite place to grab a tasty coffee in Oak Bluffs! They also have a location in Vineyard Haven. The interior of the coffee shop is super bright and cozy. There's always fun decor on the yellow walls and it has a very comfortable feel to it.
On the menu are tons of different coffee types. They have lattes, cappuccinos, espressos, mochas, drip coffee, cold brew, and more. They also have snacks and meals in case you're hungry during your visit, like bagels, sandwiches, soup, and even chocolate-covered espresso beans, which are a specialty.
Watch the Sunset from Ocean Park
The best place to watch the sunset in Oak Bluffs is over at Ocean Park. It's actually right by the Flying Horses Carousel and the water, so it's easy to see why the view is absolutely incredible, especially as the sun is setting.
There is an abundance of green space in this park where you can sit and watch the sunset. This can also be a great place to have a picnic during the day if you just want a peaceful area to go to on the island!
Try Ice Cream from Mad Martha's Ice Cream
With a name like Mad Martha's Ice Cream, it's easy to see why the ice cream is so good! This is one of the best places to grab ice cream in New England, and for good reason. They have a location in both Oak Bluffs and Edgartown.
What makes Mad Martha's Ice Cream so different from other ice cream places in the area is because they have unique flavors. Some of their select flavors include apple fritter, Chilmark coffee, m&m cream, sinful chocolate, MV sea salt caramel, and even mocha chips. They also have a variety of different dairy-free options available as well on their menu.
Now you know all of the absolute best things to do in Oak Bluffs Martha's Vineyard! Each of these attractions is so fun and we hope that you have the best trip ever.
---
You might also like: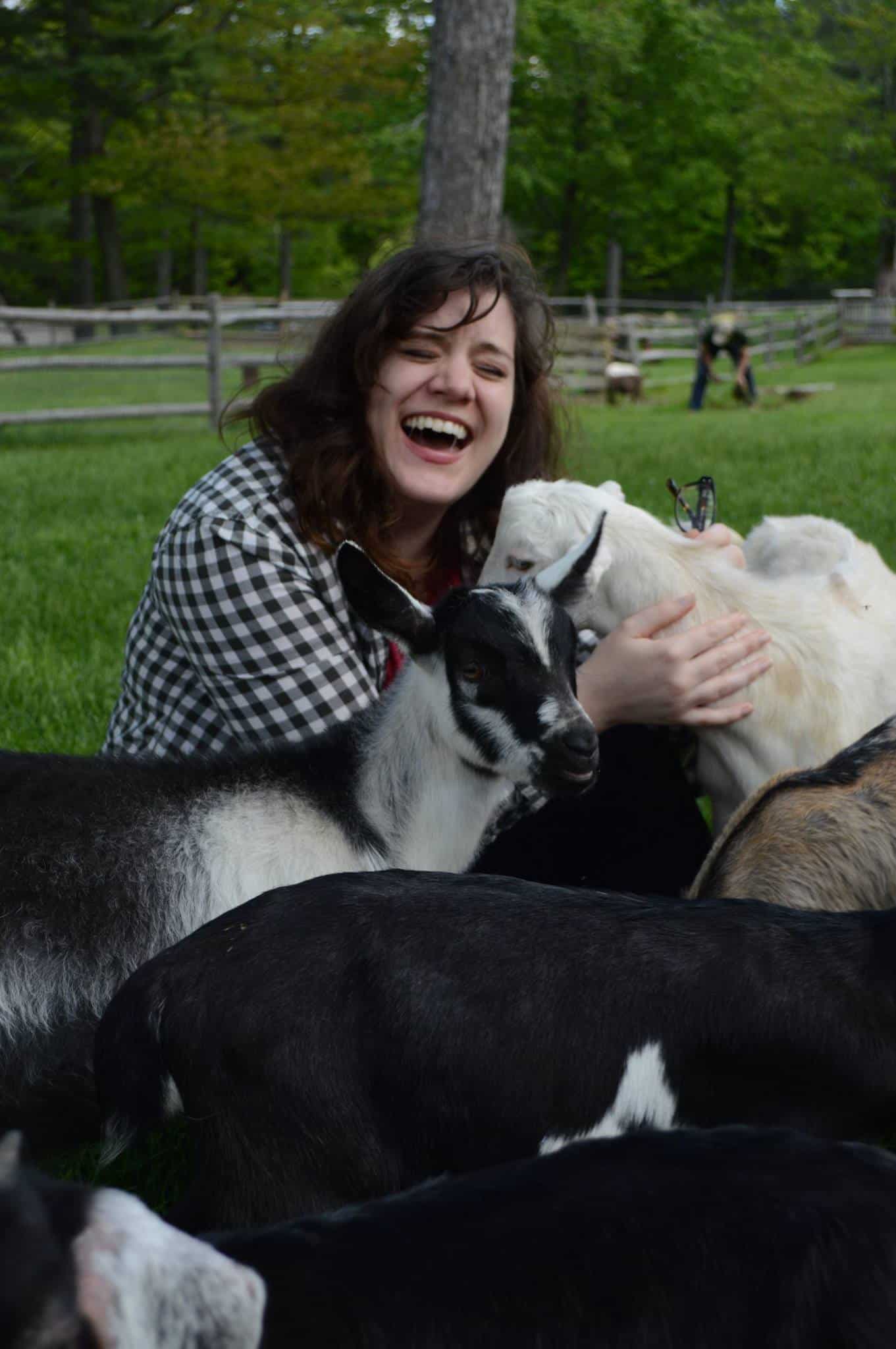 Amy Hartle is the founder and Editor-in-Chief of New England With Love, a comprehensive resource for travel in the New England region. Amy has been exploring New England since 2001. She lived in Vermont for many years and is a graduate of Plymouth State University in New Hampshire. On this site, Amy aims to share her love of New England and help you to have the best possible adventures!
Amy has been writing about travel for over a decade, and is a full time blogger, publishing both Two Drifters and Let's Adventure Baby. When not traveling the world or creating epic blog content, Amy can be found cuddling with her husband, son, and cats, & drinking a maple latte.