*This site uses affiliate links; if you make a purchase through these, I may receive a small commission at no cost to you.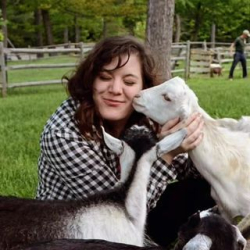 Latest posts by Amy Hartle
(see all)
Whether it's the coastal beach towns or the Gilded Age mansions that are calling to you, the Ocean State has much that draws in those looking for the perfect romantic couple's getaway! Some people are drawn to the romantic Cliff Walk of Newport, while others may be more interested in exploring the sandy beaches that Block Island has to offer, but for anything you and yours want to do, there are many options for romantic getaways in Rhode Island!
Romantic Getaways in Rhode Island
The Break Hotel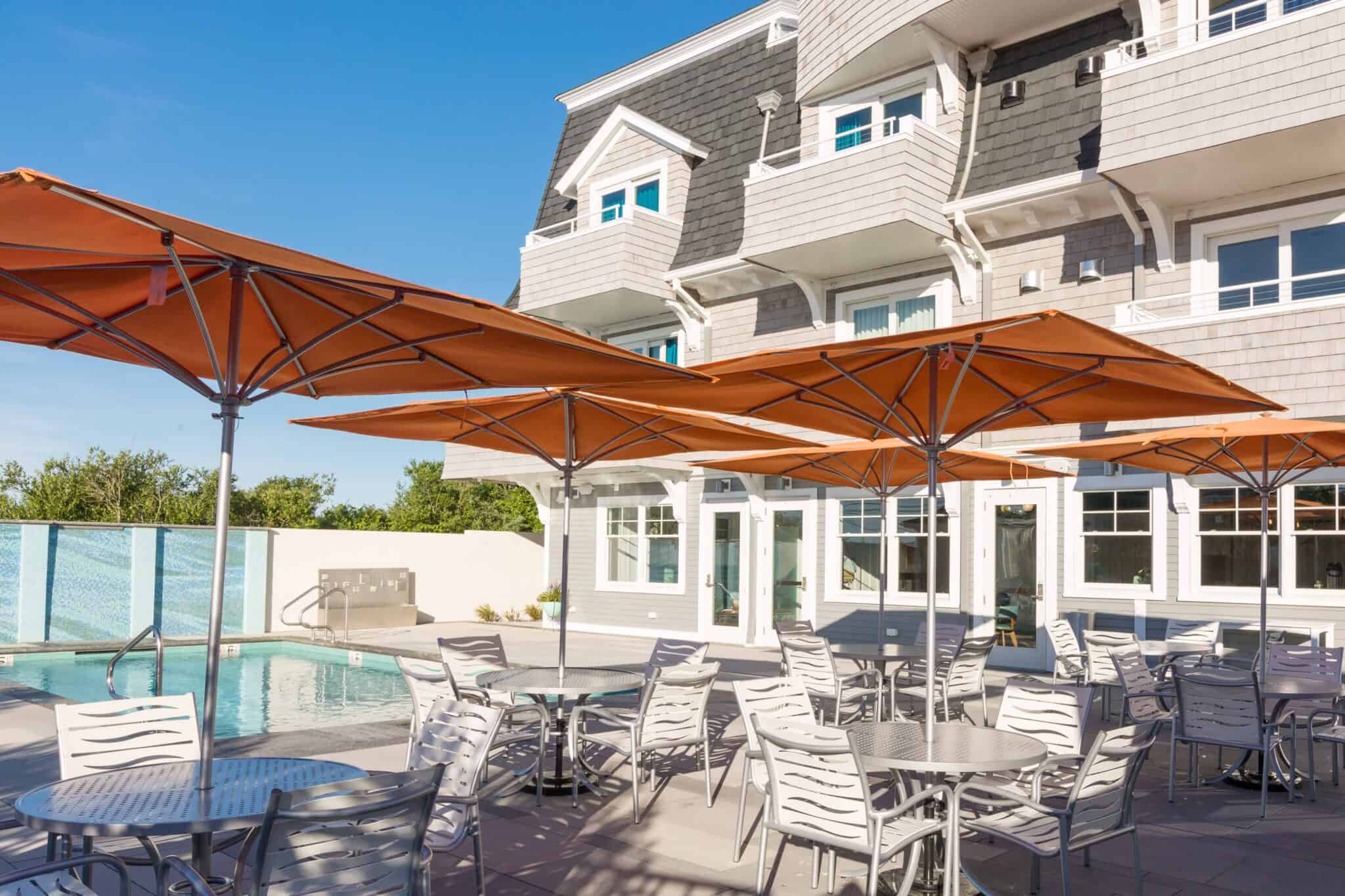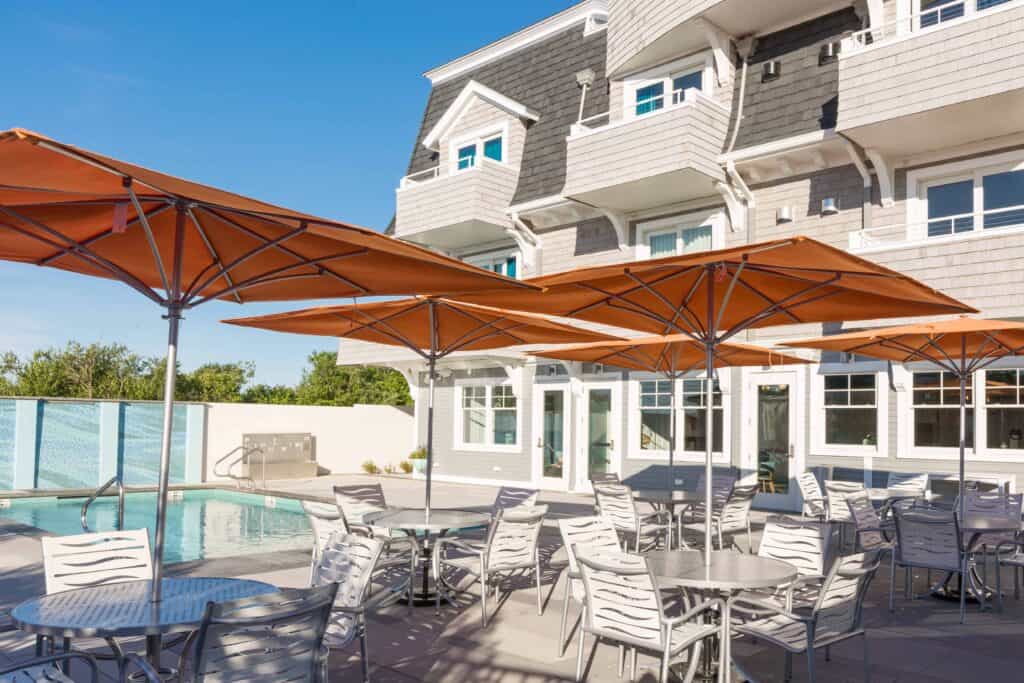 The Break Hotel is located in beautiful Narragansett, a perfect destination for any romantic getaway in RI! This 16-room boutique hotel is expertly decorated with fresh and modern beach décor, and amenities include natural gas fireplaces, a year-round heated saltwater pool, a fitness room, an outdoor year-round sauna, an on-site spa and hair boutique, and so much more.
It's not hard to see how The Break has earned Conde Nast Traveler's distinctions as one of the Top Hotels in New England! The on-site restaurant, Chair 5, has a main restaurant and bar located inside and an indoor/outdoor option in The Rooftop, where you and yours can enjoy classic coastal dishes with a stunning Atlantic Ocean view. For a romantic Rhode Island destination with an ocean view, you can't go wrong with The Break Hotel!
Click Here to Check Prices & Book!
Hotel Viking
One of the most romantic places in Rhode Island, Hotel Viking fuses the old-world luxury of Gilded-Age Newport with the modern amenities that couples are looking for on their romantic getaway! Each room is infused with touches of luxury, from the rich décor to the Egyptian cotton linens. Everywhere you look, you will find detailed attention to every aspect of the guest experience.
On-site fine dining at Hotel Viking's One Bellevue, traditional Gilded Age tea service in the Garden Room, and Top of Newport Bar & Kitchen rooftop dining are a few of the lovely and luxurious dining options that Hotel Viking offers for guests. Add-on romance packages include a day at the on-site, full-service Spa Fjor or "The Perfect Date" package that includes a romantic helicopter tour for two, dinner at One Bellevue, and an overnight stay at Hotel Viking, among others. With Hotel Viking as your RI romantic getaway destination, you cannot possibly go wrong!
Click Here to Check Prices & Book!
Edgewood Manor Hotel Bed & Breakfast
Undoubtedly one of the most romantic inns in Rhode Island, Edgewood Manor Hotel Bed & Breakfast is one of those places that feels like you've been given access to another world! This upscale B&B is perfectly situated on gorgeous grounds that are just a quick stroll to the historic downtown, allowing you and yours to feel like you are truly tucked away from all the hustle and bustle of your daily grind!
Breakfast is served in one of the two historic dining rooms or out on the lovely patio. With plenty for couples to do in Providence, Edgewood Manor is the perfect place for you and your love to rest and regroup after a fun day exploring the city together!
Click Here to Check Prices & Book!
Chanler Inn

One of Rhode Island's most gorgeous hotel Chanler Inn is an elegant dream! This delicate fusion of historical and modern elegance combines for a luxuriously indulgent romantic getaway. Spacious and comfortable, rooms are well-appointed and elegantly decorated, providing the perfect place for couples to luxuriate together!
Chanler Inn has been called "America's Most Romantic Hotel," and in addition to the beautiful amenities and luxury offerings, this Newport hotel has gourmet onsite dining, ocean views, and romantic add on pacakges to really take your Rhode Island couples trip to the next level. Chanler Inn is always a great choice for a romantic Rhode Island getaway!
Click Here to Check Prices & Book!
Castle Hill Inn
For couples that are looking for romantic weekend getaways in Rhode Island that place them squarely in the lap of luxury, look no further than the Castle Hill Inn in Newport! With a stunning array of room options to choose from, it's nice that gorgeous ocean views and private beach access come standard.
A first-class romantic dinner is served at the Forbes Four-Star onsite restaurant, The Dining Room, with the option to eat al fresco at The Lawn during the warm summer months. With gourmet breakfast provided every morning, couples can wake up to a delicious breakfast, follow it up with a couples massage at the onsite boutique spa, and then head out to spend a romantic day in Newport!
Click Here to Check Prices & Book!
Graduate Providence
Providence, RI romantic getaways might include an evening spent participating in captivating WaterFire festivities and dining out at one of the best restaurants in the city, and the Graduate Providence puts you within easy walking distance of it all! Formerly the Providence Biltmore, this trendy hotel has a strong cool-kid-classic-meets-old-world-elegance vibe. Each room is tastefully and luxuriously decorated, but be sure to check out their Suite Romance package that offers gorgeous city views, champagne, chocolates, and a late check-out to really kick your romantic getaway up a notch. For all the trendy couples out there looking through the top Providence hotels for the perfect romantic getaway spot, this is the place for you!
Click Here to Check Prices & Book!
The Villa
Located in the quaint beach town of Westerly, The Villa is one of those charming bed and breakfasts that are impossible to forget. Located just far enough off the beaten path for a peaceful romantic getaway, but still an easy drive to shops, dining, beaches and ferry access, this lovely inn provides all the necessities for a couple in search of romance.
Rooms at this romantic Rhode Island hotel are tastefully decorated and feature a two-person jacuzzi spa tub, and the heated pool and outdoor hot tub are surrounded by beautifully landscaped gardens that set the mood for relaxation and rejuvenation. A gourmet breakfast of your choice can be served in your room, in the dining room, or poolside- weather permitting, of course. Oh, and don't forget to ask about romance package options!
Click Here to Check Prices & Book!
Ocean House
When talking about romantic hotels in Rhode Island, you cannot possibly skip over Ocean House in Watch Hill! For an all-in-one romantic getaway destination, Ocean House is it. This beautiful seaside resort in Rhode Island offers luxurious accommodations with ocean views, spectacular guest services such as use of a "house Mercedes-Benz" for day trips, an onsite salon and full boutique spa (with offerings that include a three-hour "Couples Experience"), and fine dining options that include a Sunday Jazz Brunch and Seaside Terrace dining.
The culinary gem of Watch Hill, Ocean House's COAST restaurant has been named one of CNN Traveler's World's Best Waterfront Restaurants and is both Forbes Five-Star Rated and AAA Five-Star Rated, attracting diners from all over New England. When it comes to Rhode Island romance, Ocean House has it all!
Click Here to Check Prices & Book!
The Cliffside Inn
One of the most charming inns on the East Coast, The Cliffside Inn is aptly named as it offers stunning views of Newport's famed, romantic Cliff Walk. This elegant bed and breakfast in RI features gas fireplaces in every room, gourmet breakfast and afternoon refreshments served daily, and a few of their exquisitely decorated rooms even feature private outdoor areas so you and your love can enjoy the fresh sea breeze together from the comfort of your own space.
With your choice of Romance Packages to add on to your stay, including an in-room massage package, this lovely inn offers many options for couples in search of romance; with the Cliff Walk just outside your door, romance is impossible to miss here!
Click Here to Check Prices & Book!
Hotel Manisses
A Block Island gem, Hotel Manisses provides the luxurious boutique hotel experience in an atmosphere that is nothing short of coastal living at its finest! From the freshly renovated, modern décor of the guest rooms to the comfortable outdoor fire pit lounge area, this elegant beach hotel is set up for supreme comfort and enjoyment.
The onsite Manisses Restaurant and Bar is open seasonally for brunch and dinner, but you and yours are just a few steps away from beaches, shopping, and places to dine, making Hotel Manisses perfectly situated for your romantic Block Island getaway!
Click Here to Check Prices & Book!
There are so many great options for romantic getaways in Rhode Island, whether you're planning a couples Valentine's trip, an anniversary trip, a spa vacation, or just a good old fashioned couples escape in RI, you're sure to have a blast wherever you choose!
---
Read these next:
---