---
*Links in this article may be affiliate links, from which we may earn commission. See our
Privacy Policy
for full details.
---
If you're thinking of taking a vacation to Rhode Island, make it a point to take a trip to Block Island. Block Island is a small island located south of mainland Rhode Island. For such a small island, there are plenty of beautiful beaches to visit. Here are 10 of the best Block Island beaches you can visit on your trip.
Mansion Beach
There's a reason Mansion Beach is one of the best Block Island beaches. It's a gorgeous area that actually marks the north end of Crescent Beach (which you'll read more about in a bit). Here, you'll see the big, beautiful waves of the Atlantic crash along its sandy shores. Since its waves tend to be bigger than other beaches' waves on the island, you can participate in activities like body surfing.
Are you curious as to why this lovely spot is called Mansion Beach? Turns out, a large and elegant house used to stand on the beach, but it burned down in the 1960s. The foundation still remains, though, and the parking area is actually built around it. Head to Mansion Road and see this beautiful spot for yourself!
Mohegan Bluffs
Many people think Mohegan Bluffs is the most beautiful spot on Block Island. There's a gorgeous beach that's located at the base of the cliffs, so make sure you bring your flip flops to change into. These 200-foot cliffs offer incredible views of the Atlantic, but it does take a bit of a climb to see. It's well worth it, though.
Once you get to the bottom of the bluffs, you'll get to walk along a beautiful strip of beach. Don't forget to bring your camera when you head to this spot. You'll want to capture these views as soon as you get there!
Crescent Beach
You'll find one of the best Block Island beaches, Crescent Beach, along the east side of the island. It actually connects four other beaches on this list: Surf Beach, Baby Beach, Scotch Beach, and Mansion Beach. You'll have plenty of space to walk along the sand, swim in the ocean, and make plenty of memories you'll remember for years to come.
You'll also find the Frederick J. Benson Pavillion on Crescent Beach, which has a concession stand and allows visitors to rent things like chairs and boogie boards. Convenience and beauty—what else could you want from Crescent Beach?
Scotch Beach
If you're a young adult looking to take a nice vacation, one of the best beaches on Block Island to visit is Scotch Beach. Scotch Beach has great stretches of white sand you can walk across to reach the gorgeous waves of the Atlantic. Bring a volleyball, too, because the beach also has volleyball nets for visitors to use.
You'll find the beach along Corn Neck Road. Don't be surprised if you see boaters there, too!
Fred Benson Town Beach
If you're looking for more of a family-friendly beach everyone can enjoy, Fred Benson Town Beach is the place to go. You'll find it south of Crescent Beach. This popular beach has beautiful sand your kids can play in, along with low surf, which means it's easier for kids to play in the ocean. There's also a lifeguard on duty during the summer months on the beach.
Fred Benson Town Beach also has a pavilion where you can find snacks, along with a changing room and showers. Your loved ones will love soaking up the sun in one of the best Block Island spots.
Baby Beach
This beach is considered by many to be a hidden gem on Block Island. Baby Beach is located where Beach Avenue and Corn Neck Road meet. It's a less populated beach on the island that has less severe waves and fewer rocks along its coast, meaning it's easier for parents to walk with their kids along the beach.
Baby Beach also has shallower water compared to the rest of the beaches on the island, so it's easier for kids to swim in. The water also tends to be calmer, too, but parents should still be diligent about watching their children if they're anywhere near the water.
Black Rock Beach
If you're feeling adventurous, this is the beach for you. Black Rock Beach is named after a treacherous rock that lies under the waves that's quite the danger to boats. The beach also has a rockier coast, but a stronger surf, so those looking for a day of surfing and adventure can find what they're looking for here.
Surf Beach
You can find one of the best Block Island beaches on the south end of Crescent Beach along Dodge Street. While it may be named Surf Beach (after a nearby hotel), it's actually a great spot to snorkel on Block Island. It's also a great spot to see crabs, starfish, and other notable sea life. You can also look for seashells along the shore. All of this, plus the fact that it's close to town, makes it the ideal back for any family getaway. Pack a lunch, grab the beach towels, and enjoy!
Ballard's Beach
Make sure you add this spot to your list of the top Block Island beaches. In addition to being a great beach for the whole family, there's a hotel and oceanfront restaurant located on Ballard's Beach. If you're in the mood for a cocktail, you can grab one at the tiki bar and enjoy the ocean views. What's not to love? Head down Water Street to see this perfect summer getaway for yourself!
Vaill Beach
If you're looking to explore a unique beach, Vaill Beach is the place for you. It's known for having fantastic views of the sunset. Don't go for a dip if you're going to this beach, though. There's a lot of rocks in the area and the surf is rough, so it's best to only take a stroll. You can find the way to the beach along Mohegan Trail, it's near the famous Painted Rock landmark on the island. Make sure you watch your step and enjoy the beautiful view!
---
You might also like:
---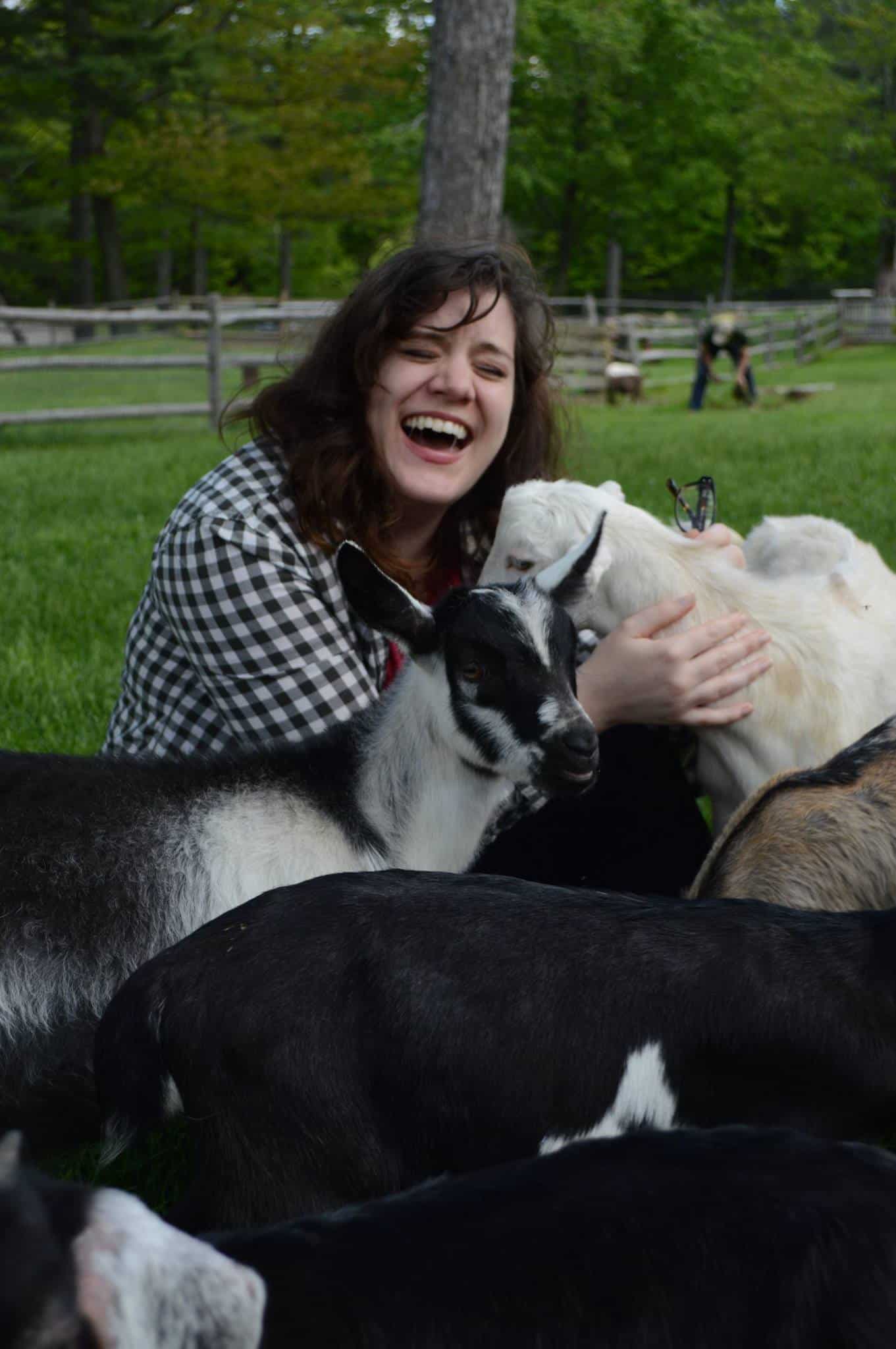 Amy is the founder of New England with love. A proud Vermonter, she hopes to share her love of New England and help you find the best adventures in the region. Amy is also blogger/founder at Two Drifters, where she writes alongside her husband about romantic and couples travel, relationships, honeymoons, and more. When not working on websites, Amy is probably reading, cuddling with her husband, son, and cats, & drinking a maple latte.