---
*Links in this article may be affiliate links, from which we may earn commission. See our
Privacy Policy
for full details.
---
As the capital of Rhode Island, Providence is easily one of the hottest destinations in the state. It's known for being home to Brown University, an eclectic art scene, and more. Plus, there are even great restaurants in Providence RI, which many people don't know!
Because it's a city, there's a wide variety of restaurants in Providence. Truthfully, no matter what your budget is or what you're in the mood to eat, you can most likely find the perfect restaurant for you within the city limits. Luckily, throughout this post, you'll learn all about some of the best places to eat in Providence, some of which are still hidden gems.
Keep reading to learn all about the best restaurants in Providence RI, in no particular order!
Trattoria Zooma
Location: 245 Atwells Ave, Providence, RI 02903
First up is one of the best Providence restaurants, Trattoria Zooma. As you may have guessed from the name, this is an excellent Italian restaurant known for its fine dining. This is one of the top places to go if you're planning a romantic night out in Providence.
The owners of Trattoria Zooma pride themselves on serving traditional and authentic Italian food. From the handmade pasta to the wood-fired pizzas, you can genuinely taste the amount of love and effort that has gone into every bite.
Because this is more of an upscale restaurant, prices are a bit higher. Most appetizers cost around $15, while the entrees cost closer to $30. The menu is very extensive, and any type of Italian food you could imagine is on the list. Plus, they have tons of great Italian wines that you can pair with your meal.
Circe Restaurant & Bar
Location: 50 Weybosset St, Providence, RI 02903
Another one of the excellent upscale restaurants in Providence RI is Circe Restaurant & Bar. This New American restaurant may have higher prices, but the food is absolutely incredible. Again, this place is perfect for a romantic night out or a celebration, similar to Trattoria Zooma.
The interior is very lavish yet rustic, with brick walls, minimalistic decor, and luxe plush booths for seating. This restaurant gets bustling at night, especially on the weekends, because it's very well-loved by locals.
The menu isn't that long, but that's because Circe knows what it does well! They have an extensive appetizer menu though, filled with great dishes like prosciutto boards and wagyu tacos. Their entrees include seafood, farm-to-table dishes like bacon-wrapped tenderloin, and garden dishes like their sweet potato gnocchi.
Bayberry Beer Hall
Location: 381 W Fountain St, Providence, RI 02903
For a relaxed place to eat with cafeteria tables, look no further than Bayberry Beer Hall. This is one of the more unique places to eat in Providence. The interior is so simple yet Instagrammable, with plants covering the walls, fun lighting on the ceiling, and light wood accents everywhere.
The restaurant was opened by a local family who named the restaurant after their grandfather's cabin, which was called Bayberry and was located in Maine. They aimed to open a modern beer hall with an American twist, and they did just that with Bayberry.
Because it's a beer hall, the food options are pretty eclectic. There are sourdough pretzels with mustard butter and beer cheese, maitake chopped cheese, hot chicken sandwiches, and even seared local scallops. Plus, they have sweet treats like cheesecake dumplings with lemon curd and blueberry jam.
Xaco Taco
Location: 370 Richmond St, Providence, RI 02903
Xaco Taco is the Mexican restaurant in Providence. It has a very nontraditional look to it, but the food is incredible and can't be missed. They're pretty well known for their tortillas, which they make from scratch.
The restaurant is mostly run by a chef named Andy Pyle, who uses traditional Mexican flavors and ingredients with a modern twist. Seriously, after ordering just one entree from Xaco Taco, you'll want to try the whole menu.
Every type of Mexican food you can imagine is served at Xaco Tacos. There are empanadas, carne asada fries, guacamole, queso, Mexican street corn, and more. Plus, if you're not in the mood for tacos or burritos, there are also bowls on the menu. Don't forget to try their amazing churros with Mexican chocolate sauce for a sweet treat!
Heng Thai & Rotisserie
Location: 165 Angell St, Providence, RI 02906
Heng Thai & Rotisserie is an excellent Thai restaurant in Providence. They specialize in bringing a taste of authentic Thai food to the city of Providence and aim to make you feel like you're in another country while there.
Everything on the menu is mostly around $15 and under. There's everything from scallion pancakes and Thai rotisserie chicken to heng fried rice and pad thai. The menu also includes a long list of meats that you can add to any dish.
The restaurant itself is very laid back, with a wooden sign on the door that welcomes you inside. The interior features brick walls with warm Edison bulbs hanging from the ceiling. There are ample indoor seats as well, so you don't have to take your food to go.
Durk's Bar-B-Q
Location: 33 Aborn St, Providence, RI 02903
Just because it's the northeast doesn't mean you can't find traditional Southern-style BBQ in Providence! Durk's Bar-B-Q is the perfect place to go for some comfort food in the city, serving up all your favorite classic barbecue dishes.
The interior of the restaurant is extremely laidback, just like you'd expect. There are wooden tables and booths, minimal wall decor, and some neon signs – the perfect surroundings to enjoy some tasty barbecue dishes.
On the menu, their meats are the star of the show. Choose between poblano cheddar kielbasa, ribs, pulled pork, brisket, or smoked chicken leg. Then pick any fun snacks and sides to go with it, like corn dogs, pierogies, wings, and even poutine with BBQ hash! They also have an ample sandwich menu, and of course, have coleslaw and macaroni and cheese.
Olneyville New York System Restaurant
Location: 18 Plainfield St, Providence, RI 02909
Despite being one of the most casual restaurants in the entire city, Olneyville New York System Restaurant is one of the best restaurants in Providence RI. They're well known for their hot dogs and fries!
The restaurant itself is extremely laidback. From the outside, it really doesn't look like much and looks like any other regular brick building. However, the magic happens inside. There's classic booth-style seating and even spots for single eaters at the bar. This is a restaurant that once you visit there for the first time, you'll want to go back every time you're hungry. It's truthfully just that good, and it's a favorite among locals!
In addition to hot dogs, you can also order grilled cheese sandwiches, cheeseburgers, clubs, BLTs, and chicken tenders. Don't forget to order one of the three beverages that they have to wash it all down – Coca-Cola, Diet Coke, or Coffee Milk.
If you're picky, you can even order their traditional hot dogs raw so that you can make your own at home. Plus, their famous sauce is now available to order solo as well.
India Restaurant
Location: 60 Valley St, Providence, RI 02909
If you're on the hunt for Indian food while you're in Providence, look no further than India Restaurant. This stylish restaurant is known for having some of Providence's best Indian food, and they blend modern with traditional.
The inside of the restaurant is incredibly unique, with fun-shaped light fixtures, modern leather seats, and tables of all sizes. There is also outdoor seating if you're lucky enough to be visiting Providence in the summer.
The menu features both gluten-free and vegan options. Everything on the menu is mid-range pricing and costs around $20 or less. There are great dishes like samosas, kabobs, roti, and even naan bread baskets for the table with toppings!
Mt Fuji Japanese Steakhouse
Location: ​​80 Dean St, Providence, RI 02903
Mt. Fuji Japanese Steakhouse is a fantastic hibachi restaurant in Providence that you won't want to miss. Reserve a spot ahead of time to get seated at the hibachi table, where you can get a show and watch your meal get cooked right in front of you!
The menu is super extensive. In fact, they may just have the longest menu in all of Providence. There's sushi, sashimi, bento boxes, teriyaki dinners, katsu dinners, noodles, fried rice, and more. If you sit at the hibachi, though, be sure to order from their special hibachi entrees menu, or they'll make your food elsewhere!
Inside the restaurant, there's a bit of an upscale ambiance. There are fun purple neon lights that adorn the walls, and the restaurant almost feels a bit futuristic. There's ample indoor seating, but this restaurant can get pretty busy on the weekends.
With so many great restaurants in Providence RI, it can be hard to decide where to eat. Hopefully, this post has helped you on your mission to find a tasty meal. What's your favorite Providence restaurant? Leave a comment below!
—
You might also like: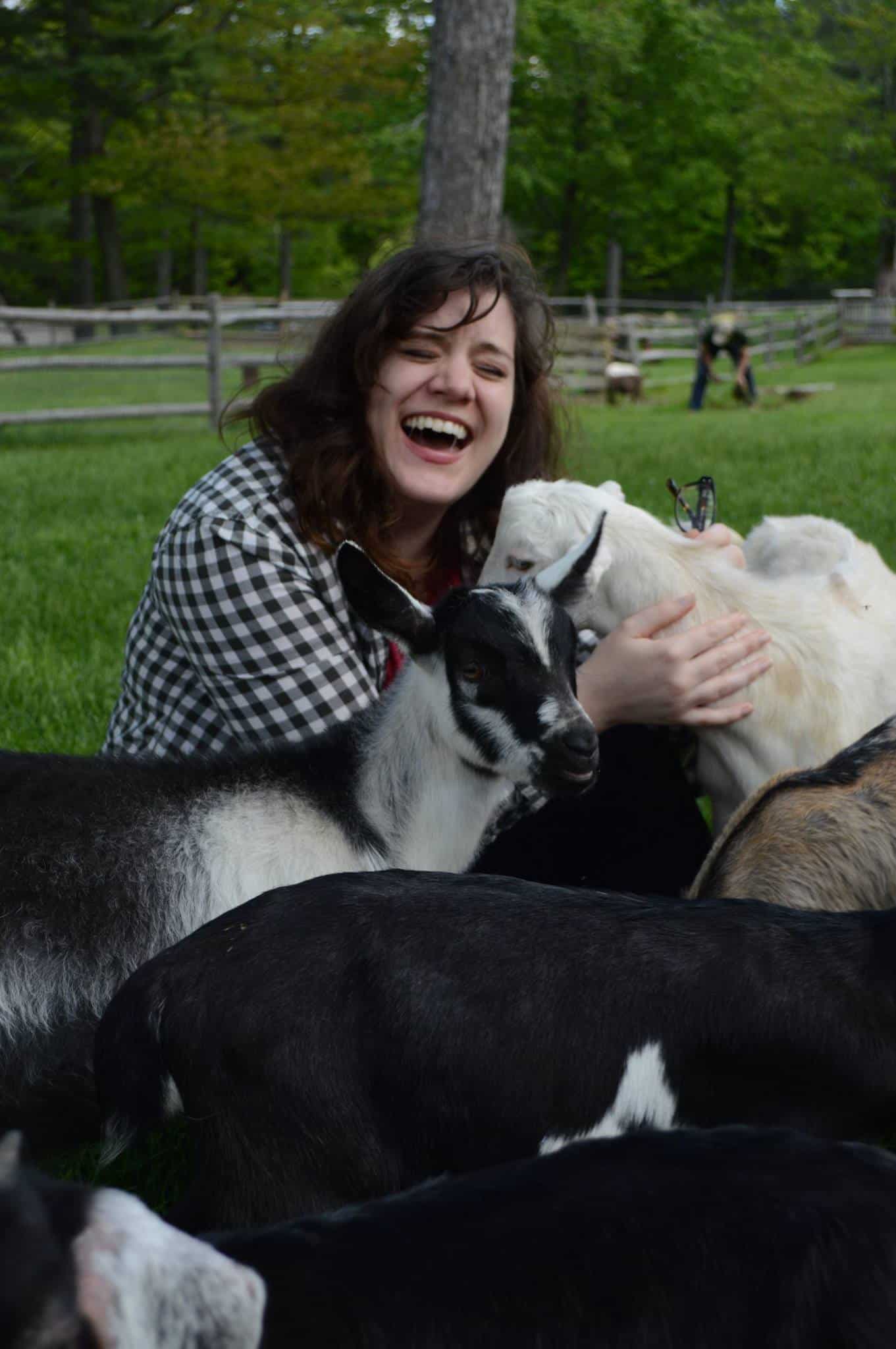 Amy Hartle is the owner and editor of New England With Love, a comprehensive resource for travel in the New England region. Amy lived in Vermont for 15 years, attended Plymouth State University in New Hampshire, and continues to travel regularly around the entire New England region. On this site, Amy aims to share her love of New England and help you to have the best possible adventures!
Amy has been a full time blogger since 2012, and is also the publisher of Two Drifters, where she writes about couples travel and relationships, as well as Let's Adventure Baby, a family travel site. When not traveling the world or creating epic blog content, Amy can be found cuddling with her husband, son, and cats, & drinking a maple latte.