*This site uses affiliate links; if you make a purchase through these, I may receive a small commission at no cost to you.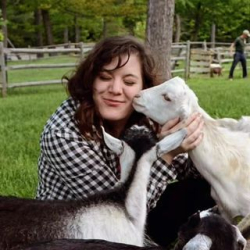 Latest posts by Amy Hartle
(see all)
Though it's the smallest state in New England, did you know that there are many famous people from Rhode Island? It's completely true, and there are celebrities from authors to actors and even professional athletes and everything in between.
We've rounded up some of the most well-known RI celebrities for you in this very post. For a fun time, consider challenging yourself to see how many of them you already knew; we have a feeling some of them might just surprise you.
Here are some of the top famous people who were born in Rhode Island, both past and present!
Viola Davis
Though born in South Carolina, Viola Davis was raised in Central Falls, Rhode Island, where she moved early on in her life. Davis is known for many of her acting accolades, including being in The Help, How to Get Away with Murder, and Fences.
Meredith Vieira
From Providence, Meredith Vieira is known for her work on television, specifically on talk shows. She's most well known for being on The View, a TV talk show with other great hosts that many people tune into.
Cormac McCarthy
Author Cormac McCarthy is from Providence, Rhode Island! He has written many great works over his lifetime and has dabbled in quite a few genres ranging from dystopian to Western. His bestseller is The Road.
Michaela McManus
Michaela McManus is one of the actresses that hails from Rhode Island, having been born in Warwick. Her most notable role has been on One Tree Hill, where she played Lindsey Strauss, though she's also been on Law & Order SVU, You, and The Block Island Sound.
Amy Van Nostrand
Amy Van Nostrand is an actress from Providence, Rhode Island. She's been in many pieces but has most notably been in Broadway plays like Dance With Me and The Hothouse. Some of her work has also been off-Broadway.
Spike Dudley
Another of the famous people from Rhode Island is Spike Dudley, who is from Providence. He is a professional wrestler who is now retired, and he often fought on WWE. Dudley was born in the 1970s.
David Mazzucchelli
Born in Providence, David Mazzucchelli is another Rhode Island celebrity. He's an artist known for his work in comics and graphic novels, like Daredevil and Batman among others. He attended Rhode Island School of Design.
Robert Capron
Robert Capron is an actor from Providence born in 1988 who is most well-known for playing Rowley in the Diary of a Wimpy Kid series, based on the series by Jeff Kinney.
Pauly D
Pauly D, who you may know pretty well from the TV show Jersey Shore on MTV in the early 2010s, is from Providence! He's since become a pretty well-known DJ and now goes by DJ Pauly D.
Ed Cooley
Ed Cooley is from Providence and is a basketball coach who has seen much success. He used to be head coach at Fairfield University for five years, though as of 2022, is head coach at Providence College.
H.P. Lovecraft
H.P. Lovecraft hails from Providence and is a well-known author for his work in science fiction and fantasy genres. He's written novels like The Call of Cthulhu, At the Mountains of Madness, and The Shadow Over Innsmouth.
Elisabeth Hasselbeck
From Cranston, Rhode Island, Elisabeth Hasselbeck is known for her work in television. She's also been in films like Madea Goes to Jail and Made of Honor. Hasselbeck even competed in the hit TV show Survivor!
Brian Helgeland
Brian Helgeland is from Providence and is a director and writer of films. He's been nominated for (and won) many awards over the years, including the Academy Award for Best Writing for an Adapted Screenplay. Some of his work includes Payback, 42, and Legend.
Grace Lee Boggs
Author Grace Lee Boggs was from Providence, Rhode Island. She was a heavy activist for many things; environmental justice, feminism, and more. Grace Lee Boggs unfortunately passed shortly after turning 100 in 2015 in Detroit.
Jason Marsden
Jason Marsden is from Providence and is an actor who did a lot of voice acting during his career, including in animated films and even video games! His biggest role is of Max Goof in the Goofy movies, but he was also Binx in Hocus Pocus.
Will Blackmon
Football player Will Blackmon is from Providence and has played for many different teams as a cornerback and defensive back: Washington Commanders, New York Giants, Seattle Seahawks, Saskatchewan Roughriders, and the Jacksonville Jaguars.
CJ Adams
CJ Adams is an actor from Rhode Island who has been in many films during his tenure, including Dan in Real Life, Godzilla, and Odd Life of Timothy Green, among others.
Kate Fagan
From Warwick, Kate Fagan is another of the famous people from Rhode Island. She's known for being a sports reporter and has been on ESPN for a while. She used to also write about the 76ers for the Philadelphia Inquirer.
Damien Chazelle
Damien Chazelle is from Providence, Rhode Island, and is known for his director and producer work. He's also screen written a bit! Some of the more well-known pieces Chazelle has been involved in include 10 Cloverfield Lane, La La Land, and Babylon.
Nathaniel Greene
General Nathaniel Greene was from Potowomut and was heavily involved in the American Revolutionary War. He's remembered today as being one of George Washington's best officers during the war.
Kali Reis
Professional boxer Kali Reis is from Providence and is a champion, having won a few world titles between 2016 and 2022. She's now retired but has been featured in a few films like Catch the Fair One.
Mena Suvari
Mena Suvari is an actor from Newport, Rhode Island. Suvari has been in many popular media over the years, including American Horror Story, American Pie, and Chicago Fire.
Christopher Stanley
Christopher Stanley is an actor from Providence who has been in quite a few films, such as Zero Dark Thirty. He's also been in some television shows like Mad Men, where he portrayed Henry Francis.
Davey Lopes
Davey Lopes is from East Providence and was a second baseman for MLB. He played for a few different teams, including the Oakland A's, Los Angeles Dodgers, Houston Astros, and the Chicago Cubs.
David Duke Jr.
David Duke Jr. is a basketball player from Providence. He used to play for the Providence Flyers but is now (as of 2022) a forward for the Brooklyn Nets.
Ruth Hussey
Actress Ruth Hussey is from Providence and was famously in The Philadelphia Story, where she played Elizabeth Imbrie. She unfortunately passed in 2005 in Newbury Park, California.
Ricky Ledo
Ricky Ledo is another professional athlete from Providence, Rhode Island. He currently plays for the Lebanese Basketball League, Al Riyadi Club Beirut, as of 2022, and primarily plays shooting guard and small forward.
Bobby Hackett
Bobby Hackett is a musician who gained lots of traction during the 1950s, and he grew up in Providence. He was known for playing the trumpet along with other instruments like the guitar and cornet. He unfortunately passed in 1976 in Chatham, MA.
Susan Eisenberg
Susan Eisenberg is an actress from Rhode Island who is primarily involved in animated films. She's most well known for being Wonder Woman's voice!
Harry Anderson
Harry Anderson was an actor hailing from Rhode Island, though he was also a magician and comedian during his tenure. He was most well known for his work in It and Night Court.
Van Johnson
Van Johnson was from Newport, Rhode Island, and was heavily involved in entertainment, having been a radio actor, film actor, and more. He was in entertainment like Clowning Around, Murder, She Wrote , and Coming of Age.
Lou Lamoriello
Lou Lamoriello (Louis P. Lamoriello) is from Johnston and has been heavily involved with the National Hockey League (NHL) most of his life. He also used to manage a few hockey teams, including the Toronto Maple Leafs.
Andy On
Actor Andy On is from Providence, Rhode Island, and has appeared in many films. He's been in Once Upon a Time in Shanghai, Zombie Fight Club, and Kung Fu League.
Olivia Culpo
Olivia Culpo is a model and influencer who was born in Cranston. She's most well known for winning Miss USSA and Miss Universe, as well as Miss Rhode Island USA.
Wylie Dufresne
Wylie Dufresne is from Providence and is most well known for being the chef of Du's Donuts, which he also owns. He's well known for his culinary skills.
Nicholas Colasanto
Actor Nicholas Colasanto was from Providence, Rhode Island, and was very well known for playing Coach Ernie in the TV show Cheers. He unfortunately passed in 1975 in Studio City, California.
We hope you have enjoyed this post about some of the more notable famous people from Rhode Island! Don't forget to share this post with others who may find it interesting.
---
You might also like:
10 Great Museums in RI for All Interests