If you're exploring the beauty of New England, you can't miss out on the castles in Rhode Island! The state of RI may be known for its beaches and beautiful coastal towns, but there's genuinely a lot of history found throughout the state as well that will truly take you back in time.
From mansions that are privately built and owned to castles that the public can visit, this list has it all. We've rounded up all the best historic castle-like structures throughout Rhode Island so that all you have to do is plan your itinerary and have the best trip yet.
Here are all of the best RI castles!
Oceancliff Castle, Newport
First up is Oceancliff Castle, which is located in the popular must-visit town of Newport, right along the coast. This is actually a historical landmark that has since been turned into a hotel and event space for the public. The castle was built in the 1860s to serve as a villa for Arthur Bronson, who had many estates in Connecticut but hailed from wealth and luxury with his family in New York.
Most often, the castle is used as a spot to host fabulous Newport weddings, which, let's be honest: it is a dream wedding destination. However, it also hosts other events in the area. But the best part is that you can stay there since it's actually a hotel. Inside, there's even a restaurant where you can enjoy a scrumptious meal while enjoying some of the best views that Newport has to offer.
Chateau-sur-Mer, Newport
Another of Newport's castle-like structures is the grand Chateau-sur-Mer, which is one of the Gilded Age mansions that can be found along Bellevue Avenue. Historically, it was built in 1851 on 17 acres of land by architects Richard Morris Hunt, Seth Bradford, and Ogden Codman Jr. The building is the perfect example of Victorian architecture and interior design in the United States from that time period.
What makes Chateau-sur-Mer so amazing is that it was actually the most impressive mansion in Newport up until the 1890s when the Vanderbilt mansions were built. It served as a popular party spot, including hosting debutante balls and other entertainment gigs and picnics over the years.
Today, guests can visit Chateau-sur-Mer and step back in time on a self-guided tour during open hours. Just use their Newport Mansions tour app to have the best time and learn all about what you're seeing. Private group tours of 20 or more adults are also available at special rates.
Seaview Terrace, Newport
While Seaview Terrace is a privately owned mansion that's very castle-like, it still deserves a spot on this list. However, please note that it is not open to the public and actually went up on the market in 2021.
Seaview Terrace, also known by some locals as Carey Mansion, was built in 1925 and is heavily based on the beautiful French architecture you'd see in chateaus over in France from the 16th century. It was built by an architect named Howard Greenley, who was very famously known for all of his work in New York City and Long Island.
Located in Newport, Seaview Terrace is an excellent example of the castle-like architecture found throughout Rhode Island, and to this day, it is still the biggest residence in the entire state. Some even say that it's a bit haunted!
Malbone Castle, Newport
Another of Rhode Island's best castles, also located in Newport, is Malbone Castle. This is actually the most historic of all castles found within Newport, having been built in 1849. It's located on 19 acres of land and was built with a gothic revival style of architecture. For years, it served as the home for a man by the name of Col. Godfrey Malbone, which is why the castle is aptly named.
Today, the home is privately owned by a family from Wellesley. It has undergone many renovations throughout the years, and ownership has changed quite a bit, but it's remained in the same hands as of writing this (2023) since 2013.
Rosecliff, Newport
Hopefully, you're starting to see a trend here; a lot of the best castles or castle-like mansions can actually be found in Newport. Rosecliff Castle is another of those! It's one of the Gilded Age mansions, built in 1902 on 6 acres of land on Bellevue Avenue. This one is an example of Baroque architecture, and it looks like something you'd expect to see while on holiday in Europe.
The home was built for an heiress named Theresa Fair Oelrichs who hailed from Nevada and had money from silver. She used it to host lots of events and parties (very Gatsby-esque) and it was styled to look like castles in France.
The best way to explore Rosecliff Castle is to go on a self-guided audio tour of the castle and grounds. Throughout the tour, you'll learn more about Theresa and the home's history, including how the ballroom was actually used for a time as a roller skating rink.
The Towers, Narragansett
The Towers in Narragansett are actually the remains of the old Narragansett Pier Casino built in the 1880s. It's located right along the water in the shingle style of architecture that you'll witness a lot of throughout New England. The towers were added to the National Register of Historic Places in 1969.
Today, the building mostly serves as an event venue for everything from private events to theater and concerts. The location is truly breathtaking, and in the evening, when the sun sets over the water, you'll want to stay there forever. If you do visit The Towers, be warned that they don't have their own parking lot, but free parking is open to the public along Ocean Road.
Belcourt of Newport, Newport
Next up is another spot in Newport: Belcourt of Newport, which is currently a museum. Historically, it was built back in 1895 in a chateau-style of architecture to serve as a cottage for a man by the name of Oliver Hazard Perry Belmont. The building was designed by architects John Russell Pope and Richard Morris Hunt.
Hunt designed a lot of the home to basically be the perfect guy's getaway, featuring a carriage room and a space where he was able to ride his horses straight over to the ocean and take in the views if he wanted to. This architect was well known for being the one who designed the Metropolitan Museum of Art, among other things, like the Statue of Liberty's pedestal.
Today, we recommend keeping a close look at their website to see when they have guided tours available. They're not available often, but they can be the best way to explore.
Hazard Castle, Narragansett
Hazard Castle, located in Narragansett, is one of the most unique castles in the state that has since been turned into a school! The castle was built by a man named Joseph Peace Hazard in the 1800s.
It looks like a building straight out of Harry Potter if you look at it from the exterior! The most notable feature is the tall tower with windows that has very medieval vibes. Today, the castle is owned by Middlebridge School and is still standing.
Cranston Street Armory, Providence
Yes, there actually is a castle-like structure outside of Newport and Narragansett! Cranston Street Armory is located in Providence and is a unique historic building that looks very much like a castle. It was built in the early 20th century and served mostly as a place for the Rhode Island National Guard up until the 1990s.
The building has a yellow brick exterior which makes it easily stand out against the rest of Providence's architecture. It was designed by architects William R. Walker & Son and can still be seen from the road. However, ever since the Rhode Island National Guard mostly moved out of the armory, it is now mostly empty, unfortunately.
The Breakers, Newport
Last but certainly not least is The Breakers in Newport, which is one of the most famed mansions in the entire city (and state). It served as a summer cottage for one of the Vanderbilts and is located on Ochre Point Avenue.
The home was built in the 1890s and was officially opened in 1895. It's located on 13 acres of land and is an example of both Renaissance and Beaux-Arts architecture in New England. Though it's technically a mansion, it does have a lot of castle-like elements.
To visit the mansion, be sure to go on a self-guided tour. This way, you'll be able to explore everything at your own pace while also learning about The Breakers. If you only visit one place on this list, we can't recommend The Breakers be that location enough! (And then, be sure to explore the rest of Newport.)
Well, there you have it! Hopefully, this post has helped you learn about some of the most interesting castles in Rhode Island. Whether you visit them or not, we hope you enjoy your trip to New England! Don't forget to share this post with other travelers.
---
You might also like: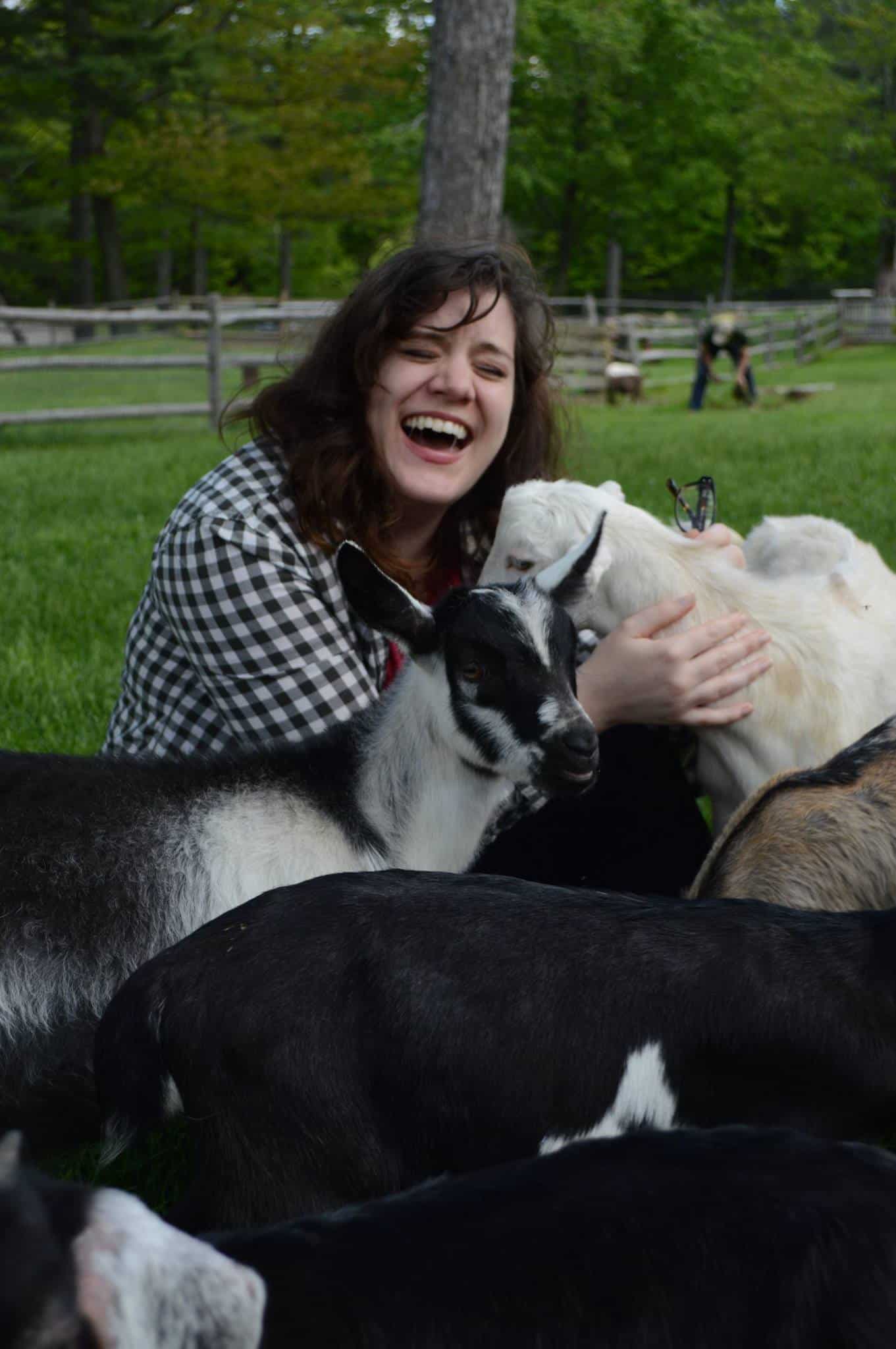 Amy Hartle is the founder and Editor-in-Chief of New England With Love, a comprehensive resource for travel in the New England region. Amy has been exploring New England since 2001. She lived in Vermont for many years and is a graduate of Plymouth State University in New Hampshire. Amy has been writing about travel for over a decade. On this site, Amy aims to share her love of New England and help you to have the best possible adventures!
Amy has been a full time blogger since 2012, and is also the publisher of Two Drifters, where she writes about couples travel and relationships, as well as Let's Adventure Baby, a family travel site. When not traveling the world or creating epic blog content, Amy can be found cuddling with her husband, son, and cats, & drinking a maple latte.