I love quotes so much. If you're following the New England With Love Instagram, you may have seen that I tend to pair the stunning scenic photos I share with a favorite, meaningful quote. I enjoy searching for quotes that speak to me and reflect something deep and significant.
Because of my love for quotes, I decided to compile an epic list of some of my favorite quotes about New England. These are words that have been spoken by New Englanders, about the New England region, about its cities, land, people, and more.
If you're looking for a New England quote to use for a photo caption or for another purpose, I hope you'll enjoy this list of some of the best, all in one place.
"Here in New England, the character is strong and unshakable."
― Norman Rockwell
---
"The New England spirit does not seek solutions in a crowd; raw light and solitariness are less dreaded than welcomed as enhancers of our essential selves."
---
"Citizens of Boston! ….. Consider your blessings; consider your duties. ….. Let New England continue to be an example to the world of the blessings of free government, and of the means and capacity of man to maintain it. ….. In all times to come as in all times past, may Boston be among the foremost and the boldest to exemplify and uphold whatever constitutes the prosperity, the happiness, and the glory of New England."
― Josiah Quincy
---
---
"The most serious charge which can be brought against New England is not Puritanism but February."
― Joseph Wood Krutch
---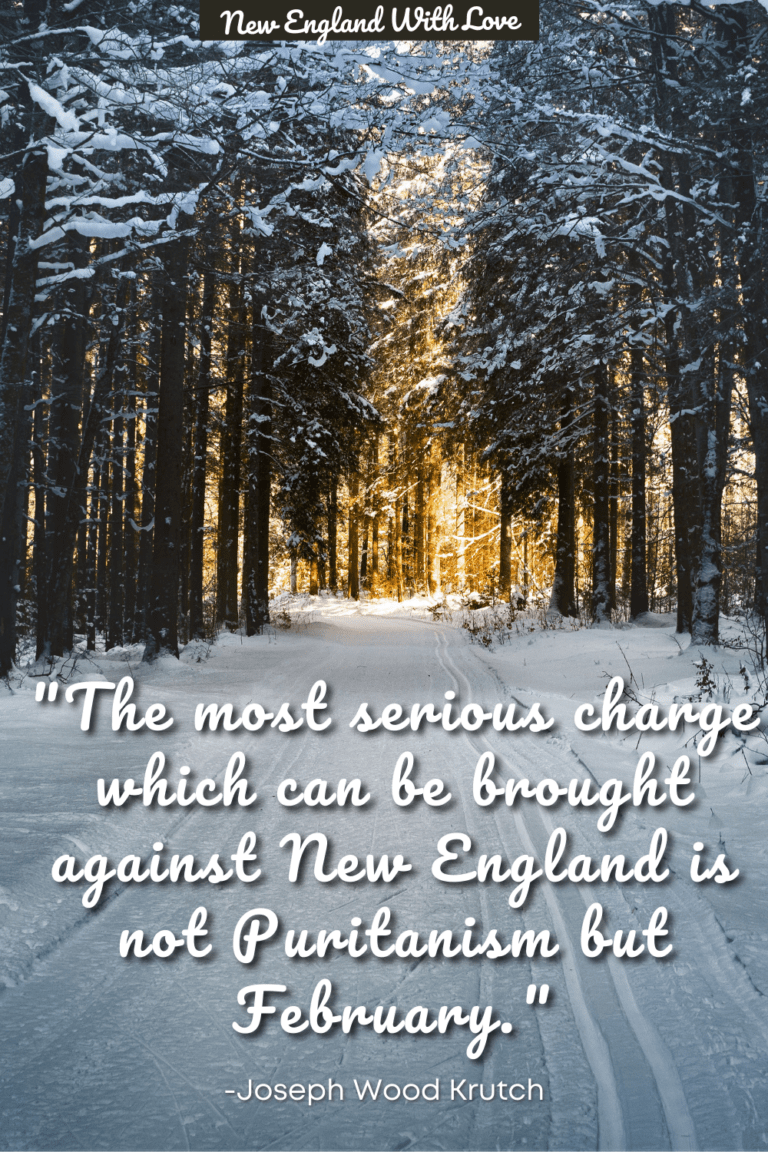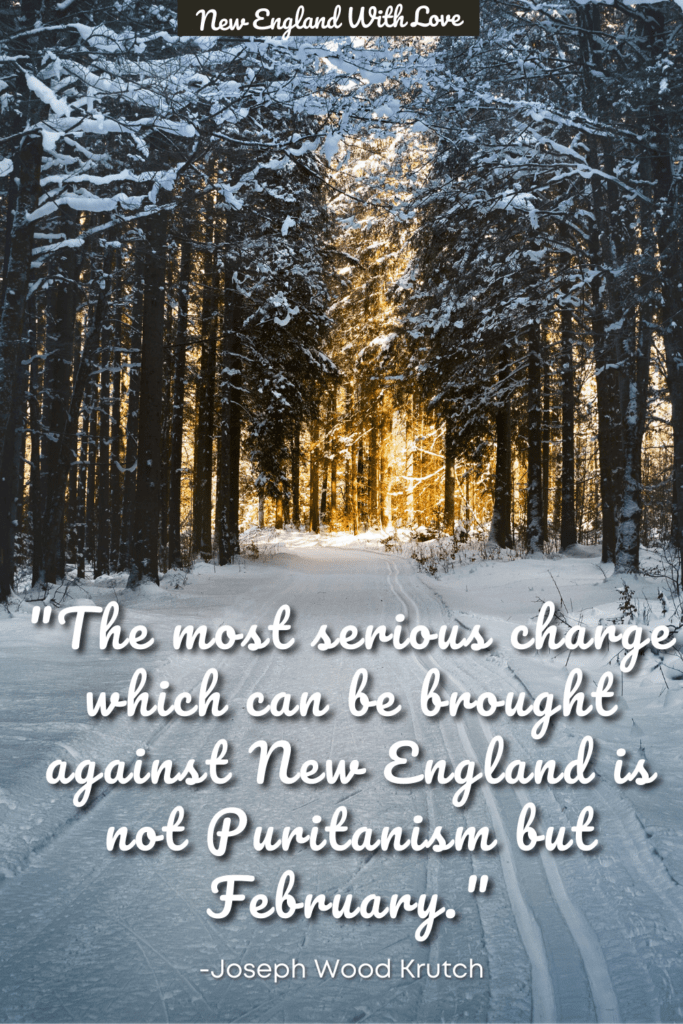 ---
"What New England is, is a state of mind, a place where dry humor and perpetual disappointment blend to produce an ironic pessimism that folks from away find most perplexing."
― Willem Lange
---
"Maine is a beautiful place that I paradoxically want to hoard to myself and share with everyone I meet."
―
---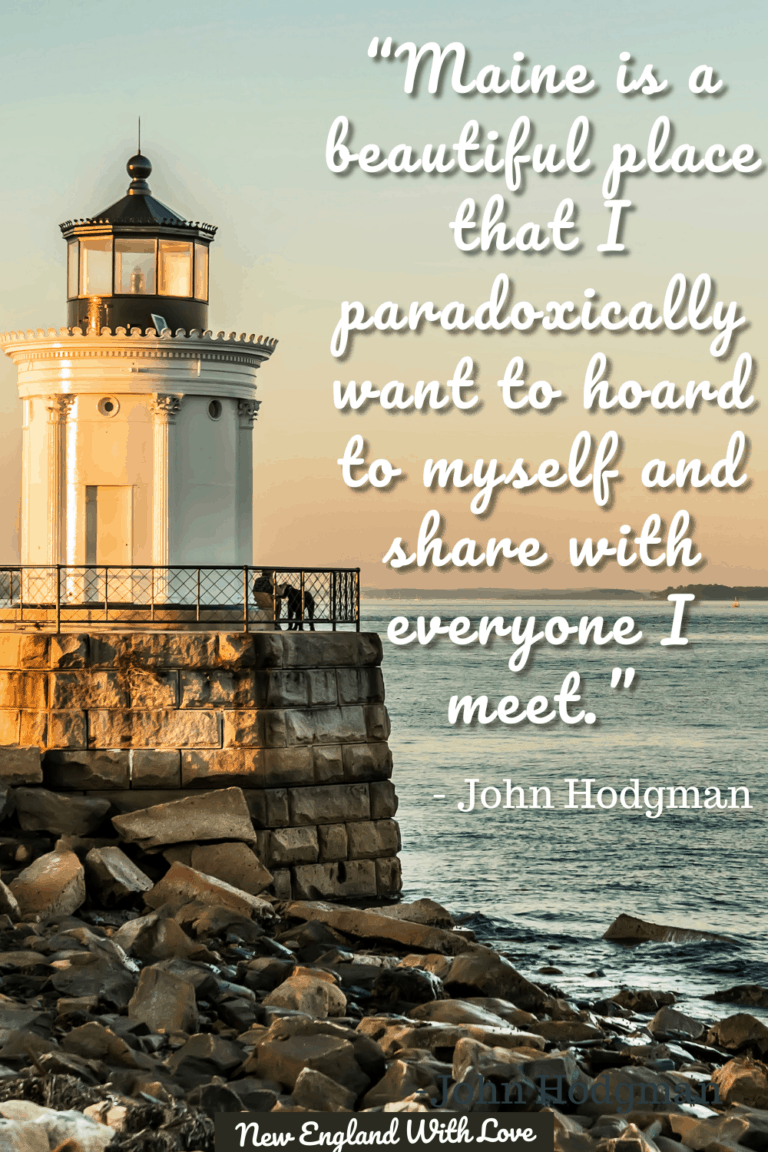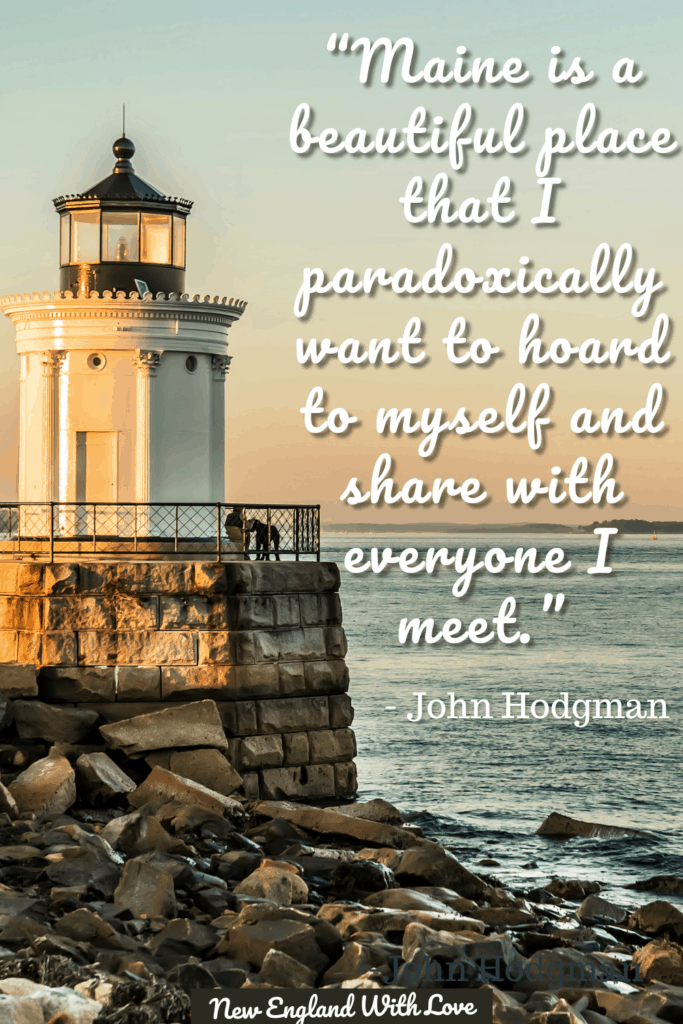 ---
"If you don't like the weather in New England now, just wait a few minutes."
―
---
"New England is quite as large a lump of earth as my heart can really take in."
― Nathaniel Hawthorne
---
"But worse, it was a new apartment. We both knew that, in New England, old was better. Old was cozy; old, like our farmhouse, like the Pudding, had magic and charm."
―
---
"The New England conscience does not stop you from doing what you shouldn't — it just stops you from enjoying it."
― Cleveland Amory
---
"I have a house in the Connecticut countryside where you'll always find me, summer or winter."
― Candace Bushnell
---
"The trees grew too thickly, and their trunks were too big for any healthy New England wood. There was too much silence in the dim alleys between them."
---
"Goodnight you princes of Maine, you kings of New England."
― John Irving, The Cider House Rules
---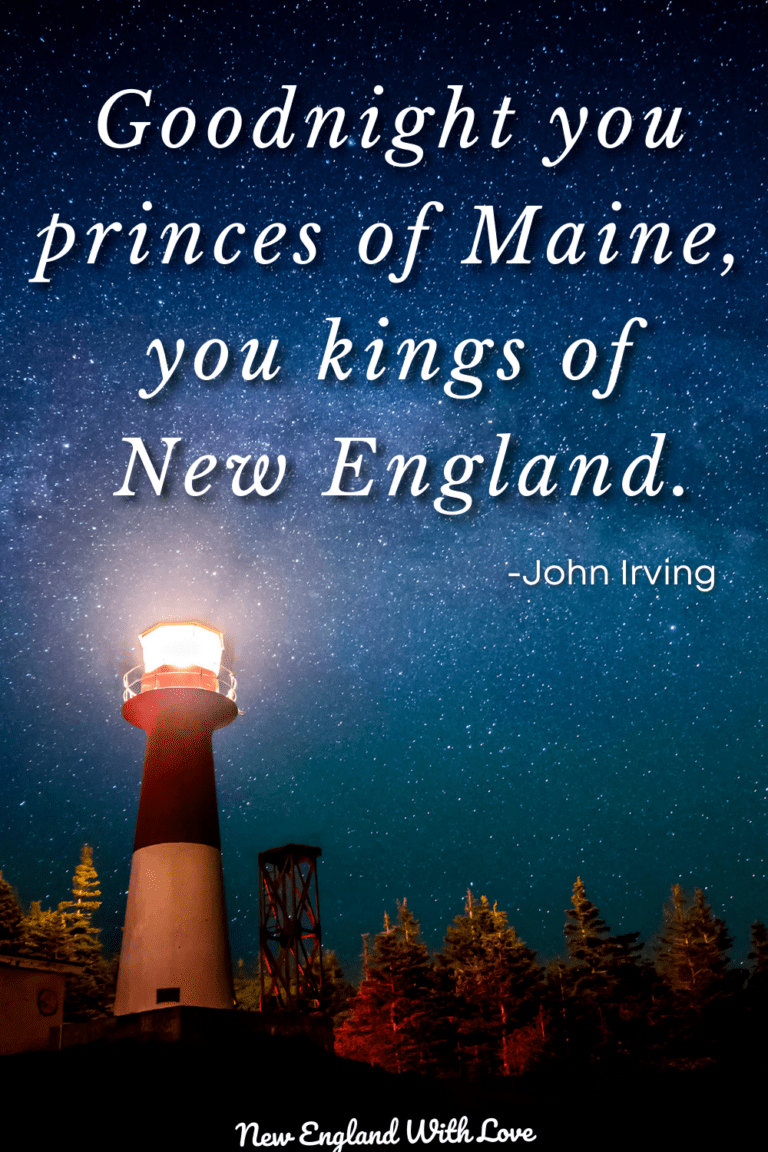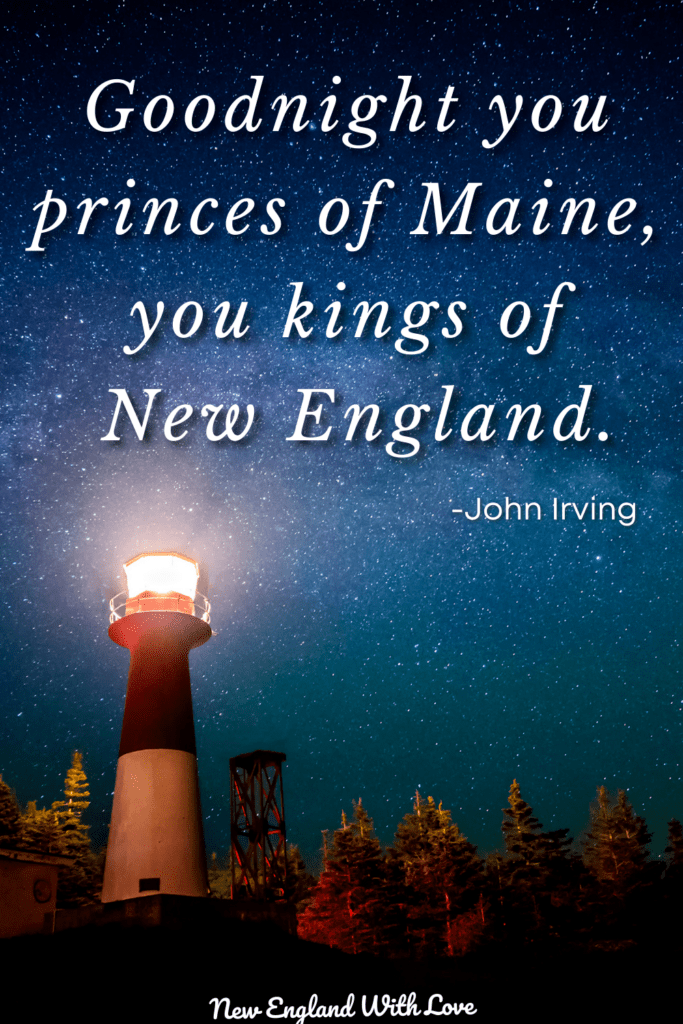 ---
"I sing New England, as she lights her fire
In every Prairie's midst; and where the bright
Enchanting stars shine pure through Southern night,
She still is there, the guardian on the tower,
To open for the world a purer hour."
― William Ellery Channing
---
There is a sumptuous variety about the New England weather that compels the stranger's admiration — and regret. The weather is always doing something there; always attending strictly to business; always getting up new designs and trying them on people to see how they will go. But it gets through more business in spring than in any other season. In the spring I have counted one hundred and thirty-six different kinds of weather inside of twenty-four hours."
― Mark Twain
---
"I do not speak with any fondness but the language of coolest history, when I say that Boston commands attention as the town which was appointed in the destiny of nations to lead the civilization of North America."
― Ralph Waldo Emerson
---
"

For anyone who lives in the oak-and-maple area of New England, there is a perennial temptation to plunge into a purple sea of adjectives about October.

"
— Hal Borland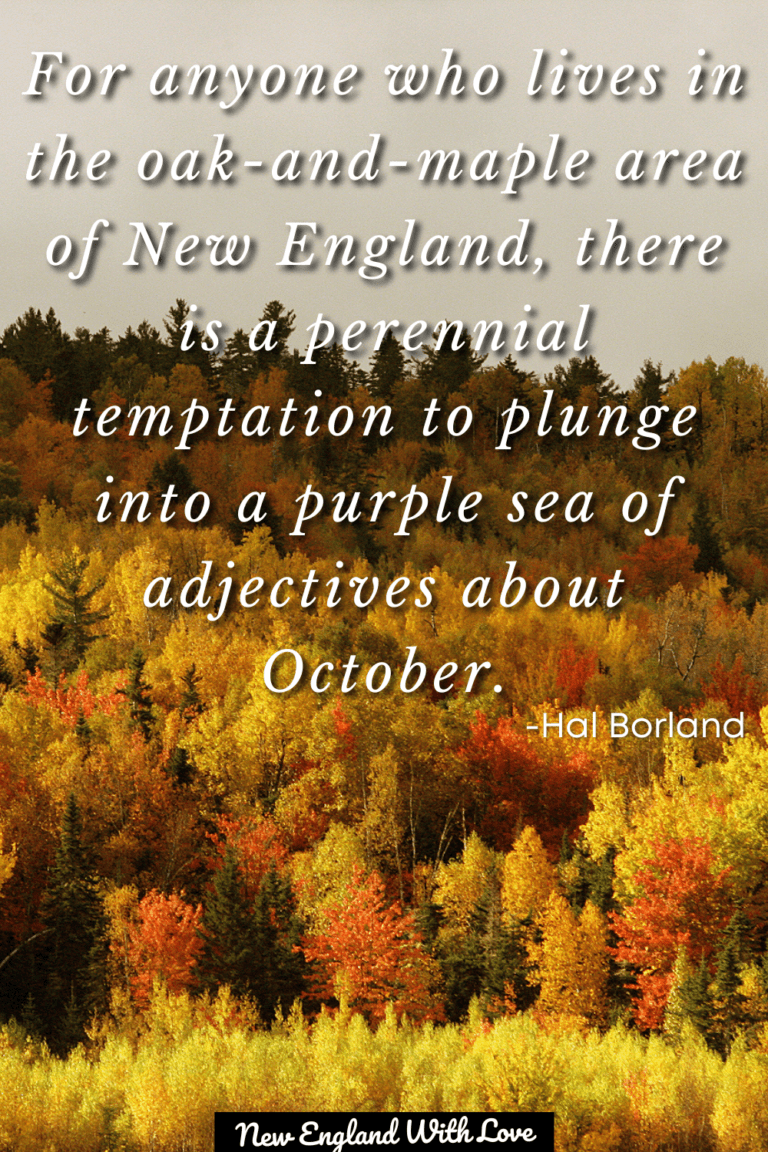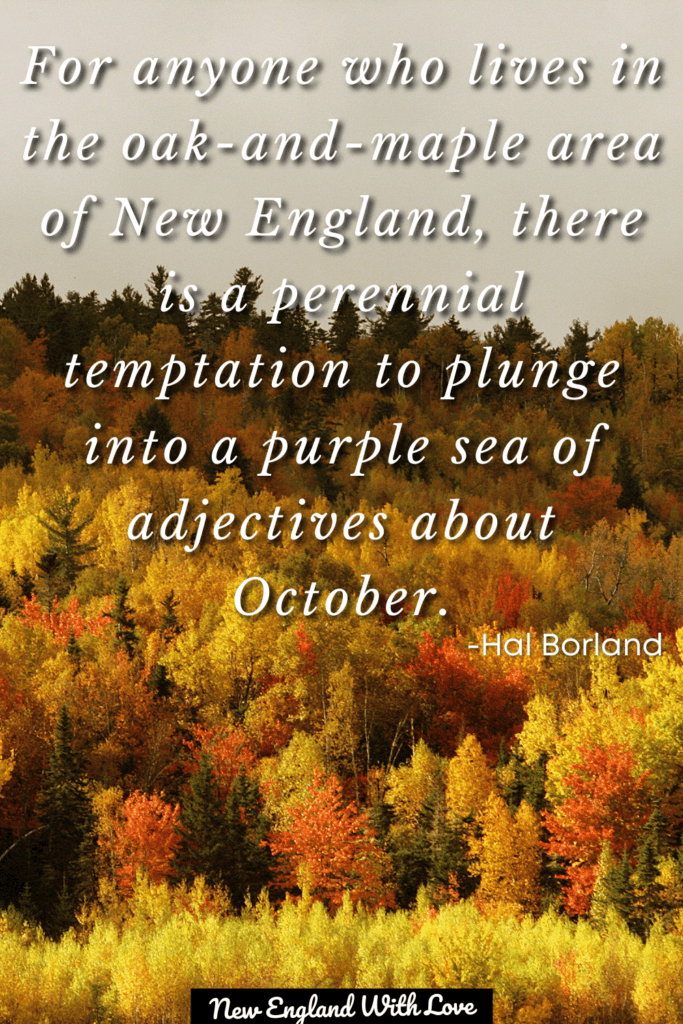 ---
"A year in Vermont, according to an old saw, is "nine months of winter followed by three months of very poor sledding."
― Bill Bryson
---
"Maine is a joy in the summer. But the soul of Maine is more apparent in the winter."
― Paul Theroux
---
"My Sorrow, when she's here with me,
Thinks these dark days of autumn rain
Are beautiful as days can be;
She loves the bare, the withered tree;
She walks the sodden pasture lane.
Her pleasure will not let me stay.
She talks and I am fain to list:
She's glad the birds are gone away,
She's glad her simple worsted gray
Is silver now with clinging mist.
The desolate, deserted trees,
The faded earth, the heavy sky,
The beauties she so truly sees,
She thinks I have no eye for these,
And vexes me for reason why.
Not yesterday I learned to know
The love of bare November days
Before the coming of the snow,
But it were vain to tell her so,
And they are better for her praise."
― Robert Frost, "My November Guest"
---
---
"I love Vermont because of her hills and valleys, her scenery and invigorating climate, but most of all, because of her indomitable people. They are a race of pioneers who have almost beggared themselves to serve others. If the spirit of liberty should vanish in other parts of the union and support of our institutions should languish, it could all be replenished from the generous store held by the people of this brave little state of Vermont."
― Calvin Coolidge
---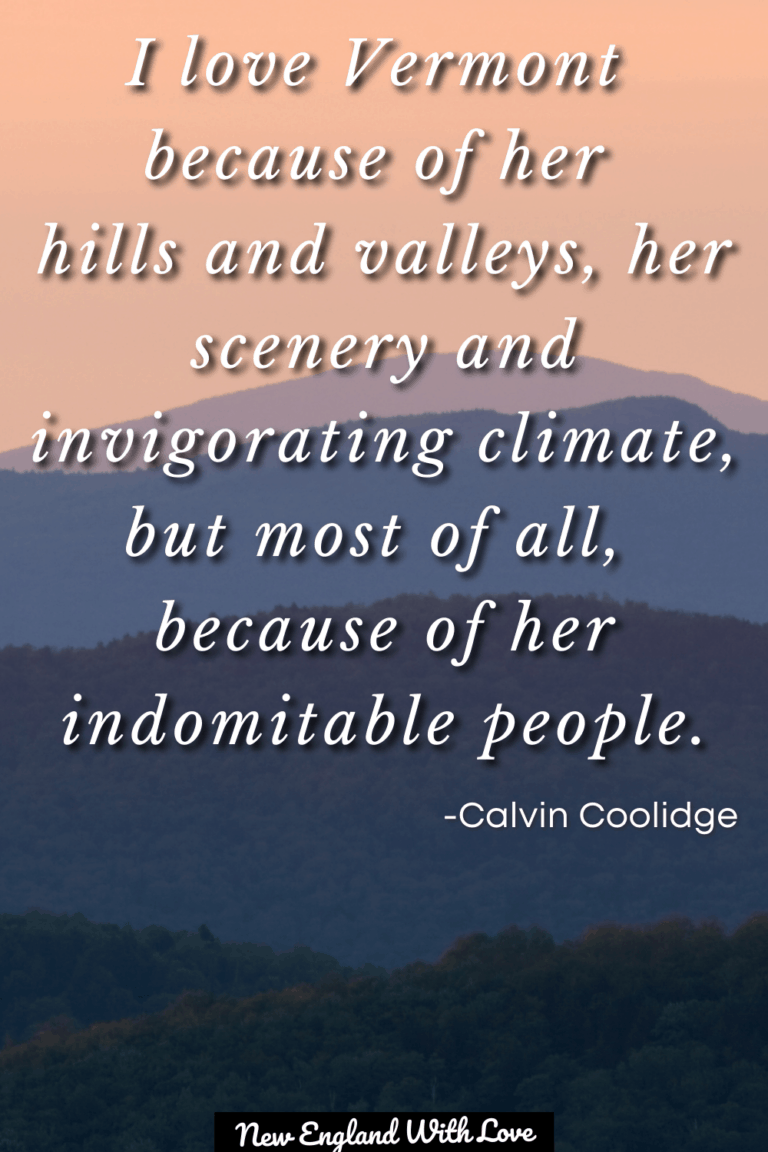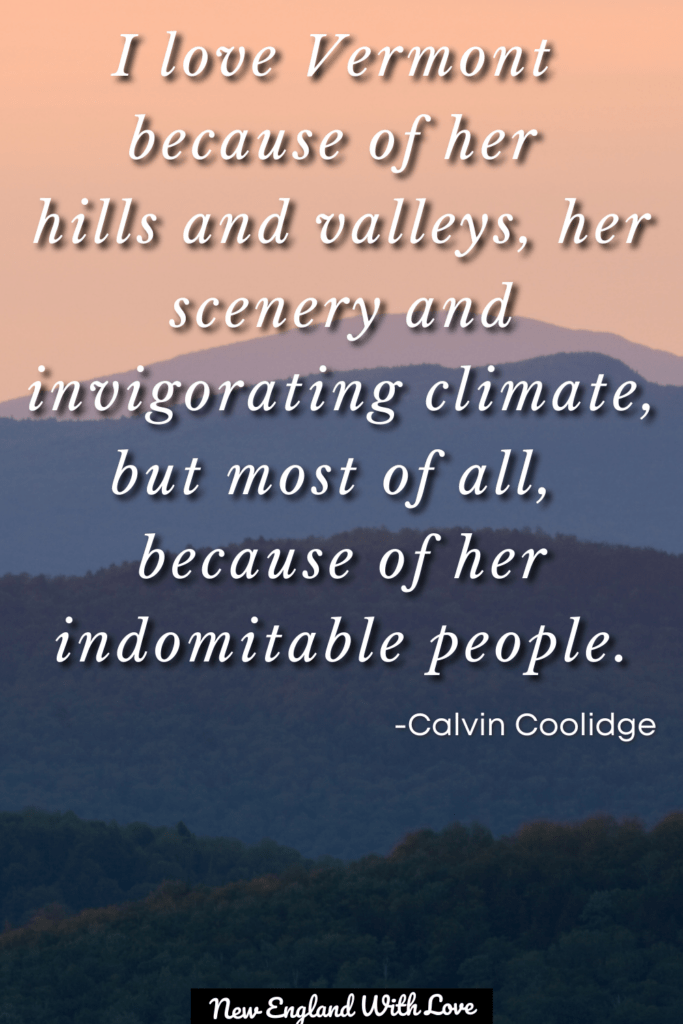 ---
"I would rather feel bad in Maine than feel good everywhere else."
― E.B. White
---
"One of the brightest gems in the New England weather is the dazzling uncertainty of it."
― Mark Twain
---
"How countlessly they congregate
O'er our tumultuous snow,
Which flows in shapes as tall as trees
When wintry winds do blow!"
— Robert Frost, "Stars"
---
"My attachment to the state is that of a barnacle to a ledge, the pull of the moon to the earth. Maine, because of its singular and profound beauty, is a place of worship without walls. I love it so."
―
---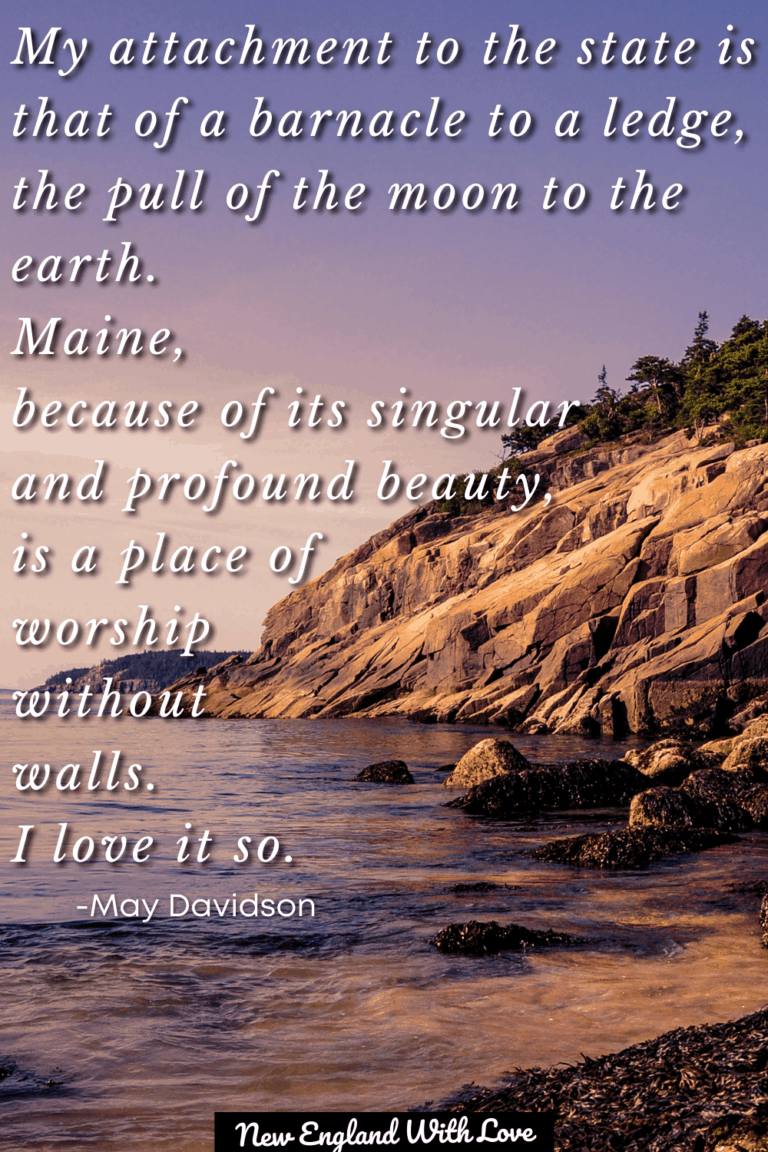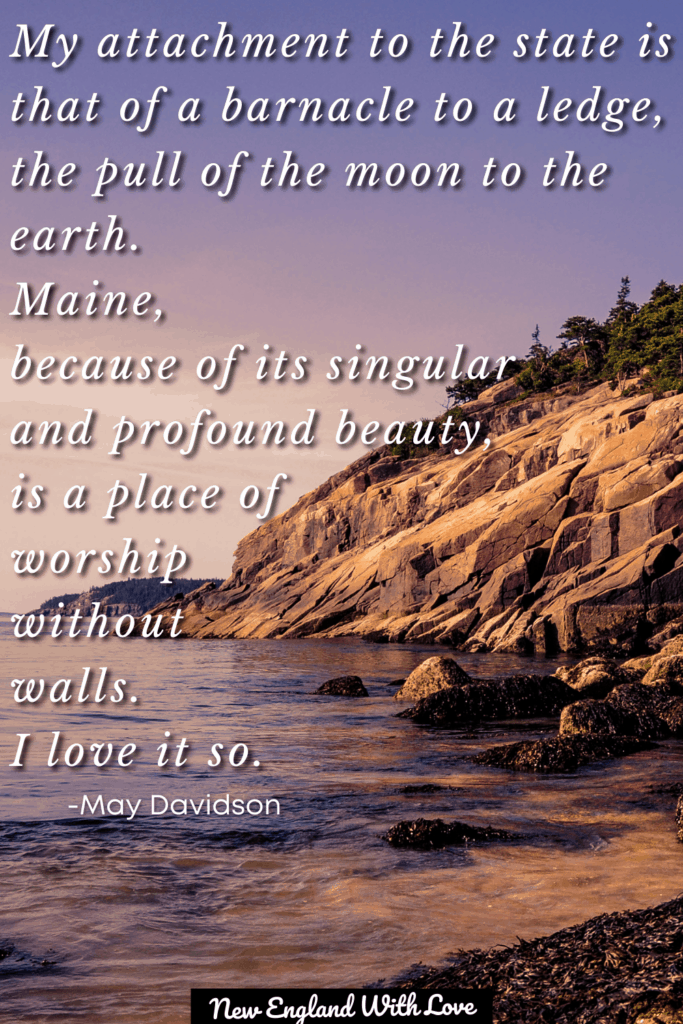 ---
"There's a quality of life in Maine which is this singular and unique. I think. It's absolutely a world onto itself."
― Jamie Wyeth
---
"I am Providence, & Providence is myself—together, indissolubly as one, we stand thro' the ages; a fixt monument set eternally in the shadow of Durfee's ice-clad peak!"
― H.P. Lovecraft
---
"Live Free or Die; Death is Not the Worst of Evils."
―
---
"She ran into the early-October afternoon. The light came at a low slant through the oaks across the street, gold and green, and how she loved that light. There was no light in the world like you saw in New England in early fall."
— Joe Hill
---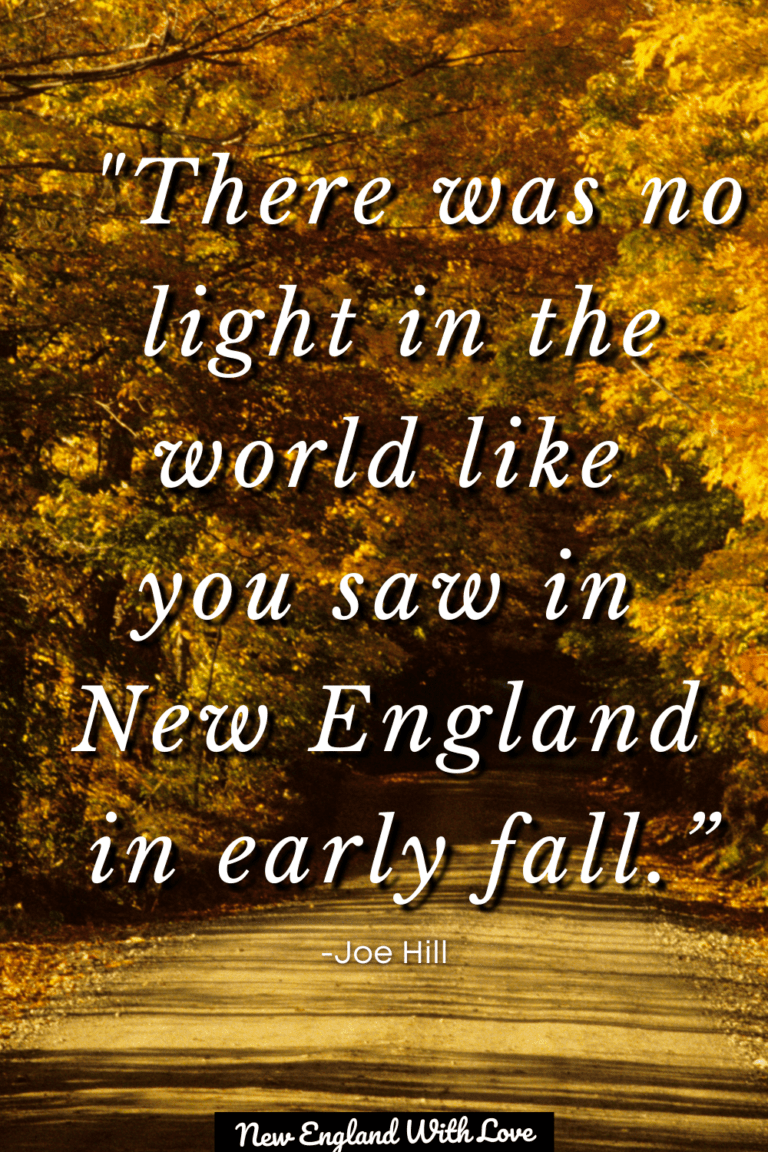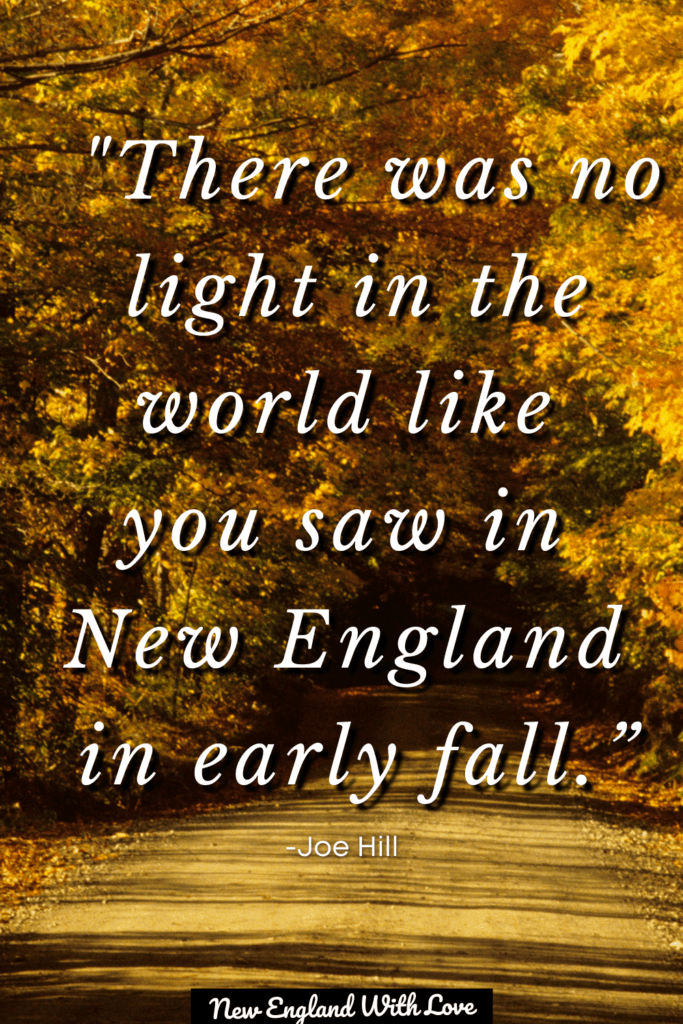 ---
"After vindictive winter, apple blossoms seem all the more heaven-sent.
Among flashing forsythia and budding rose, dogwood and daffodil,
The allure of magnolia, azalea and wisteria to lovers' dreams are lent.
Resolve is recompense as seedtime's blush dispenses with the chill,
How sweet-scented is New England now as winter tempests are through.
My darling girl, the divinest bloom in cherry blossom time just happens to be you."
―
---
"I don't hate it he thought, panting in the cold air, the iron New England dark; I don't. I don't! I don't hate it! I don't hate it!"
― William Faulkner
---
"There are areas of New England, plenty of them, with quaintness to spare, with color-changing leaves and folksy folks full of folksy homespun wisdom accompanied by folksy accents."
―
---
"It has often been said that the New World is deficient in the elements of poetry and romance ; that its bards must of necessity linger over the classic ruins of other lands; and draw their sketches of character from foreign sources, and paint Nature under the soft beauty of an Eastern sky. On the contrary, New England is full of Romance….we have mountains pillaring a sky as blue as that which bends over classic Olympus; streams as bright and beautiful as those of Greece and Italy, and forests richer and nobler than those which of old were haunted by Sylph and Dryad."
― John Greenleaf Whittier
---
---
"What people can excel our Northern and New England brethren in skill, invention, activity, energy, perseverance, and enterprise?"
― John C. Calhoun
---
"New England is the home of all that is good and noble with all her sternness and uncompromising opinions."
―Ellen Henrietta Swallow Richards
---
"New England has a harsh climate, a barren soil, a rough and stormy coast, and yet we love it, even with a love passing that of dwellers in more favored regions."
― Henry Cabot Lodge
---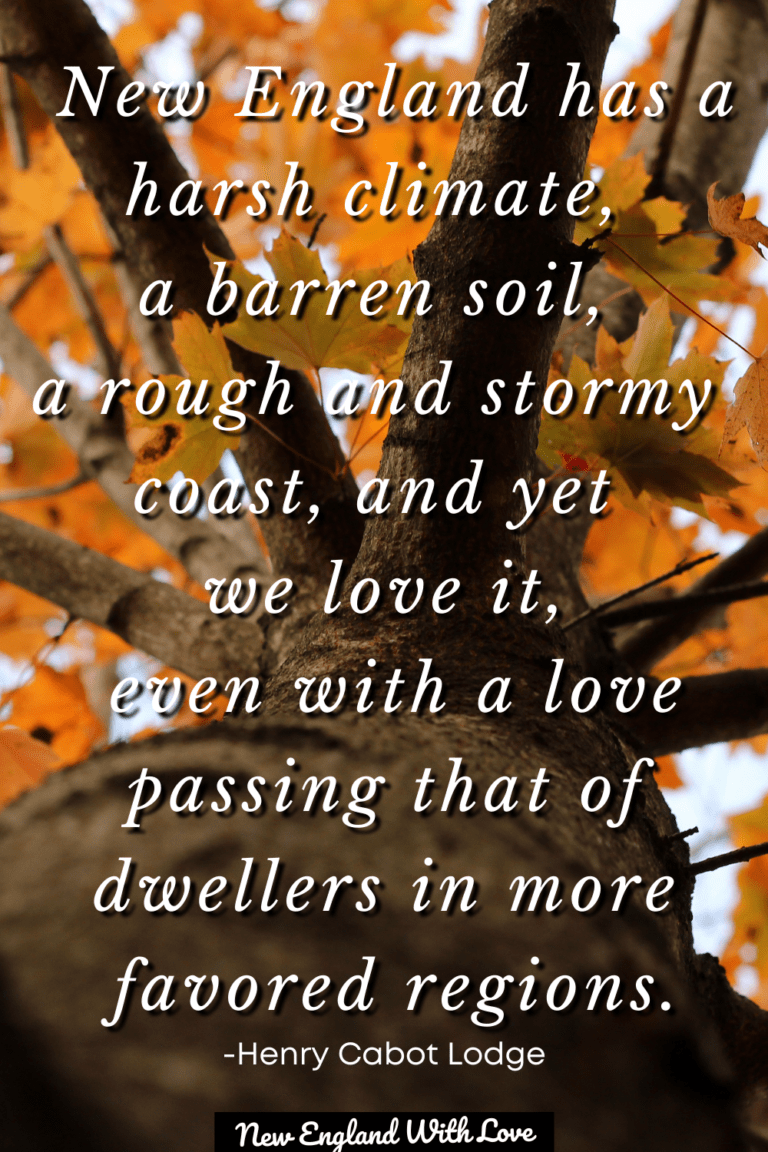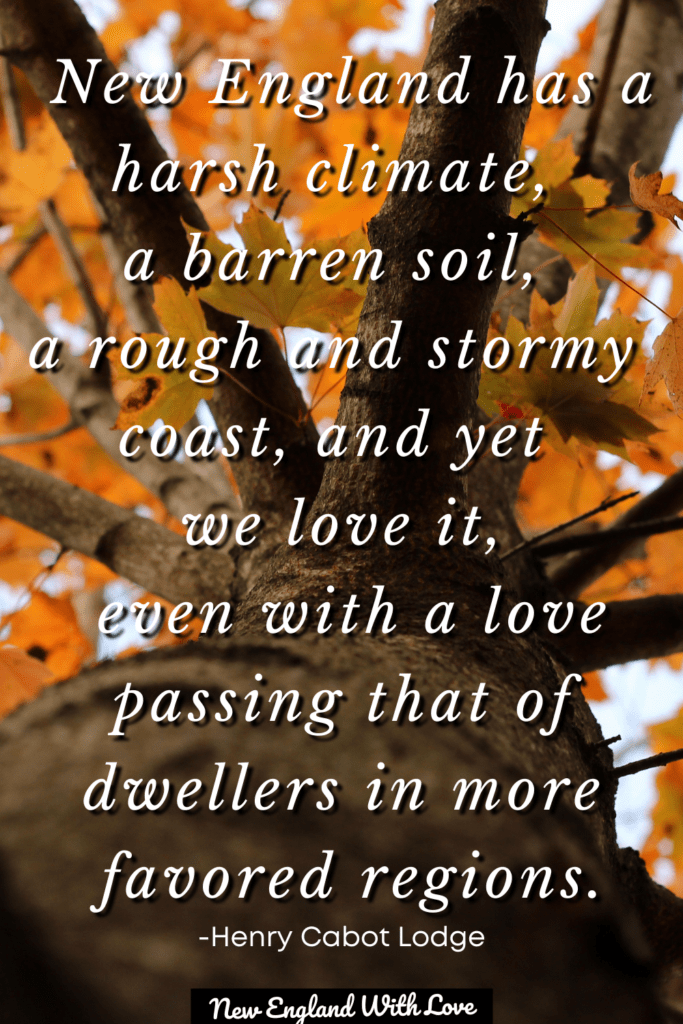 ---
"Everywhere throughout New England you find old, tumbledown field walls, often in the middle of the deepest, most settled- looking woods- a reminder of just how swiftly nature reclaims the land in America."
―
---
"I'm drawn to New England because that's where my roots are, and I miss it. I come from many generations of New Englanders, and so, in my writing, I've been drawn back there to the landscape and the light and the type of personality that's revealed."
―Elizabeth Strout
---
---
"The Greeks had just one word for 'economize.' Our New England grandmothers had twelve: 'Eat it up; use it up; make it do, or do without."
— Helen Lyon Adamson
---
"This was one of those perfect New England days in late summer where the spirit of autumn takes a first stealing flight, like a spy, through the ripening country-side, and, with feigned sympathy for those who droop with August heat, puts her cool cloak of bracing air about leaf and flower and human shoulders.

"
— Sarah Orne Jewett
---
"Live in each season as it passes; breathe the air, drink the drink, taste the fruit, and resign yourself to the influence of the earth."
―
---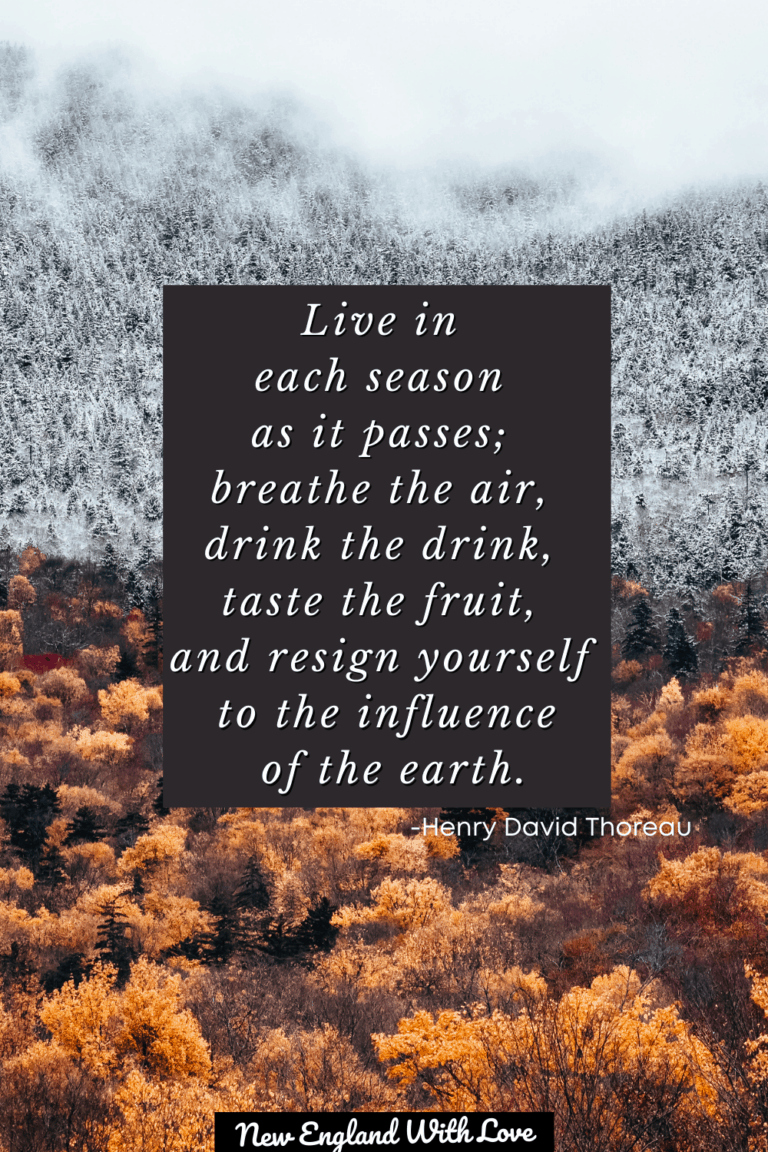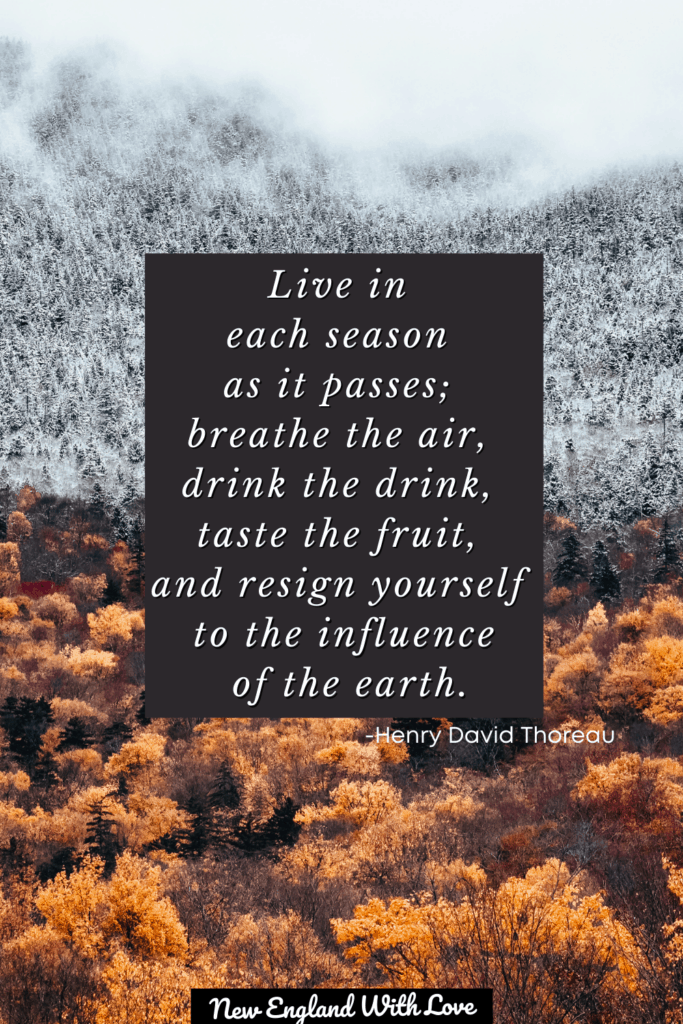 ---
"As with all good New Englanders, your solemn duty was to love the Boston Red Sox."
— Ken Perotte
---
"

I perceive that I am neither a planter of the backwoods, pioneer, nor settler there, but an inhabitant of the Mind, and given to friendship and ideas. The ancient society, the Old England of New England, Massachusetts for me.

"
— Amos Bronson Alcott
---
"

Modern American literature was born in protest, born in rebellion, born out of the sense of loss and indirection which was imposed upon the new generations out of the realization that the old formal culture-the "New England idea"-could no longer serve.

"
— Alfred Kazin
---
"The blast that swept him came off New Hampshire snow-fields and ice-hung forests. It seemed to have traversed interminable leagues of frozen silence, filling them with the same cold roar and sharpening its edge against the same bitter black-and-white landscape."
―
---
"All things on earth point home in old October; sailors to sea, travellers to walls and fences, hunters to field and hollow and the long voice of the hounds, the lover to the love he has forsaken."
―
---
"What happens to me when I cross the Piscataqua and plunge rapidly into Maine at the cost of seventy-five cents in tolls? I cannot describe it. I do not ordinarily spy a partridge in a pear tree, or three French hens, but I do have the sensation of having received a gift from a TRUE LOVE."
― E.B. White
---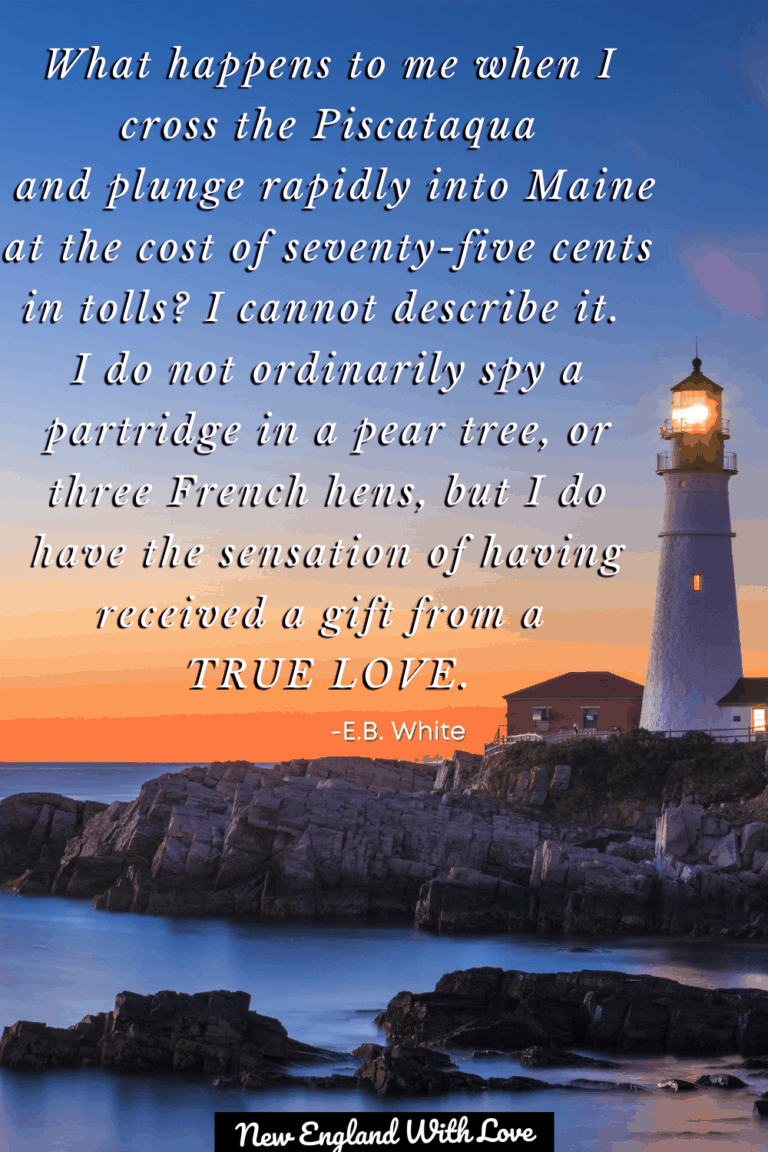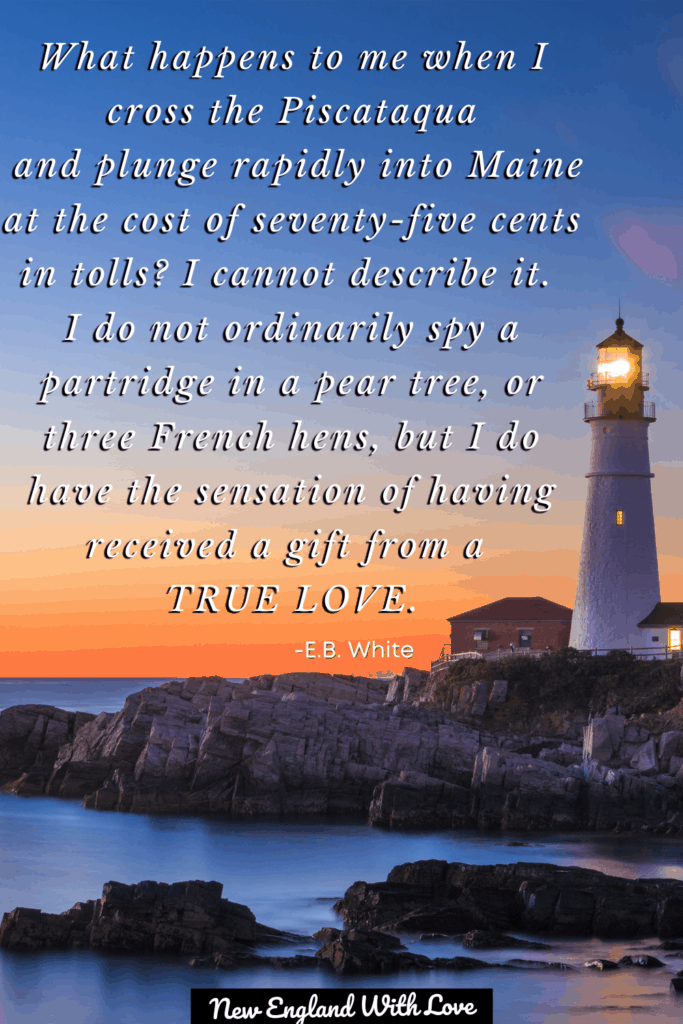 ---
"To this boy of New England the May morning was like faint music in the woods again, some unspeakably exciting foregathering of events far in the deep shade of morning pines, all of it stirring there. He could hear it all faintly in the woods from far away, from across the fields and pastures, in the cool misty morning air, and he wanted to go there too."
―
---
"I sing Connecticut, her charms / Of rivers, orchards, blossoming ridges. / I sing her gardens, fences, farms, / Spiders and midges."
---
"I grew up in New Hampshire. My closest neighbor was a mile away. … So I would spend time walking through the woods, looking for the most beautiful tropical thing that can survive the winter in the woods in New Hampshire."
― Steven Tyler
---
"In spite of all that is said, and more especially written, about the crabbed New Englander, New Englanders, like all ordinary people, are nice. Their manner of proffering a favor is sometimes on the crusty side, but that is much more often diffidence than surliness."
―
---
"June in New England is like a lover's dream made tangible."
---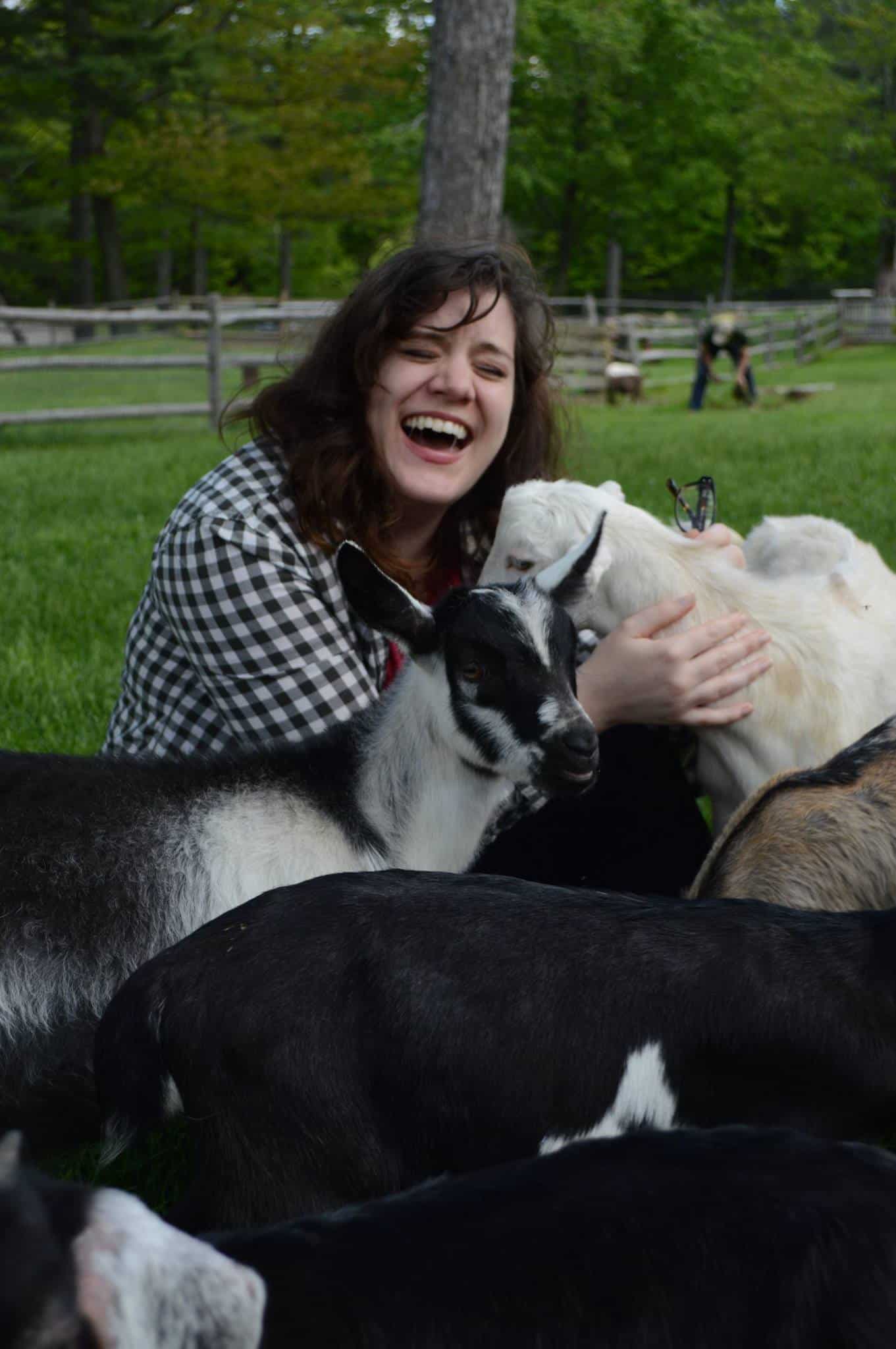 Amy Hartle is the founder and Editor-in-Chief of New England With Love, a comprehensive resource for travel in the New England region. Amy has been exploring New England since 2001. She lived in Vermont for many years and is a graduate of Plymouth State University in New Hampshire. Amy has been writing about travel for over a decade. On this site, Amy aims to share her love of New England and help you to have the best possible adventures!
Amy has been a full time blogger since 2012, and is also the publisher of Two Drifters, where she writes about couples travel and relationships, as well as Let's Adventure Baby, a family travel site. When not traveling the world or creating epic blog content, Amy can be found cuddling with her husband, son, and cats, & drinking a maple latte.