*This site uses affiliate links; if you make a purchase through these, I may receive a small commission at no cost to you.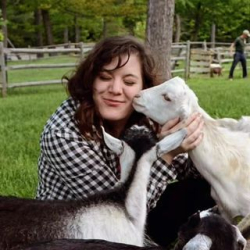 Latest posts by Amy Hartle
(see all)
I've always been a reader, a lover of books. When I visit someplace new, I like to seek out books about that area or–better yet—set in the region or city. For me, nothing brings a place more to life than such a book. Most of the time, the books I read about a place are fiction, although occasionally a story-drive nonfiction will also do. It's all about the atmosphere.
If you're planning a trip to New England, or if you'd just like to travel there through the power of books, I've got you. This list of 25 books set in New England will transport you. The selections range from dark mysteries and nature-driven poetry to seafaring voyages and modern dramas. I've read the vast majority of the New England books on this list, and I promise, they are great.
Ready to add to your to-be-read list? Get your pen ready.
PS don't miss this list of must-visit bookstores in New England, either!
The Secret History by Donna Tartt
Nothing says "New England" to me better than this book, one of my personal favorites. This dark tale set on the campus of a fictional New England college follows Richard, an outsider from California who becomes part of an elite group of classics students.
Eventually, they cross borders of morality and descend into what can only rightly be described as evil.
This book will take you into a cold Vermont night and quickly draw you right in.
Little Women by Louisa May Alcott
This classic novel of four sisters is one of the iconic New England novels. Written by Louisa May Alcott, this is an essential read for books set in Massachusetts. Follow the March sisters as they grow and change during the 1860s.
History and literature buffs will want to visit Concord, MA, and see Orchard House, Alcott's childhood home and the setting on which Little Women was based.
The Crucible by Arthur Miller
This play reenacts the events of the infamous Salem Witch Trials of the 1690s, using accurate characters, but taking license with the action. Despite the lack of perfect historical accuracy, this is an awesome piece of drama. I think it is essential reading for those visiting Salem.
Written in the 1950s, the play is said to be a commentary on the "witch hunts" of the McCarthy era. The parallels certainly are fascinating.
Empire Falls by Richard Russo
This 2011 Pulitzer Prize-winning novel is set in a small mill town in Maine. Focusing on Miles Roby, who has worked in a neighborhood restaurant for more than 2 decades, the novel is filled with heart, humor, and certainly those New England vibes. Expect tales of a blue-collar town and its residents.
A Prayer for Owen Meany by John Irving
I can't say enough good things about this book. It's one of my personal favorites of all time.
Owen Meany is a small, squeaky-voiced boy who has been sent to earth with a special purpose. Or at least, that's what he believes.
Set in mid-century New Hampshire, the book tells Owen's story from the perspective of his best friend. This book will make you laugh, cry, and definitely question your faith in a higher power.
Ethan Frome by Edith Wharton
This 1911 book is just 99 pages long, but it packs a lot into a slim volume. According to Goodreads, this is "the classic novel of despair, forbidden emotions, and sexual undercurrents set against the austere New England countryside."
Edith Wharton is another major New England writer who set much of her work in the region. You can visit her house, The Mount, in Lenox, MA.
Mystic River By Dennis Lehane
This highly-rated crime novel is definitely on my list of books to read. If you're searching for thriller books set in Boston, you should definitely check out Mystic River.
The story begins in 1970s Boston, when three young boys are set upon by child molesters who are posing as cops. 25 years later, the three boys, now men, find their lives intersecting once again in the wake of a brutal crime.
The Scarlet Letter By Nathaniel Hawthorne
If you didn't catch this novel in high school, now's a great time to read it. The Scarlet Letter is SO New England, not just because it was written by homeboy Nathaniel Hawthorne.
Mostly, it's because of the intense Puritan atmosphere of the tale, which highlights the impact one single passionate act has on the lives of three colonists: the outcast Hester Prynne, the tortured Reverend Dimmesdale, and the obsessed, vengeful Chillingworth.
A Separate Peace by John Knowles
A Separate Peace is set at a boys boarding school in New Hampshire during the early years of World War II. Following the relationship between two boys who are both best friends and very different in personality, this coming-of-age story explores some of humanity's dark side.
I Know This Much Is True by Wally Lamb
Seeking out books set in Connecticut? This complex novel, published in the 1990s, is a bestseller.
Telling the story of identical twins Dominick and Thomas Birdsey, from Dominick's perspective. Thomas is a schizophrenic that Dominick largely cares and advocates for.
Over the course of roughly 900 pages, this novel carries readers through a vast realm of themes, including mental health, forgiveness, family dynamics, and what it means to be a twin.
A Stranger in the Kingdom: A Novel by Howard Frank Mosher
Author Howard Frank Mosher has earned significant critical acclaim for his works, many of which are set in fictional Kingdom County, Vermont.
A Stranger in the Kingdom focuses on a brutal murder that takes place in a small Vermont town in the 1950s. Suspicion falls upon the town's new Presbyterian minister, a black man. The ensuing tale of racism and murder in a small New England town will no doubt bring to mind the famous novel To Kill a Mockingbird.
A Connecticut Yankee in King Arthur's Court by Mark Twain
Mark Twain is another New England author whose home you can visit (in Hartford, Connecticut). During the 17 years he lived in CT, Twain wrote many of his classic novels.
For that New England flavor, consider picking up this one: A Connecticut Yankee in King Arthur's Court. This funny, satirical novel follows a Yankee mechanic is knocked out during a brawl, and wakes to find himself in Camelot, A.D. 528, in King Arthur's Court. Hilarity ensues.
Pollyanna by Eleanor H. Porter
The name Pollyanna has grown synonymous with optimism and joy. Well, that idea originated here in the novel Pollyanna.
Following the death of her father, Pollyanna Whittier goes to Vermont to live with her curmudgeon of an Aunt. Her commitment to being joyful, using her cheerful "glad game," earns her the love and attention of the townsfolk she meets. When a terrible injury befalls her, the townsfolk work to help Pollyanna continue to seek gladness in the face of adversity
Moby Dick by Herman Melville
After reading about the origin of the Moby Dick story, pick up the classic novel. You can't go wrong diving into this thick tome of seafaring adventure.
Practical Magic by Alice Hoffman
Gillian and Sally are two sisters from Massachusetts. For over 200 years, the women in their family have been blamed for everything that has gone wrong in their town, which has made the girls outsiders.
All Gillian and Sally ever wanted to do was to escape, but it seems that the bonds they share will bring them back, almost by magic…
Midwives by Chris Bohjalian
What happens when an accomplished midwife makes a snap decision that may have cost a mother her life? This drama follows Sibyl Danforth, an accomplished Vermont midwife, and what happens when she performs an emergency C-section to save a newborn. You'll definitely be left guessing 'til the end.
The Poetry of Robert Frost: The Collected Poems, Complete and Unabridged
You can't talk about books of New England without paying homage to Robert Frost. Although he is a poet and not a novelist, Frost is one of the most famous writers to ever emerge from New England.
You likely know him from his popular poem, "The Road Not Taken," but he is the creative genius behind hundreds of poems, many of which bring the nature, beauty, and community of New England into stark life.
This collection of his poems is the perfect companion for a snowy evening and a cup of tea.
'Salem's Lot by Stephen King
Ah, yes. Mr. King. The horror writer known world-wide for his bestselling novels like The Shining, Carrie, and The Stand. With the vast majority of his novels set in Maine or other parts of New England, one could almost include any Stephen King work on this list of books set in New England.
But 'Salem's Lot is one of my favorites; one that I think is one of King's most iconic, and most atmospheric. And it's very, very creepy.
Other notable King books set in Maine and New England: It, The Girl Who Loved Tom Gordon, and Pet Sematary.
Walden by Henry David Thoreau
Walden, Thoreau's account of his time living alone in a secluded cabin at Walden Pond, was first published in 1854 and has become one of the most iconic books in American literature.
Read this for beautiful quotes on humanity, solitude, and the importance of nature to our lives.
The Stars Are Fire by Anita Shreve
Set in Maine in 1947, this story follows Grace, a wife and mother. When fires ravage her coastal New England town, she finds her life irrevocably changed. Discoveries of freedom, loss, and love round out this book.
The Namesake by Jhumpa Lahiri
With her debut collection of short stories, author Jhumpa Lahiri won a Pulitzer Prize for Fiction, among numerous other awards.
The Namesake takes the same and similar themes even further: "the immigrant experience, the clash of cultures, the conflicts of assimilation, and, most poignantly, the tangled ties between generations."
Following an Indian family who settles in Cambridge, MA and their sun Gogol, a first-generation American, this is one of the newer books set in Massachusetts on this list.
Olive Kitteridge by Elizabeth Strout
Centered around retired schoolteacher Olive Kitteridge, the stories in this Pulitzer Prize-winning book bring Maine vividly to life. (One Goodreads reviewer even said he "breathed in the saltiness of the Maine coast, practically."
As the small town Maine residents around her struggle with problems large and small, Olive is brought to a more profound understanding of herself and of her own life.
The Witch of Blackbird Pond by Elizabeth Goerge Speare
This young adult historical fiction is set in an early Puritan settlement, Connecticut Colony. Kit, an orphan who has come here from the Caribbean to live with relatives, finds friendship with an old Quaker woman who is known as "the Witch of Blackbird Pond." Will this friendship spark suspicion and fear (and even accusation) among the local Puritans?
I read this Newbury Award-winner back in middle school, but the plot sounds intriguing to me, so I may give it a second read.
The Perfect Storm: A True Story of Men Against the Sea by Sebastian Junger
Finally, one last great piece of nonfiction set in New England. If you've ever seen the film The Perfect Storm, wait til you read the book. A captivating portrayal of a coastal tragedy, this book delves into the stories of each of the men who were lost at sea onboard a lobster boat in the 1990s. You'll also hear how the events devastated the town of Gloucester, MA. This is an amazing book that is both hard to read and incredibly rewarding.
Books that are set in New England often offer that atmospheric moodiness that so perfectly encapsulates many of my favorite places in the region, and by reading one of these books set in New England, it's like we get a little taste of that, too.
While this isn't a completely comprehensive list of books set in New England, these are some of the absolute must reads to get you in that New England mood!
---
You might also like:
---
Pin this post to save for later!