I've always loved shopping in New England. From small boutiques to classic general stores, I find something I love wherever I go in New England.
Are you looking for a treasure? These 25 New England gifts are perfect for anyone who loves New England, misses New England, or is obsessed with New England-themed or New England-made items. (This person might even be you! I support self-gift giving 100%.)
While it would be impossible to include every single New England-themed or New England-produced item on this list, what follows is a collection of some of my personal favorite products, and what I would recommend giving someone who loves the region as much as I do. You'll find items for adults, kids, people who love the outdoors, people who love to eat, and a whole lot more.
New England Gifts
A cuddly, classic Vermont Teddy Bear
Vermont Teddy Bear has been selling stuffed friends since 1981. Today, they're a well-known purveyor of classic, adorable bears, popular with both kids and adults. If you're traveling through Burlington, you can visit the nearby Vermont Teddy Bear Factory and check out where they're made.
These bears can really be an heirloom piece, as they are well-made and can be customized in many ways with outfits, accessories, etc. And there are more than just bears if you're after a different member of the animal kingdom.
Buying for a child? Or looking for a super cuddly friend? Consider the classic Super-Soft bear.
Something cozy and practical from L.L.Bean
You can't think of New England without thinking of L.L.Bean. Their iconic boots are just one of the stellar products they're well-known for.
It will probably not surprise you that it was boots that got the company started. Back in 1911, Leon Leonwood Bean invented the Maine Hunting Shoe after an outdoor excursion left his feet wet and uncomfortable. The rest is pretty much history.
So what kind of L.L.Bean item makes the perfect New England gift? Really, you can't go wrong here. Flannels, blankets, boots, and home decor would be my top choices. They even have great stuff for pets!
A box of Lake Champlain Chocolates
Whatever the occasion, a box of deluxe chocolates is always welcome! Lake Champlain Chocolates produces gourmet chocolate that is incredibly delicious, and their packaging just takes it to the next level. Check their website for all the seasonal goodness and wide variety of chocolate products.
A sampling of local beer
Maybe your gift recipient isn't a fan of chocolate, but is more of a beer guy (or gal). Well, you've come to the right place a thousand times over. New England is heaven for craft beer lovers, and every state has its top brews. Not sure where to start? We've got a couple of best brewery lists you could take a look at: Burlington VT, Hartford CT, Portsmouth NH, Providence RI, Boston MA, and Portland ME.
This might be an easier gift to give if you'll be seeing the recipient in person, but shipping beer is often possible, though sometimes a bit more challenging.
A hand-crafted glass treasure from Simon Pearce
Simon Pearce makes gorgeous glassware that is handcrafted in Vermont. It's a delight if you can visit their store during a trip to Woodstock, where you can actually see the crafting process in action. But if not, give one of the masterpieces as a gift. The stunning products range from bowls and serveware to home decor, lighting, and more.
The gift of a New England travel experience
What better way to give the gift of New England than by helping a loved one experience it on their own? A fantastic idea is to give them one of these New England Experience Gifts from Tinggly. With this unique gift, the recipient gets to choose which specific experience they attend or have, choosing from a whole host of experiences all around the world.
Just a few of the New England-based options include a Boston North End Pizza Tour, a sailing excursion in Maine, or tandem skydiving in Massachusetts. A New England adventure would be an awesome gift.
Patriots or Red Sox Gear
Unless they aren't fans, Boston/New England sports-related gifts can be an excellent option. The most beloved teams of the region are the Patriots and the Red Sox, and you can find an endless array of gear repping both teams.
A solid choice: the classic Red Sox hat.
Some luxurious lavender products from NH
There are several lavender farms throughout New England, and they make wonderful products for beauty/bath and home. One great option is Laromay Lavender in New Hampshire. If you're looking for something with a romantic, fresh scent that's straight out of a New England summer, consider their candles, soaps, lotions, and more.
A jar of soothing, organic Badger Balm
Who among us could not benefit from an ultra-moisturizing hand cream or a sore muscle rub? If your gift recipient has hands, this is a great choice. Badger Balm is a family-run, New Hampshire-based company crafting products of excellence. There's an endless array to choose from, but my pick is this Cayenne & Ginger Sore Muscle Rub, great for the active person in your life.
Real maple syrup (or any New England delicacy)
To be honest, when looking for the perfect gift from New England, maple syrup is nearly always my #1 choice. Why? Because it is delicious! Local Vermont-made maple syrup is like the nectar of the gods, and I haven't met anyone who wasn't excited to receive a small, leaf-shaped bottle of the amber goodness.
You can get maple syrup anywhere in Vermont, and it's available throughout New England as well. For those shopping online, it's easy to find farm-fresh syrup available for shipping. One possible option is Woodstock's Sugarbush Farm, which sells a combined Maple Syrup and Pancake kit. YUM.
Not into syrup? That's okay. There are so many classic New England foods to consider, and many of them are shelf-stable items that can easily be stored or shipped. Consider jams, bread mixes, whoopie pies, blueberry baked goods, clam chowder kits, and so much more.
Lobster tools & lobster themed goodies
Speaking of famous New England foods, what could be more famous than our lobster? While it's probably not advisable or sanitary to attempt to gift live lobster, you can gift the lobster lover in your life lobster tools and lobster themed goodies.
Maine's Stonewall Kitchen has several helpful lobster tools and lobster themed gifts, including a lobster cracker, lobster pick, adorable lobster bib, lobster tea towels, lobster Christmas ornaments, and more!
Literally anything from Stonewall Kitchen
Speaking of Stonewall Kitchen, that's a phenomenal choice for anything related to Maine or New England culinary gifts. Perhaps most well-known for their jars of Wild Maine Blueberry Jam, Stonewall Kitchen produces a tremendous number of additional delicious items, plus adorable New England-themed decor and homegoods.
If you're driving up to Portland for a weekend, consider stopping off at the Stonewall Kitchen store in York, Maine. You won't leave empty handed!
This sampler and other items from Stonewall Kitchen are also available via Amazon.
A fine, handmade Peterboro Basket
New England home decor is traditionally classic and beautiful. A stunning handmade basket is the ideal addition to a home, especially one exuding Yankee charm.
Peterboro Basket Company, in Peterborough, NH, is a New England institution, having been making baskets since 1854. In fact, Peterboro Basket Company is the oldest continuous manufacturer of baskets in the U.S.A.
The best smelling Yankee Candle
Nearly everyone knows of Yankee Candle: those incredible, almost-unbelievably delicious scented candles that make your space cozy and fragrant. You might not know that Yankee Candle is a Massachusetts born and bred product. While the candles reach far and wide today, they began in the house of 16-year-old Mike Kittredge in South Hadley, as he spontaneously made his mom a candle for a birthday gift.
If you want to give a friend the unmistakable scent of New England, a Yankee Candle is a great choice. The perfect flavor? New England Maple.
A handmade nautical bracelet from Mystic Knotwork
Bring home a piece of the seaside with this gift. Mystic Knotwork, located in Mystic, Connecticut, is the place for handcrafted nautical bracelets that represent a tradition of 60 years. These woven sailor bracelets are durable and expertly-made. They represent a great piece of New England history, and so make an amazing gift for the New England-lover in your life.
A pair of Maine-made mittens
Keep their hands warm this winter with some well-made mittens. Using recycled sweaters, Jack and Mary Designs repurposes fabrics into mittens and other fresh accessories. They can even create custom Memory Mittens using your own sweater. What an incredible way to commemorate a loved one!
Thanks to my friend Naomi for mentioning these. She's got other great suggestions on her list of Maine gift ideas.
A robust New England cookbook
There are dozens of enticing cookbooks that have come out of New England over the last decades. While many of them are worthy contenders, one that I think would make an especially nice gift is this: the New England Soup Factory Cookbook.

Because what is cozier and homier than making your own giant pot of steaming soup? Soup also tends to be an easier dish to make than some others, so you're safe gifting this to an amateur cook. No matter which book you would choose, you will be providing the gift of countless wonderful nights of home-cooking. Amazing.
Some soft, iconic flannel
The unofficial uniform of New England: a cozy, well-worn flannel that smells like campfires and autumn evenings. Flannel is a perfect gift for anyone.
A scrumptious Taste of New England basket
What if you could give someone a full, classic New England meal in a basket? Well, you can with one of these incredible Taste of New England baskets from Pemberton Farms. Sweet, savory and everything in between, this is a New England gift that can please even the pickiest recipient!
A pair of solid, practical socks

Socks are no longer the lame gift they were in your childhood. Especially when they're made with the durability, warmth, and comfort of this Vermont sock company. Get your own Darn Tough socks here!
A subscription to a New England publication
Let your friend, family member, or loved one keep dreaming about New England all year long with a subscription to one of the leading print publications. Yankee Magazine is my pick.
Something lovely from Alex & Ani
Want something delicate and wearable? Alex & Ani is a Rhode Island-based company making simple, yet exquisite bracelets for women. This is a wonderful New England gift for a special occasion or just because. Check out this pretty option in rose gold.
A treasury of Robert Frost poems
Shopping for a book worm? Any one of these books set in New England would be terrific, but the item that takes the cake is a collection of Robert Frost poems. Nothing screams New England like the words of this world-famous poet.
A gift card to the Vermont Country Store
Literally everything in the Vermont Country Store would make a magnificent addition to this list. Don't worry about selecting the ideal present, let your recipient choose their own adventure with a gift card.
A New England spa getaway
Okay, this is a New England gift for someone you love very, VERY much! Pamper your loved one by sending them on any one of these New England spa getaways, and they'll come back refreshed, rejuvenated, and ever so grateful to you for this delightful gift. Maybe you could even go with!
A Boston Cannoli Kit from Mike's Pastry
There are several places in Boston that offer top notch cannoli, but Mike's Pastry is the OG! This Boston Cannoli kit from Mike's ships nationwide and sends everything a person needs to make 10 of their iconic cannoli. This is a wicked good gift for the New England lover in your life!
---
You might also like:
---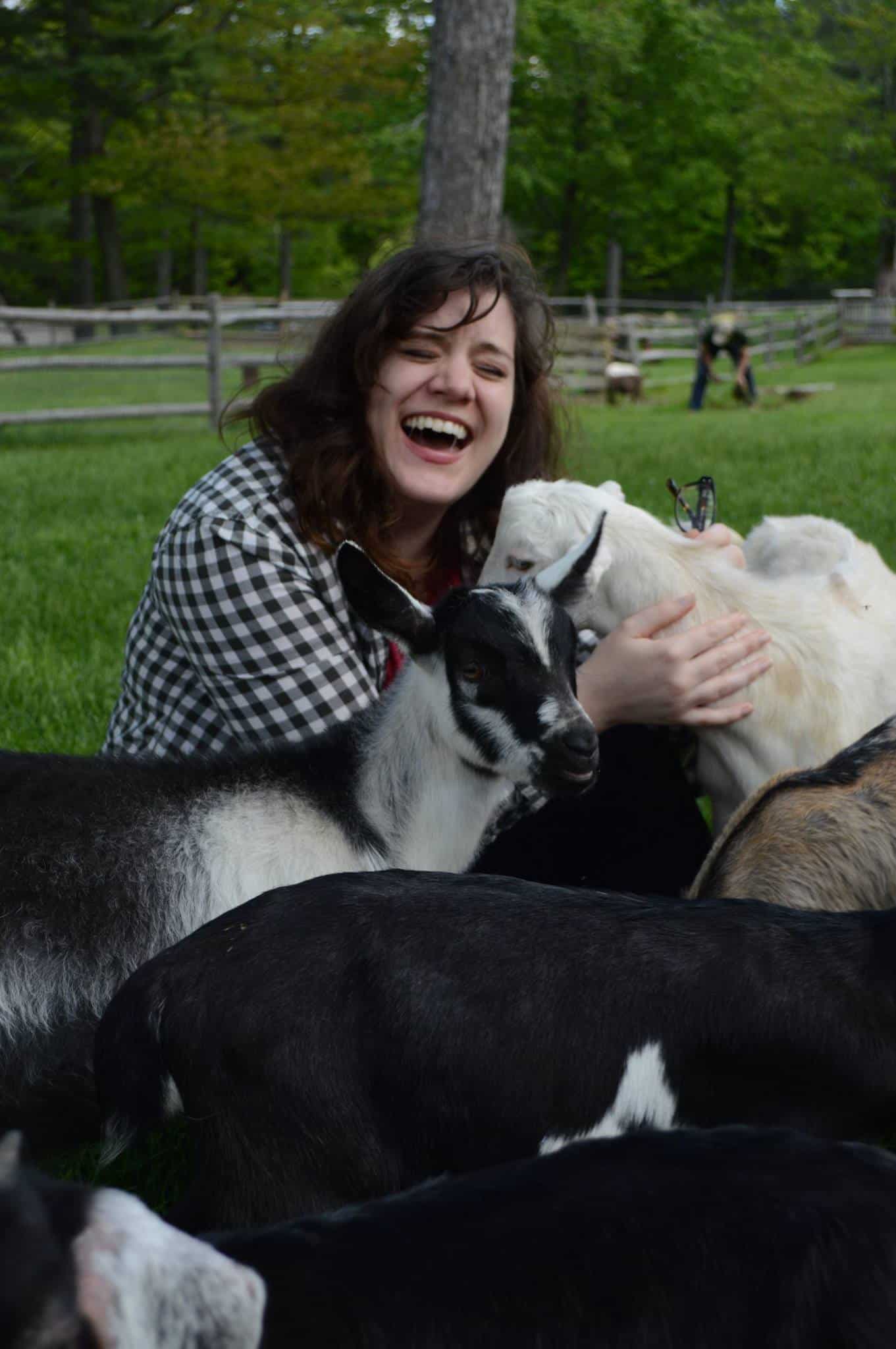 Amy Hartle is the founder and Editor-in-Chief of New England With Love, a comprehensive resource for travel in the New England region. Amy has been exploring New England since 2001. She lived in Vermont for many years and is a graduate of Plymouth State University in New Hampshire. On this site, Amy aims to share her love of New England and help you to have the best possible adventures!
Amy has been writing about travel for over a decade, and is a full time blogger, publishing both Two Drifters and Let's Adventure Baby. When not traveling the world or creating epic blog content, Amy can be found cuddling with her husband, son, and cats, & drinking a maple latte.