---
*Links in this article may be affiliate links, from which we may earn commission. See our
Privacy Policy
for full details.
---
If you're looking for a vacation destination where you'll be just a short drive from the beach, look no further than Rhode Island! This state is filled with breathtaking views, amazing foods, and historical culture that you won't want to miss out on.
Wondering where to stay in Rhode Island? While you could easily stay at a bed and breakfast or a hotel for your trip to the Ocean State, you can get even more bang for your buck by staying at an Airbnb. You'll have the freedom to cook your own meals, and you'll have a lot more space!
Here are the best Airbnbs in Rhode Island: places you shouldn't think twice about booking!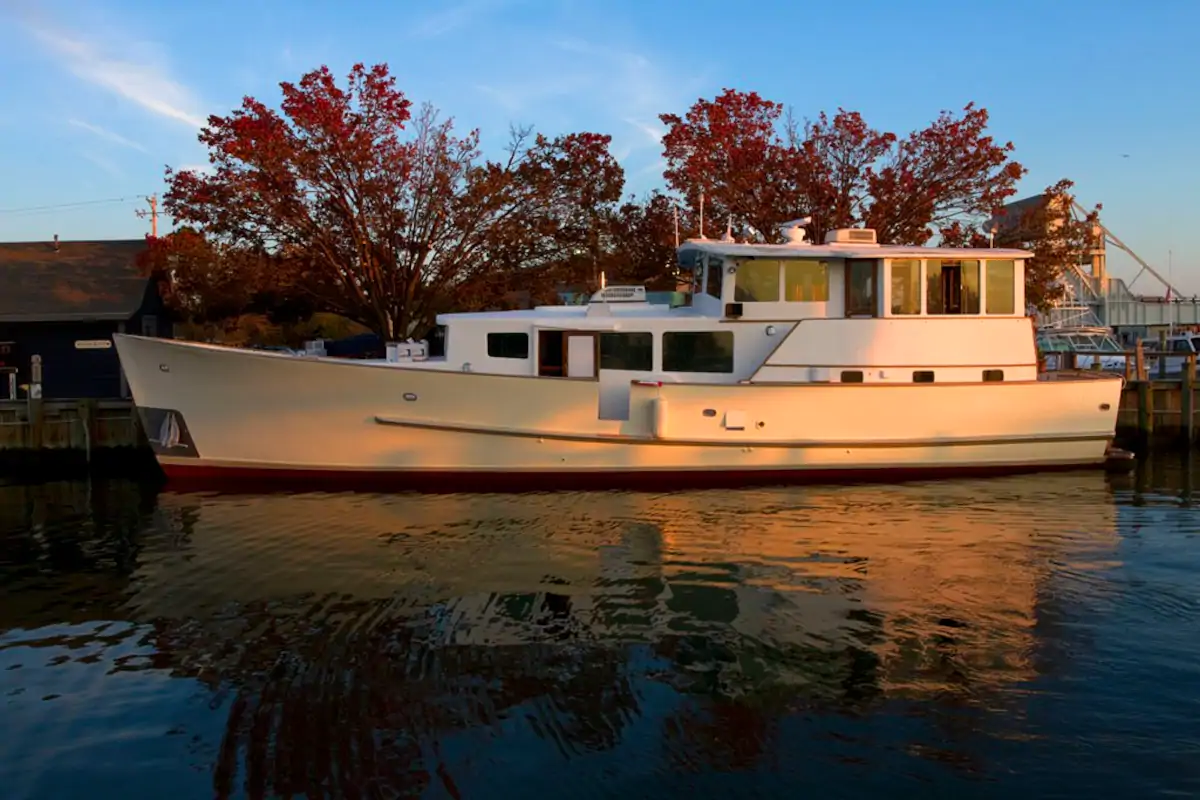 Imagine staying in Providence on a yacht! Well, you can do just that at the Geerd Hendel Houseboat, and it hosts up to eight guests at a time.
While you may think that a boat can't possibly be that big, inside this houseboat, you'll find two bedrooms, two bathrooms, a kitchen, a living area, and a deck so you can get some fresh air. It's located right by the Jewelry District and Fox Point, so you'll be a short drive away from some of Providence's best restaurants.
---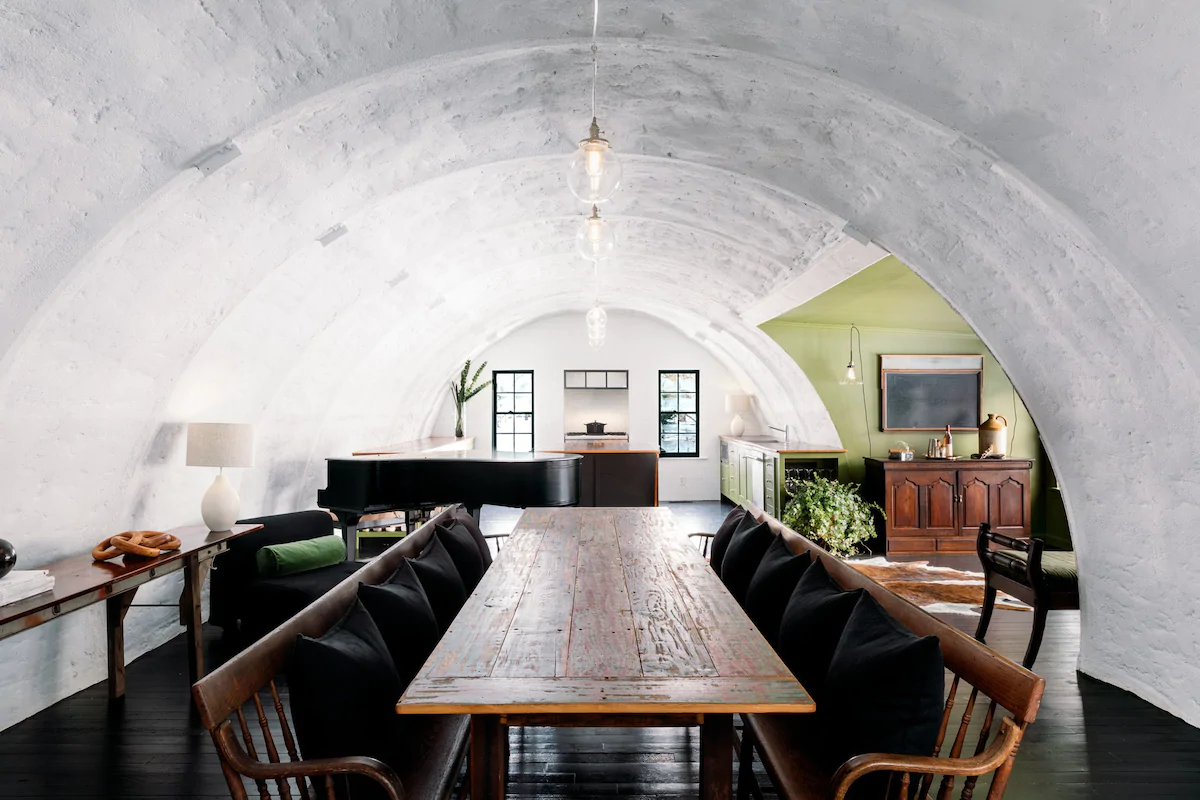 Have you ever heard of a dome house? Well, you can stay in one in Tiverton, Rhode Island! The Quonset is perfect for up to ten guests and is close to the beach. Plus, it features a game room and a hot tub, so you can have tons of fun without even leaving the Airbnb.
The entire inside of The Quonset is incredibly unique. It has a very dark yet zen vibe for the interior decor, with plant life throughout. With just a short drive, you can get to either Newport or Little Compton.
---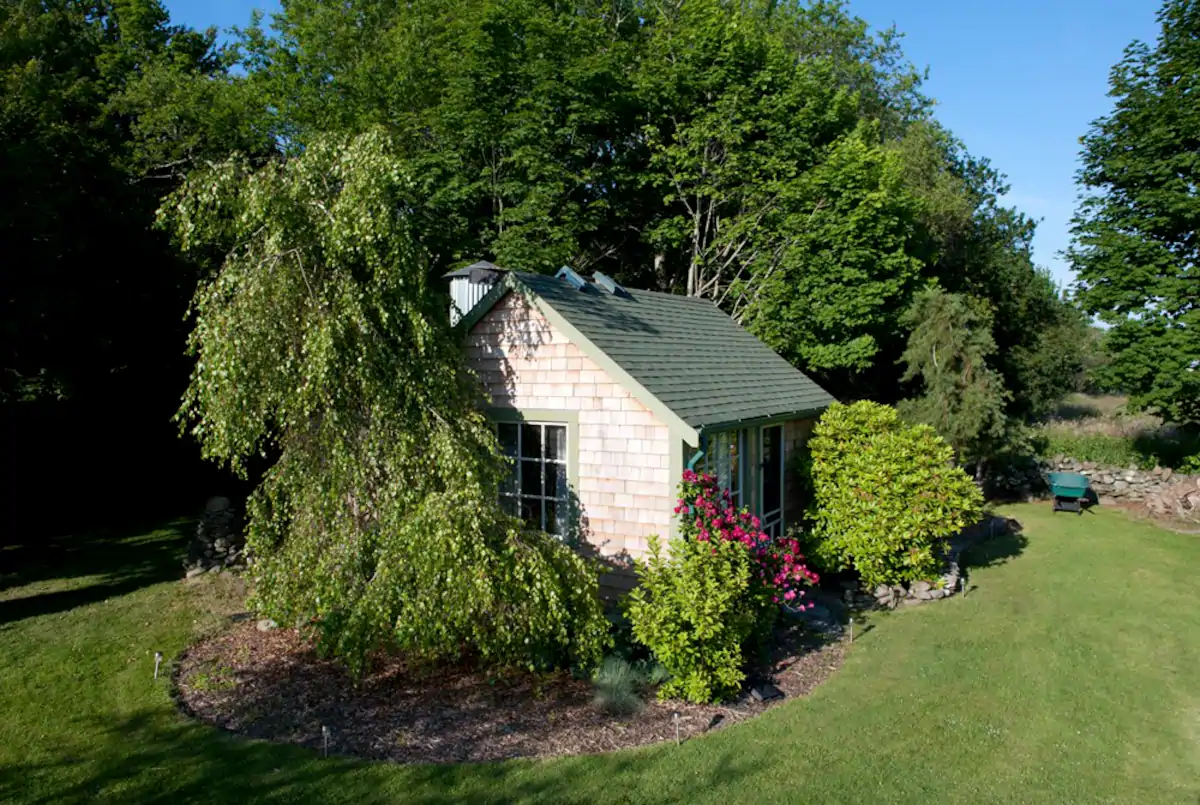 This rustic island cabin in Jamestown can host up to three guests and is a quiet little retreat! It's located on two acres of land and is right near the host's own glassblowing studio. If you ask, you may even be able to see him work at his craft!
The island that the cabin is on is just a short ways away from both Providence and Newport. Inside, you'll find one bedroom, a bathroom, a kitchenette, and an outdoor patio with lots of lighting so you can sit outside in the evening.
---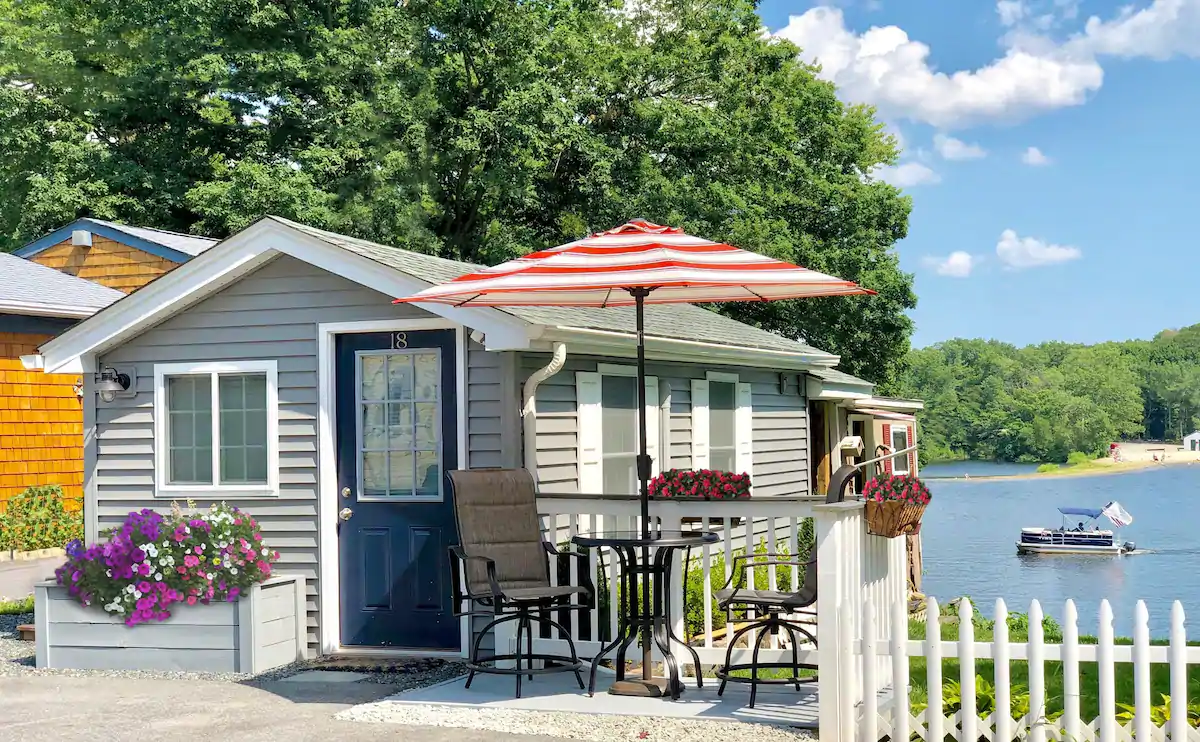 This lake cottage in Smithfield is an ideal quaint getaway for two guests. If you're looking for a romantic retreat, look no further! The studio cottage was recently built, so it has a really modern interior.
Inside this tiny home, you'll find a full kitchen, a small waterside patio with outdoor furniture, a bedroom, and a bathroom. The interior is very bright and has tons of quirky decor on the walls, which gives the space lots of character.
---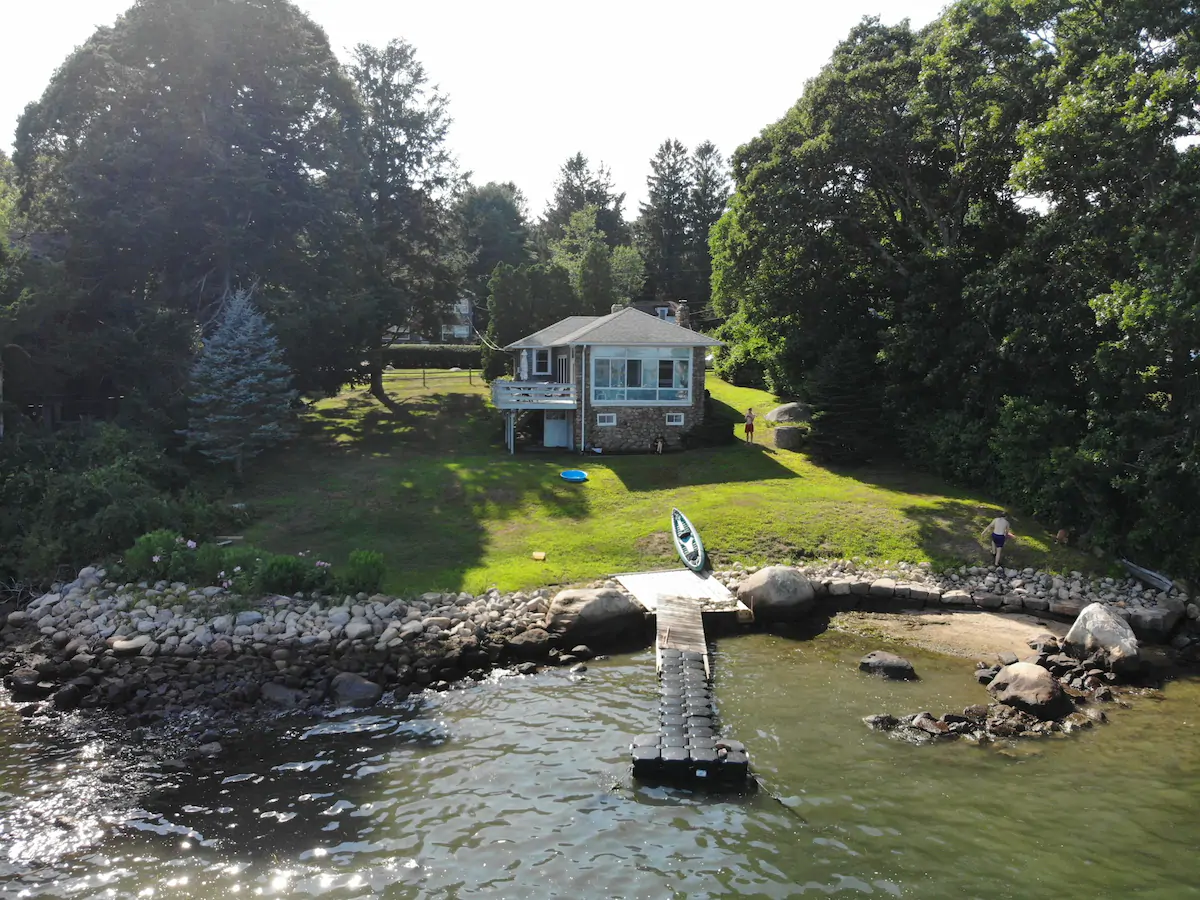 This waterfront house in Shelter Harbor is an ideal location for a retreat away from everyday life. Up to five guests can stay at the Airbnb at a time, and all guests have access to the private dock and canoes that the host provides for visitors.
The house is historic and has a sentimental meaning to the host, so they put a lot of effort into making it everything that it is today. Inside, you'll find three bedrooms, one bathroom, a living room, a porch, and a full kitchen that comes equipped.
---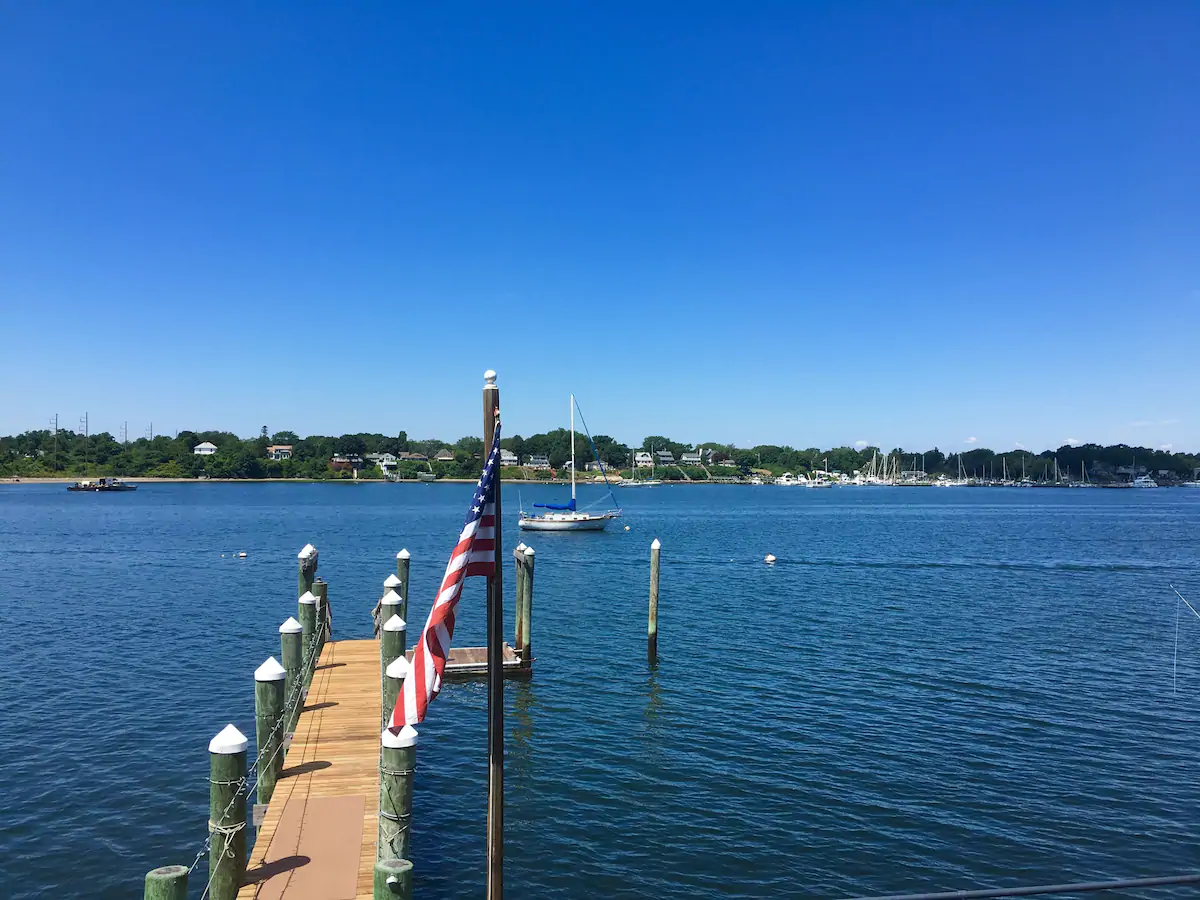 This Airbnb is an incredible waterfront accommodation in Tiverton for eight guests! This luxurious accommodation will make you feel like you're living lavishly, even if you only stay for one night.
An interior designer runs the Airbnb, so you can imagine how breathtaking the inside is. Everything is perfectly decorated, down to the throw pillows on the couch. The accommodation boasts four bedrooms, two and a half bathrooms, a living room, kitchen, and breathtaking views out every window.
---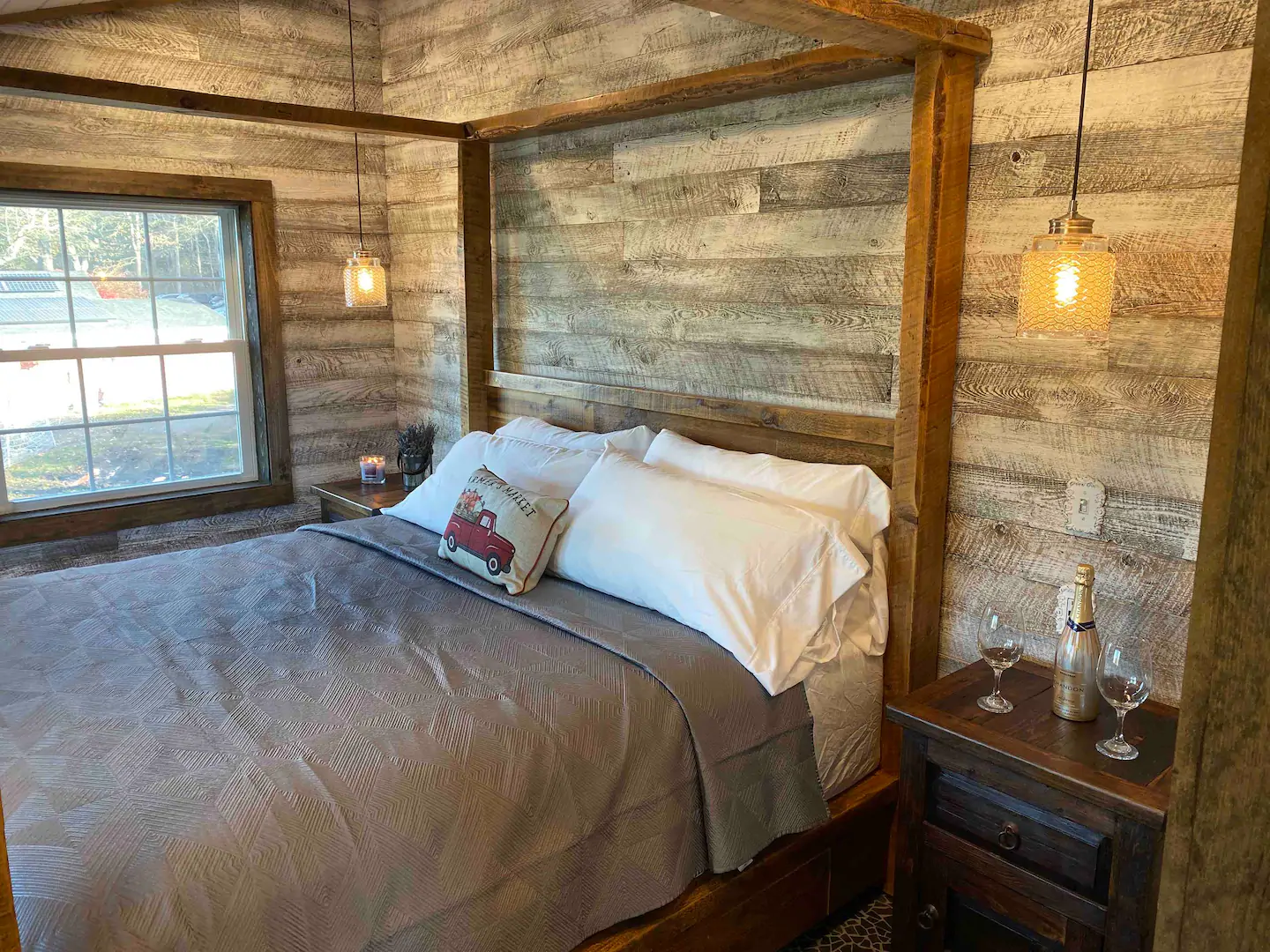 This luxury stay on a farm in South Kingston is a truly unique place to stay in Rhode Island. It's hosted by a superhost and can hold up to four guests at a time. There's one bedroom, a bathroom, living room, and kitchen with breakfast bar.
The most unique part of the house is weirdly the bathrooms! The host has installed a rain showerhead that changes colors, which is fun. When you're bored of staying inside, take a walk out to the farm and check out all the animals.
---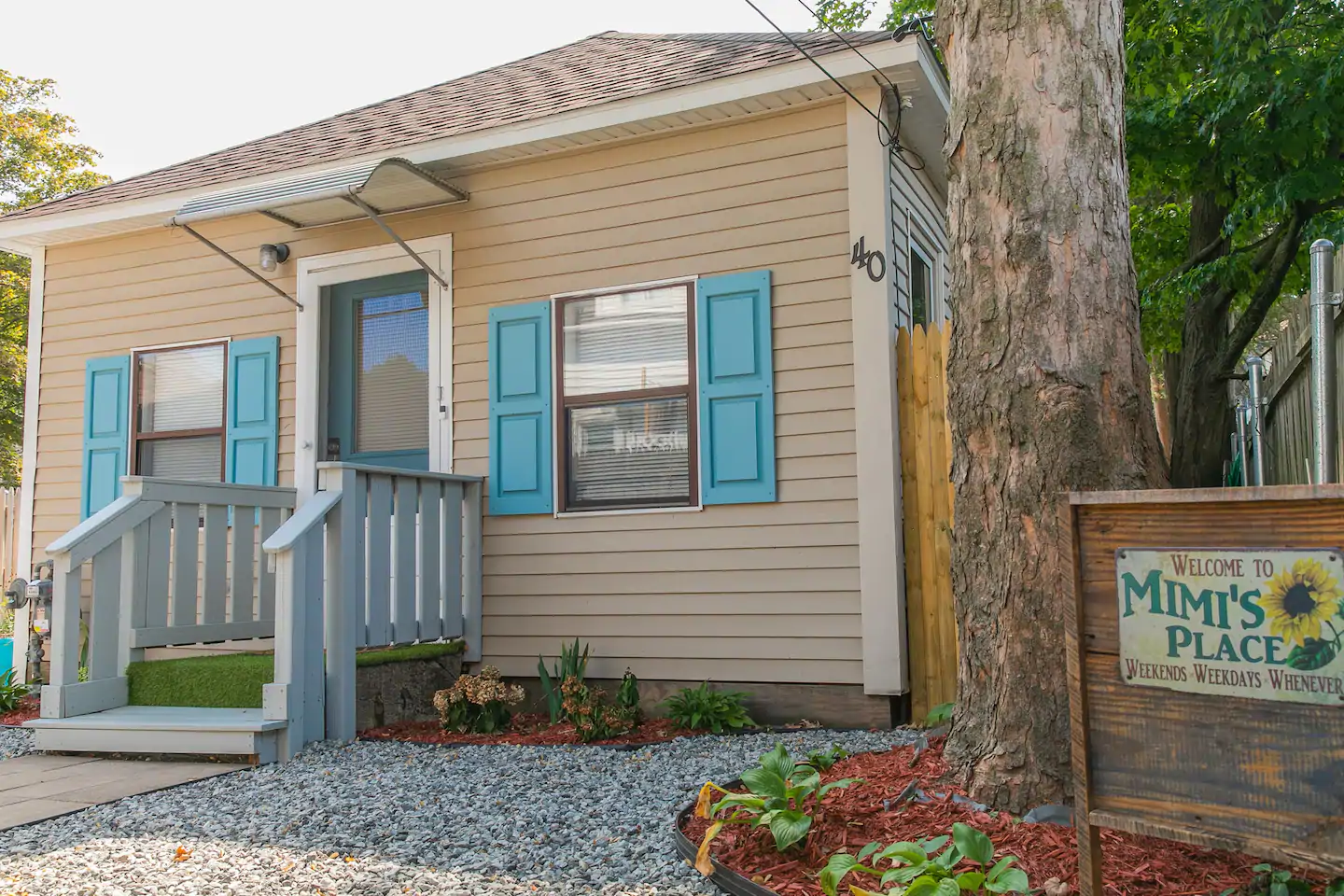 This cute little cottage for two in Warwick is such a tranquil place to have a peaceful Rhode Island retreat. The house has a beautiful patio with outdoor furniture, a bedroom, working area, kitchen, living room, and bathroom.
The interior has been decorated with lots of bright colors and fun decorations, with pops of vibrant mint green throughout. The private cottage even has a welcome sign to let guests know they've officially arrived at Mimi's Cottage!
---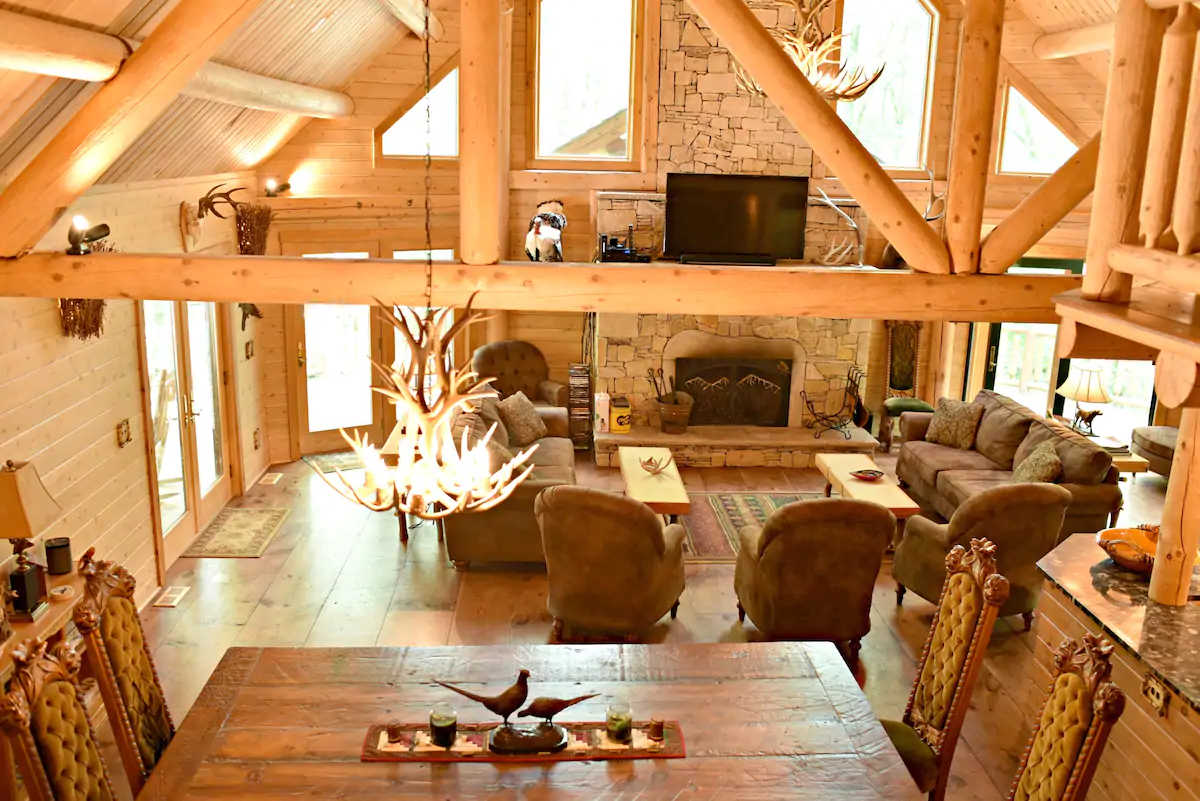 Pheasant Ridge Lodge in Burrillville is the ultimate log cabin accommodation for up to fourteen guests. This rustic lodge has very fitting decor and furniture throughout, and you'll find exposed wood almost everywhere you look.
This family-size accommodation has two bedrooms, two bathrooms, a vast living room, and a kitchen right next door to Addieville East Farm. If you're traveling with kids, I'm sure that they'll love the number of bunk beds in this accommodation.
---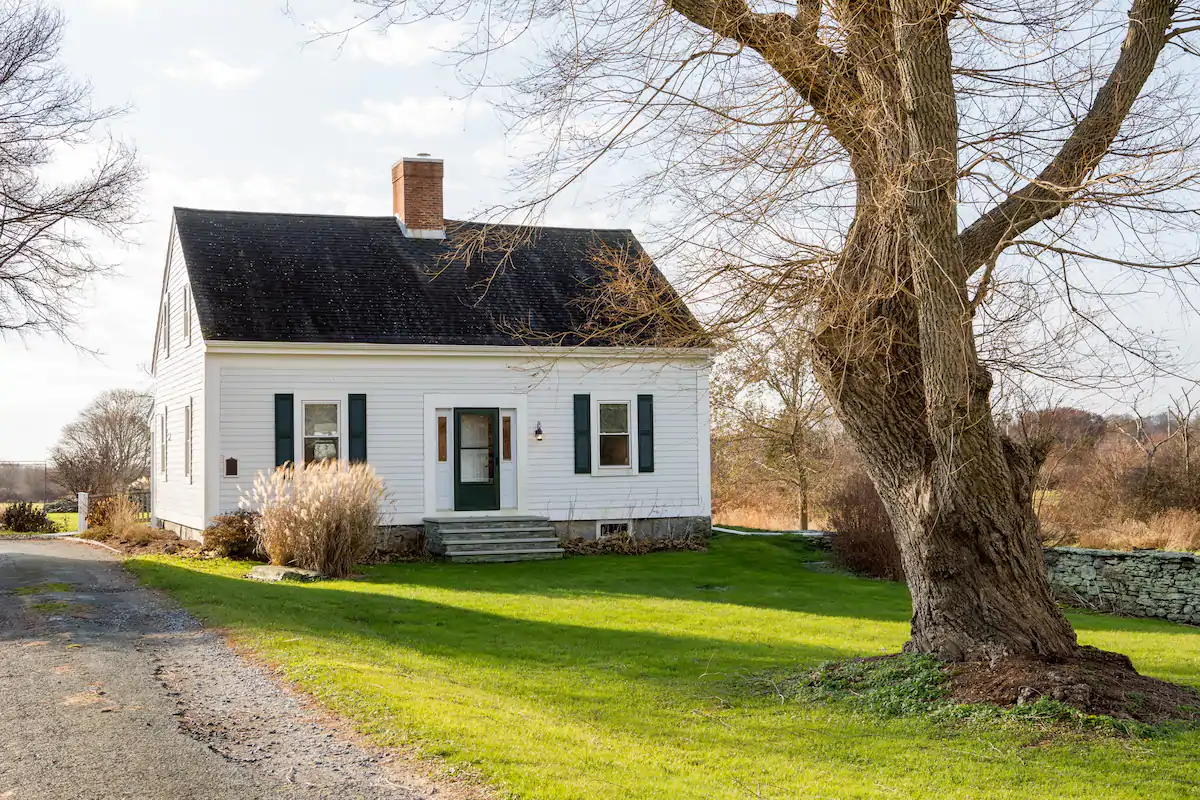 The Farmhouse is a cozy house for six in Middletown, Rhode Island. It's unique because of its proximity to lots of walking and hiking trails and local vineyards!
The house is very "homey" and features a big kitchen, dining room, living room, backyard, three bedrooms, and two bathrooms. With just a short drive, you can get to some of the best beaches in this area of Rhode Island, including Easton's Beach and Sachuest. It's also a very short drive to Newport!
---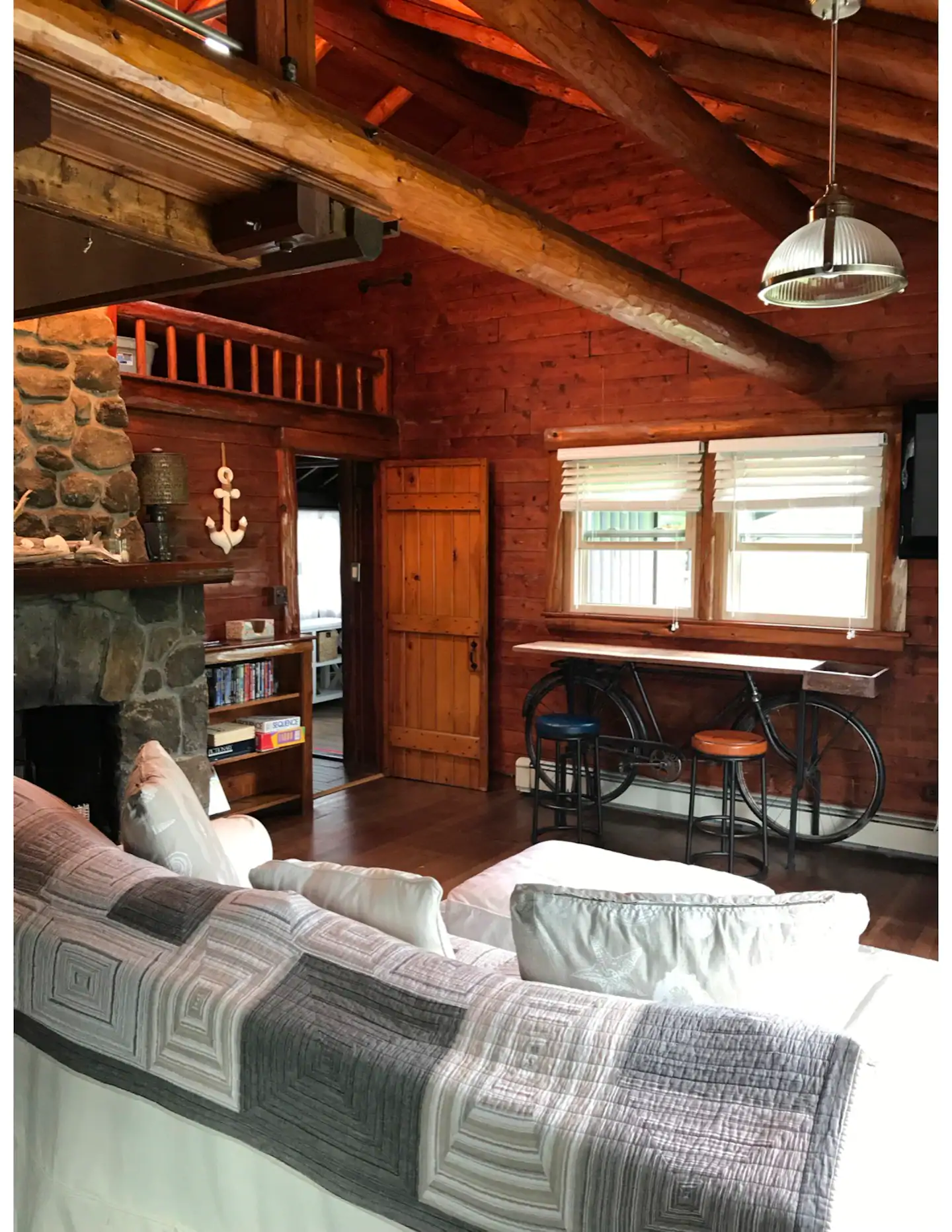 Last but not least is a beautiful cabin for six in Narragansett! It has two bedrooms, one bathroom, a loft, a full living room with exposed beams, and a kitchen.
With a short walk, you can get to Kelly Beach, a private waterfront area. The host even provides guests with a cooler, beach cart, beach umbrellas, blankets, chairs, and more if they want to spend the day at Kelly Beach in particular!
---
Hopefully, this post has made you consider the scenic state of Rhode Island. No matter what time of year that you visit, you're in for a real fun time!
---
Read these, too:
---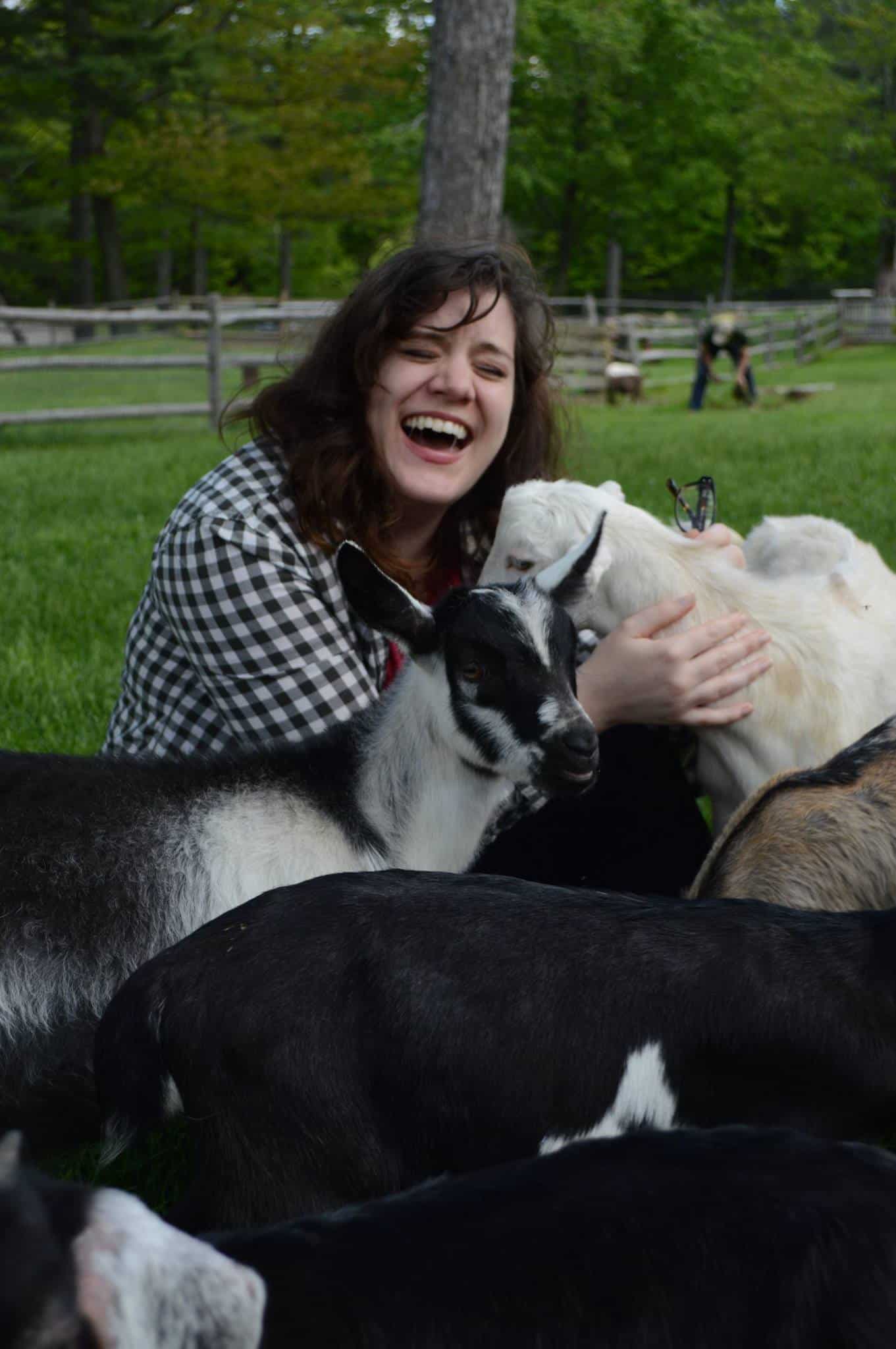 Amy is the founder of New England with love. A proud Vermonter, she hopes to share her love of New England and help you find the best adventures in the region. Amy is also blogger/founder at Two Drifters, where she writes alongside her husband about romantic and couples travel, relationships, honeymoons, and more. When not working on websites, Amy is probably reading, cuddling with her husband and cats, & drinking a maple latte.