Portsmouth, New Hampshire is a wonderful travel destination along the New Hampshire seacoast. Conveniently situated approximately halfway between Portland and Boston, Portsmouth can serve as the gateway to a New Hampshire or Maine excursion or is a fantastic place in its own right. Come for amazing food, tons of history, a charming downtown, and more. And when you do, you will want to stay in the very best Airbnb Portsmouth NH has to offer. Here is a collection of the top Portsmouth NH vacation rentals to choose from.
Airbnb Portsmouth NH Options
Barn Retreat @ Shilo Farm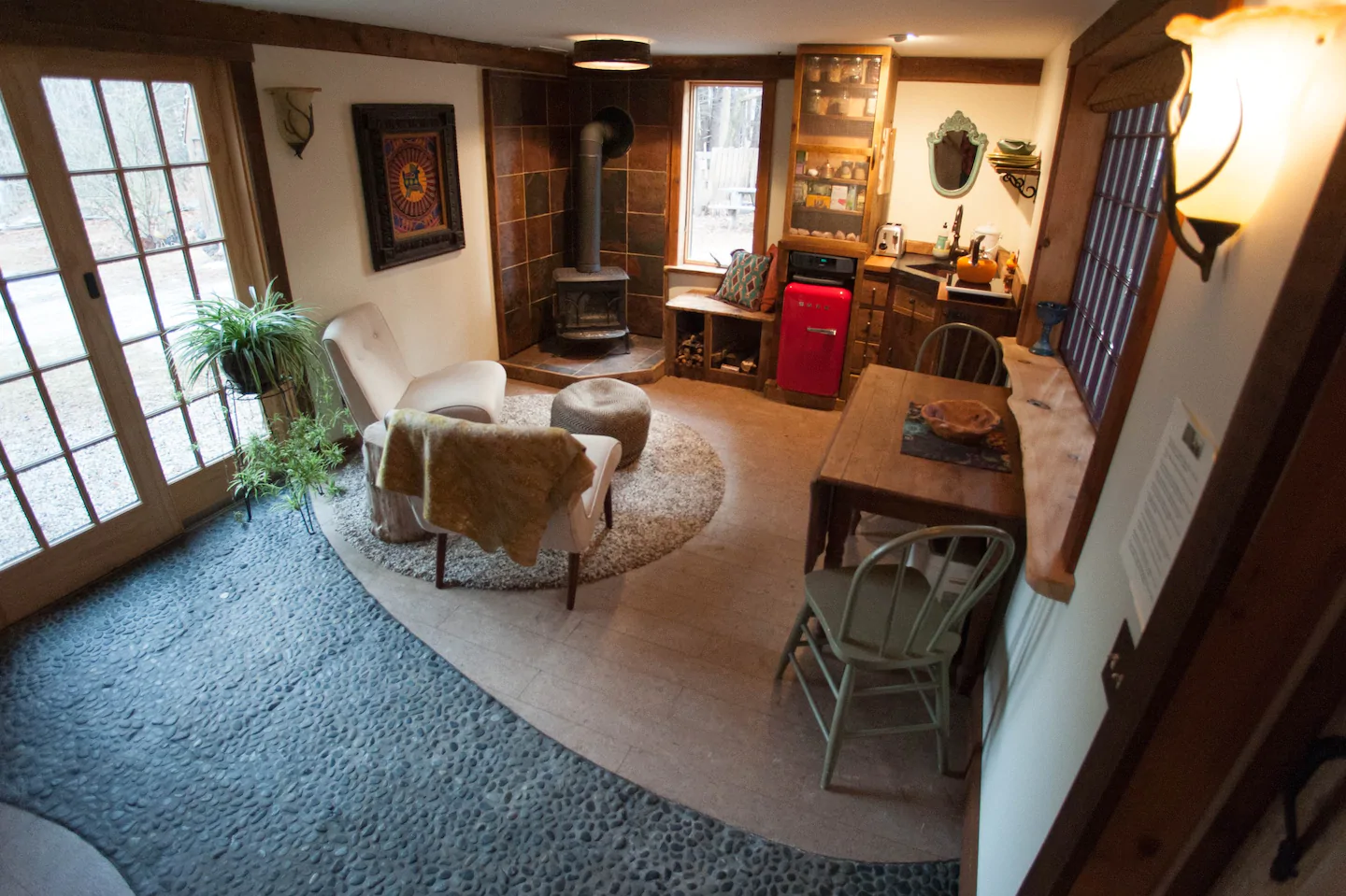 Though technically located just over the border in Maine (as many of these Portsmouth Airbnbs are) this is an excellent vacation rental when visiting the NH seacoast!
Those in search of a cozy stay in a historic barn will find exactly what they need here. The Barn Retreat at Shilo Farm is a peaceful spot to get away for a weekend. The fully renovated, self-contained suite is located entirely inside an 18th century barn. You'll be kept warm by the woodstove and Rinnai heater.
As many as four guests can experience this glorious farm stay near Portsmouth, and if you so choose, you can help out in the mornings collecting the eggs or feeding the goats.
Portsmouth Downtown With A View And Bring Your Dog Too!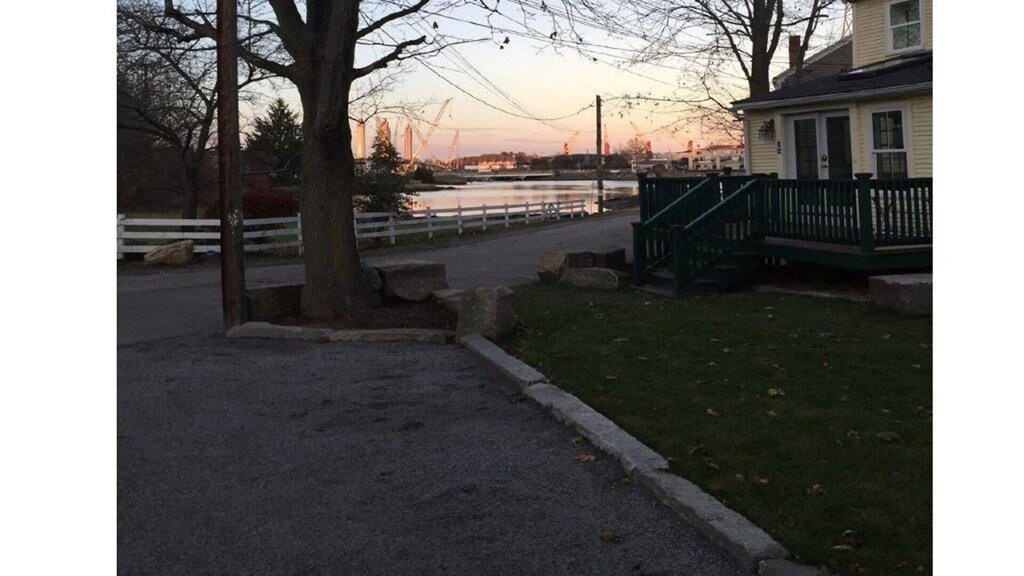 Would you be interested in a Portsmouth NH vacation rental with water views? This great VRBO has off street parking for easy access and can sleep up to 7, so this is a great option if you're visiting Portsmouth New Hampshire with a group.
You're also just a quick 5 minute walk to downtown from this great VRBO.
Renovated house in the desirable West End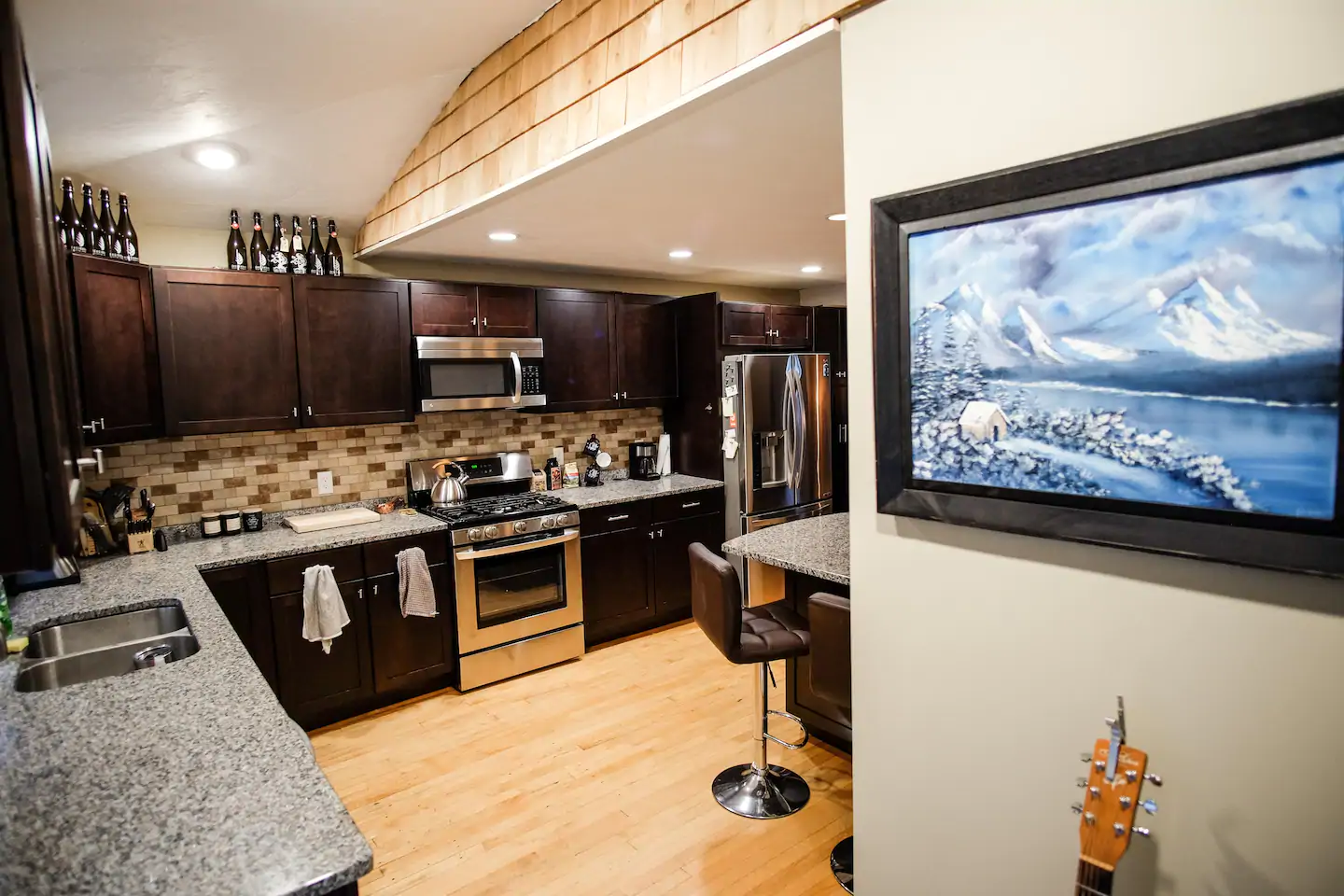 Want to be walking distance to everything? Around the corner from top breweries and restaurants? This West End 2 bedroom Portsmouth Airbnb is ideal for up to 5 guests.
A beautiful kitchen, comfy beds, and a backyard deck round out the experience. A cool bonus? This awesome Airbnb in Portsmouth has a record player so you can jam to some tunes.
2-level Townhouse in Historic Downtown
This cool historic downtown Portsmouth Airbnb is one of the coolest places to stay on the New Hampshire Seacoast. A stay in this 19th century two level townhouse can work for up to 6 people, and in addition to its convenient location downtown, it also offers great views of the city skyline.
What an amazing place to stay in Portsmouth!
Charming Downtown Victorian – Portsmouth, NH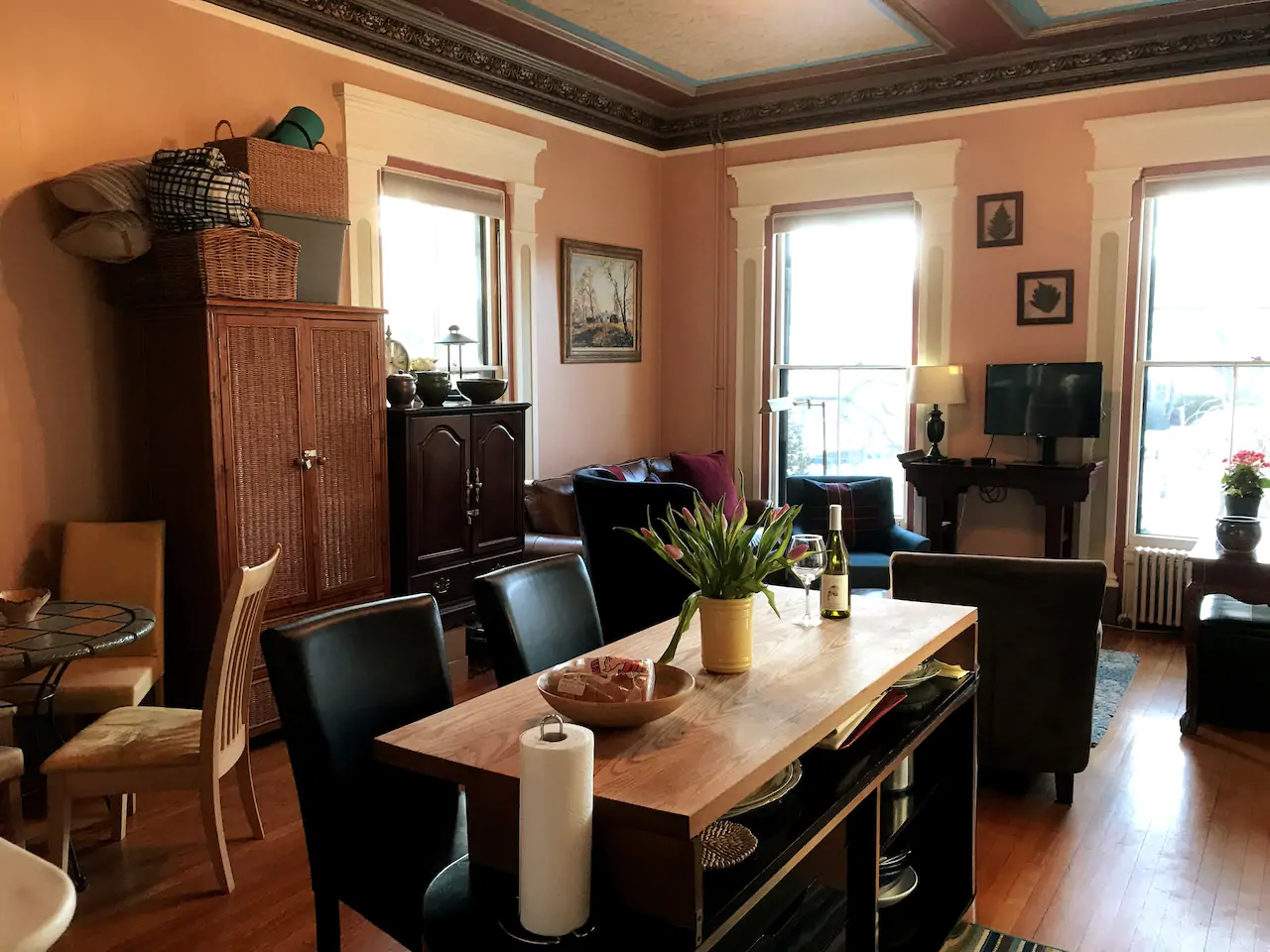 Downtown Portsmouth is a wonderful place to visit, and an even better place to stay! Be in a convenient and cool spot in this Portsmouth Airbnb.
This private apartment in a Victorian house is chic and simply appointed. It looks like a super comfortable place to spend a few nights. 2 guests can stay in this apartment, and you also have use of the common areas when you stay here (more gorgeous interiors!) Walk outside and explore the historic neighborhood with other nearby beautiful homes.
This lovely Portsmouth New Hampshire vacation rental offers views across the tidal pond from its quaint balcony. It is a quiet townhouse that sleeps 4, with an emphasis on "quiet." This is not a party house, so the owners have requested that renters be respectful of the permanent residents that share this area with visitors.
This is a great Portsmouth VRBO for anyone looking for a quiet, convenient location with a view!
Eight-room Historic House in Portsmouth's Charming South End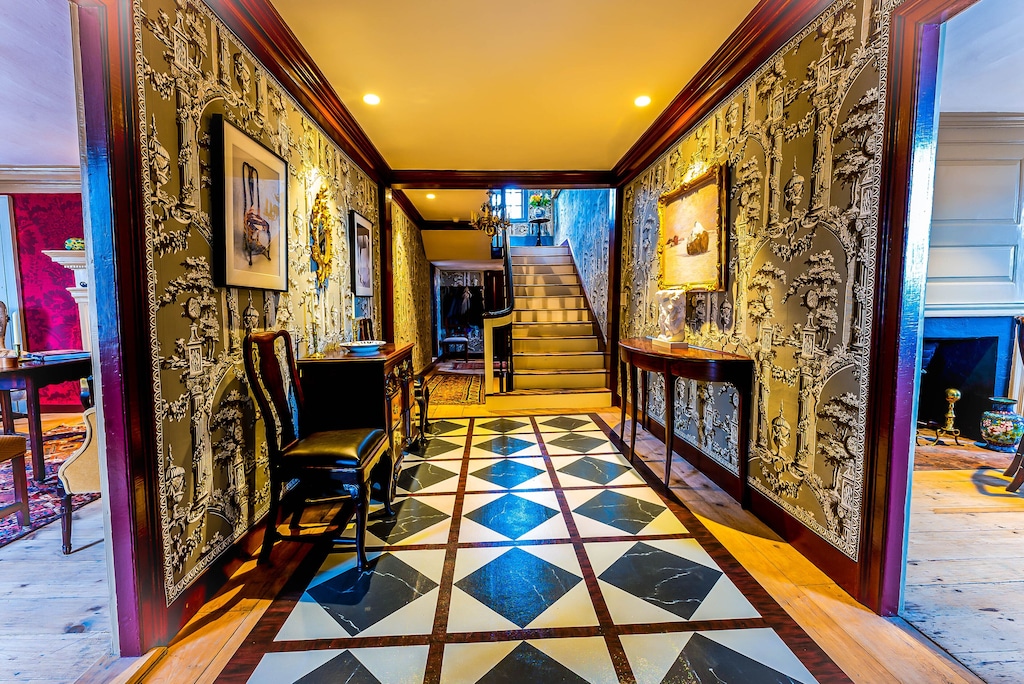 This historic Portsmouth New Hampshire vacation rental has an interesting history… it is said that George Washington had tea in this house in April of 1789! Beautifully preserved and refurbished, this gorgeous historic VRBO offers all the modern amenities a person could want with all the historic charm of Portsmouth NH.
Sleeping up to 6, this historic VRBO is pricy, but very, very cool, and conveniently located to downtown Portsmouth.
Lovely 4 Bedroom, 2 Bathroom Condo. Walking distance to all that is Portsmouth.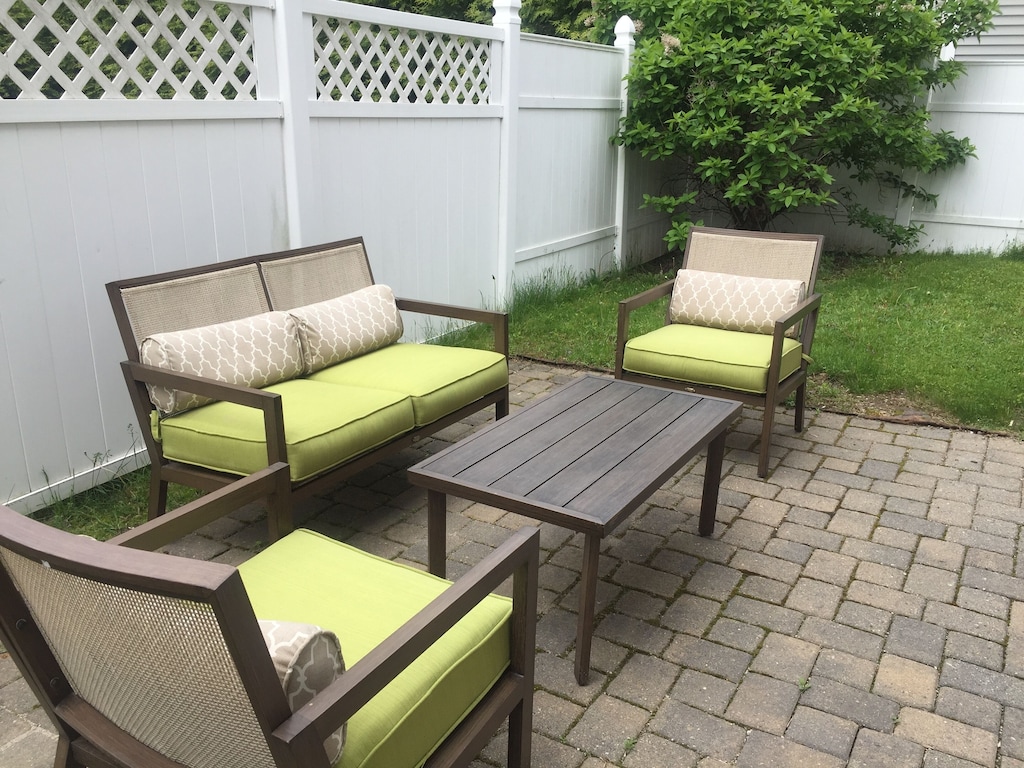 This gorgeous Portsmouth NH VRBO has hardwood floors and four bedrooms, sleeping up to 8. It is located just about a 15 minute walk from downtown, in a nice quiet, residential area. The seasonal outdoor seating is very inviting!
There is a playground at the end of the street, so if you're looking for a kid friendly Portsmouth NH VRBO, this could be a great option.
Great Price; Beautiful, Spacious 3 Bed 2 Bath in a House Near Downtown Portsmouth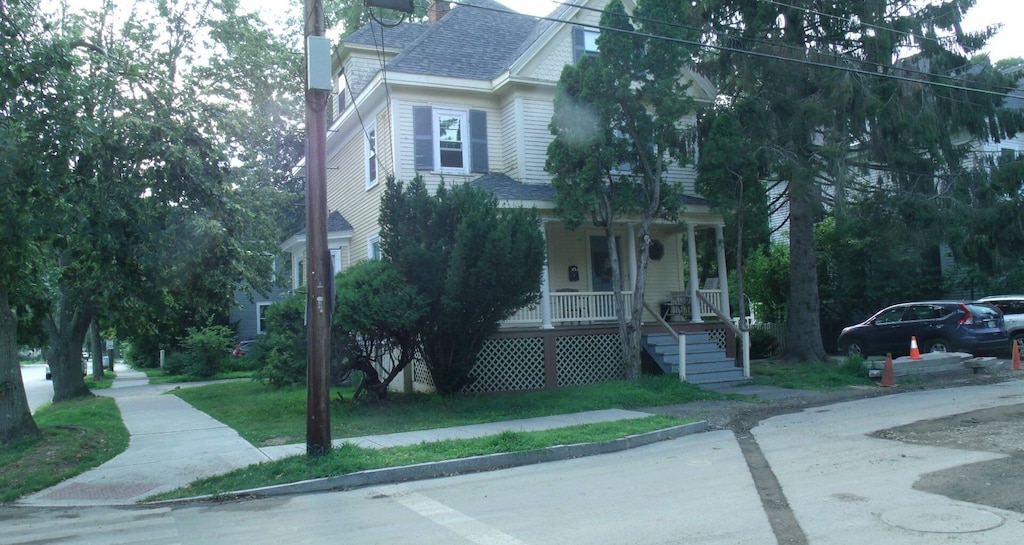 If you're looking for a Portsmouth NH vacation rental that puts you within easy walking distance of downtown, check this one out! This 3 bedroom VRBO sleeps up to 6, but one unique feature of this rental property is that the entire top floor is a master bedroom suite, with cathedral ceilings and windows on all sides. This is definitely a cool Portsmouth New Hampshire VRBO option!