---
*Links in this article may be affiliate links, from which we may earn commission. See our
Privacy Policy
for full details.
---
Known for being one of the best destinations in New England during the winter months for its fun outdoor activities, Jackson, New Hampshire is an absolute must visit. It's a small town with less than 1,000 people living there, but it's located in one of the most beautiful areas in New England!
With just a short drive, those staying in Jackson can go and explore places like the White Mountain National Forest or even Mount Washington. There are so many things to do in Jackson, New Hampshire, so it can be hard to choose where to go and what's worth doing. This post is the answer to that; it covers everything you'll want to know about fun activities in Jackson to save you time on your next trip.
Here are all of the best things to do in Jackson NH!
Have fun at Nestlenook Farm
First up is a great place called Nestlenook Farm in Jackson. It covers just shy of 70 acres of land and has tons of fun recreational activities that you won't want to miss out on. There's an outdoor pool, spots for ice skating, and even sleigh rides that are perfect for a winter trip.
As you may have guessed, the best time to visit Nestlenook Farm is during the winter months, but it's usually still open to visit during the other months as well. If you're visiting with your family or you want a romantic weekend away, you'll for sure want to consider staying right onsite. They have a few different accommodation options that are really nice!
Go skiing at Wildcat Mountain
Wildcat Mountain is the most popular spot to go skiing in the area, making it one of the best things to do in Jackson, New Hampshire. It is even home to one of the most steep tracks in all of New England, so if you love extreme winter sports, then you'll love this place.
Since you most likely won't be traveling with your ski gear, you'll be happy to know that you can also rent equipment right at Wildcat Mountain. No matter what you are looking for, you'll most likely be able to find it at their rental shops.
Choose from a variety of passes too, depending on how long you plan on staying at the mountain to partake in outdoor activities. They even have a day pass option which is the most popular among visitors in the area!
Visit Story Land
Take the short drive to Story Land, an outdoor amusement park that kids will love. It's one of the most popular amusement parks in the area, too, so it's been well vetted by other families in the past.
The park has been open for more than 65 years and has around 30 different rides that you can enjoy. They also host a wide variety of events throughout the year, so you may even be able to join in during a fun event that will make your visit even more memorable.
Once you're done enjoying the rides, be sure to stop by the Living Shores Aquarium. It's one of the best spots to visit while you're there and features tons of sea animals!
Grab a bite to eat at The Shannon Door Pub & Restaurant
The most popular place to eat in all of Jackson, New Hampshire is The Shannon Door Pub and Restaurant. As you may have guessed by the name, it's an Irish pub that serves tons of traditional entrees that are perfect for when you are in the mood for a hearty meal.
Their menu includes everything from burgers and pizza to even tasty shepherd's pie. If Irish grub isn't something you love or you're traveling with a picky eater, rest assured that they even have an Italian section on their menu with lots of spaghetti dishes, including eggplant parm!
This is a moderately priced restaurant with most entrees costing between $15 to $25. Be sure to ask to sit outside on their patio for a great time, or consider stopping by later in the evening to enjoy drinks and mingle with the locals.
Marvel at masterpieces at The Museum of White Mountain Art at Jackson
One of the best ways to learn more about a place you're visiting is to stop by a museum! So, one of the top things to do in Jackson is to visit the Jackson Historical Society's Museum of White Mountain Art.
While visiting here, you can learn more about Jackson's history and heritage. There are also tons of displays and exhibits, and often there are even archive collections that are open to the public too. It's an underrated place to visit in Jackson.
Snap a photo at Honeymoon Bridge
The Honeymoon Bridge, also commonly called Covered Bridge No. 51, is one of Jackson's top attractions. This red-covered bridge crosses right over the Ellis River and is only about 120 feet long, but it's an incredibly historic site, having been built in the 1870s.
When visiting Jackson, you absolutely must stop by the Honeymoon Bridge and snap a photo. If you don't feel comfortable getting out of the car to snap a photo, it's fun to at least drive through the bridge just for the experience!
Drive up Mount Washington's Auto Road
The view from Mount Washington is incredible, and the best way to experience it is by driving up Mount Washington's Auto Road. On average, it only takes about an hour or so round trip to go all the way up and down the mountain, depending on how often you stop along the drive.
The Auto Road is known for being very steep, and at times there isn't much protection between you and the side of the mountain, meaning there aren't many guardrails. It's worth keeping in mind that if you don't like heights, you probably aren't going to enjoy this drive. However, if you can get over your fear, the views are genuinely going to reward you.
Hike to Glen Ellis Falls
Hiking to Glen Ellis Falls is one of the most incredible things to do in Jackson. They're in the White Mountain National Forest, and it doesn't take long to get to the trailhead at all from Jackson, so it's perfect for a great morning or afternoon out.
The Glen Ellis Falls Trail is an easy trail that's great for all levels of hikers, even those with little to no experience. There's barely any elevation at all, with an elevation gain of 88 feet. It's also an out and back trail, so you have to walk out and back on the same path.
Buy a puzzle at White Mountain Puzzles
Believe it or not, but Jackson is known for its amazing puzzles, and you can visit one of the top shops to buy them: White Mountain Puzzles. They've been in business for thirty years and have tons of fun puzzles to choose from.
One of their most popular puzzle types feature "ads" or maps of the area. These puzzles require a lot of strategy to put together, but it's so rewarding when you finally finish one. If you have a kid who wants to do a puzzle, you can also buy more kid-friendly ones.
Partake in summer or winter activities at Black Mountain
Black Mountain is another of the best skiing areas to visit in Jackson, New Hampshire. The ski area is filled with tons of skiing trails that are perfect no matter how much skiing experience you have. If skiing isn't your thing, don't worry; you can also go snowboarding here!
While so many people visit Black Mountain in the winter, it's filled with tons of fun things to do in the summer, too. There's horseback riding, hiking trails, gondola rides, and more. Each of these will provide you incredible views of the area and of the mountain.
Have a bite to eat at Autumn Nomad Cakes & Cafe
This amazing bakery slash cafe is a top place to visit in Jackson if you want to satisfy your sweet tooth or even just have a delicious breakfast. Autumn Nomad Cakes & Cafe have a fantastic coffee bar with small bites to eat, and it's great to just stop by here and enjoy a treat from a local establishment.
They also serve delicious ice cream from Bobby Sue's Homemade Ice Cream! They have such fun flavors, too, like Ginger Maple Molasses, Zesty Lemon Ricotta, and dairy-free lemon sorbet.
If you're lucky enough to be hosting an event in Jackson, New Hampshire (I've been lucky enough to attend a wedding there – it's truly an amazing location), then you could even use Autumn Nomad for all of your baked good needs. They create custom cakes and also specialize in wedding treats.
There are so many incredible things to do in Jackson, New Hampshire, and truly, you'll have a fantastic time no matter what time you visit. It's a top ski recreational town in the winter and also a beautiful outdoor adventure location in the summer! What activity from this list would you most want to do?
---
You might also like:
---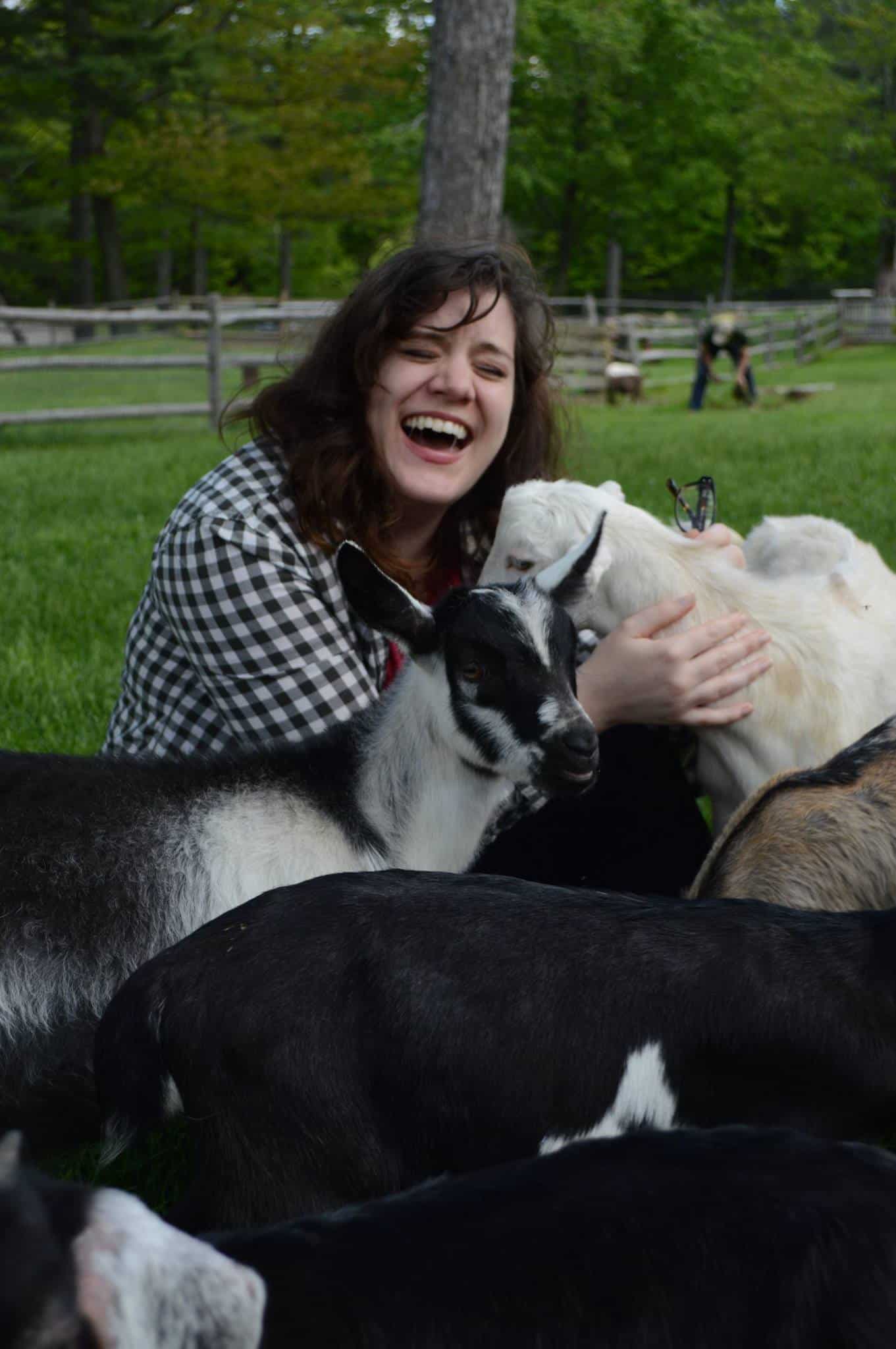 Amy is the founder of New England with love. A proud Vermonter, she hopes to share her love of New England and help you find the best adventures in the region. Amy is also blogger/founder at Two Drifters, where she writes alongside her husband about romantic and couples travel, relationships, honeymoons, and more. When not working on websites, Amy is probably reading, cuddling with her husband, son, and cats, & drinking a maple latte.