New England is brimming with history in each state. History lovers will enjoy visiting this part of the USA because so many small towns and big cities are filled with some sort of history worth exploring.
The same can be said in the beautiful state of New Hampshire. There are old railways, museums, and historic sites in NH throughout the entire state that can't be missed. Plus, some of them aren't as well-known, making them a bit of a hidden gem!
Below, learn about all of New Hampshire's best historical sites.
Castle in the Clouds
Location: Route 171, 455 Old Mountain Rd, Moultonborough, NH 03254
First up is the Castle in the Clouds in Moultonborough, New Hampshire. Built in 1913, this historic mansion features epic architecture, hiking trails nearby, and extensive views for miles.
Castle in the Clouds mainly served as a summer estate for the Tobeys, a family that hailed from Plymouth. They were a huge family and visited the home every summer for around fifteen years. Lots of memories were made there.
Today, visitors love to spend a day at Castle in the Clouds. There's so much to do there, from going on a mansion or basement tour to exploring the Shannon Pond and The Meadows. Be sure to grab a bite to eat at either the Cafe in the Clouds or the Carriage House Restaurant.
Fells Historic Estate and Gardens
Location: 456 Route 103A, Newbury, NH 03255
The Fells Historic Estate and Gardens dates back to the late 1800s when John Milton Hay and his wife received more than one thousand acres of land. After hiring an excellent architect, they built two cottages and a farm.
Like Castle in the Clouds, the Fells Historic Estate and Gardens famously served as a summer home for the Hay family. Visitors today will enjoy exploring the grounds, hiking the nature trails, and going on tours of the house and gardens.
Wyman Tavern Museum
Location: 339 Main St, Keene, NH 03431
Yes, there are historical museums in New Hampshire too! The Wyman Tavern in Keene was built in 1762 and is one of the oldest buildings in the state. It was made by Isaac Wyman (hence the name) and played a part in the American Revolution.
The building is now owned by Keene State College and is open to the public for visiting. There are historical tours that you can book to explore the interior, or you can even book an event right at the tavern because it features a huge grass area.
Star Island
Location: Isle in Rye, New Hampshire
Star Island is right on the border of Maine and New Hampshire and is one of the more underrated historic sites in the state. It officially became part of Rye in 1876 and is open to visitors during the day.
The best way to get to Star Island is by boat. Once you're there, you can go on a self-guided tour or a group tour to learn more about Star Island's history. There are also tons of great places to eat on Star Island, including the Island Grill, which is open on weekends.
Strawberry Banke Museum
Location: 14 Hancock St, Portsmouth, NH 03801
While not necessarily as old as some of the other historic sites in NH on this list, the Strawberry Banke Museum in Portsmouth officially opened to the public in the 1960s. It's located in one of the oldest parts of the state, though!
This museum is outdoor and will really take you back in time. During your visit, you'll learn about the past 300 years of history of the area while exploring the 10,000 acres that the museum is situated on. Plus, everyone dresses up in historical costumes!
Visit the Strawberry Banke Museum in the winter for some fun events. Occasionally, they have ice skating!
Canterbury Shaker Village
Location: 288 Shaker Rd, Canterbury, NH 03224
The Canterbury Shaker Village is another historic site, this one dating back to the 1790s. Out of all the Shaker communities, this is the one that's the most authentic, despite so many being founded a few hundred years ago.
Visitors are welcome to explore the village or go on a guided tour. The tour is easily the best way to explore the area because there are about thirty buildings in total across a few hundred acres of land. Tour times change depending on the season, so be sure to check online to see when tours are happening during your visit.
Daniel Webster Birthplace State Historic Site
Location: 131 N Rd, Franklin, NH 03235
Located in Franklin is the Daniel Webster Birthplace State Historic Site. It doubles as a museum and New Hampshire state park, so there are lots to explore, and it dates back to the 1780s. Daniel Webster was a US secretary of state who played an essential role in British negotiations.
A visit to this location will bring you back in time to farm life in the 1700s. There are trails in the area and spots to explore, including an old cabin. The site itself is very calm and peaceful, and tours are available to the public on weekends.
Millyard Museum
Location: 200 Bedford St, Manchester, NH 03101
The Millyard Museum in Manchester is one of the more unique historic sites in NH. It's a small museum filled with exhibits and artifacts. The museum focuses on telling stories of people who worked as farmers in the area in the past.
Throughout the year, there are a few different rotating museum exhibits hosted as well. Don't forget to stop into the Henry M. Fuller State Theatre Gallery to see what's currently on display during your visit to the Millyard Museum.
American Independence Museum
Location: 1 Governors Ln, Exeter, NH 03833
The American Independence Museum in Exeter is a historic New Hampshire site that has exhibits with artifacts dating back to the 1700s. The museum officially opened its doors to the public in the early 1990s.
Similar to other historical sites, the American Independence Museum has many events throughout the year and festivals. The most popular one is Revolutionary Story Time, but you can learn more about their events on their website.
Lockehaven Schoolhouse Museum
Location: Lockehaven Road, Enfield, NH 03748
Located in Enfield, the Lockehaven Schoolhouse Museum is one of the lesser-known historic sites in NH. It was built in the 1860s and is filled with old school artifacts that will make you feel like you're stepping into an old schoolhouse.
The museum also has a special focus on showcasing students and teachers of the past. Plus, there are historic schoolbooks as well as other artifacts. Children, in particular, will find this landmark site interesting.
Portsmouth Harbor Lighthouse
Location: Coast Guard Station Portsmouth Harbor, 25 Wentworth Rd, New Castle, NH 03854
New England is famous for its lighthouses, so be sure to visit the Portsmouth Harbor Lighthouse! It was built in the 1870s and is built in the Victorian style of architecture.
The Portsmouth Harbor Lighthouse can be viewed at Fort Constitution in New Castle. Try to visit in the evening to watch the water splash against the lighthouse as the sun starts to set in the sky. It's truly breathtaking.
Wentworth-Coolidge Mansion
Location: 375 Little Harbor Rd, Portsmouth, NH 03801
The Wentworth-Coolidge Mansion opened in the 1750s and features a home with more than forty rooms! The mansion served as Governor Benning Wentworth's farm and also doubled as his workspace.
There are quite a few ways to discover and learn more about the Wentworth-Coolidge Museum, but the best way to learn is to go on a guided tour. There are day tours that cover the mansion and grounds, as well as twilight tours. Go on a twilight tour for a unique perspective on the area!
Mount Washington Cog Railway
Location: 3168 Base Station Rd, Mount Washington, NH 03589
Yes, a cog railway is one of the most historic sites in NH! This historic train brings guests right up to the top of Mount Washington in the White Mountains and back in just three hours. The climb to the top is about 6300 feet!
The Mount Washington Cog Railway first started operating back in the 1860s. Of course, it's been refurbished and renovated quite a bit since then! The ride to the top is incredible too. There's time to take in the view once you arrive at the summit.
Saint-Gaudens National Historical Park
Location: 139 St Gaudens Rd, Cornish, NH 03745
Head to the Saint-Gaudens National Historical Park was first built in the early 1800s. It served as the summer home for none other than Augustus Saint-Gaudens, a famous American sculptor.
The home is lovely and is situated on a breathtaking portion of land. Guests will love exploring the many sculptures that are on display while taking in the view of New Hampshire's rolling mountains from the backyard patio.
Remick Country Doctor Museum & Farm
Location: 58 Cleveland Hill Rd, Tamworth, NH 03886
Another great museum to visit that doubles as a New Hampshire historic site is the Remick Country Doctor Museum & Farm. It was built in the early 1800s and covers around seventy acres of land.
The museum shares the story and history of two doctors who were father and son, who both went by Dr. Remick. Through walking tours, historical exhibits, and hands-on activities, you can learn their story.
Omni Mount Washington Hotel
Location: 310 Mount Washington Hotel Rd, Bretton Woods, NH 03575
Last but not least is the Omni Mount Washington Hotel, which was built in 1902. It's said to have been one of the most luxurious and elegant hotels of its kind back when it was built and served many visitors from big New England cities like Boston.
Despite many people thinking that the museum is famous for its similarity to The Shining, it's known for being host to the Bretton Woods International Monetary Conference in the 1940s. During the event, the World Bank and International Monetary Fund was established, which gave quite a bit of power to the American dollar.
Cathedral of the Pines
Location: 10 Hale Hill Rd, Rindge, NH 03461
One of the lesser-known places to visit in New Hampshire is the Cathedral of the Pines. This is a historic cemetery in Rindge where those who have fought for America are buried. While it is a cemetery, it also serves as a sanctuary.
The area itself is breathtaking, with beautiful views of the mountains and tons of seating areas. It was built more than 75 years ago and is a bit of a hidden gem in New Hampshire that you won't want to miss.
USS Albacore
Location: 600 Market St, Portsmouth, NH 03801
Children will love visiting the USS Albacore, one of the best historic sites in NH. It's a historic submarine that was built in the 1950s and is now on display right in Portsmouth for all to see and learn more about.
It played an essential part in submarine history and was seen as a bit of a breakthrough design because of the speed at which it could travel through water. Guests can visit by going on a self-guided tour to learn more.
America's Stonehenge
Location: 105 Haverhill Rd, Salem, NH 03079
America's Stonehenge is a unique historical attraction in New Hampshire! It's a spot that's privately owned, but tourists are allowed to visit and check it out. It's actually what it sounds like, too; a spot filled with unique stones spread around the town of Salem.
It's assumed that America's Stonehenge dates back 4,000 years, making it the oldest attraction on this list of historic sites in NH. It's worth visiting to explore and is said to be built by Native Americans.
Franklin Pierce Homestead State Historic Site
Location: 301 2nd New Hampshire Turnpike, Hillsboro, NH 03244
The Franklin Pierce Homestead was built in the early 1800s and includes 13 acres of land, though it was only recently added to the NHRP. It served as the home for Franklin Pierce when he was a child, the 14th president of the United States.
The building is one of the best examples of historic New Hampshire architecture and has some interesting additions like a ballroom. The best way to explore the area is to go on a private or guided tour, but be sure to book in advance.
Whether you're visiting New Hampshire for a weekend or a more extended trip, it's worth seeing some of the state's historic sites. Which site would you most like to visit? Leave a comment below!
—
You might also like: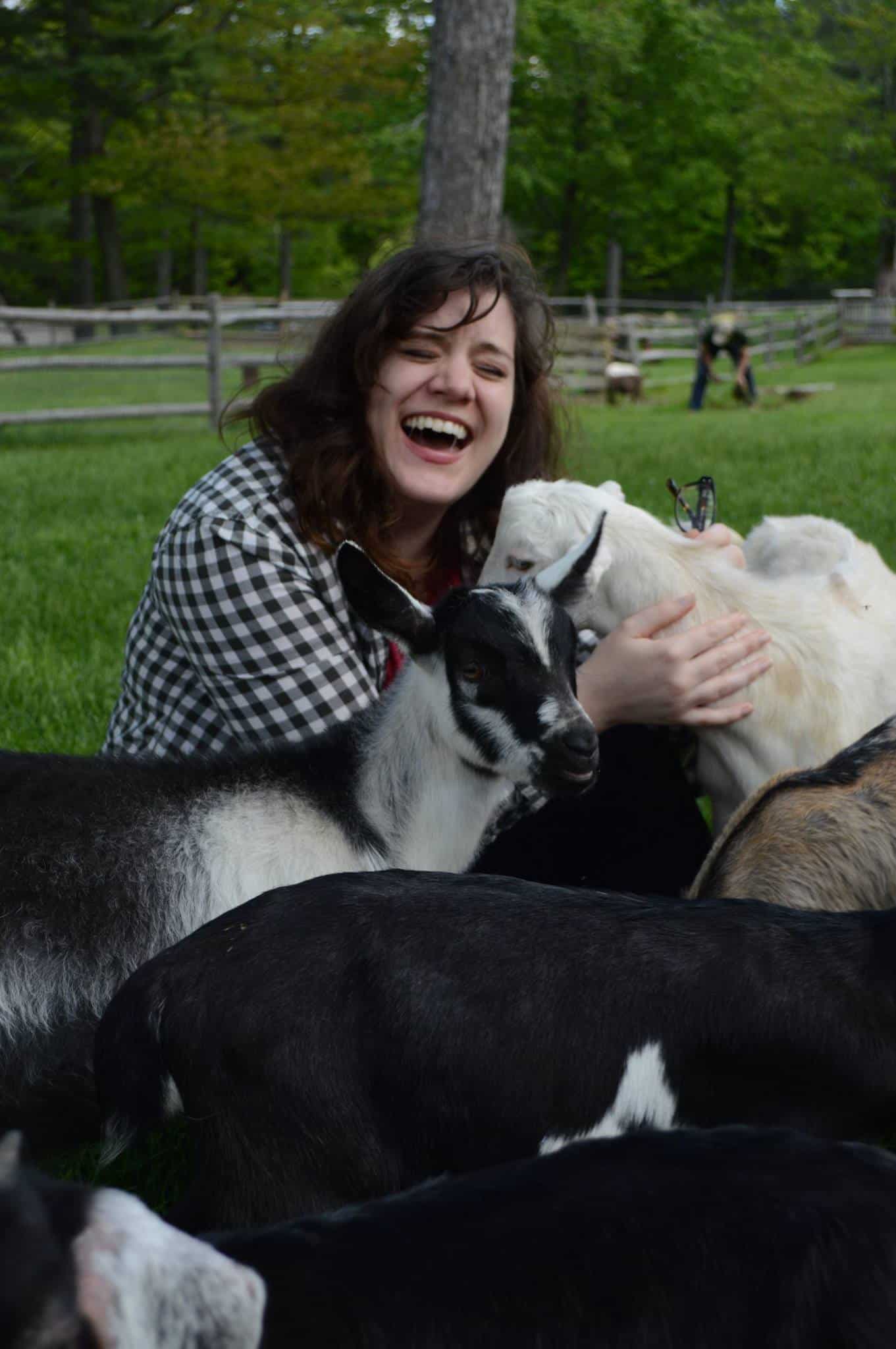 Amy Hartle is the founder and Editor-in-Chief of New England With Love, a comprehensive resource for travel in the New England region. Amy has been exploring New England since 2001. She lived in Vermont for many years and is a graduate of Plymouth State University in New Hampshire. On this site, Amy aims to share her love of New England and help you to have the best possible adventures!
Amy has been writing about travel for over a decade, and is a full time blogger, publishing both Two Drifters and Let's Adventure Baby. When not traveling the world or creating epic blog content, Amy can be found cuddling with her husband, son, and cats, & drinking a maple latte.