Located right on the Merrimack River, Manchester is one of the more popular places to visit in New Hampshire! Most people will visit it to learn about history or visit the museums, but there are so many great restaurants in Manchester NH that you won't want to miss.
This list has been carefully curated to include some of the best Manchester restaurants in no particular order. You may be surprised to find that the restaurant options in Manchester are so diverse and have everything from traditional Mexican to fantastic seafood restaurants!
Here are all of the best restaurants in Manchester NH!
El Rincon Zacatecano Taqueria
Location: 10 Lake Ave, Manchester, NH 03103
Are you craving Mexican food? Look no further than El Rincon Zacatecano Taqueria. Even though the restaurant's name may be a mouthful, this casual spot is the perfect place to go for the best taco in Manchester!
The restaurant may not look like much from the outside, but the food is incredible. With bright orange-colored walls and an even brighter blue ceiling, the interior is exactly what you'd expect from a small-town Mexican restaurant. Plus, all the dishes are served on brightly colored plates!
You can find salads, dips, nachos, empanadas, tostadas, tamales, and more on the menu. They even have traditional stews, like Pozole, which is a pretty famous dish to try. Everything on the menu costs under $20 for the most part, too!
The Foundry
Location: 50 Commercial St, Manchester, NH 03101
Sometimes you're just in the mood for a more expensive meal for a romantic night out. If that's the case, then consider eating at The Foundry. This restaurant is higher-end because they serve farm-to-table meals!
One of the best things about The Foundry is that the interior is incredibly industrial. There are high ceilings, wooden accents, and even exposed beams going across the ceiling. Honestly, the place is one of the best photo spots in Manchester!
Because the restaurant serves farm-to-table meals, the menu is relatively seasonal. Each time you visit, the menu may be different depending on what's in season. Usually, you can find entrees like poutine, oysters, potato skins, and chicken wings on the menu.
Mint Bistro
Location: 1105 Elm St, Manchester, NH 03101
Another of the more expensive restaurants in Manchester NH is Mint Bistro, but this one is known for its outstanding sushi dishes. They're known for their excellent service and even more excellent dishes that they serve.
Compared to other restaurants in Manchester, Mint Bistro is relatively elegant. The interior is very bright yet dark simultaneously, with small sophisticated accents throughout, including fun arched doorways.
The main dish on the menu is sushi, and they serve lots of different types. You can buy it as a whole entree or pick and choose from the a la carte menu. In addition, there's a drinks menu and desserts, including banana cheesecake spring rolls!
Villaggio Ristorante
Location: 677 Hooksett Rd, Manchester, NH 03104
Villagio Ristorante is the perfect restaurant to eat at if you're in the mood for classic Italian food. The interior is elegant, and it tends to be a popular spot for large gatherings in Manchester! They can easily accommodate larger groups.
The restaurant itself features a huge bar area that's impossible to miss, so you can easily order any type of wine to pair with your traditional Italian dish. There's also minimalistic decor throughout, just like you'd expect from an Italian restaurant.
The menu has absolutely everything you'd expect and more. There's Caprese, bruschetta, lasagne, parmigiana, and more. Prices here are a bit higher, and most dishes cost around $20 to $25, depending on what you order.
Ubon Thai 2go
Location: 679 Mast Rd, Manchester, NH 03102
For some quick Thai food to go, look no further than Ubon Thai 2go! This restaurant really doesn't look like much from the outside and can be pretty hard to miss if you're not actually looking for it, but that's part of what makes it so great.
The service here is known for being great, and the restaurant is a lot larger inside than you'd expect. In fact, there's quite a bit of seating for you to enjoy your meal right at the restaurant, and you don't necessarily have to take it "2go," as the name implies!
You can order absolutely any type of Thai dish here, including dumplings, scallion pancakes, rolls, edamame, and more. Most items on the menu cost under $15, making this a relatively cost-effective option if you're looking for the best restaurants in Manchester NH.
Hooked Seafood Restaurant
Location: 110 Hanover St, Manchester, NH 03101
Obviously, no trip to New England is complete without trying seafood, no matter what state you're visiting. The same can be said of New Hampshire, so be sure to try out Hooked Seafood Restaurant on Hanover Street!
This restaurant is so adorable from the outside, with its bright bumblebee-striped awning that's impossible to miss. The bright yellow truly sticks out from the other restaurants on the street and instantly makes you excited to eat there!
The menu is decently sized with dishes that can cost anywhere from $20 to $30 on the entree section, but there are smaller dishes as well for under $15 if you're not super hungry. Some great dish options include lobster mac and cheese, British fish and chips, and even seafood cioppino.
Hanover Street Chophouse
Location: 149 Hanover St, Manchester, NH 03101
The most high-end restaurant in Manchester is Hanover Street Chophouse, but don't let that deter you. The food is just so insanely good that it happens to be one of the best restaurants in Manchester NH, especially among couples looking for a nice night out!
This restaurant is known for its great seafood and steaks and focuses on using locally sourced ingredients. They serve primarily classic eats you'd find at a pub but with an elegant twist, and there are also cocktails that can go with almost anything you order.
The ambiance at Hanover Street Chophouse is unparalleled. Even a live pianist plays soft music every Friday night, so be sure to eat that night if you can. The interior has hardwood details with fun accents throughout.
The Breakfast Club
Location: 342 Cypress St, Manchester, NH 03103
You probably didn't expect to see a dedicated breakfast restaurant on this list, but The Breakfast Club is one restaurant you don't want to miss in Manchester NH! This mid-range priced restaurant is perfect for early morning breakfast in the city.
The interior is so bright and airy. There's light-colored wood with industrial accents and fun decor on the walls of some of the best national parks in the USA! In addition, there's quite a bit of indoor seating for you to eat your meal.
From fresh egg sandwiches to unique omelets with a Greek twist, there's genuinely every type of breakfast imaginable on the menu. Be sure to try one of their delicious eggs benedict for a unique dish in the morning! Their Louisiana Benny, for example, has fried chicken and features a Cajun hollandaise sauce!
Mr Mac's Macaroni and Cheese
Location: 497 Hooksett Rd, Manchester, NH 03104
Who doesn't love a warm bowl of cheesy macaroni? Luckily, that's the name of the game at Mr Mac's Macaroni and Cheese! This is a favorite among both kids and adults, and you get your food rather quickly. It's perfect if you don't have a super long time for a meal.
The restaurant looks exactly how you'd expect. The primary color palette is shades of yellow, and the walls represent that. There's lots of seating inside, so you can walk right up, place your order, and sit down to enjoy it.
At the restaurant, they have different types of macaroni and cheese, including more classic ones mixed with versions that are a little more unique. In fact, you can order delightful dishes like chicken bacon ranch, taco mac, and even jalapeno popper mac! Plus, most of them come topped with bread crumbs, an absolute essential for an excellent macaroni and cheese straight from the oven.
KC's Rib Shack
Location: 837 Second St, Manchester, NH 03102
Last but certainly not least is KC's Rib Shack on Second Street! This has been a local favorite for more than two decades and is one of the most reviewed restaurants in Manchester NH. Because it's so popular, it's worth trying to beat the rush hours if you want to eat here! But, the wait is worth it, too.
The restaurant itself is very low-key, but the interior is filled with fun decor on every inch of the walls. Seriously, if you were to sit at two different tables during your visit, you'd be looking at unique memorabilia on the walls at each seat!
The menu is extensive at KC's Rib Shack and covers everything from sandwiches and salads to smokehouse combos and burgers. There are also pit master specials where you can get more food for what you pay. They even have a Chinese brisket pie which comes with two sides and cornbread on the pitmaster special menu!
Hopefully, you now know exactly where to eat during your next visit to Manchester! There are so many places to eat in Manchester that it was hard to whittle it down to this list. No matter where you choose to eat, you're in for a tasty meal!
—
You might also like: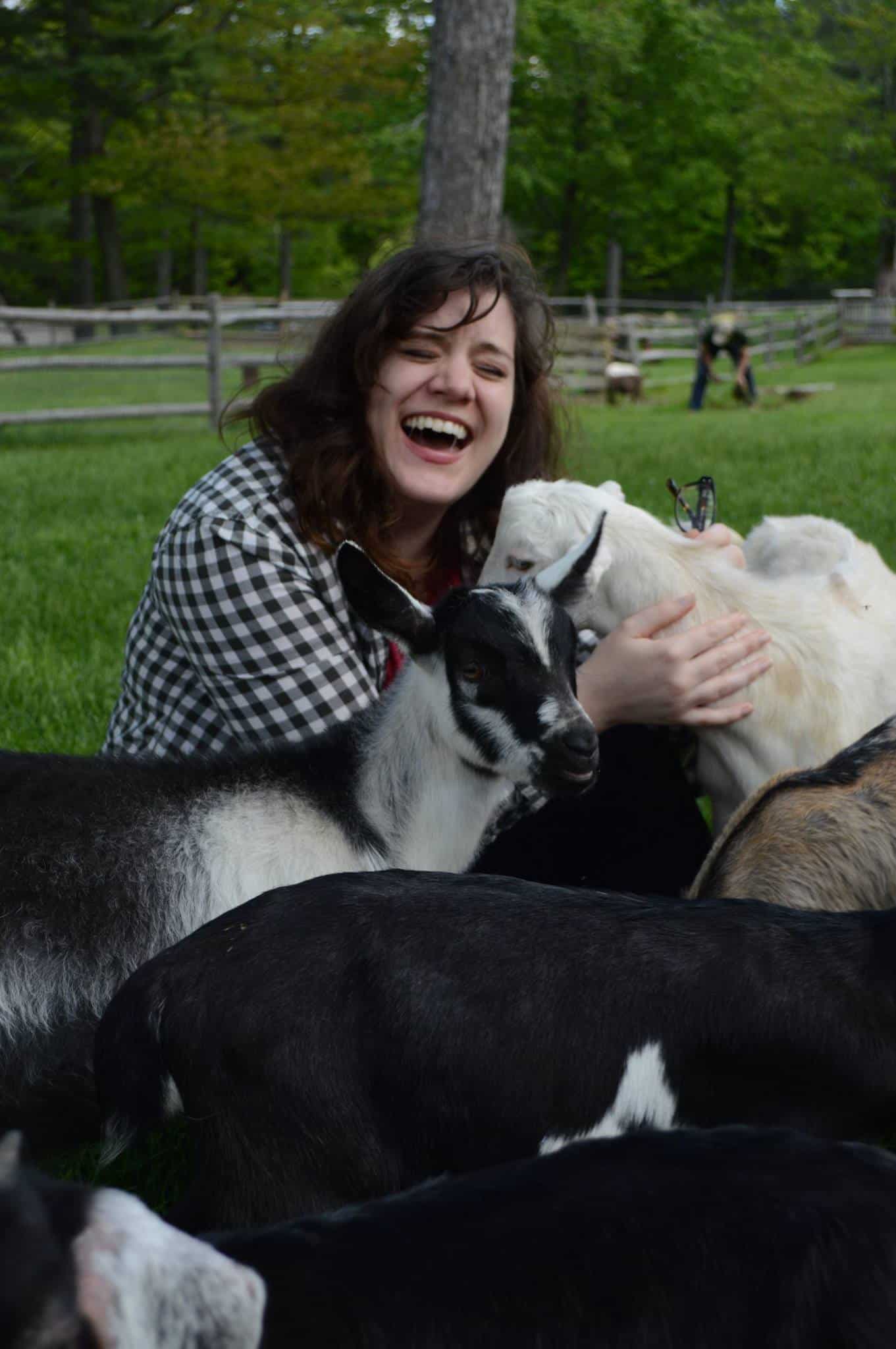 Amy Hartle is the founder and Editor-in-Chief of New England With Love, a comprehensive resource for travel in the New England region. Amy has been exploring New England since 2001. She lived in Vermont for many years and is a graduate of Plymouth State University in New Hampshire. Amy has been writing about travel for over a decade. On this site, Amy aims to share her love of New England and help you to have the best possible adventures!
Amy has been a full time blogger since 2012, and is also the publisher of Two Drifters, where she writes about couples travel and relationships, as well as Let's Adventure Baby, a family travel site. When not traveling the world or creating epic blog content, Amy can be found cuddling with her husband, son, and cats, & drinking a maple latte.