Sure, you could go camping, but why not go glamping in New Hampshire instead? Glamping is the latest trend and is, at its core, camping, but in style! This means you can stay in yurts, top-notch cabins, and more.
Throughout this post, you'll learn all about the top New Hampshire glamping spots. Luckily, they're located all over the state, so no matter where you are visiting, you'll be able to find a great spot to go glamping nearby. Plus, each of these glamping spots varies in the budget, so you should be able to find the perfect place with your travel glamping budget in mind.
Here are all of the best spots to go glamping in New Hampshire!
Sparrow Glamping Site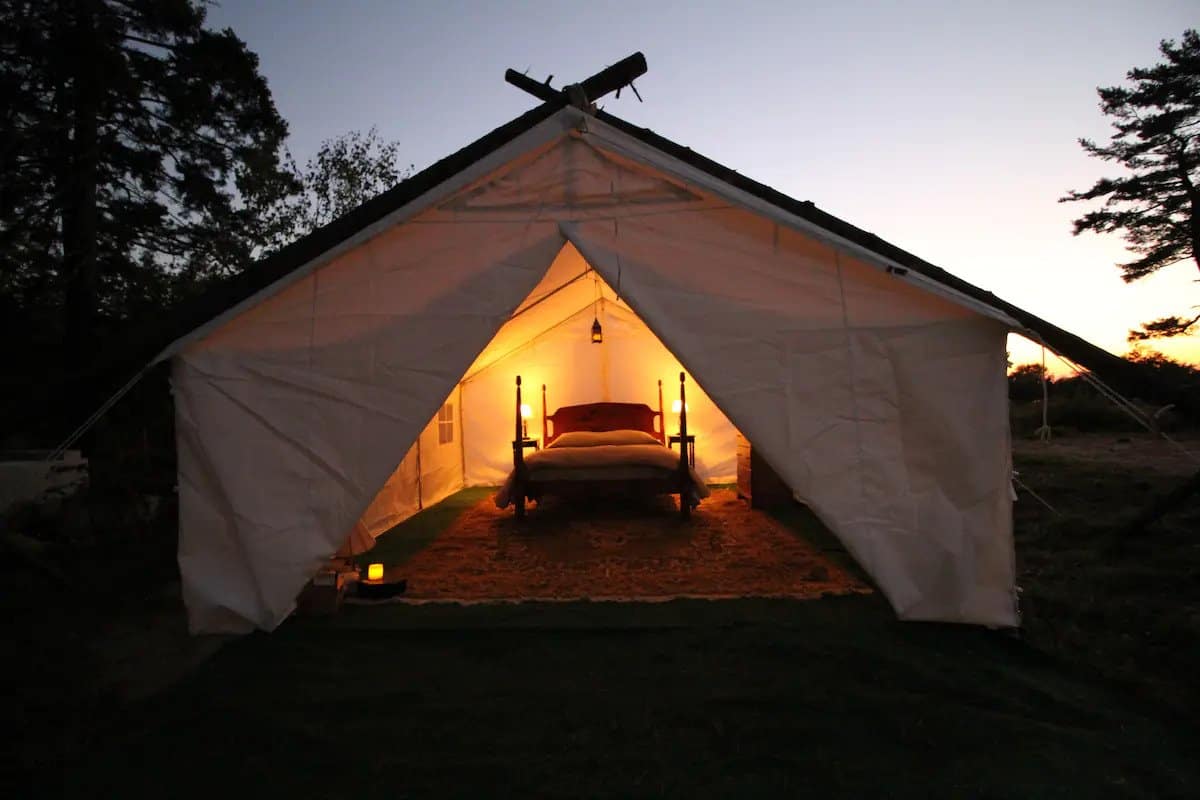 Sparrow Glamping Site in Harrisville, New Hampshire, is an amazing spot for glamping! It's basically a giant tent under the stars. The glamping site has one giant bedroom and shared bathrooms and can host up to two guests per night.
Inside the tent, there's a super plush queen bed. Guests will have access to a shared campfire site where they can cook food or even s'mores. Nearby, there are shared showers, toilets, and sinks. A gas stove is inside the tent to keep guests warm if they happen to visit during a colder time of year.
The inside of the tent is relatively minimalistic, but it also has a somewhat industrial vibe to it, making it a super unique glamping experience. This place also gets some of the absolute best sunset views in all of New Hampshire at night. This is another perfect place to go for a couple's getaway in New Hampshire!
Snug Life Camping
Easily one of the best spots to go glamping in New Hampshire is Snug Life Camping. It's located in Wilton and is secluded, making it perfect for those who want to have a tranquil getaway, no matter the time of year.
What's so great about Snug Life Camping is that it's a breathtaking tent located right along the Souhegan River. The tent is made of canvas to withstand any type of weather and features a bunk bed on the interior. It's higher up off the ground, too, because it's located on a wooden platform that raises it up. This way, you won't have to sleep on the cold, hard ground!
There's a small patio area as well with two seats so you can take in the view of the surrounding forest during your stay. This is the perfect palace to drink a cup of coffee or even eat a granola bar in the early morning.
Luckily, there is also a toilet with privacy in a single tent located near the tent. It's a short walk to get to it to allow for more privacy. This is easily one of the top glamping spots in New Hampshire, and it's perfect for couples or those traveling in pairs!
Camp in Luxury, Campton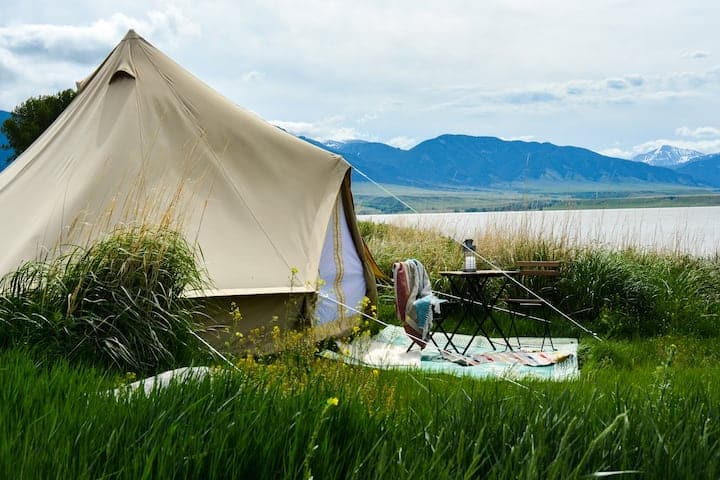 Next is an Airbnb for glamping in New Hampshire! It's located in Campton (how fitting) and is right along the lake with impeccable views of the mountains. Each tent is excellent for up to five guests and is perfect for those who really want to camp right under the stars.
Camp in Luxury features tents made of heavy-duty canvas to withstand any type of weather that might get thrown your way. Dogs are even allowed to stay at these accommodations! There are many amenities included, like air beds, bedding, a first aid kit, camp chairs, bear spray, and even games in case you get bored during your stay.
Because of the location, guests are suggested to bring bug spray. One of the best things to do at this gorgeous glamping location is to sit out on the little deck in one of the chairs and watch the sunset over the lake and the mountains. It's truly an experience unlike any other.
Huttopia White Mountains
Another excellent spot for glamping in New Hampshire is Huttopia White Mountains in Albany! This place has tons of amenities, and the facilities are known for being top-notch. Again, this place is fairly secluded amongst the White Mountains and is truly breathtaking.
There are tons of amenities at Huttopia White Mountains. There's a restaurant during the summer months that's open to guests. There is also a cafe with coffee and tea that's brewed daily, breakfast during certain times of the year, a heated pool for swimming, and of course, a camp store in case you have to buy anything. There's also a kids club with a playground and activities hosted throughout the year for guests.
A few different lodges are available to book during your stay at Huttopia White Mountains. There are cabins and various luxurious tents. Depending on which one you book, the accommodation can host between two and six people. Each lodging option has various amenities and could include things like bathrooms, kitchenettes, electricity, fire pits, cooking equipment, and more.
Birchwood Hideout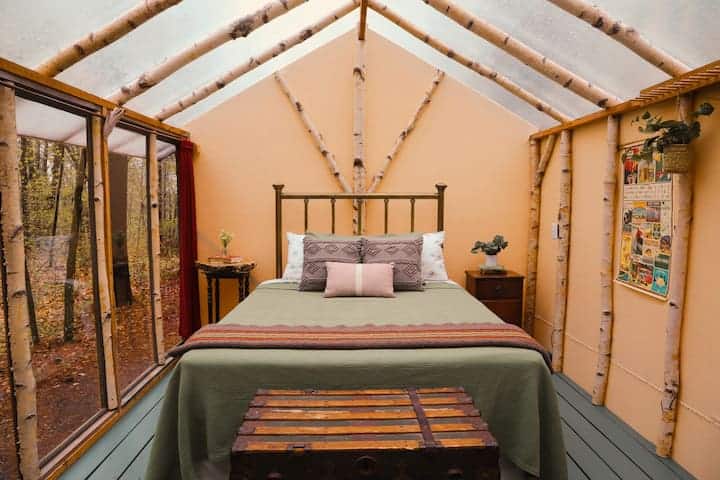 Birchwood Hideout is the perfect place to go glamping in New Hampshire. It's located in Salisbury and can host up to two guests at a time, even though it looks so tiny from the outside! Oh, the beauty of glamping.
The area that Birchwood Hideout is located in is relatively rural, but there is a town within a thirty-minute drive away in case guests forget anything during their stay. Because it is rural, this is really a place to unplug. In fact, there really isn't much service here at all!
The tent is sort of like an upscale yet rustic homemade out of trees and wood. Inside, there's a glass wall that offers great views of the outdoors. There's the minimalistic decor, and it almost makes you feel like you're at a summer camp! There is also a beautiful little deck out front with two chairs so guests can sit outside for meals or use the small two-person table inside.
Guests are supplied with shampoo, conditioner, an outdoor shower, portable fans, a first aid kit, and cooking basics. There's also a coffee maker, of course, and barbecue essentials so you can have a cookout under the stars.
Getaway Blake Brook
Getaway Blake Brook is often said to be one of the best getaways from Boston! It's located in Epson, New Hampshire, and is close to one of the state's parks, Bear Brook State Park. This is a beautiful spot for glamping in New Hampshire, and it's incredibly picturesque!
There are 42 different cabins available for rent here. There are one-bedroom and two-bedroom cabins, and each is beautiful. The two-bed cabins, in particular, make really great use of the space. The creators made a sort of bunk bed installation inside. There's ample natural lighting with huge windows (with shades, of course) throughout the cabins.
Of course, many different amenities are included in these cabins! Each tiny cabin comes with a cell phone lockbox (this is the outdoors, after all), stoves, hot showers, chairs with picnic tables, and more. Plus, there's a small store where guests can purchase necessities like firewood, marshmallows, chocolate, graham crackers, and of course, coffee!
Romantic Bennington Yurt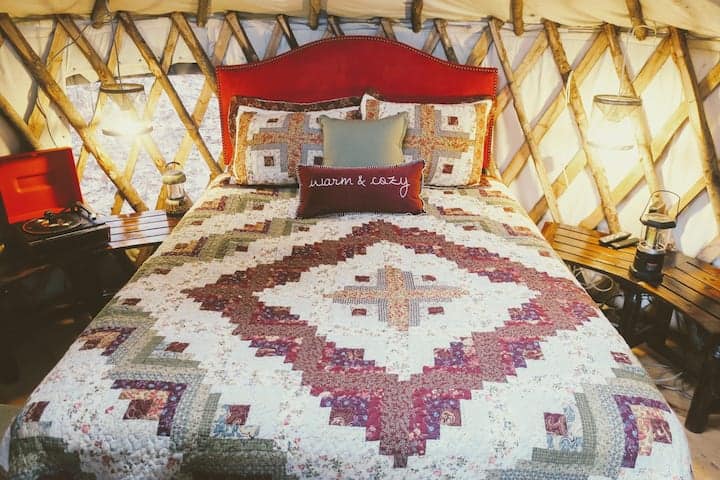 Obviously, this list of best spots for glamping in New Hampshire wouldn't be complete without including at least one yurt! So, check out this Romantic Bennington Yurt in Bennington, New Hampshire. It's right on the water and is the quintessential glamping experience that most people will think of.
Like other glamping spots, two guests can stay here at a time. Amenities here are crazy-good, with a river view, television with cable, fireplace, air conditioning, kitchen, wifi, and even ski-in/ski-out because of its location. There's also a private patio for sitting!
The yurt itself is absolutely traditional, which is what makes it so great. The interior is extremely cozy, with exposed wood beams showcasing the structure of the yurt. There's a welcome bed with comfortable bedding and even a record player for guests to listen to music. Even though there's a home nearby, this accommodation feels very rustic and serene.
Hub North
Last but certainly not least on this list of best spots to go glamping in New Hampshire is Hub North! This is a traditional glamping spot located in Gorham. Hub North is known for its great facilities, location, and seclusion, making for a quiet getaway.
There are four different glamping accommodations within Hub North, and each one is pretty different! They're named Corvus, Orion, Aurora, and Zephyr. Each glamping accommodation is a short walk to shared showers and toilets and a pavilion with access to a kitchen in the summer. Each tent and yurt has LED lighting and fans, and fire pits for cooking.
In case you forget anything, there is also a camp store right on the location where guests can go to make purchases. They sell souvenir t-shirts, snacks, dinner kits, and essentials like eggs and butter, among other things.
This post was all about the best places to go glamping in New Hampshire! No matter where you choose to go glamping from this list, you'll have an unforgettable experience. While in New Hampshire, don't also forget to check out the waterfalls, lakes, hikes, and historical sites that this beautiful state has to offer.
---
You might also like: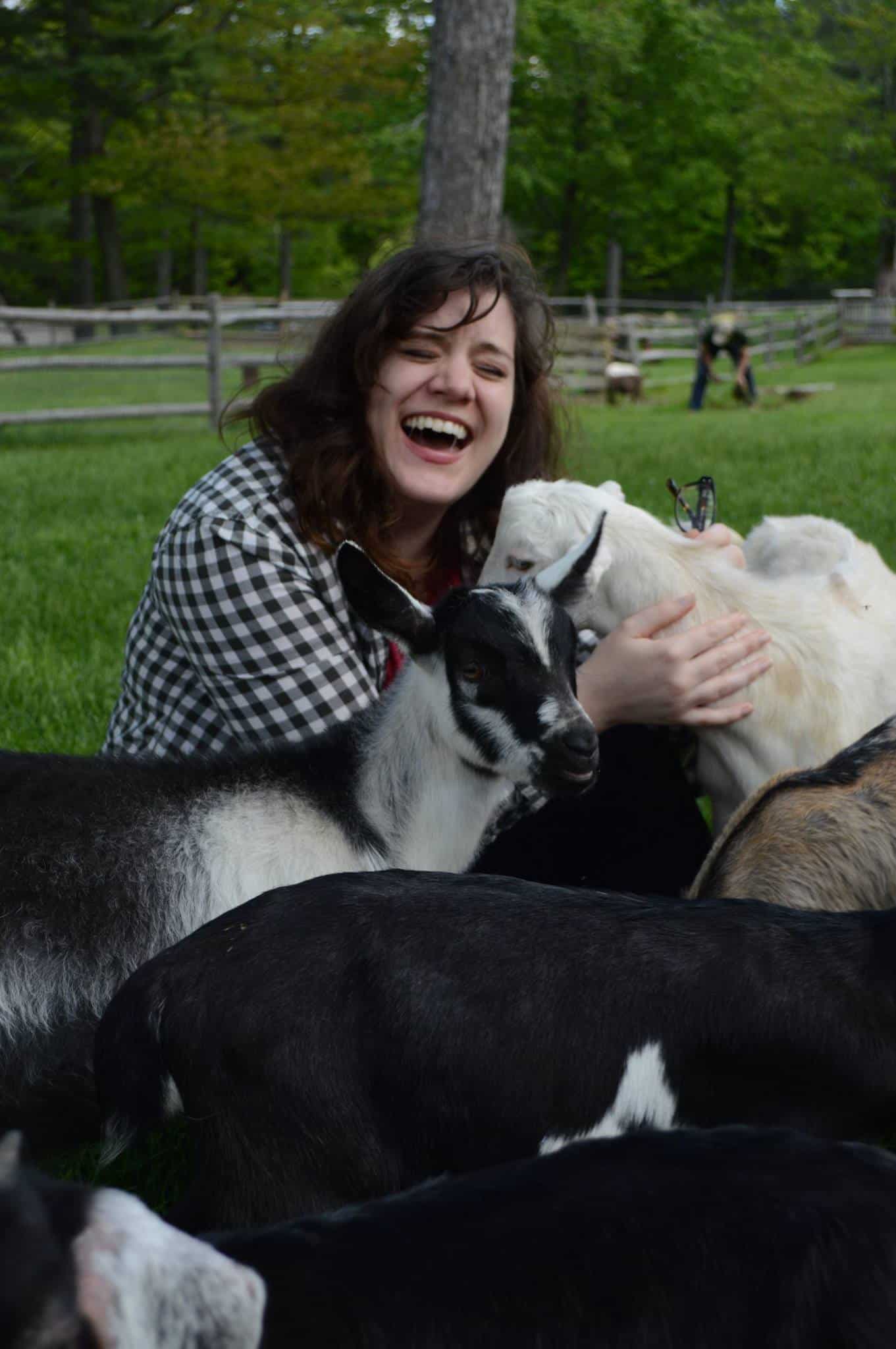 Amy Hartle is the founder and Editor-in-Chief of New England With Love, a comprehensive resource for travel in the New England region. Amy has been exploring New England since 2001. She lived in Vermont for many years and is a graduate of Plymouth State University in New Hampshire. Amy has been writing about travel for over a decade. On this site, Amy aims to share her love of New England and help you to have the best possible adventures!
Amy has been a full time blogger since 2012, and is also the publisher of Two Drifters, where she writes about couples travel and relationships, as well as Let's Adventure Baby, a family travel site. When not traveling the world or creating epic blog content, Amy can be found cuddling with her husband, son, and cats, & drinking a maple latte.