Cape Cod is easily one of the most popular places to visit in New England for summer. With spectacular beaches and spots to relax, you really can't go wrong with visiting the Cape. Eating at the best Cape Cod restaurants will make your trip even more memorable!
While most people will expect to only really find seafood restaurants on Cape Cod, there are actually tons of different types of food available at the different local eateries. There's Thai, Italian, Japanese, and even Irish food!
Throughout this post, learn all about the best Cape Cod restaurants. Warning: your mouth may water!
Basil Thai Cuisine
Location: 594 Main St, West Yarmouth, MA 02673
First up is one of the best Cape Cod restaurants located in West Yarmouth, Basil Thai Cuisine. As the name suggests, this is a Thai restaurant! It really doesn't look like much from the outside, but the inside is super laidback and the staff is super kind.
Everything served at Basil Thai Cuisine is made from fresh ingredients, and they even have some dishes that are seasonal throughout the year. The restaurant opened to help bring traditional Thai dishes to locals!
The menu has dishes that are fairly budget-friendly, with many dishes being around $12 or less. There are appetizers, salads, soups, noodle bowls, fried rice, curry, and more. They also have a wide range of seafood available on the menu. It is the Cape after all!
Sam Diego's Mexican Cookery and Bar
Location: 950 Iyannough Rd, Hyannis, MA 02601
Located right in Hyannis, Sam Diego's Mexican Cookery and Bar is arguably one of the best spots to get Mexican cuisine while on the Cape. This restaurant has an outdoor patio and offers all-you-can-eat options for lunch during the week in Hyannis!
The inside of the restaurant is super colorful with eclectic decor all over the walls. There's even fun neon lighting on the ceiling that just adds to the overall ambiance. It definitely feels like a traditional Mexican restaurant!
The menu is incredibly extensive, including starters, quesadillas, salads, burritos, enchiladas, tacos, fajitas, and more. Everything costs around $15 or so, which means that the restaurant is fairly affordable. For a real treat, try the green chile, which is a southwest delicacy!
The Oyster Company
Location: 202 Depot St, Dennis Port, MA 02639
One of the few seafood restaurants on the Cape that's open year-round is The Oyster Company! Many Cape Cod seafood restaurants are only open seasonally because most people visit in the summer.
The restaurant is owned by Greg Burns, who is a chef and oyster farmer himself over at Quivet Neck Farm. He's passionate about giving the best oysters to his customers and puts experience above all!
In addition to oysters, the menu features cod, lamb, shrimp, and more. Plus, if you're not a big seafood fan, but someone you're traveling with is, then you can also enjoy other dishes like flatbread pizzas, sandwiches, or burgers.
Belfry Bistro
Location: ​​6 Jarves St, Sandwich, MA 02563
One of the most unique best Cape Cod restaurants is the Belfry Bistro. They are a New American restaurant, but they're located inside of an old church from 1901, which is even more evident through historic decor.
In addition to the Belfry Bistro, the business features The Painted Lady, Next Door Burger Bar, 1827 Village Inn, and The Seal art gallery. You can spend the whole afternoon just at this set of four different historic buildings on Cape Cod in Sandwich!
Prices at the Belfry Bistro are a bit higher at around $20 per meal, but the food is incredible. They have traditional dishes like lobster gnocchi or shrimp cocktails, but also have some fun meals like crispy pork belly bao buns with apple slaw, apple butter, and maple syrup!
Indian Pavilion
Location: 511 Main St, Hyannis, MA 02601
Located right in Hyannis, the Indian Pavilion is the go-to Cape Cod restaurant for Indian food. The restaurant doesn't look like much from the outside, but the food is quality, and there are even free rice refills.
This restaurant is run by a great Indian Chef named Narinder Thind, who many locals refer to as Tony. The restaurant prides itself in bringing a taste of India to the cape. It's particularly popular among families.
The menu has everything you could possibly imagine or want at an Indian restaurant. There are samosas, pakoras, platters, biryani, tandoori, and more. Everything on the menu is mid-priced, and nothing costs more than $20 per entree.
Keltic Kitchen
Location: 415 MA-28, West Yarmouth, MA 02673
Yes, there's even an Irish restaurant you can eat at! Keltic Kitchen is easily one of the best Cape Cod restaurants, especially if you're looking for some hearty food. This Irish restaurant is most famous for its classic Irish breakfast, but they have tons of other dishes on their menu too.
The outside of the restaurant briefly reminds visitors of Ireland with shamrocks painted onto the walkway. The building itself is also a dark green color. There's outdoor seating and a big sign that says "Keltic Kitchen."
On the menu, you can find classics like Barry's Irish Tea, Irish farmhouse breakfasts, and more. They also have great pub eats, like sandwiches, burgers, soups, and more. Be sure to stop by at breakfast for a real treat; the breakfast menu is immaculate!
Mike's Roast Beef & Pizzeria
Location: 459 MA-28, West Yarmouth, MA 02673
Mike's Roast Beef & Pizzeria is an excellent spot to get pizza when you're visiting the Cape. Located in West Yarmouth, Mike's was started by a husband and wife team that prepares their food fresh. The dough is made every morning!
There are many different types of pizza, including their specialties like Philly cheesesteak and veggie supreme. The house specials cost a little more at around $20, but they also have pasta dishes that cost closer to $10.
For a quick piece of pizza or if you're having a party while on the Cape, this is definitely a great spot to go. You can also order online in advance to make your pickup a bit quicker if you'd prefer.
PB Boulangerie Bistro
Location: 15 Lecount Hollow Rd, South Wellfleet, MA 02663
One of the excellent French restaurants that you can find on the Cape is PB Boulangerie Bistro near Wellfleet. This restaurant is a bit of a two-for-one, as it serves as a bakery and bistro! So, you can get a traditional French entree and pastry all during your visit.
The restaurant's head chef is Chef Philippe Rispoli, who is from France. He's also worked at many different Michelin-star restaurants before moving to PB Boulangerie Bistro, so your food is in great hands.
Everything on the menu is relatively affordable and features many great options, ranging from cheese-tasting plates to organic artisanal salads. There are also French favorites like steak frites and escargot!
Bangkok Kitchen
Location: 339 Barnstable Rd, Hyannis, MA 02601
The best Thai food in all of Cape Cod can be found at none other than Bangkok Kitchen. From the outside, this restaurant looks very humble, as it's super tiny and quaint compared to other restaurants in the area. However, this Hyannis Thai restaurant will genuinely leave you wanting to come back for more!
The menu is fairly large despite the restaurant being small. There are appetizers, soups, noodles, Thai curry, fried rice, and more. They also have both lunch and Bangkok specials that change throughout the year.
There is seating inside if you wish to dine in. The interior is very simple, with wooden tables and minimalistic decor on the walls. If you prefer to eat out, Bangkok Kitchen also does to-go orders.
Betsy's Diner
Location: ​​457 Main St, Falmouth, MA 02540
Sometimes diner food just hits the spot. If you want a tasty breakfast or classic diner food, then look no further than Betsy's Diner. This restaurant has an old-school retro vibe and has classic booth-style seating inside. You'll be taken back in time in all the right ways!
This 50's diner is located right in the center of Falmouth, so it's impossible to miss. The nostalgia from the bright red and silver building to the neon signs will genuinely make you want to stop for a tasty bite to eat!
The restaurant serves up traditional diner fare like chicken fingers, burgers, sandwiches, wraps, salads, and more. Don't forget to pair your meal with a tasty smoothie to top it all off! If you're visiting Cape Cod with kids, this is the perfect place to eat.
Bleu
Location: 10 Market St, Mashpee, MA 02649
If you're in the mood for French food while you're on the Cape, then you absolutely must stop by Bleu. It's a bit pricier, but you definitely get what you pay for. The ambiance, the staff, the food… it's all divine.
This upscale restaurant is known for its innovative menu. Everything on the menu is made with so much love, and you can get French classics like Duck or other interesting dishes like day boat haddock, bacon, brie cheese, and cranberry quiche, or even sauteed sea scallops with apple cranberry onion jam!
The restaurant itself was started by Chef Frederic Feufeu, who is from the Loire Valley in France. He even has experience cooking in New York City, and he prides himself in having brought a taste of home to Massachusetts.
Hopefully, this post has helped you find the best Cape Cod restaurants for you to try during your trip to eastern Massachusetts. Each place is absolutely incredible, so no matter where you eat, you'll truly enjoy it!
—
You might also like: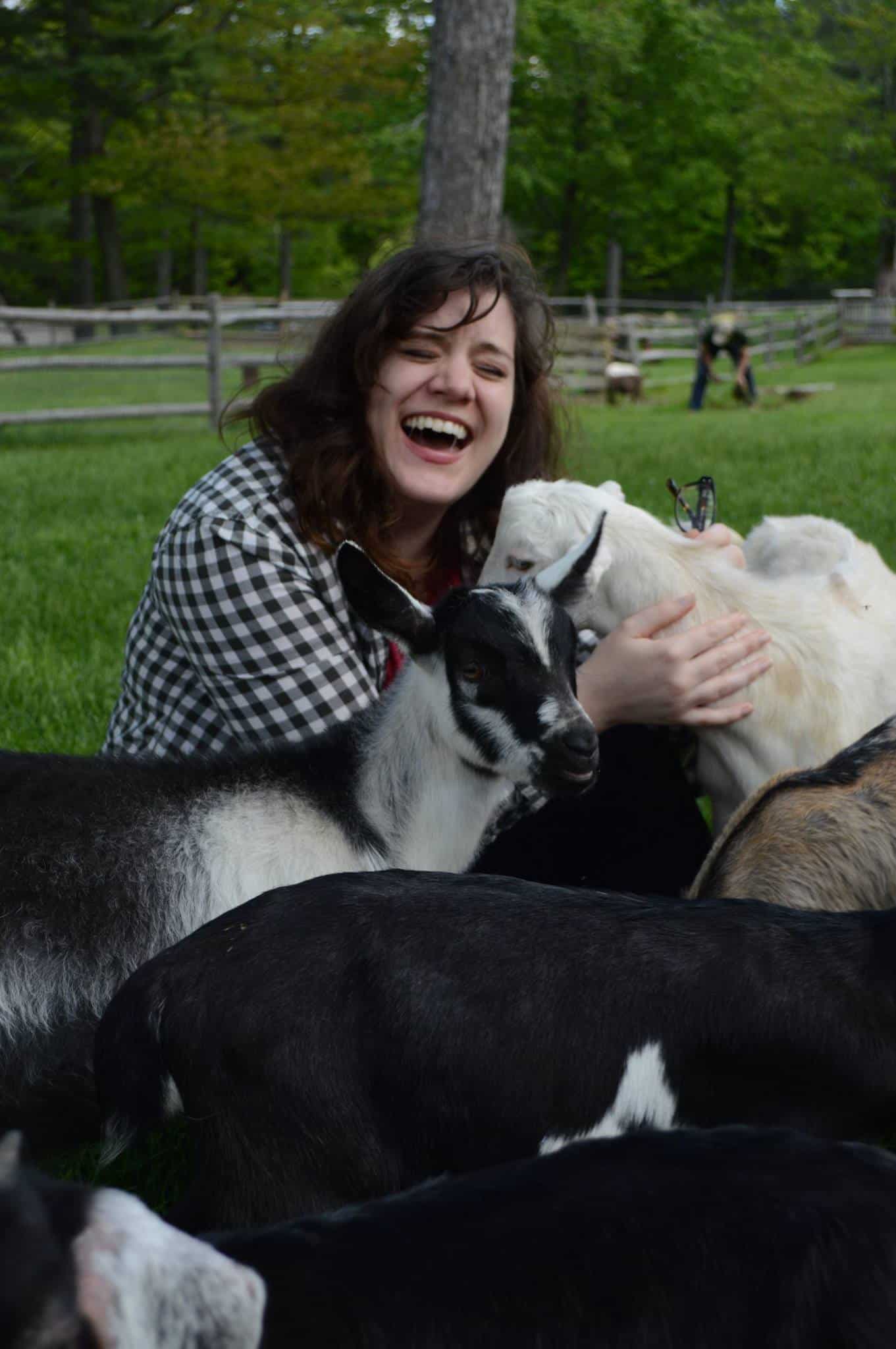 Amy Hartle is the founder and Editor-in-Chief of New England With Love, a comprehensive resource for travel in the New England region. Amy has been exploring New England since 2001. She lived in Vermont for many years and is a graduate of Plymouth State University in New Hampshire. Amy has been writing about travel for over a decade. On this site, Amy aims to share her love of New England and help you to have the best possible adventures!
Amy has been a full time blogger since 2012, and is also the publisher of Two Drifters, where she writes about couples travel and relationships, as well as Let's Adventure Baby, a family travel site. When not traveling the world or creating epic blog content, Amy can be found cuddling with her husband, son, and cats, & drinking a maple latte.