When the weather is warm, Massachusetts is truly unlike any other state. From laying out by the beach, exploring state parks, and even grabbing some tasty ice cream, there are so many fun things to do in summer in Massachusetts!
No matter your interests, this post has got you covered with all of the best summer activities. Whether you'd rather stay inside, go on tours, or even just relax, there's truly something for you throughout this list.
Keep reading to learn all about the top things to do in summer in Massachusetts, in no particular order!
Vacation on Nantucket
Known for its fantastic beaches, Nantucket is definitely one of the most unique getaways in Massachusetts, especially in the summer. It's located right off the state's coast and is actually an island, so you can run on island time.
In addition to visiting the beaches, though, there are tons of other fun activities on Nantucket, with one of the most popular being whale watching. There are quite a few tours that allow guests to see them up close. Plus, summer is one of the best times of year to go whale watching.
Other fun activities include shopping downtown, having a cocktail near the water, exploring the island to visit the lighthouses, and also stargazing. It's truly a place where you can just relax, no matter how long you're there.
Visit the Beaches on Cape Cod
No list of things to do in summer in Massachusetts is complete without mentioning Cape Cod at least once. So, be sure to stop by the beautiful beaches there! Whether you'd rather catch some sun by relaxing in the sand, play beach volleyball with pop-up nets, or swim out in the water, the Cape Cod beaches are for you.
There are so many to choose from, but here are a few great ones to choose from to get started:
Mayflower Beach: This is one of the more popular Cape Cod beaches (in fact, it's also one of the

most popular in the entire state

). Even though the crowds may be bigger, seeing the sunset view there is worth it. Plus, it's located right in the town of Dennis.

Chatham Lighthouse Beach: This is the perfect beach to go to if you want to be near a lighthouse. It's located near Chatham and is excellent for those who are more interested in beach views rather than swimming.

Seagull Beach: As the name suggests, you will see birds here! It's the biggest beach in Yarmouth and tends to have large crowds, but the beach itself is huge, so you can find a spot just for yourself.

Sandy Neck Beach: Located in Barnstable, this is one of the more rugged beaches in the area. It's a popular spot to go off-roading, so it's great for those who would rather have a different beach experience.
Go Whale Watching in Gloucester
One of the most popular things to do in summer in Massachusetts is to go whale watching in Gloucester. As you may have guessed, the easiest way to do this is to book a tour with a local company that has experience finding these whales safely.
If you're looking for places specifically in Gloucester, consider booking it with Captain Bill and Sons Whale Watch, Cape Ann Whale Watch, or 7 Seas Whale Watch.
If you find yourself in other parts of the state and can't make it to Gloucester but want to go whale watching, don't worry. You can also go whale watching in Boston, Provincetown, Plymouth, Barnstable, and even Nantucket.
Hike in a Massachusetts State Park
What better way to get outdoors than to go hiking? Luckily, there are many great state parks in Massachusetts to choose from, each of which comes equipped with miles of hiking trails worth exploring by an adventurer like you.
There are so many state parks in Massachusetts, so it can be hard to decide which one to go to, but a few of the best include Joseph Allen Skinner State Park, Nickerson State Park, and Bash Bish Falls State Park. What's so great about the state parks is that they each have tons of trails meant for all types of hiking levels, so no matter your experience, you'll be able to find one that's perfect for you.
If hiking actually isn't something you're interested in doing, there are also tons of other activities that can be had at these parks. For example, you can go mountain biking, have a picnic, or even canoe in some of the parks that have lakes.
Attend the Boston Symphony Orchestra at Tanglewood
If you're a fan of music, one of the best things to do in summer in Massachusetts is attending the Boston Symphony Orchestra at Tanglewood. This experience is truly like any other and is even different than the one that you would get at the Symphony Hall in Boston.
Tickets can sometimes be hard to come by so just be sure to keep a close eye on their website to see when tickets drop so that you can make sure you snag some and can enjoy this amazing musical event. This is the perfect event to attend if you're looking for a romantic evening out!
Cool off with Ice Cream
Obviously one of the best things to do in summer in Massachusetts is to grab an ice cream to cool off! Many people don't realize that it can get really warm in the summer, but luckily there are incredible ice cream shops all throughout the state.
One of the best places to go for ice cream in the entire state is none other than Cape Cod! Some great ice cream shops on Cape Cod include Ice Cream Smuggler in Dennis, Lewis Brothers Ice Cream in Provincetown, and Sweet Caroline's in Sandwich.
However if you find yourself in any other part of the state, you're more than likely to find a great ice cream shop nearby. Even in the city of Boston, you can find amazing ice cream shops like Emack & Bolio's or the Cookie Monstah food truck which can often be found by Boston Commons.
See a Movie at Wellfleet Drive-In Theatre
One of the most iconic experiences you can have in Massachusetts during this time of year is seeing a movie under the stars at the Wellfleet Drive-In Theatre. There really aren't many drive-in theaters left in the United States so being able to even see a movie at one of them is an unforgettable experience. In fact, this drive-in theater, in particular, dates back to the 1950s and is the last one left on Cape Cod.
The drive-in theater normally opens in May each year and pricing is per car. Be sure to either bring a battery-powered radio or be prepared to have your car radio on for the entirety of the show so that you can hear the sound. This is an incredible experience, especially for those visiting the area with kids.
Spend the Weekend in a Beach Town
What better way to enjoy summer in Massachusetts than to head to one of the incredible beach towns that the state is known for? Because it's a coastal state, Massachusetts is filled with beach towns that you truly don't want to miss out on. We already touched a bit on the amazing Cape Cod, but there are also other beach towns worth considering.
A few of the great beach towns in Massachusetts include Gloucester, Wellfleet, Chatham, Newburyport, Provincetown, and of course Nantucket. Truly though, even just driving along the coast and finding beautiful small beach towns to stop at is the perfect way to spend a summer's day in Massachusetts.
Walk The Freedom Trail
If you are a history fan, then you're definitely going to want to head to Boston in the summer. Boston is one of the most historic cities in the United States and for good reason. In fact, one of the absolute must-do activities in Boston is none other than walking the Freedom Trail.
You can absolutely walk the Freedom Trail on your own, but be sure to grab a map so that you know what historic spots to look out for along the way. There are great markers right on the ground throughout the city so it's impossible to go off track.
If you'd rather do this walk with a tour guide, you can also do that instead. These can be really fun and often the tour guides even dress up in historic outfits, almost bringing you back in time to learn about Boston history.
Have a Blast at Six Flags New England
This may seem like a bit of an obvious one but one of the best things to do in summer in Massachusetts is to head to an amusement park! The most popular amusement park in Massachusetts is none other than Six Flags New England in the central part of the state.
This amusement park is filled with tons of rides and even those traveling to the area with family and younger children will be pleasantly surprised at how much fun can be had there. Obviously, lines might be a little bit longer for some of the fun adult thrill rides in the summer, but truly the wait is worth it because the rides are so fun.
Explore the Berkshires
Last but not least consider venturing out to the western part of the state to explore the Berkshires! This is one of the most underrated parts of Massachusetts and many locals still consider it somewhat of a hidden gem.
This part of the state feels a lot like other states in New England like Vermont as it features beautiful mountainous towns, hikes that will keep you on your toes because the views are so breathtaking, and of course, charming locals who love meeting tourists exploring their small towns.
Hopefully this post helped you find some of the best things to do in summer in Massachusetts! No matter which part of the state you'll be visiting or exploring there truly are tons of fun activities that you won't want to miss out on. Don't forget to save this post and share it for later!
---
You might also like: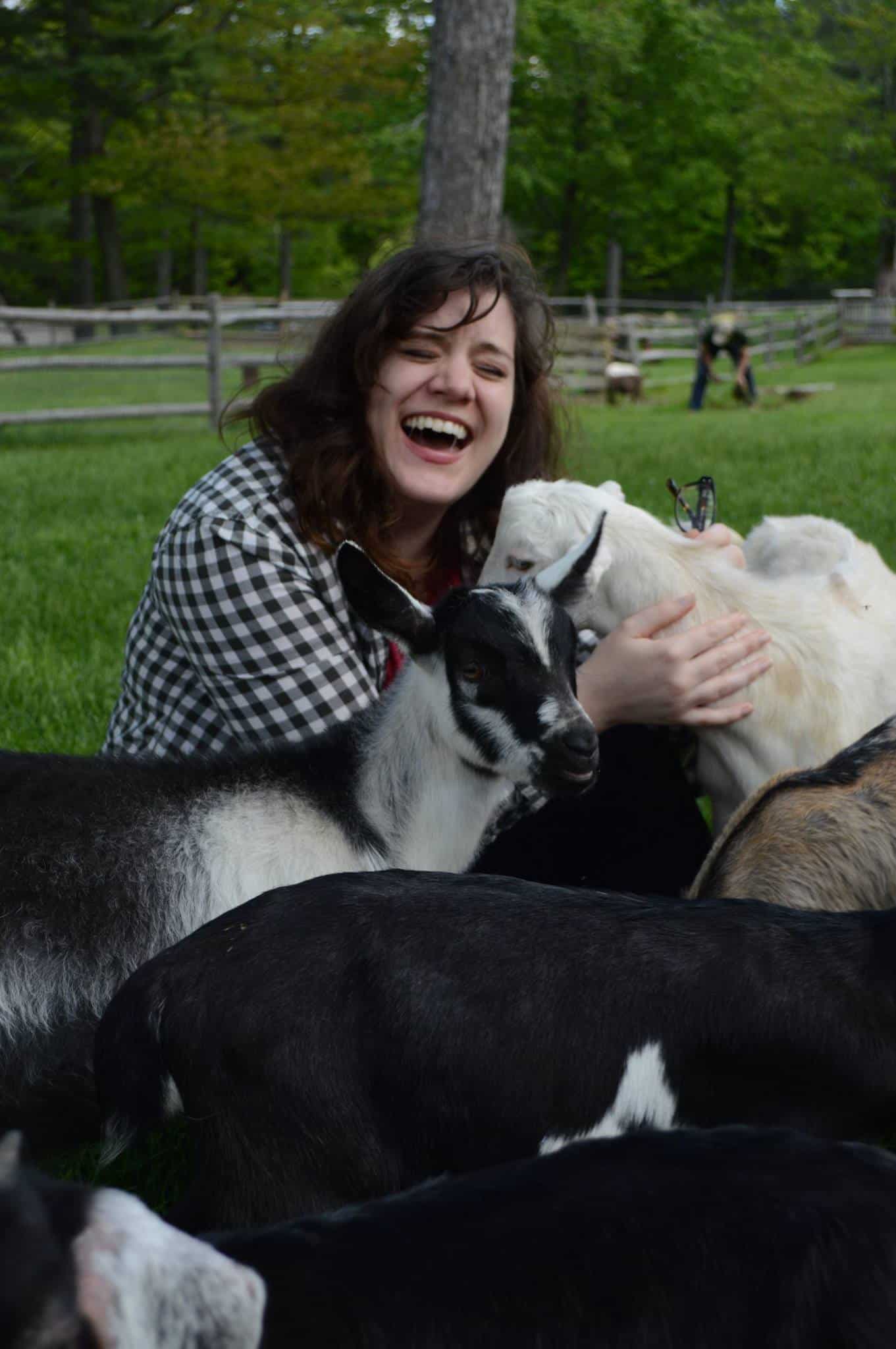 Amy Hartle is the founder and Editor-in-Chief of New England With Love, a comprehensive resource for travel in the New England region. Amy has been exploring New England since 2001. She lived in Vermont for many years and is a graduate of Plymouth State University in New Hampshire. Amy has been writing about travel for over a decade. On this site, Amy aims to share her love of New England and help you to have the best possible adventures!
Amy has been a full time blogger since 2012, and is also the publisher of Two Drifters, where she writes about couples travel and relationships, as well as Let's Adventure Baby, a family travel site. When not traveling the world or creating epic blog content, Amy can be found cuddling with her husband, son, and cats, & drinking a maple latte.