---
*Links in this article may be affiliate links, from which we may earn commission. See our
Privacy Policy
for full details.
---
Massachusetts has plenty to offer visitors, both outdoors and in. You've got big city fun in Boston, natural beauty and recreation in the Berkshires, and gorgeous lakes in Massachusetts all around the state!
If you're wondering where to find the best Massachusetts lakes, we've rounded up some of the most popular spots in the Bay State. Day at the lake, here you come!

Lakes in Massachusetts
Onota Lake
Location: In the city of Pittsfield
Activities: Swimming, fishing, boating
One of the best lakes in Massachusetts to visit is beautiful Onota Lake. This 617-acre lake is in the western part of The Bay State, near the New York border.
There's plenty to do at Onota Lake, including swimming, fishing, boating, water skiing, canoeing, and kayaking. If you don't have a boat, don't worry. You can rent boats from Onota Boat Livery and Berkshire U-Drive Boat Rental, both in Pittsfield. Stop in to see what kinds of boats, kayaks, and canoes you can rent for your memorable trip to Onota Lake.
If you want to hike during your trip to Onota Lake, head to Pittsfield State Forest. It's an 11,000-acre forest that includes 30 miles of trails.
There are daily parking fees for both Massachusetts residents and non-Massachusetts visitors, so have cash handy if you're going to spend some time hiking in this gorgeous area.
Lake Cochituate
Location: Natick, Wayland, and Framingham
Activities: Swimming, boating, fishing, picnicking
Located within Cochituate State Park in eastern Massachusetts, Lake Cochituate is a 635-acre lake where people can enjoy swimming, picnicking, and hiking. The lake is actually made up of three ponds that link together called North Pond, Middle Pond, and South Pond.
If you want to participate in activities like water skiing and tubing, you'll have to head to South Pond. Leave the jet skis at home, though, because jet skiing is prohibited at the lake.
There are some great local restaurants to visit near Lake Cochituate. One of them is Dudley Chateau in Wayland, where you can grab pub grub and enjoy lovely lake views. Another spot to consider is The Villa Restaurant, a nice spot to enjoy Italian food.
Laurel Lake
Location: In the town of Lee
Activities: Boating, fishing, swimming
Be sure to add Laurel Lake to your list of the best lakes in Massachusetts to visit. Located in the town of Lee and on the western end of the Jacob's Ladder Trail, Laurel Lake has plenty of outdoor activities for everyone to enjoy.
If you're looking for a spot to swim, head to Sandy Beach, a nice lakeside beach that lies within a hidden cove. There's also a boat launch you can take advantage of, so bring your canoes and kayaks for some lake fun.
Looking to hike near Laurel Lake? Check out Erving State Forest, where you can access Laurel Lake. There are eight miles of trails to explore and plenty of places to camp with your loved ones. You'll be planning your next trip to this beautiful lake before you know it!
Lake Boon
Location: In the towns of Stow and Hudson
Activities: Swimming, boating
One of the best lakes in Massachusetts you have to check out is Lake Boon. You'll find this wonderful lake in eastern Massachusetts, covering about 163 acres, and it's actually named after one of the first settlers of Stow.
It's a small but mighty lake where people can swim, grill, and enjoy time on the water. The town beach is open to the public in the summer, so plan your trip to this quaint, but lovely, lake between June and August.
If you need a bite to eat during your trip to Lake Boon, check out Horseshoe Pub and Restaurant and Rail Trail Flatbread Co., both in Hudson. You'll get a feel of the local area while indulging in local grub.

Lake Monomonac
Location: Between Rindge, NH and Winchendon, MA
Activities: Fishing, kayaking, canoeing, wildlife watching

Sandwiched between New Hampshire and the Bay State, Lake Monomonac is actually mostly located in the Granite State, but used by those on both sides of the state line, of course. You've got 594 acres of artificial lake, and it is considered a warm water fishery with bass, bluegill, green sunfish, and more.
All around the lake you'll find great wildlife like ospreys, beavers, otter, deer, foxes, and more, so keep your eyes peeled! This is a popular birding location, too.
Lake Wyola
Location: Town of Shutesbury
Activities: Swimming, fishing, picnicking, kayaking, canoeing
Another one of the best lakes in Massachusetts to visit is Lake Wyola, located in the town of Shutesbury just north of Amherst. This lake has a surface area of 128 acres of water for you and your loved ones to enjoy.
Enjoy swimming, canoeing, or kayaking while taking in Massachusetts' natural beauty within Lake Wyola State Park.
Head to Pond Loop Trail or New England Trail for hiking within Lake Wyola State Park. After you're done hiking, head to the lake and have a nice picnic by the shore. There are picnic areas and grills people can use to whip up some delicious food while enjoying time by the water.
Otis Reservoir
Location: Otis
Activities: Fishing, camping, boating, swimming, waterskiing, and walking

Otis Reservoir is located in Tolland State Forest, a popular hiking and camping destination. This is a great MA lake if you're looking for a place to have a weekend lake getaway that includes water activities like waterskiing, boating, and fishing.
Long Pond
Location: In the towns of Lakeville and Freetown
Activities: Swimming, boating, fishing
Don't let the name fool you: Long Pond is one big lake! You'll find this gorgeous lake in southeastern Massachusetts. This lake covers more than 1,720 acres and is fed by multiple streams. It's a well-known spot for fishing and boating, so feel free to get the boat on the water and cast a couple of lines. Be careful, though, as there are numerous large rocks that can damage your boat.
If you plan on fishing in Long Pond, expect to see species like largemouth bass, rainbow trout, bluegill, and yellow perch.
There are also plenty of campgrounds near Long Pond if you and your loved ones want to hunker down and camp for a bit. No matter what you do, you'll create fond memories of your trip to Long Pond.
Quabbin Reservoir
Location: Belchertown
Activities: Walking, fishing, biking
Named by the Nipmuc native group that once lived here, Quabbin means "the meeting of many waters." Today, the Quabbin Reservoir provides drinking water for about 40% of Massachusetts from its 56,000 acres of protected watershed. It's also home to a lovely park.
The Quabbin Visitor Center has more information on the area, and there is an observation tower that you can climb to get a great birds eye view. There are over 20 miles of walking trails, and fishing and bicycling are also popular activities at this Massachusetts lake.
Lake Quinsigamond
Location: Between the city of Worcester and the town of Shrewsbury
Activities: Fishing, non-motorized boating, sailing, swimming
Head to Lake Quinsigamond to enjoy one of the best lakes in Massachusetts. Lake Quinsigamond is a 772-acre lake that hosts eight islands that are mostly owned by private citizens.
Head to Quinsigamond State Park on the Worcester side to swim, fish, kayak, sail, and grill. You'll also find a 2,000-meter rowing course, which is considered one of the best in the world. It's not uncommon to see crew races on the lake.
There are two points to explore in the park: the Regatta Point area and the Lake Park area. Pack a picnic and head to one of these spots to take in Lake Quinsigamond's beauty—you may even see a sailboat or two.
Crystal Lake
Location: Town of Newton
Activities: Swimming, fishing, kayaking, paddleboarding, walking
Crystal Lake in Newton is a 33 acre Great Pond, and a popular place to beat the heat of the summer! There is a bathhouse and there are lifeguards on duty during the summer months, and they even host swim lessons throughout the season.
This is one of the most popular swimming lakes in Massachusetts, in part due to its proximity to Boston.
Lake Chaubunagungamaug
Location: Town of Webster
Activities: Swimming, boating, fishing
Lake Chaubunagungamaug, also known as Webster Lake, is one of the best lakes in Massachusetts to visit. It's a beautiful spot near the Connecticut border that also happens to be the second largest natural body of water in Massachusetts. The lake's unique name comes from an Algonquian language.
You can boat, swim, and fish on Lake Chaubunagungamaug. The lake is known for having a diverse fish population that includes largemouth bass and black crappie.
Once you're done spending time at the lake, head to Stave & Still or Samuel Slater's Restaurant in Webster for a local bite to eat. You'll be planning your next trip to Lake Chaubunagungamaug before your first one even ends!
Lake Massapoag
Location: The town of Sharon
Activities: Summer swimming, boating, kayaking, tubing, waterskiing, picnicking and winter ice skating, ice fishing, and cross country skiing
Lake Massapoag is one of the most beautiful lakes in the Bay State, with 392 acres of natural, spring fed waters to play in! Swimming opens in June, but there are also events held out at this lake like the Annual Fishing Derby in May.
Lake Attitash
Location: Between the towns of Merrimac and Amesbury
Activities: Swimming, boating
Lake Attitash is a 360-acre pond located on the border between Merrimac and Amesbury. You can swim and kayak on the water and relax on Lake Attitash's shores. Head to Indian Head Park in Merrimac to enjoy some lakeside fun.
If you want to enjoy a hike after spending time on the water, head to Merrimac Town Forest to take in some natural beauty. Some trails to check out include Cobbler's Brook Trail, Red Oak Hill Trail, and Long Hill Trail.
Lake Ashmere
Location: In the towns of Peru and Hinsdale
Activities: Swimming, kayaking, fishing
Head to rural Berkshire County to find one of the best lakes in Massachusetts. Lake Ashmere is a lake that's mostly used for recreational purposes. The lake is known to have several species of fish in its waters, including largemouth bass, sunfish, and chain pickerel.
There are actually two summer camps located on its shores: Camp Danbee and Camp Taconic. Expect to see lots of trees and cozy summer homes along its shores.
If you're looking for a local place to eat, check out Ozzie's Steak & Eggs in Hinsdale. Enjoy delicious local food while admiring the gorgeous area surrounding Lake Ashmere.
So, now that you know the best lakes in Massachusetts, which one are you visiting first?
---
You might also like:
---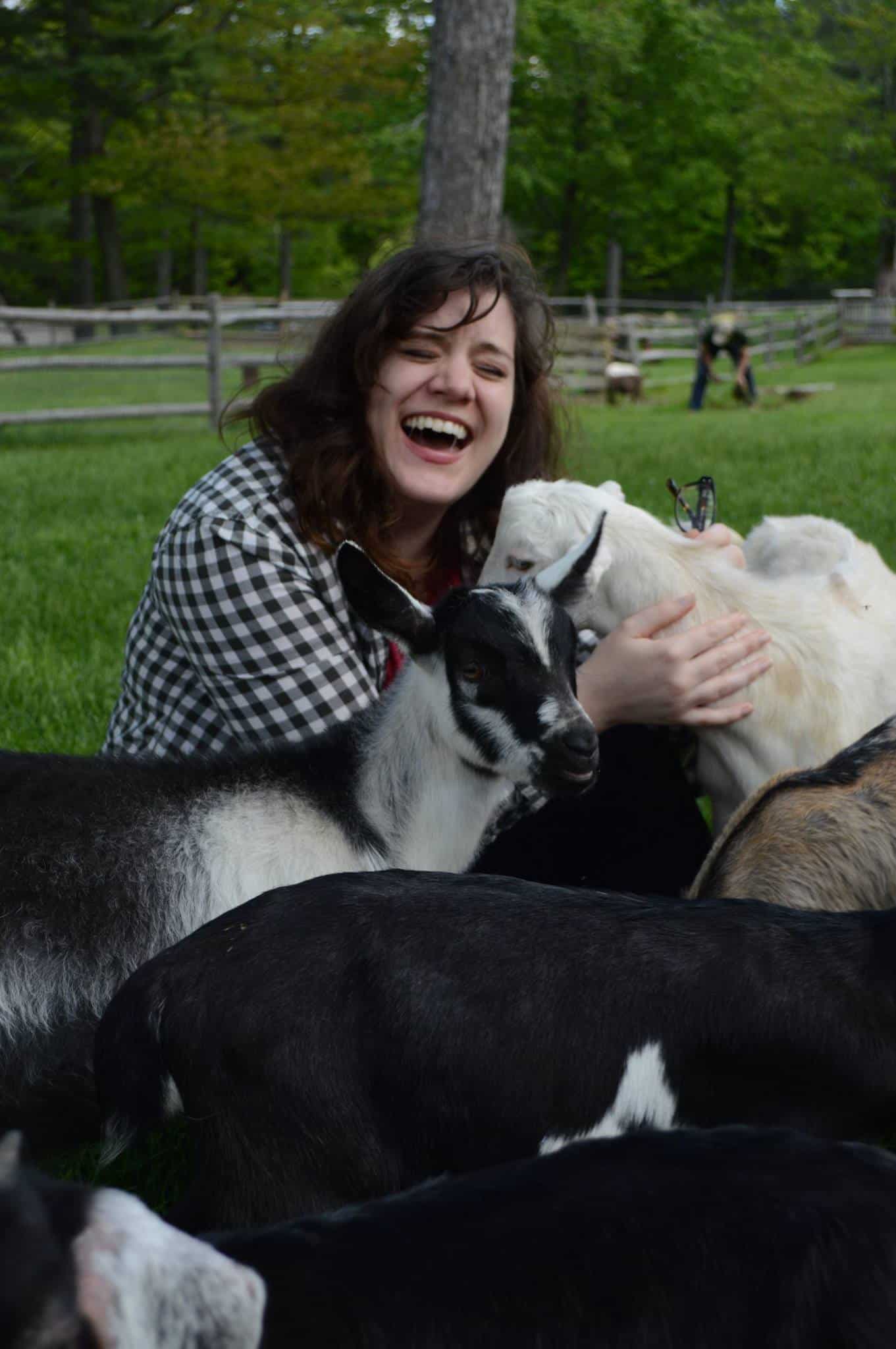 Amy Hartle is the owner and editor of New England With Love, a comprehensive resource for travel in the New England region. Amy lived in Vermont for 15 years, attended Plymouth State University in New Hampshire, and continues to travel regularly around the entire New England region. On this site, Amy aims to share her love of New England and help you to have the best possible adventures!
Amy has been a full time blogger since 2012, and is also the publisher of Two Drifters, where she writes about couples travel and relationships, as well as Let's Adventure Baby, a family travel site. When not traveling the world or creating epic blog content, Amy can be found cuddling with her husband, son, and cats, & drinking a maple latte.