*This site uses affiliate links; if you make a purchase through these, I may receive a small commission at no cost to you.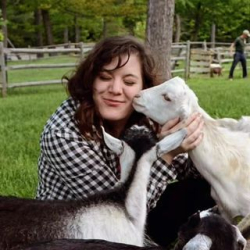 Latest posts by Amy Hartle
(see all)
One of the best ways to get outdoors while traveling is to head to gardens to get some fresh air and enjoy the tranquility. Luckily, there are so many beautiful botanical gardens in Massachusetts to do just that!
No matter where in the state you're visiting, you'll find a great botanical garden nearby. Some of them are located at colleges, while others are found in small towns or even in Boston. They are great options to visit, though if you just want to relax!
Below are all of the best botanical gardens in Massachusetts!
The Botanic Garden of Smith College
Location: 16 College Ln, Northampton, MA 01063
Located in Northampton, The Botanic Garden of Smith College is one of the top botanical gardens in Massachusetts. If you're anywhere in western Massachusetts, this is one that you won't want to miss out on because it's so well kept!
What's great about this garden is that even though it's located at the college, it's completely open to the public to stop by and check it out. Just visit during their opening hours, and you'll be able to walk through the garden and take in the beauty.
There are also occasional events held at the botanic garden throughout the year! Keep an eye on their online calendar on their website to see if any events are coming up to plan your trip around it.
In the past, they've even hosted Bulb Shows with landscape curators, which can be a super unique way to learn more about plants and how they connect with problems in our world. For the 2022 show, they talked about "Putting Botanic Garden Collections to Work for Social and Environmental Justice."
New England Botanic Garden at Tower Hill
Location: 11 French Dr, Boylston, MA 01505
Next, if you find yourself out near Worcester, consider going to the New England Botanic Garden at Tower Hill. This is one of the most well-known botanic gardens in Massachusetts and has seventeen different gardens in it, making it incredibly unique.
There's food available right at the garden, too, at the Farmer and the Fork Cafe. It's accessible to those who purchase tickets to access the garden and is open between 11 a.m. and 3 p.m. To save yourself time, consider ordering your meal online!
While in the garden, one of the best things to do is to have a picnic on the grounds. There are many grassy areas throughout where you can relax on a blanket. There are also some tables where you can eat directly at the cafe instead if needed.
Polly Hill Arboretum
Location: 809 State Rd, West Tisbury, MA 02575
The Polly Hill Arboretum in West Tisbury is a breathtaking garden to visit on Martha's Vineyard. This garden features around sixty acres of land that you can roam and includes tons of plants, flowers, trees, and more. Any nature lover will feel right at home here.
One of the best ways to explore the garden is by going on a self-guided tour. The tour information can be gathered at the kiosk in the parking lot. This is a tranquil way to explore the park while also getting acquainted with your surroundings.
There are designated picnic areas throughout the park where you can enjoy your meal in the serene surroundings. If you live near the area, be sure to visit a few times throughout the year because visiting in spring is entirely different from visiting during summer or fall.
Arnold Arboretum of Harvard University
Location: 125 Arborway, Boston, MA 02130
Located right in Boston, the Arnold Arboretum of Harvard University is a beautiful public park! It's in the Jamaica Plain neighborhood and is a welcome break from the city of Boston. It's also the oldest garden of its kind in all of North America, making it an absolute must-visit for anyone who loves the outdoors.
A super fun way to explore the gardens is to go on a guided tour. These are offered throughout specific times of the year but are best experienced in the spring. It lasts about 90 minutes and includes seasonal highlights with a tour guide who knows almost everything there is to know about plants and the garden.
There are also quite a few exhibitions in the garden that you can experience to learn more. There are usually different ones throughout the year and often include art pieces to illustrate whatever the topic is.
Berkshire Botanical Garden
Location: 5 W Stockbridge Rd, Stockbridge, MA 01262
The Berkshire Botanical Garden is one of the top botanical gardens in Massachusetts. It's located in Stockbridge and covers around fifteen acres of land but is filled with a few thousand different types of plants and flowers.
One of the things that makes this garden very unique is that it also has many different events throughout the year. These events can include workshops and other classes so guests can get hands-on as they learn more about plants.
The Berkshires is genuinely one of the most breathtaking places to visit in Massachusetts, so the garden is also surrounded by more true beauty. If you're in the area, be sure to explore the Berkshires and the garden itself.
Garden in the Woods
Location: 180 Hemenway Rd, Framingham, MA 01701
Right in Framingham is one of the best botanical gardens in Massachusetts, Garden in the Woods. It's very forested compared to other botanical gardens on this list, but that's truly part of what sets it apart!
While there, you'll truly feel like you're in another world. It's definitely one of the most peaceful botanical gardens that you'll come across in New England, mainly because it's not directly in a city. Instead, it's in a suburb!
The garden covers around forty-five acres of land and is open to the public. Similar to other New England botanical gardens, it's only open seasonally, so be sure to plan your trip wisely if you wish to visit it. The best time to visit is definitely in springtime, when everything is just starting to bloom!
Acton Arboretum
Location: 2 Taylor Rd, Acton, MA 01720
The Acton Arboretum is definitely one of the lesser-known Massachusetts botanical gardens, making it a bit more of a hidden gem. This garden, in particular, has a breathtaking trail that leads right through the forest. It's incredibly picturesque and will make you feel like you're in another world.
What's so great about the Acton Arboretum is that it's completely free to visit, and it's open between sunrise and sunset, so hours are a bit longer in the summer. There are a few different gardens there, including the butterfly and pollinator garden, the herb garden, the wildflower garden, and of course, the very picturesque fern collection.
Hen you arrive, be sure to grab a map to access the trails throughout the garden a lot easier. The most popular trail is the short Orchard Loop Trail. It's about 0.2 miles long and is accessible. It leads guests right along the hosta, herb, and butterfly gardens.
The Butterfly Place
Location: 120 Tyngsboro Rd, Westford, MA 01886
The most unique botanical garden in MA that you can visit is The Butterfly Place! As the name suggests, this is a butterfly botanical garden located indoors. If you're fascinated by butterflies, this is the garden to visit.
It's located in Westford and is particularly popular among families visiting the area. Kids will love being able to see butterflies this close. Plus, there's quite a bit of education in the garden as well.
The Butterfly Place also has a great gift shop that you'll want to be sure to visit while you're there. They sell special hatching kits for butterflies, so you can learn how butterflies hatch on your own. Then, you let the butterfly go in the end!
Heritage Museums & Gardens
Location: 67 Grove St, Sandwich, MA 02563
Located in Sandwich, the Heritage Museum & Gardens is one of the great botanical gardens in Massachusetts. It's truly a green sanctuary that will allow you to relax and think while being amongst beautiful nature.
There are more than one hundred acres to explore, and there are also museums located right on-site if you also want to learn a bit while visiting. Plus, since it's located on Cape Cod, there's so much to do right in the area where the gardens are located.
Throughout the area, you'll find a few different gardens. There's The Flume & Donald Marvin Daylily Garden which features LEGO dragonflies on fake lily pads, the McGraw Family Garden of the Senses with beautiful water fixtures, and the Dexter Rhodendron Garden, which is incredibly picturesque, and more.
Boston Public Garden
Location: 4 Charles St, Boston, MA 02116
Last but not least is the Boston Public Garden! While it may not be as much of a botanical garden as the others on this list, it's still a stunning garden in Massachusetts worth visiting. It's also located right in the heart of the city.
Of course, the garden is best-experienced from spring through fall. There are many green spaces to sit and enjoy the city's beauty throughout the park, especially in the early morning before it gets busy. Because it's right downtown, it's often hard to enjoy the park without any other tourists or locals!
Around the Boston Public Garden, you can also find lots of local food trucks if you get hungry. They all have incredible food!
This post was all about the best botanical gardens in Massachusetts. No matter what one you choose to visit, you'll absolutely have a fantastic experience.
---
You might also like:
5 Best Places to Visit in Massachusetts
7 Weekend Getaways in Massachusetts for Bay State Fun!