---
*Links in this article may be affiliate links, from which we may earn commission. See our
Privacy Policy
for full details.
---
Are you planning a trip to Massachusetts? You absolutely can't miss out on visiting Hadley, a quaint small town in Hampshire County. There are so many fun things to do in Hadley MA!
Luckily, this post was written with you in mind, so it's filled with all of Hadley's best activities, regardless of the weather or even the time of year you visit. Whether you prefer indoor activities like visiting museums or you'd rather be outdoors hiking, fun activities are awaiting you in Hadley.
Without further ado, here are all of the top things to do in Hadley MA.
Have Fun at the Children's Museum at Holyoke
One of the best things to do in Hadley MA is to visit the Children's Museum at Holyoke. As the name suggests, it's technically located in Holyoke but is such a short drive from Hadley, so it still deserves a spot on this list.
The museum is perfect for families visiting the area. Throughout the museum, some exhibits are interactive to keep children busy and entertained while they are also being educated!
The museum also hosts many different events throughout the year, which can be found on its calendar. No trip to Hadley is complete without stopping by this fun museum!
Rock Climb at Central Rock Gym
While you can't actually go outdoors and rock climb in Hadley, you can go indoor rock climbing at Central Rock Gym! This is such a fun thing to do, especially if it's raining in Hadley during your visit. In addition to rock climbing, Central Rock Gym also offers fitness and yoga classes.
The hours at Central Rock Gym change throughout the week, so be sure to plan your time there wisely. It may not be open as late as you think it is! To avoid the crowds, try to get there right when they open on a weekday, around 11 a.m. This is normally when it's not super busy.
Peruse The Eric Carle Museum of Picture Book Art
When visiting Hadley, no vacation is complete without stopping by nearby Amherst to go to The Eric Carle Museum of Picture Book Art. As the name suggests, this museum is all about the famed picture book creator, Eric Carle! It's located right near Hampshire College, so it's impossible to miss.
The museum is not super large inside but is still worth visiting. Even though the subject of the museum is children's books, it is more of an adult-friendly museum, as children may find themselves a bit bored with exhibits. Plan on spending about 45 minutes to an hour here to learn more about Eric Carle's work!
Shop at Yankee Candle Village
Another of the best things to do in Hadley MA, and the nearby area is to go shopping at Yankee Candle Village. If you love candles (especially the ones from Yankee Candle), then you are going to have an absolute blast here.
The village is quite large, so you can plan on truthfully spending the whole day there if you really want to. There are tons of fun things to purchase and play around with inside. Of course, you can even make your own candle or fill candle jars with candy! This is a kid-friendly attraction, so it can be fun for the entire family.
Try to Escape in 60 Minutes at All In Adventures Escape Rooms
If you'd rather stay inside or it's raining, one of the top things to do in Hadley MA is trying an escape room! These have become increasingly popular over the past few years for a good reason. Essentially, you get "locked" in a room for an entire hour and have to solve puzzles and collect clues to find a code that will let you out of the room.
Don't worry, though; you're not actually locked in the room – that'd be a fire hazard. But, you are watched via cameras by your game master, who can help nudge you in the right direction throughout the hour.
The All In Adventures Escape Rooms are actually relatively popular and have a few different locations across the USA, including in Hadley. They have fun-themed rooms like Treasure Island, Superhero's Adventure, Zombie Apocalypse, and even Houdinis Magic Cell.
Take in the View at Mount Holyoke Range State Park
No trip to Hadley is complete without checking out of the Massachusetts state parks, and Mount Holyoke Range State Park is the perfect place to do that! It's located right within Hampshire County and is filled with tons of fun activities.
The best thing to do at Mount Holyoke Range State Park is go hiking. There are many different trail options, but consider doing Mount Norwottuck for a moderate trail and Metacomett-Monadnock Trail: Section 7 for a hard 10-mile hike.
Don't enjoy hiking? Don't worry. Other fun activities in the park include bird-watching, visiting historical sites, mountain biking, snowmobiling, and even cross country skiing. Horseback riding is also an activity within this park.
Visit the Amherst History Museum
Want to do a bit of learning during your trip to Hadley? Then be sure to visit the Amherst Historical Society and Museum. It's been open since the early 1900s and is situated inside an 18th-century house, so the architecture is incredibly unique.
Inside the museum, there are exhibits and artifacts telling the local history. This can be the perfect way to step back in time and learn more about the area that you're traveling to. Note that they do have very limited hours depending on the time of year, so be sure to check their hours before visiting so you won't be disappointed.
See the Butterflies at Magic Wings
One of the most unique things to do in the Hadley area is to head over to Magic Wings! It's a butterfly conservatory and garden that is home to more than a thousand butterflies and can be the perfect place to learn more about butterflies in general.
In addition to being able to get up close to the butterflies at Magic Wings, there are also gardens, a gift shop, and a food court in case you get hungry during your visit. This is particularly a popular place to visit among families visiting the area.
If you are in the area for a special event (like a birthday or another kind of celebration), then you're also in luck. Magic Wings allow you to host right at their location! You just have to call ahead of time to make sure your date and time are available.
Have Brunch at The Stables Restaurant
Obviously, this list of fun things to do in Hadley MA would not be complete without including at least some type of restaurant! One of the best places to eat in Hadley is at The Stables Restaurant. It's one of the top spots to go for breakfast or brunch. Plus, it opens for the early risers at 6 am.
The inside of the restaurant is precisely what you would expect! It looks like a classic small-town local diner, and you can tell that locals in the area frequent it often. There's also fun decor on the walls and lots of seating, including a bar area for those visiting alone.
The menu includes every type of breakfast food imaginable. Choose between eggs benedict, omelets, and more. They also have specials which include pancakes, loaded homefries, skillets, and even steak and eggs for those who want something a little more hearty.
Grab Fresh Produce at Atkins Farms Country Market
For those visiting the Hadley area, you most absolutely stop by Atkins Farms Country Market. It's technically located in Amherst but is a must-visit! It's one of the most popular places to visit in the area for a reason.
Inside this small market that's locally owned, you can go shopping for local produce, snacks, and more. Honestly, the store is a lot larger than it looks, and there are tons to buy and explore inside. They also have an incredible deli where you can grab a quick lunch before heading to one of the nearby state parks or historic sites.
Satisfy Your Sweet Tooth at Flayvors of Cook Farm
Last but certainly not least is to have a treat at Flayvors of Cook Farm! As the name suggests, this is a dessert shop, but they also sell other dairy products like milk and eggs. It's one of hte freshest places to go in Hadley!
In the summer months, the line here gets incredibly long, and it's because their ice cream is some of the freshest in the area. They have a list of classics like butter pecan, black raspberry chip, vanilla, maple walnut, and cookie dough. However, they also have some more unique flavors like orange pineapple, pistachio, and even peppermint stick!
Now you know all about the best things to do in Hadley MA! We hope you have an absolute blast during your trip to New England. Don't forget to save this post and share it for later.
---
You might also like: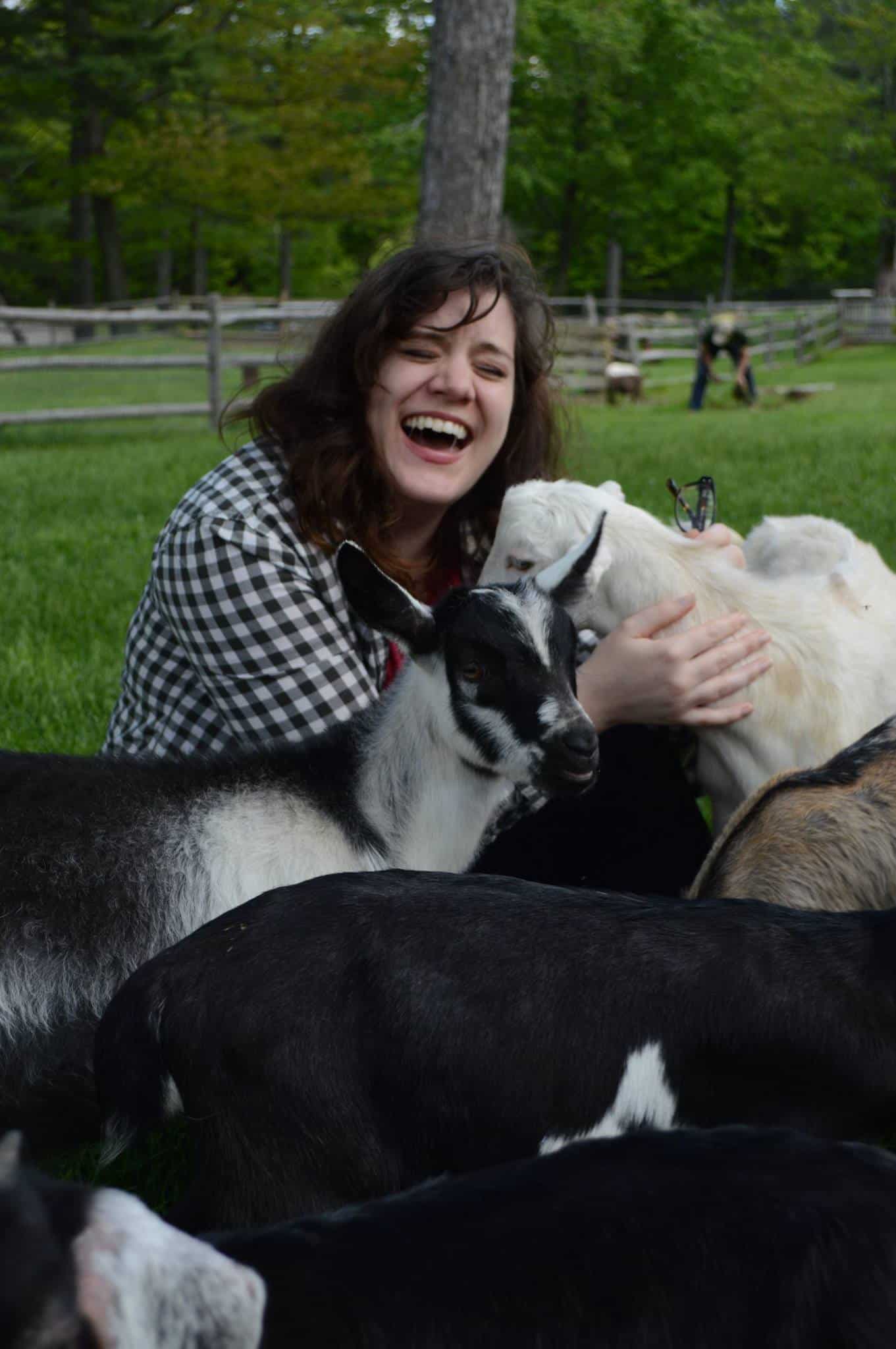 Amy is the founder of New England with love. A proud Vermonter, she hopes to share her love of New England and help you find the best adventures in the region. Amy is also blogger/founder at Two Drifters, where she writes alongside her husband about romantic and couples travel, relationships, honeymoons, and more. When not working on websites, Amy is probably reading, cuddling with her husband, son, and cats, & drinking a maple latte.