If you're planning a trip to Massachusetts, don't miss out on the quaint town of Sturbridge! Located in Worcester County, there are so many fun things to do in Sturbridge MA, for travelers of all types.
What makes Sturbridge such a great place to visit is that it is a smaller town, so there are many local places to visit, like restaurants and museums. Plus, outdoor activities are abundant as well for those who like to get outdoors!
Here are all of the top things to do in Sturbridge MA.
Fish at Bigelow Hollow State Park
What better way to spend some time than by fishing in Massachusetts? Head over to Bigelow Hollow State Park for some fantastic fishing opportunities. There's a beautiful lake here that's perfect for it, especially in the summer.
Many different fish can be found within the lake at Bigelow Hollow State Park. However, some of the more popular ones to catch there include pike, bass, crappies, and pickerel, among others.
If you don't want to go fishing, there are also a lot of other fun things to do there. You can go swimming, boating, or even hiking. There are also many great spots for picnicking throughout the park. Some people even go scuba diving in the pond there, so the opportunities are truly endless!
Eat at Sturbridge Seafood
The seafood in New England is truly next level, which is why one of the best things to do in Sturbridge MA is to have a meal at Sturbridge Seafood. This seafood restaurant is super casual and serves a variety of different seafood dishes.
The interior of the restaurant is very comfortable, with warm wood accents and different fun decor on the walls. All of the tables are high tops, but there is also a bar area as well for those who may be dining alone.
There is every type of seafood dish on the menu that you can imagine. You can order roasted shrimp, chowda fries, fish and chips, and even stuffed cod. However, if seafood isn't your cup of tea, there are other dishes like spicy chicken alfredo and bone-in cowboy ribeye.
Learn at Optical Heritage Museum
One of the more unique places to visit in the Sturbridge area is the Optical Heritage Museum. It's technically located in Southbridge, but it's a short drive from downtown Sturbridge. This museum is exactly what it sounds like it is; it includes tons of artifacts from the optical industry dating back to the 19th century.
Throughout the museum, visitors can find more than three thousand different artifacts to look at. Most people spend at least an hour or two here because there are so many unique pieces that you really can't find at other museums.
The museum has been open since the 1980s and is said to be an incredible experience. It's also relatively small in size.
Visit Old Sturbridge Village
To step back in time, head over to Old Sturbridge Village, one of the best things to do in Sturbridge MA. This is actually a living museum that shows visitors exactly what it was like in the late eighteenth century and early nineteenth century. It's also the biggest in New England of all living history museums.
All of the staff dress up in costumes for the period that they are representing. Each of the people working there can always be seen doing something that would have been done during the period. The only thing that's not historical is their on-site cafe, where guests can grab a bite to eat during their visit!
Stop by Sturbridge Pottery
One of the quirkiest places to shop is Sturbridge Pottery. This pottery shop has been a local staple since the 1970s when it was opened by Gary Malone, who had studied pottery during his college years in Ohio.
He and his wife, Ann, present work in the studio and showcase tons of different works. Anyone who is a fan of art will absolutely love perusing the pottery throughout this property during their visit to Sturbridge.
They create many different types of pottery, including platters, bowls, vases, pitchers, and more. Each piece is so different from the last, which is what makes their work so beautiful and unique. Often, the owners are even working there, where you can ask them about their work while looking at it and exploring the pottery shop.
Hike at Wells State Park
One of the best ways to get outdoors is by heading to a Massachusetts state park, so go over to Wells State Park right in Sturbridge! It's fairly large at 1400 acres and is filled with tons of different hiking trails worth exploring.
The most popular trail is the easy Timber Trail, Cedar River Trail, and Ridgewood Trail Loop. It's only about five miles long, and since it's a loop trail, hikers get a different view the entire time instead of going back on the same trail. Dogs are allowed on a leash, and it's also kid-friendly.
For a more challenging hike in Wells State Park, consider doing the Wells State Park North and South Trail (Red and White). This hike is shorter at around four miles long, but there are around four hundred and forty feet of elevation gain. It's also a loop trail but takes a little less than two hours to complete. Dogs are allowed on a leash, and the views are incredible the entire way of the forest. This is also a popular mountain biking trail, depending on the season!
Other fun things to do at Wells State Park include camping, mountain biking, fishing, cross-country skiing, canoeing, snowmobiling, horseback riding, and even kayaking!
Have a Pint at Rapscallion Pub
Another of the most fun things to do in Sturbridge MA is to have a pint over at Rapscallion Pub! This is a fun, laidback brewery that's perfect for heading to after a long day out. It's also a great place to go to meet and mingle with locals.
The inside of the pub is super comfortable and cozy, with high vaulted ceilings, warm lighting, and an abundance of seating. It's almost always busy there, though, so if you get there late enough, you might have to stand!
The pub serves hand-brewed beer that they make, including Belgian Blonde Ale, Harvard Lager, and Irish Red. In addition, they have great pub food to pair with the drinks. You can find dishes like burrito and chips, chips and salsa, french dip and chips, and even bison burritos and chips on the menu.
Grab a Coffee at Saw Dust Coffee House & Dessert Bar
Obviously, this list of things to do in Sturbridge MA wouldn't be complete without including at least one great local cafe! The Saw Dust Coffee House & Dessert Bar is an absolute must-visit. The inside is very laid back, featuring a bar area and an abundance of seats.
The menu has every type of coffee drink imaginable, like cappuccinos, macchiatos, iced house brews, americanos, mochas, and more. They also have a super long list of flavor shots, so you can genuinely make the drink your own.
In addition to caffeinated drinks, they serve cocktails, wines, specialty martinis (including a Snickers martini!), and tons of food. Their breakfast menu, in particular, is fantastic, and includes quiche, Mediterranean toast, saw dust egg sammie, and even raisin cinnamon toast.
Picnic in the Westville Recreation Area
The Westville Recreation Area is a beautiful spot to go for outdoor activities in Sturbridge! It's a scenic and tranquil area featuring a lake, hiking trails, and more. In fact, it's a beautiful spot to go to have a picnic, especially when the weather is perfect.
If you don't want to go picnicking, or you want to have even more outdoor fun, consider going camping at the Westville Recreation Area. There are a few different campsites available that are perfect, especially for a fun weekend away in nature.
Honestly, there are so many fun things to do at Westville Recreation Area, and travelers can easily spend an entire day there. Families in particular love visiting the area because of the fun recreation. There's even a ball field, charcoal grills, and an ice skating pond in the winter!
Explore the Fruitlands Museums
The Fruitlands Museum is one of the unique museums to visit in the Sturbridge area. It's located where the Fruitlands community once was and includes a few different visions of America throughout the museum.
Fruitlands was a community back in the 1800s that lasted only seven months. Less than fifteen people were there, and the story is very interesting. Luckily, guests can learn more about it while at the museum.
In addition, there are many outdoor spots to explore there. In fact, the museum area covers around 210 acres of land, so there are many walking trails worth exploring, too. These trails explore some of the most beautiful landscapes in the area of Sturbridge.
Hopefully, this post has shown you that there are so many fun things to do in Sturbridge MA! Have a great trip and enjoy the beauty of Sturbridge.
---
You might also like: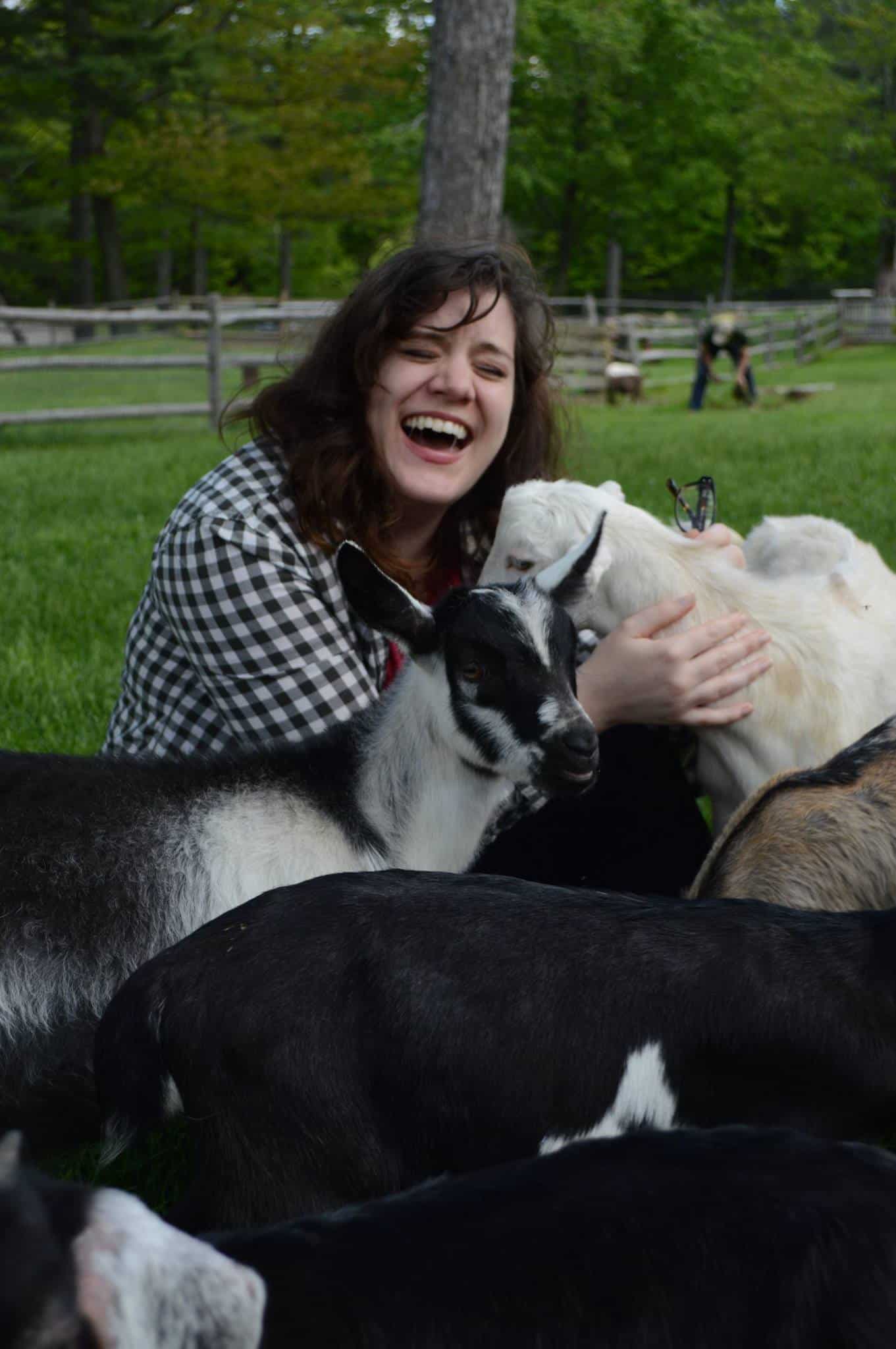 Amy Hartle is the founder and Editor-in-Chief of New England With Love, a comprehensive resource for travel in the New England region. Amy has been exploring New England since 2001. She lived in Vermont for many years and is a graduate of Plymouth State University in New Hampshire. Amy has been writing about travel for over a decade. On this site, Amy aims to share her love of New England and help you to have the best possible adventures!
Amy has been a full time blogger since 2012, and is also the publisher of Two Drifters, where she writes about couples travel and relationships, as well as Let's Adventure Baby, a family travel site. When not traveling the world or creating epic blog content, Amy can be found cuddling with her husband, son, and cats, & drinking a maple latte.