One of the best ways to enjoy the outdoors is to go camping in Massachusetts! Because Massachusetts is right on the coast, there are so many incredible and diverse places to explore, from the Berkshires to Cape Cod.
No matter what type of place you want to camp in, it's almost guaranteed that you'll be able to find a place up your alley somewhere in Massachusetts. Whether you want something more beachy or in the forest where you can go hiking, this post has got you covered.
Here are all of the top places to go camping in Massachusetts.
Normandy Farms Campground
Normandy Farms Campground in Foxborough is one of the top spots to go camping in Massachusetts. It's not that far from Boston, so if you happen to live in the city, this can serve as a great getaway for you.
There are many different amenities at this campground and also tons of fun events throughout their season that can keep all ages busy. There's a dog park, spot for disc golf, fitness center, and even a rec lodge. Of course, there's also a pool and a giant outdoor area where people can play sports and stay active if they'd like.
No matter your budget, you'll be able to find a place to stay at Normandy Farms Campground. There are classic cabins and popups but also more unique places to stay like safari tents or even yurts. Yurts are often rented out by the week during peak season, so plan your trip wisely if you'll be visiting around huge American holidays.
Boston/Cape Cod KOA Holiday
Located in Middleborough and not that far from Plymouth is the Boston/Cape Cod KOA Holiday. This is one of the more popular Massachusetts camping sites throughout the state, which is why it deserves a spot on this list!
One of the most popular places to rent at this campground is the deluxe cabin. That's because it can sleep up to eight people and has amenities like including linens, a shower, a full bath, a full kitchen, and even a tv with cable TV.
Of course, there are some great amenities here too. Expect a pavilion, wifi, fun train, patio sites, a general store, playground, outdoor cinema, and even a laundry facility. There are also ample outdoor spots for playing basketball or volleyball.
Wompatuck State Park
Of course, one of the most popular places for camping in Massachusetts is right within a state park! There are many state parks in Massachusetts, but Wompatuck State Park is one of the most well-known ones. It's located in Hingham and is not that far from Scituate and Cohasset.
This is a reasonably affordable place to spend the night, which makes it more of a budget-friendly camping destination within the state. The park itself is huge with around 3500 acres, but there are also 250 different campsites available for rent.
While at the park, be sure to enjoy all that it has to offer. There are spots for biking, cross-country skiing, horseback riding, boating, snowmobiling, picnicking, and more. There are also some fun educational programs hosted here throughout the year in case you want to learn at all during your camping excursion.
Spacious Skies Minute Man Campground
This campground is located right in Littleton, not too far from some other popular places to visit in the state. Spacious Skies Minute Man Campground is perfect for those looking for an ultimate rustic getaway in nature.
There are quite a few great amenities at this campground, including a heated pool, dog run, rec hall, wifi, bocce court, playground, volleyball court, and more! Seriously, you will not be bored if you stay here because there are so many fun activities to keep you busy. You'll probably not even want to leave the campground.
Within the campground, there are two different types of places to book. You can rent a spacious cabin with either one or two rooms or an RV and trailer park spot. The cabins, in particular, are really great and have air conditioning, a grill, picnic table, outlets, heating, and more. It's everything you'd need for a great stay at a campground.
Massasoit State Park
Time to mention yet another state park in Massachusetts! Massasoit State Park in Taunton is perfect for camping in Massachusetts. It's rather large and very woody but also features a lake, which is why it's such a great place to stay for a camping trip.
There are quite a few different amenities that guests at the campground can enjoy within the facility. There's a nature center, a playground, and even a comfort station. Of course, there are also many other places to explore within the park too, like the hiking trails.
Most people who camp here will pitch a tent right within the forest at the campground. It's a bit more traditional camping than you might find at some of hte other places throughout this post. However, it's still a perfect place to stay.
Wells State Park
Another excellent spot to go to Massachusetts camping is at Wells State Park. This campground is located within Sturbridge and features the beautiful Walker Pond. It's another of the more traditional spots to go camping within the state, but there's ample camping space.
The majority of camping spots in Wells State Park are tent or RV spots. There are 55 of those throughout the park. There are also four yurts and even a larger group site that's great for up to fifteen people, which can be perfect for family getaways.
Of course, there are ample amenities throughout the park too. Those who stay at the campground can enjoy amenities like access to fishing, fresh drinking water from the well, a swimming spot that only campers have access to, and even comfort stations that include showers that are free of charge for those camping there.
Myles Standish State Forest
You can also go camping right within a forest if you want to when you're in Massachusetts! That's why one of the top spots for camping in Massachusetts is none other than Myles Standish State Forest. It's located in Carver and is not that far from Boston, so it's perfect if you're looking for a getaway from the city.
Believe it or not, but there are tons of spots to go camping within the park. There are around 400 different campsites throughout and larger group spots for those traveling with more people. In addition, there are even three yurts that you can stay in for a more unique stay.
Amenities are great at this camping place, including bathrooms with showers, miles, and miles of biking trails, incredible flora and fauna, hiking trails, and of course, the pond that is available for use during the day. College Pond is perfect for any day activities you want to do, like swimming or even fishing.
Sandy Pond Campground
Sandy Pond Campground in Plymouth, MA is the perfect place to go camping! It's a great getaway that has incredibly friendly staff, and the location is fantastic. In fact, it's only a short drive away from the Cape Cod canal.
There are many different types of spots to choose from throughout the park. There are tent spots, places with electric hookups, and of course, ones with full hookups. Prices change depending on what you want to book, as, of course, the full hookup is the most expensive.
What makes this campground so great is that they host many different events throughout the year to keep people busy! They have fun bingo nights, glow-in-the-dark t-shirt days, and even dance parties. There are also sports days too with horseshoe tournaments, gaga ball, and more.
Otter River State Forest
Located in Templeton, Otter River State Forest is an incredible place for camping within the state of Massachusetts. It's right near Baldwinville and Royalston. For those looking to participate in great seasonal activities, this state forest is an iconic place to stay.
There are 73 different campsites throughout the park, so it's not as large as some of the other spots for camping in Massachusetts on this list. In addition, there are four different yurts and three group sites. The yurts are super unique if you want to have more of a glamping experience in Massachusetts instead of traditional camping.
While there, be sure also to enjoy the rest of the beauty and activities that Otter River State Forest has. There are tons of trails for hiking and mountain biking and places to go fishing, picnicking, and more. Of course, there are also ample spots to play outdoor sports like basketball, baseball, and even volleyball, with appropriate fields for each.
This post was all about the best spots for camping in Massachusetts, in no particular order! There are so many different campgrounds throughout the state, so there are many other options as well. Hopefully, this post has at least helped you narrow down your search!
Have you been camping in MA before? Don't forget to save this post and share it for later!
---
You might also like: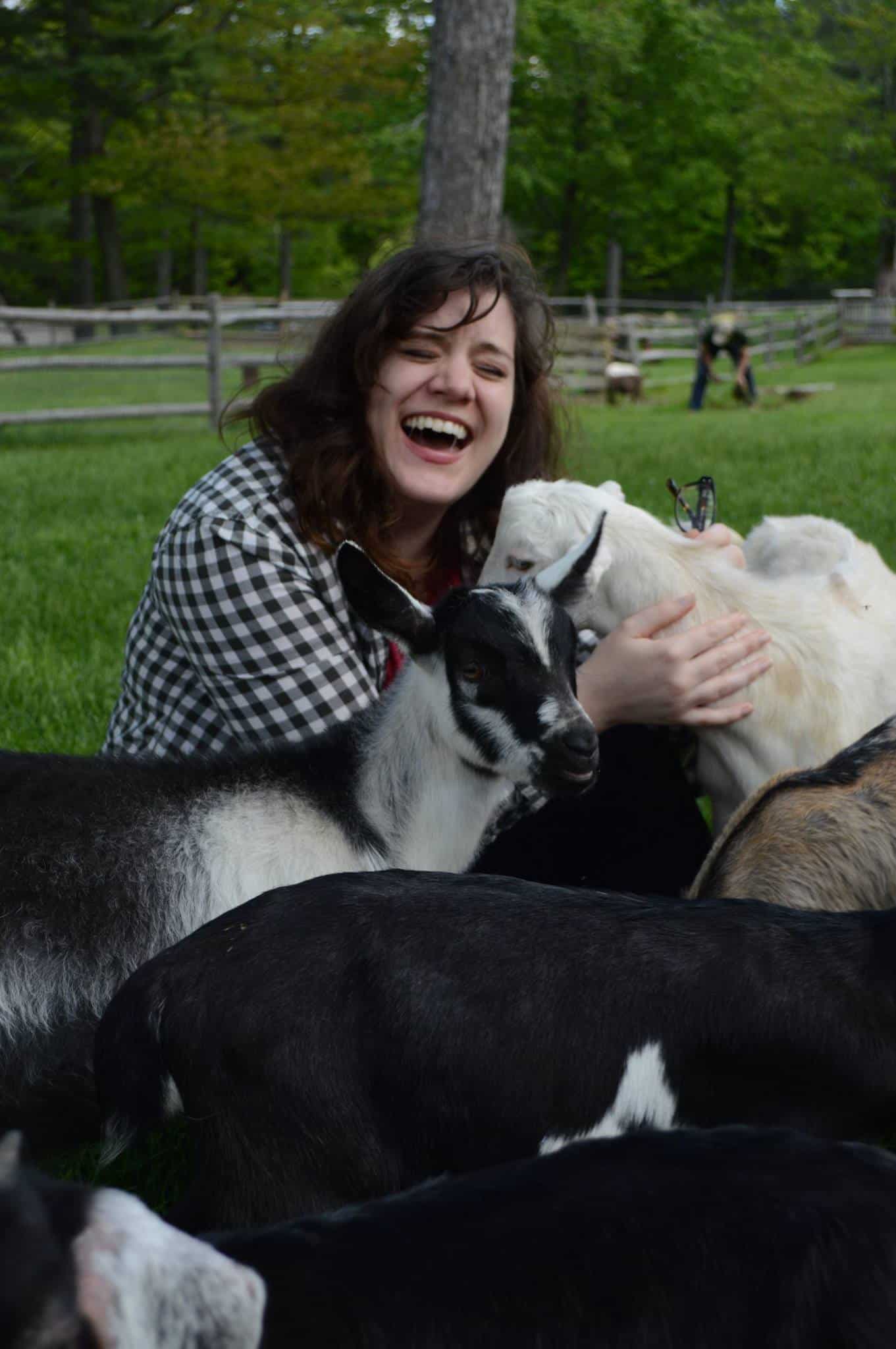 Amy Hartle is the founder and Editor-in-Chief of New England With Love, a comprehensive resource for travel in the New England region. Amy has been exploring New England since 2001. She lived in Vermont for many years and is a graduate of Plymouth State University in New Hampshire. Amy has been writing about travel for over a decade. On this site, Amy aims to share her love of New England and help you to have the best possible adventures!
Amy has been a full time blogger since 2012, and is also the publisher of Two Drifters, where she writes about couples travel and relationships, as well as Let's Adventure Baby, a family travel site. When not traveling the world or creating epic blog content, Amy can be found cuddling with her husband, son, and cats, & drinking a maple latte.