The Berkshires region of Massachusetts has a little bit of everything; natural beauty, culture, history, and plenty of interesting towns to visit, like Stockbridge. Not only is it an adorable little New England town, but there are so many great things to do in Stockbridge Massachusetts!
Stroll Through the Berkshire Botanical Garden
Address: 5 West Stockbridge Road, at the intersection of Routes 102 and 183
Hours: Monday through Friday, 9 a.m. to 5 p.m. (Gardens open from May 1st until Halloween)
One of the most beautiful and relaxing things to do in Stockbridge is to stroll through the Berkshire Botanical Garden. This 15-acre garden was founded in 1934 and features multiple gardens with more than 3,000 species and varieties of plants.
While the display gardens are open to the public from May 1st until Halloween, the Garden is open all year for classes and exhibits. It also hosts bigger annual events, like the Harvest Festival and the Holiday Marketplace.
If you visit the Garden and fall in love with its beauty, good news: you can book a private event there! Imagine a wedding surrounded by incredible gardens in early summer…we can already see the beautiful pictures.
Visit the Norman Rockwell Museum
Address: 9 Glendale Road
Hours: Monday through Tuesday and Thursday through Friday, 10 a.m. to 4 p.m.; Saturday and Sunday, 10 a.m. to 5 p.m.
Make sure to carve out some time to visit the Norman Rockwell Museum in Stockbridge. There, you'll find the largest collection of one of America's most notable illustrators.
Norman Rockwell was a painter and illustrator known for reflecting everyday American culture in his art. At the museum, you can see American life through Rockwell's art, including the magazine covers he created.
The museum has multiple exhibits to explore, including the Norman Rockwell: Home for the Holidays exhibit. See how Rockwell depicted the American spirit of holidays like Valentine's Day, Halloween, and Christmas. If you want to see it in person, make sure you book your ticket in advance to secure your spot.
Tour Naumkeag Mansion and Gardens
Address: 5 Prospect Hill Road
Hours: Seasonal, check website for details
It's not every day you visit a town that has a gorgeous, sprawling estate in it. Stockbridge is home to Naumkeag Mansion and Gardens, a lovely 48-acre estate that was the summer home of Joseph Choate, a successful New York attorney and U.S. Ambassador to Great Britain. The mansion has 44 rooms and the estate has acres upon acres of lovely gardens to stroll through.
The estate hosts several events throughout the year, including Winterlights at Naumkeag when the estate shines and sparkles with thousands of lights. If you head to Stockbridge in winter, it's a great family-friendly event to check out.
Visit TurnPark Art Space
Address: 2 Moscow Road
Hours: Wednesday through Monday, 10 a.m. to 5 p.m.
If you're looking for a taste of art in Stockbridge, head to TurnPark Art Space on Moscow Road. It's a sculpture park that has a variety of outdoor sculptures to check out. It's also situated on 16 acres of lovely Berkshire landscape, so you get a double dose of beauty: natural and manmade.
The art space also hosts events from time to time, so make sure to bookmark their events page and look at it before you head to Stockbridge. Art awaits!
Check Out the Mission House
Address: 19 Main Street
Hours: Sunday through Saturday, 10 a.m. to 4 p.m.
This is a spot in Stockbridge all history buffs need to stop by. The Mission House is a National Historic Landmark house built between 1739 and 1742.
It takes you back in time to the colonial era as you learn about the history of the Mohicans and missionary John Sergeant. It's an authentic colonial house that captures part of Stockbridge's history. If you do head here, it's worth noting that photography isn't allowed in the house, and dogs aren't allowed on the property.
Hike Along the Laurel Hill Association Trails
If you want to get some hiking in during your trip to Stockbridge, head to some of the Laurel Hill Association Trails. There are three to choose from in Stockbridge: The Mary Flynn Trail, Laura's Tower Trail, and Ice Glen Trail.
The Mary Flynn Trail is a 1.3-mile hike that's easy to navigate, which is perfect for hiking novices. You'll go through the woods and along the Housatonic River, soaking in some Berkshire beauty while getting some exercise in.
Laura's Tower Trail is a 1.8-mile moderate hike in Stockbridge. You'll also see the river along this trail. At the trail's summit, there's a metal tower that provides an incredible view of the middle Berkshires. On a clear day, it's said you can see the New York Catskills and Vermont's Green Mountains.
Ice Glen Trail is another moderate trail to hike in Stockbridge. This 1.4-mile hike takes you through a glacial ravine surrounded by trees. Some areas along the trail may require you to climb and navigate around boulders, so be prepared just in case.
Visit Chesterwood
Address: 4 Williamsville Road
Hours: Thursday through Monday, 10 a.m. to 5 p.m. (check the website to see if they're open in the season you visit Stockbridge)
The Berkshire region is a marvelous place to summer, and no one knew that better than notable sculptor Daniel Chester French. Fun fact: French created the Minute Man in Concord, Massachusetts, and the Lincoln Memorial in Washington, D.C. Another fun fact: French's summer home was in Stockbridge, and it's known as Chesterwood.
Chesterwood has a studio, residence, and more than 120 acres to explore, with incredible views anyone would love to see. The home even hosts an annual contemporary sculpture show, and if you really love the estate, you can book your wedding there. While you're there, make sure to swing by the Studio Garden and take a stroll along the Woodland Walk. Chesterwood awaits!
Bonus: Where to Stay in Stockbridge
If you're looking for the perfect spot to stay in Stockbridge MA, consider booking a room at The Red Lion Inn. Quintessential New England inn style, The Red Lion Inn is all that is cozy and welcoming! Plus, they have fantastic dining onsite, so as you're ambling back from checking out Edith Wharton's historic home, The Mount, you can just head right back to this gorgeous inn for a spectacular dinner service!
Click Here to Check Prices & Book!
It's clear that Stockbridge has a little bit of everything for everyone, whether you're a nature lover, history buff, or art connoisseur. Remember to do your research before your trip, especially if you're heading to Stockbridge in the winter.
Some activities may be seasonal, and others may have limited hours, so it's best to know what you'll be able to do and when. And, of course, don't forget to pack a camera—you're going to want to remember this trip and all the fun memories you create!
Read these next: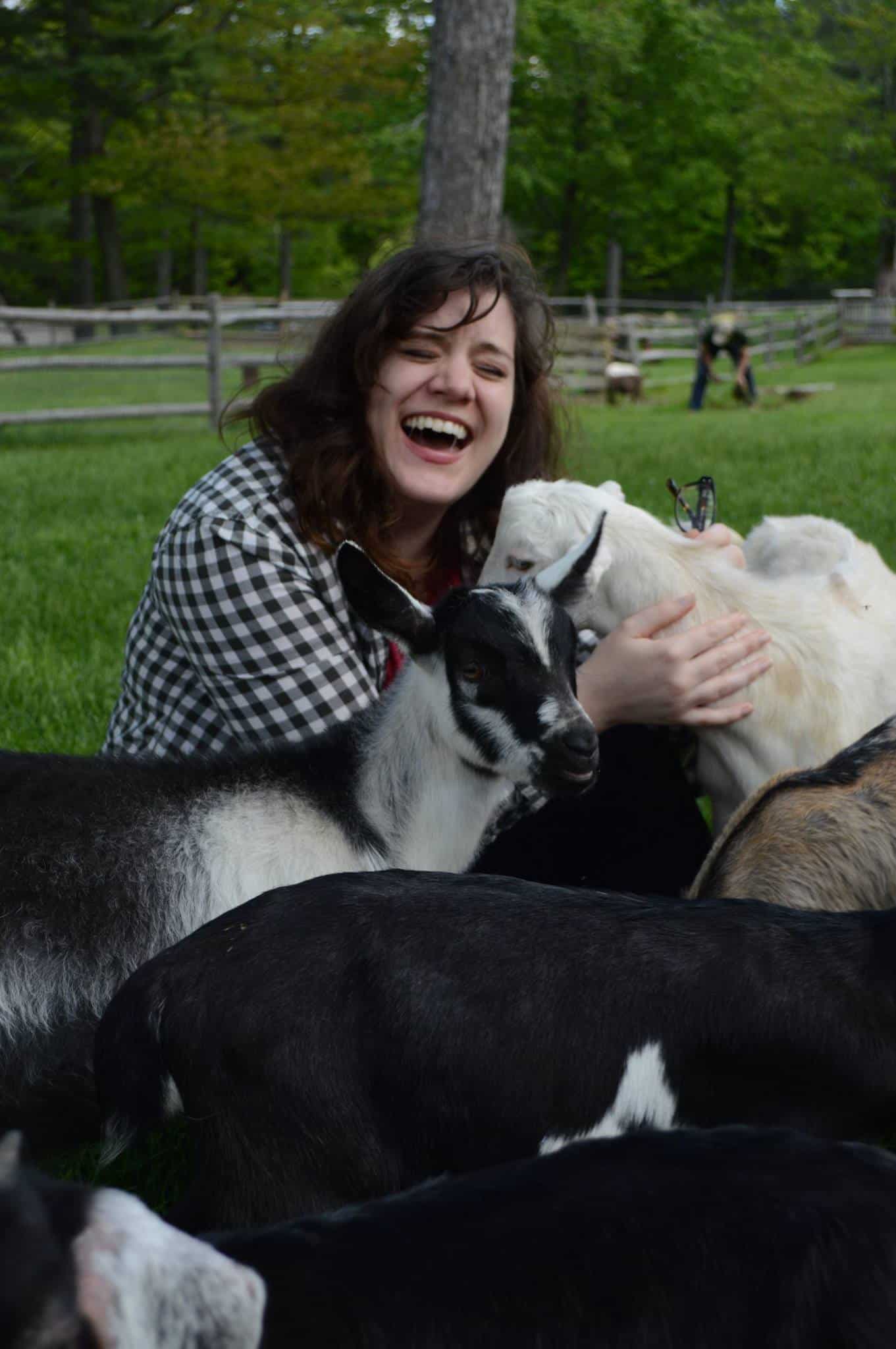 Amy Hartle is the founder and Editor-in-Chief of New England With Love, a comprehensive resource for travel in the New England region. Amy has been exploring New England since 2001. She lived in Vermont for many years and is a graduate of Plymouth State University in New Hampshire. Amy has been writing about travel for over a decade. On this site, Amy aims to share her love of New England and help you to have the best possible adventures!
Amy has been a full time blogger since 2012, and is also the publisher of Two Drifters, where she writes about couples travel and relationships, as well as Let's Adventure Baby, a family travel site. When not traveling the world or creating epic blog content, Amy can be found cuddling with her husband, son, and cats, & drinking a maple latte.