When you think of charming Christmas towns in New England, what sort of scene do you imagine? Chances are, it's like something out of a Norman Rockwell painting, perhaps even the one depicting a Stockbridge MA Christmas?
That's right, that quintessential small-town covered in snow with wreaths and garlands and warm, cozy lights, was modeled after the actual town of Stockbridge MA at Christmas! If you're looking to experience a little of that wholesome, small-town New England Christmas charm for yourself, head to the Berkshires for a good, old-fashioned Stockbridge MA Christmas!
Your Guide to a Charming Stockbridge MA Christmas
Christmas Shop at the Berkshire Botanical Garden Holiday Marketplace
Looking for some unique and interesting Christmas gifts to fill the stockings of those you love? Head to the Berkshire Botanical Garden Holiday Marketplace! Not only will you find great gift ideas from local creators, but live music, a crafts corner, and s'mores around the fire are just a few of the fun things to do while perusing the spectacular assortment of handcrafted designer wreaths at the Gallery of Wreaths.
Take the Fam to Best Day Ever! at the Norman Rockwell Museum
Located at the ever-popular Norman Rockwell Museum (a worthy place to visit any time of year, of course!) the Best Day Ever! is a holiday family event that is free for kids and teens and includes a variety of activities inspired by the children's story The 365 Days of Eloise: My Book of Holidays. There are a few of these days scheduled throughout the month of December, so be sure to check out the events calendar to see when the next one will be.
Take a Holiday House Tour at the Mount
American author Edith Wharton's home, The Mount, is a gorgeous place to see any time of year, but during the holidays, this National Historic Landmark becomes a turn-of-the-century Christmas wonderland! Holiday House Tours at the Mount are self-guided, so you can move through this beautiful estate at the perfect pace for you and yours.
Book a Stay at Red Lion Inn
One of the most gorgeous places to stay in Stockbridge is the Red Lion Inn, a quintessentially New England inn that features fireplaces, lush and comfortable bedding, and fantastic dining options, including a Christmas Day feast and a New Year's Day feast. Also, Red Lion Inn is a participant in Christmas events in Stockbridge such as Wednesday Night Holiday Jazz, Caroling in the Winter-Themed Courtyard, Santa Brunches, and more, so be sure to check out their December calendar!
Click Here to Check Prices & Book!
Marvel at Naumkeag's Winter Lights
The historic estate of Naumkeag is a historical Stockbridge gem, with ornate architecture and lovingly landscaped grounds to ooh and ahh over all year round, but during the holiday season, Naumkeag Winter Lights is one of the most spectacular light shows in the region. To take a beautiful estate like Naumkeag and then string it up with thousands of lights? There's no way for this to be anything less than pure magic!
Go on a Berkshires Scenic Railway Holiday Train Ride
Just a little over a half hour's drive outside of Stockbridge, the Berkshires Scenic Railway offers two very festive holiday train ride options for visitors to choose from during the month of December: Tinseliner Scenic Christmas Train Ride and the Mistletoe and Music Train. Both include caroling, but the Tinseliner Scenic Christmas Train Ride also includes a special visit with the Big Man in Red himself, so if you're looking for festive Christmas things to do with kids in Stockbridge, this could be a great choice!
Sip a Maple Latte at Stockbridge Coffee & Tea
Stockbridge Coffee & Tea is a delightful coffee, tea, and pastry shop that doubles as a used bookstore, making it a lovely place to go hunker down a bit if the weather outside is getting frightful! Seating is limited, but if you can manage to grab a spot to enjoy one of their hot drinks and a croissant and your new favorite book? This is a perfect Christmas in Stockbridge activity!
Cozy Up in a Berkshires Cabin
When you think comfy, cozy, Christmas vibes, you probably think of something like you might find in one of these Berkshires vacation rentals! There are so many fun things to do all around the Berkshires, choosing a vacation rental that situates you so you can easily see and do it all just makes sense, right?
Catch a Holiday Show by the Berkshire Theatre Group
Throughout the holiday season, you'll find holiday themed performances by the Berkshire Theater Group at various theaters in and around Stockbridge, so be sure to check out their performance calendar to see what's onstage during your Berkshire's Christmas visit.
Enjoy Nightwood at The Mount
Nightwood is an immersive light and sound experience available mid-November through January 1, and it is a 3/4 trail through the woods which you walk. This isn't your traditional Christmas light show, but rather an ethereal immersive light and sound experience that will take your breath away as you walk the illuminated woods with The Mount as your backdrop!
Shop Picturesque Downtown Stockbridge
The downtown that inspired Norman Rockwell's "Home for Christmas (Stockbridge Main Street at Christmas)" is also a fantastic place to go get some Christmas shopping done! With unique boutiques and art galleries featuring local artists, you will most definitely find the best Christmas gifts for everyone left on your list!
Attend Stockbridge Main Street at Christmas
The Christmas spirit of this lovely little Christmas town is never more evident than during their annual Stockbridge Main Street at Christmas festivities! See lovely downtown Stockbridge with vintage vehicles parked along the street, recreating Norman Rockwell's famous Stockbridge at Christmas image. There's a historic holiday home tour, caroling, and of course, Santa in a sleigh! The very essence of a Stockbridge MA Christmas can be found in this annual event.
There are so many fun and festive ways to spend Christmas in MA, and a Stockbridge MA Christmas? Always a hit!
Read these next: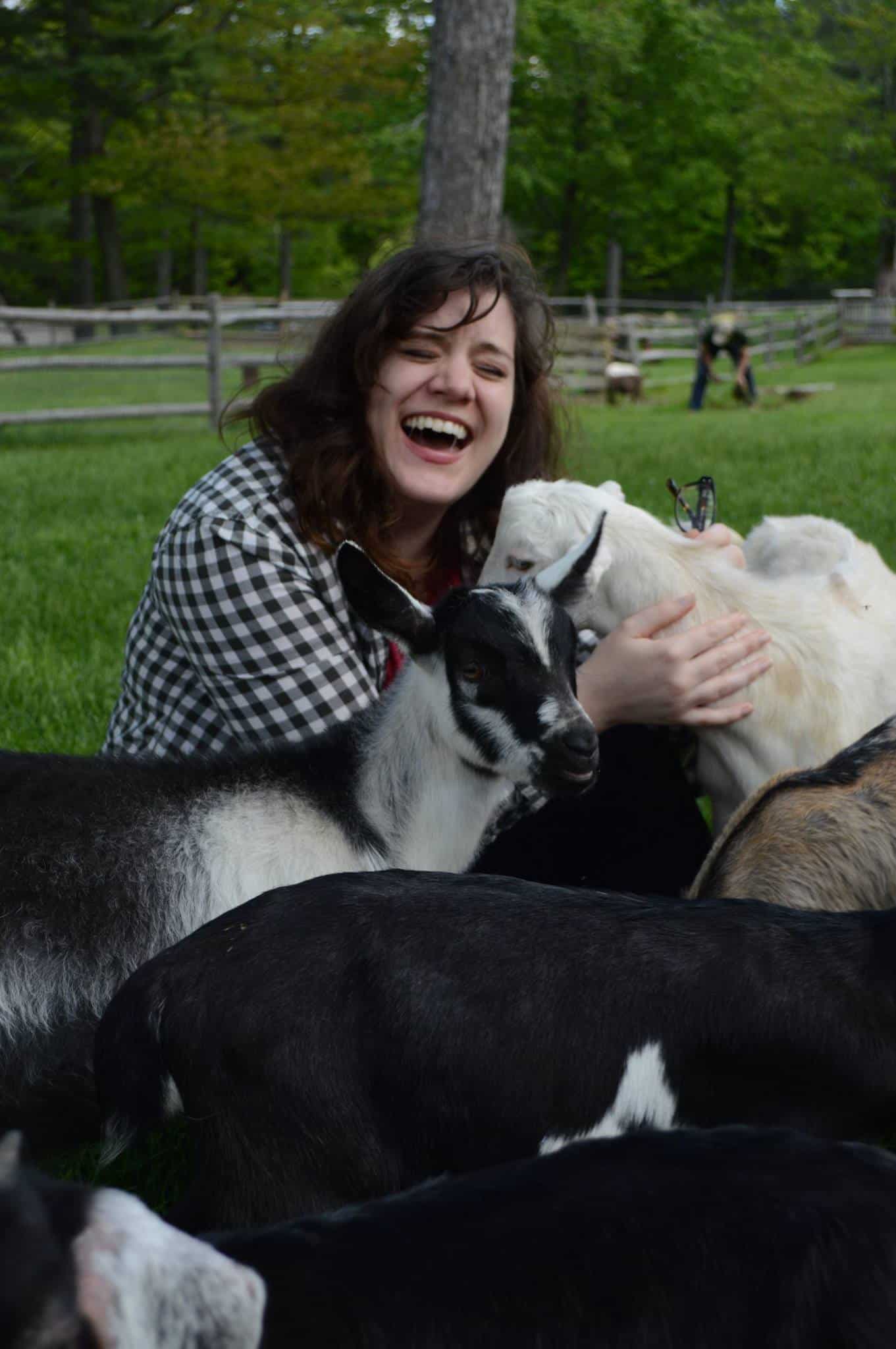 Amy Hartle is the founder and Editor-in-Chief of New England With Love, a comprehensive resource for travel in the New England region. Amy has been exploring New England since 2001. She lived in Vermont for many years and is a graduate of Plymouth State University in New Hampshire. On this site, Amy aims to share her love of New England and help you to have the best possible adventures!
Amy has been writing about travel for over a decade, and is a full time blogger, publishing both Two Drifters and Let's Adventure Baby. When not traveling the world or creating epic blog content, Amy can be found cuddling with her husband, son, and cats, & drinking a maple latte.