There are countless reasons to visit the Berkshires year-round; from the incredible fall foliage to the natural swimming holes in summer, a trip to the Berkshires is never a bad idea. We particularly love winter in the Berkshires, so as temperatures cool and we await the first snowfall, we've decided to pull together some of our favorite things to do in the Berkshires this winter.
Whether you're looking for a romantic couples getaway, an adventure with friends, or a family-friendly escape, winter in the Berkshires is the perfect vacation destination.
Why you should visit the Berkshires in Winter
If you're unfamiliar, the Berkshires are located in Western Massachusetts, about 3 hours drive from both Boston and New York City. The Berkshires have long been a cultural hub, filled with beautiful scenery, delicious food, and adventures abound.
While the winter months do get chilly, nothing beats drinking your morning coffee by the fireplace while watching the fresh powder fall on the trees. If you want to get out and explore, the Berkshires are jam-packed with activity during the winter months.
Winter in the Berkshires Things to Do
Skiing and snowboarding
Whether it's your first time or you're a pro, the Berkshires have a number of mountains for you to check out during your visit. Due to its proximity to both New York and Boston, the Berkshires provides a quiet escape from city life and allows you to get plenty of runs in on various mountains, depending on the length of your stay. Fear not, if you're not an avid skier or snowboarder, you can either get lessons or go tubing and still enjoy all that the best ski resorts in the Berkshires have to offer.
Ski Butternut
Perhaps our favorite mountain and ski resort in the Berkshires is Ski Butternut, located just minutes from downtown Great Barrington. Butternut boasts 100 skiable acres, 10 lifts, 100% snowmaking capabilities, and an incredible location. You can conveniently fuel up on breakfast in town and take the short drive (less than 5 minutes!) to the mountain. If you prefer to hit the slopes first thing in the morning, enjoy a delicious afternoon snack at one of our favorite restaurants around town, like Marketplace Kitchen Table for a healthy option, Baba Louie's for pizza, or Marjoram + Roux for a quick bite.
For those less enthusiastic about skiing or snowboarding, Ski Butternut also has its own snow tubing park, and is recognized as one of the top destinations for tubing in all of New England! The Tubing Center has 11 tubing lanes and a Magic Carpet Lift that makes getting back to the top of the tubing hill effortless.
Ski Butternut's motto is "where families go to play in the Snow" and we couldn't agree more. It's the perfect destination for the family offering a wide range of activities, and budget-friendly weekday lift passes. No matter your skill or interest level, Ski Butternut has plenty to offer everyone during their winter Berkshires vacation.
Catamount Ski Area
Catamount straddles the New York and Massachusetts border and is just 2.5 hours from NYC.
With 8 lifts, 43 trails, and a vertical descent of 1,000 feet, Catamount is a great mountain for skiers and boarders of all skill levels. They offer tuning and repair, rentals, and a retail shop so you'll have everything you need at your fingertips. If you're eager to get on the mountain, but not so sure about skiing or boarding, Catamount is offering snow tubing for the first time for the 2022-2023 season!
If you're getting excited about the winter season, check out The Catamount team's latest community updates.
Berkshire East
Located in the northern part of the Berkshires, near North Adams and almost at the Vermont border, you can find Berkshire East Mountain Resort. This family-run mountain has modern facilities, including top-notch snowmaking and grooming. Berkshire East has a focus on sustainability and renewable energy, claiming to be the first ski area in the U.S. to generate the entirety of its electricity from on-site renewable sources.
With 38 total runs, Berkshire East has all the amenities you can expect, including lessons, rentals and gear, a snow tubing park, and dining.
Jiminy Peak
Located in Hancock, MA, about 20 minutes from Pittsfield, MA and just minutes to the New York border, Jiminy Peak has over 45 trails covering 167 acres.
At an elevation of 2,380 feet, the mountain has 9 lifts, trails of differing difficulty, and, similar to Berkshire East, operates on 100% renewable energy. You can expect many amenities at the region's largest ski resort, including private and group lessons, shopping and dining, rentals and gear, and tons of family-friendly activities both on and off the snow.
While there are other mountains, like Otis Ridge and Bousquet, these are just a few of our favorite ski mountains and resorts in the Berkshires that will provide plenty of fun Berkshires winter activity for the whole family, no matter each person's skill level.
Cross Country Skiing and Snowshoeing
Looking for some off-mountain adventure? One of our favorite ways to explore the Berkshires in winter is to strap on some cross country skis or snowshoes and get moving! Be warned – these seemingly leisurely activities can get your heart beating and turn into a nice workout quickly!
We recommend checking out conditions at some of the most popular Berkshires cross country ski and snowshoe areas, but below are some of our favorites. They all offer equipment rentals on-site, as do Berkshire Outfitters in Adams and Plaine's Bike Ski Snowboard in Pittsfield.
Canterbury Farm
Located in Becket about 20 minutes from Stockbridge and Lenox, Canterbury Farm is tucked in the hills of the Berkshires. This year-round farm hosts events in the fall and summer, but we love it for their nordic center in the winter months.
Canterbury Farm has 13 miles of trails that meander alongside brooks, beaver ponds, stone walls, lakes, fields and mountains. It's quintessentially Berkshires and it's absolutely delightful.
The team grooms the trails daily and all trails are marked and packed appropriately for each winter sport.
Added bonus is you can also ice skate at the farm pond!
Hilltop Orchards
What's better than artisanal craft cider after you burn some calories snowshoeing? Hilltop Orchards, located in Richmond, is a 200-acre orchard with trails designed by world-renowned trail architect John Morton. It's the perfect destination for the whole family (including dogs!)
And it's not called hilltop for nothing. As you approach the top of the property, you'll have incredible panoramic views stretching across multiple states. Once you've taken in the Berkshires winter views, work your way back to the main building and reward yourself with some delicious treats.
Arcadian Shop
In Lenox, Arcadian Shop – which recently sold to longtime employees – is our go-to for winter-weather gear and rentals. The store has been a vital part of the community and offers all your go-to outdoor essentials.
Located right across the street from Arcadian Shop's parking lot is Kennedy Park, which has trails for both cross country skiing and snowshoeing in the Berkshires.
The trails at Kennedy Park aren't as well groomed as the other recommendations on our list, but their convenience to Lenox makes it a terrific spot to get out and enjoy the outdoors during your winter getaway in the Berkshires.
Visit museums
If you need to warm up your hands and feet from all the outdoor adventures, you're in luck because the Berkshires are filled with fantastic museums and cultural experiences.
MASS MoCA
MASS MoCA is one of the largest centers for contemporary and performing arts in the country, and is perhaps the most well-known cultural institution in the Berkshires. Located in North Adams, MASS MoCA is the perfect destination to immerse yourself in incredible works of contemporary art from a diverse range of artists.
We can easily spend hours at MASS MoCA — their campus has 250K+ square feet of massive art installations, multiple cafes, a restaurant, great coffee, and even a microbrewery serving local craft beer.
Also, be sure to check out MASS MoCA's calendar for upcoming performances that may be going on while you're visiting the Berkshires. From song to dance to live theater and so much more, you won't want to miss these performances.
Norman Rockwell Museum
The Norman Rockwell Museum, located in Stockbridge, is the namesake museum for the artist born in 1894. Visitors will see some magnificent works of art – plus, it's a welcome indoor activity to escape the freezing winter temperatures.
At the museum, you'll see 500+ of Rockwell's original works, as well as temporary exhibitions featuring iconic examples of American Illustration.
The Mount
Designed by Edith Wharton in 1902, The Mount is a National Historic Landmark. Located in Lenox, The Mount celebrates the legacy of Edith Wharton who authored many classic novels like The Age of Innocence.
During a visit to the beautiful estate, you'll hear all about Wharton's life and legacy through a self-guided or docent-led tour. The 113-acre estate is an architectural masterpiece from the inside out, featuring French, Italian and English traditions, including luscious gardens adapted for the American landscape.
For Wharton's biggest fans, be sure to book the private library tour at least two weeks before your trip to see Wharton's personal collection of books!
Herman Melville's Arrowhead
If it wasn't obvious already, the Berkshires are as much a cultural destination as they are anything else. Located in Pittsfield, Arrowhead was home to American author Herman Melville from 1850 to 1863.
The Berkshire County Historical Society offers tours by advance reservation only during winter months, but it's worth it for any literature buff to get a guided tour of the historic rooms of the home.
If you're feeling inspired after visiting any of the countless museums in the Berkshires, check out one of the cozy book shops scattered throughout the region. Some of our favorites are North Star Rare Books, Yellow House Books, and the Bookloft, all in Great Barrington. Shaker Mills books in West Stockbridge (from the founder of the Bookloft) is also not to be missed for its collection of 30,000 new, used, and rare books and its charming location in an old mill.
Visit the spa
No trip to the Berkshires in the winter is complete without a stop at one of the gorgeous spas in the region.
Miraval
The Miraval Berkshires sits on 380-acres of rolling Berkshires grounds just minutes from the center of Lenox. The luxury wellness brand, which has just a handful of locations across the country, opened their Berkshires property in 2020. Those looking to enjoy a luxe spa day will be treated to all the pampering and amenities they can think of. Guests may also book overnight accommodations at the Miraval.
At 29,000 square feet, the spa is the largest in the Berkshires. In other words, this isn't your ordinary spa. With an expansive offering from Ayurveda, to mother-to-be pampering, the Spa has everything you'd dream of – and more!
Spa appointments for Miraval Berkshires sometimes book up weeks or even months in advance so be sure to reach out to them to make your reservations as soon as possible.
Canyon Ranch
Minutes down the road from the Miraval is Canyon Ranch, the original Berkshires spa resort. The 1897 Gilded Age house feels like you're driving up to a New England Versailles.
The spa recently underwent a complete renovation and is filled with saunas, cold-dip pools, inhalation rooms and a massage menu (1,500 types of service!) that will leave you asking when you can visit again. Guests can visit with a day pass or indulge themselves in an overnight, multi-day experience.
Body & Soul Day Spa
If you're looking for a more affordable spa day alternative, be sure to check Body & Soul Day Spa in Great Barrington. Since 1987, Body & Soul has been offering a variety of spa services in the Berkshires.
From deep tissue massage to reflexology, Body & Soul Day Spa is the perfect place to book after a long day on the slopes to ease some of that muscle soreness.
Warm up with some hot cocoa or coffee
Once you've picked up a book from one of our favorite bookshops in Great Barrington or West Stockbridge, it's time to head to some of our favorite cafes for an afternoon of reading and warming up inside. A few of our favorites include:
The Southfield Store – Southfield
No. 6 Depot – West Stockbridge
Chocolate Springs cafe – Lenox
Dottie's coffee lounge – Pittsfield
Eat delicious food
The Berkshires are all about farm to table, locally sourced and sustainable food. Here are some of our favorite restaurants in the Berkshires for you to enjoy during a trip this winter:
Cantina 229, New Marlborough – Probably our favorite place in the Berkshires. Fresh, delicious food and upbeat vibes.
Old Inn on the Green, New Marlborough – Historic fine dining nestled in a cozy inn
Gedney Farm, New Marlborough – Chef-driven, locally sourced, and seasonally-inspired food with a curated list of wines.
Prairie Whale, Great Barrignton – Grab a seat at the dimly lit bar, drink some natural wine, and eat inventive, seasonal cuisine.
Roberto's, Sheffield – The best pizza and the nicest staff.
MoonCloud, Great Barrington – Delicious, top-notch cocktails in a lounge atmosphere with bar snacks and small bites.
The Marketplace, Multiple locations – We visit the Great Barrington location at least once during every trip. They make everything from healthy salads to totally indulgent baked goods.
John Andrews Farmhouse, Egremont – Tucked away in a rustic farmhouse, diners will feast on American food surrounded by the natural beauty of the Berkshires.
The Red Lion Inn, Stockbridge – Established in 1773, this classic inn in the heart of Stockbridge has a delicious burger and more.
Alta, Lenox – Wine bar and Mediterranean nights with a lively atmosphere.
Haven, Lenox – Our go-to spot for a quick bite in Lenox. Think: sandwiches, salads, soups, and baked goods.
Brava, Lenox – Wine bar and bites from charcuterie, to tapas, to hand-made pizzas.
The Airport Rooms at Tourists, North Adams – A new, boutique hotel with a cocktail lounge and restaurant that often has live events.
Stay in a cozy cottage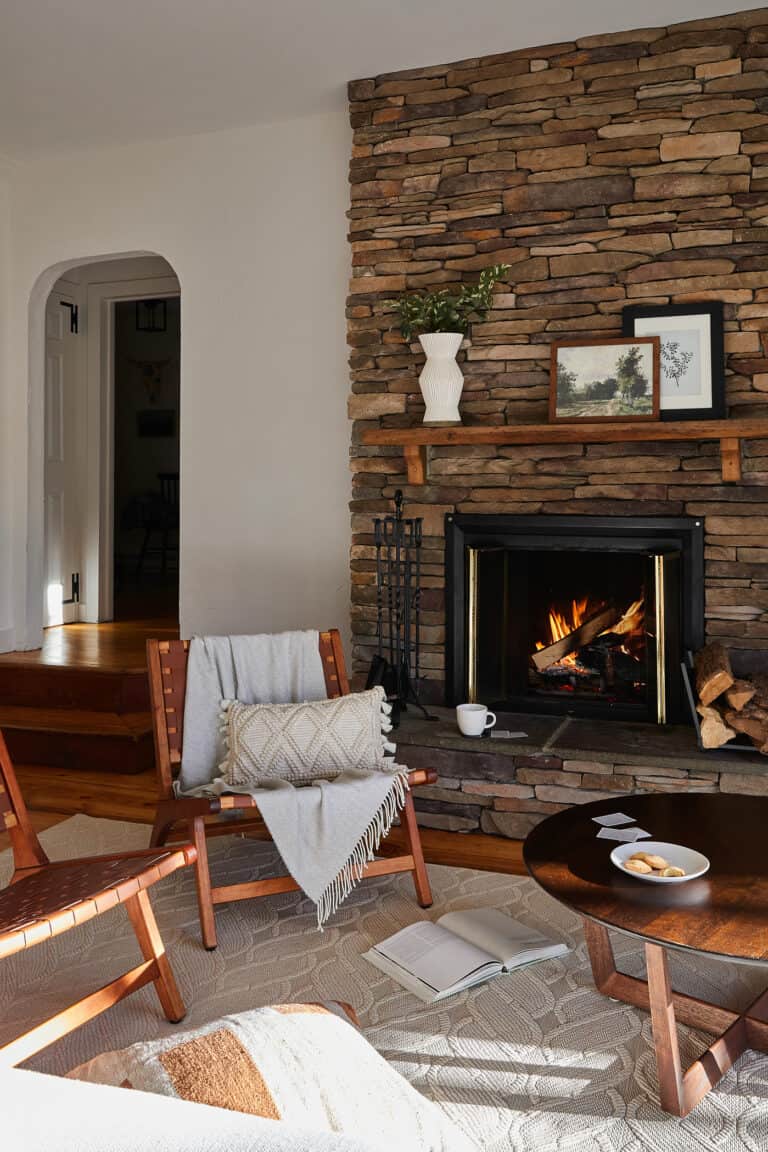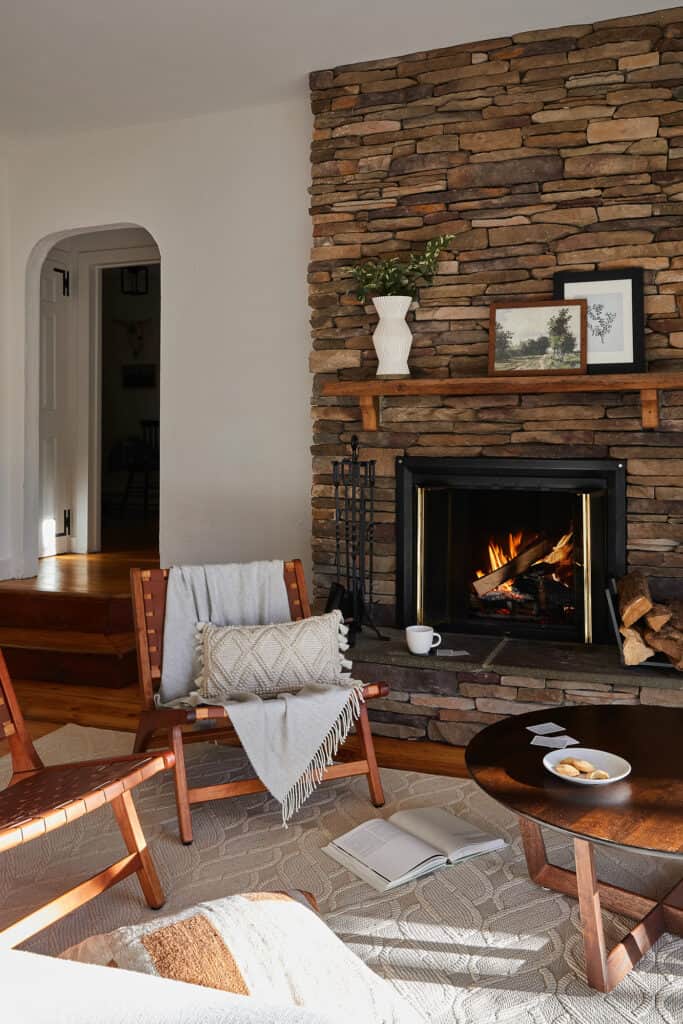 Your trip to the Berkshires this winter wouldn't be complete without somewhere cozy to stay. We're a bit biased, but when it comes to where to stay in the Berkshires, we absolutely adore South County, which is the shortest drive for those coming from New York City.
South County is also conveniently located to some of the Berkshires best skiing (Ski Butternut!), best restaurants (Cantina 229!), best shops (Great Barrington), and is a short drive to everything the Berkshires has to offer to make this the perfect home base.
If you're planning a trip to the Berkshires this winter and looking for that perfect home base – we'd love to welcome you at Oak Hill House, our newly renovated, cozy cottage designed for relaxation but just minutes to adventure. It has all the winter essentials: A wood burning fireplace, a hot tub, an outdoor firepit, plenty of space for everyone to spread out, and a safe place to keep your skis!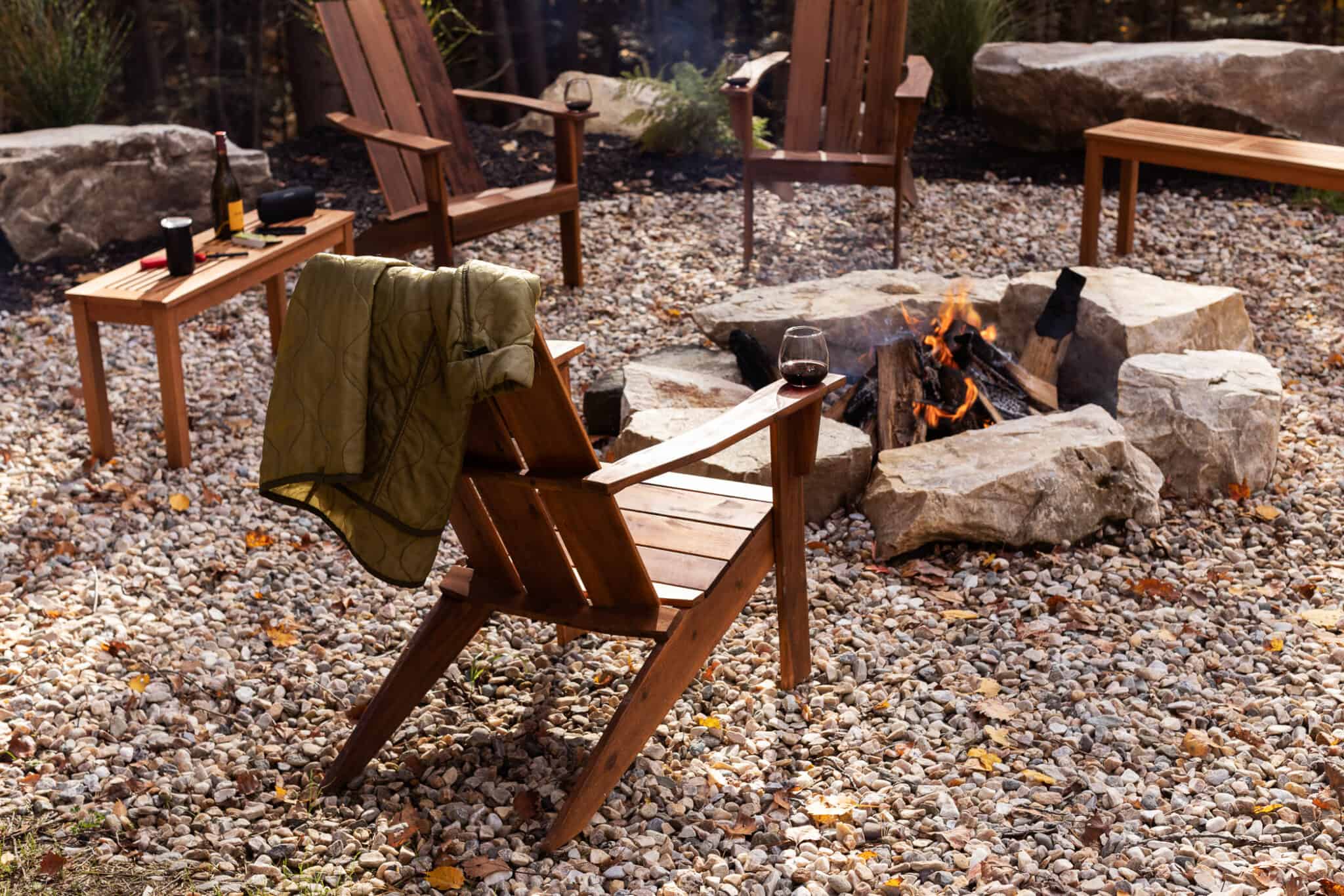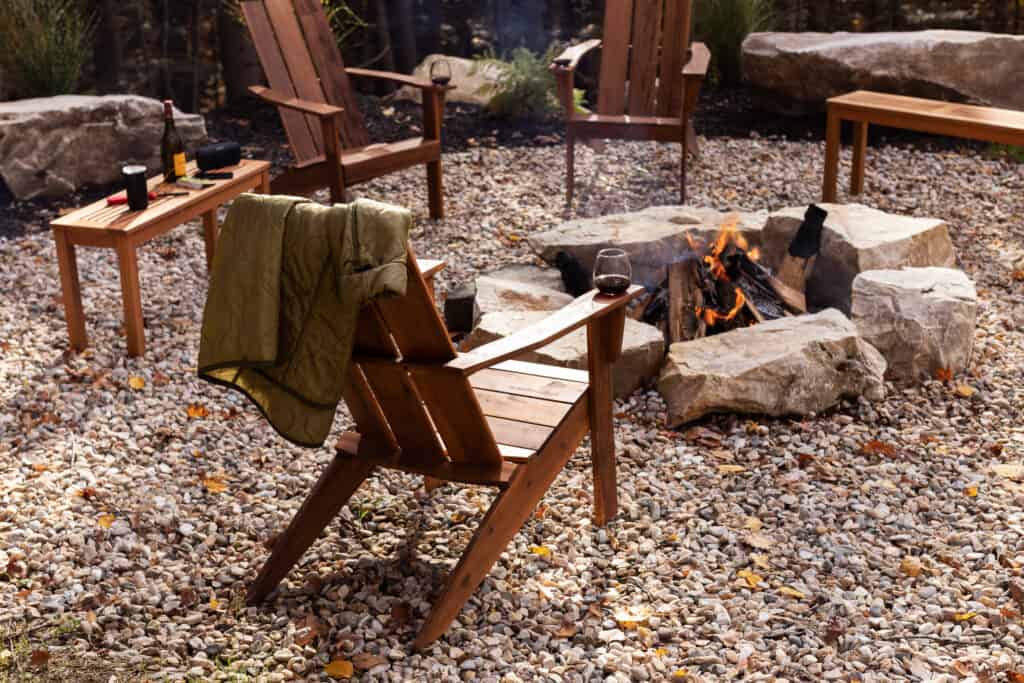 Final thoughts on winter in the Berkshires
Whether you're looking to cozy up next to the fire, hit the slopes, or eat local seasonal foods – or if you're looking for a vacation or place to work remotely close to New York City and Boston – the Berkshires are a lovely destination this winter!
You might also like: