One of the top cranberry producers in the nation, the Bay State is responsible for supplying the US with almost 2 million barrels of cranberries each year! It's also the biggest food crop in MA, so cranberries are a bit of a big deal in Massachusetts.
If you're looking to tour cranberry bogs in Massachusetts, you're in the right place. You can tour MA cranberry bogs and see for yourself the interesting growing method and harvesting process that happens to give us this tart, bright red fruit.
There are plenty of cranberry bogs in Massachusetts to check out, and the best time to tour a MA cranberry bog is during harvest season in the fall. We've got the top cranberry bog tours in the state listed here for you, as well as some additional MA cranberry bog festival and museum info for you if you'd like to take an even deeper dive into the world of Massachusetts cranberries!
As always, if you're looking for things to do in Massachusetts this weekend or what to do in MA today, be sure to check out this Bay State events calendar to find out what else to do on your trip besides touring cranberry bogs in Massachusetts!
Cranberry Bogs in Massachusetts
A.D. Makepeace Company in Wareham
The A.D. Makepeace Company asserts that it is one of the largest cranberry growers in the world, so we will start off by going big here!
With over 160 years of experience growing cranberries, this cranberry producer is also locally known for its cafe, bakery, and gift shop at Makepeace Farms. Expect lots of yummy cranberry-themed goodies for sale here, including their ever-popular Thanksgiving Sandwich, featuring roasted turkey, stuffing, cranberry sauce, and mayo!
You'll want to check in with the website to buy tickets for your fall cranberry bog tour, but public cranberry bog tours are typically on select dates in September and October, lasting about an hour and a half. If you're unable to make one of those dates, you can set up a private tour any time of year for groups of 10 or more.
Read Next: Fall in Massachusetts: 12 Must-Visit Destinations & Fall Fun Ideas
Benson's Pond in Middleboro
Benson's Pond is a 3rd generation cranberry grower and they have over 40 acres of cranberry bogs to their name!
In addition to their work growing cranberries as a part of the Ocean Spray collective, their gorgeous property also offers a unique rental property for special events like weddings and family reunions. If you're looking for a picturesque setting for your next event, The Barn overlooking the cranberry bogs might be just perfect.
Benson's Pond also offers a unique cranberry bog tour experience: Cranberry Bogger for the Day.
Instead of just touring the bogs and hearing a guide describe what is happening to harvest the cranberries, you actually get to pull on a pair of waders and get in the bog to help harvest! If the cranberry bogger experience is not for you, you can have a more traditional cranberry bog walking tour as well.
Cranberry harvest season at Benson's Pond is late September to early November, but be sure to check in with their website to book your spot as they become available!
Stone Bridge Farm in Acushnet
Stone Bridge Farm is a quaint little farm with three acres of cranberry bogs, and they offer their MA cranberry bog tours in October only. "Picture Yourself at a Cranberry Harvest" includes learning about the history of cranberries and cranberry farming and a brief primer about harvesting equipment. You even get to see some antique cranberry farming equipment!
This walking cranberry bog tour then leads down to a flooded bog where you are allowed to put on a pair of chest waders and walk out into the cranberry bog for yourself for a unique photo op!
Tours last about an hour and reservations are required by booking online or calling the farm directly. After the tour, check out the Cranberry Cottage gift shop for fun cranberry-related souvenir options.
Read Next: 15 Most Charming Small Towns in Massachusetts to Visit
Cape Cod Cranberry Bog Tour in Harwich
Tour the largest organic cranberry bog on Cape Cod with the Cape Cod Cranberry Bog Tour. There are spring, summer, and fall tours available as well as visits to the farm stand and gift shop for all kinds of farm fresh treats and cranberry-related items. The tour lasts about one and a half hours.
The farm stand and gift shop hours vary throughout the year, and reservations are required for their famous Cape Cod Cranberry Bog Tour, so it is recommended that you contact them directly at 508 432 0790 to check hours of operation and reserve your cranberry bog tour spot! This is definitely one of the most popular cranberry bog tours in Cape Cod.
Annie's Crannies in Dennis
Annie's Crannies in Dennis has been producing cranberries for generations and generations, and today also produces delightful honey and beeswax products made with a little help from the bees that help pollinate the cranberry blossoms!
Annie's Crannies does not offer dedicated cranberry bog tours. Their gift shop is only open during cranberry season, early October through early November for 2023.
Ocean Spray Cranberry Bog in Foxborough
The Ocean Spray Cranberry Bog is 7 acres of cranberry bogs and a nature trail that features a nice little scenic half-mile walk.
It is open from dawn to dusk, seven days a week, and information is available onsite about the cranberry life cycle and the inner workings of a cranberry bog.
Chamberlain Farm & Pavilion in Berkley
Chamberlain Farm is an absolutely gorgeous family-operated farm whose main crop is actually butternut squash! In addition to growing produce, they also rent out their restored, rustic barn and wooden pavilion for events, and a renovated four-bedroom farmhouse as an onsite place to stay during and after the event.
Of course, the Chamberlain Farm also offers group cranberry bog tours where you can see the cranberry harvesting equipment and learn about cranberries and farming culture. To set up a tour, you can email them directly at ichamberlain235@gmail.com
MA Cranberry Festivals, Celebrations, and Museums
Cranfest
Mid-November in America's Hometown, Plymouth MA, you'll find Cranfest, a two-day celebration of all things cranberry! Learn the history and cultural significance of these vibrant red berries while you enjoy live music, food trucks, and more.
Nantucket Harvest Fair
Nantucket has combined two of its fall time favorites, the Cranberry Festival and the Island Fair, to create a new fall event, the Nantucket Harvest Fair! Held at the beginning of October at the Milestone Cranberry Bog on Nantucket, you'll find live music, contests, hayrides, art, food, and lots of cranberry and fall-themed fun.
Harwich Cranberry Arts and Music Festival
Held towards the end of September every year, the Harwich Cranberry Arts and Music Festival features local vendors selling handcrafted goods, music, and a fireworks show at dark.
Harwich Historical Society and Brooks Academy Museum
The Harwich Historical Society and Brooks Academy Museum offer a look at local Cape Cod history, with cranberry history and culture as one of the main points of interest. If you'd like to learn more about the history of the cranberry and the interesting conditions in which it thrives, a trip to Harwich Historical Society and Brooks Academy Museum can be arranged by appointment by calling or emailing the museum directly.
Cranberry Bog Bus Tours
Available for large and small groups throughout the cranberry harvest season (late September through early November), you can follow along Massachusetts Cranberries website for more details!
If you're going to be visiting coastal Massachusetts, you're very likely going to come across some cranberry-themed treats, for sure, but for a truly memorable experience, try to tour a MA cranberry bog during harvest or go to a cranberry festival.
There's just nothing quite like seeing the deep crimson berries floating to the top of the bog, gathered together and gleaming in the autumn sun of harvest time!
Taking a cranberry bog tour in Massachusetts is definitely a unique Bay State thing to do, so if you've got the opportunity to see a coastal MA cranberry bog for yourself, do it!
You might also like: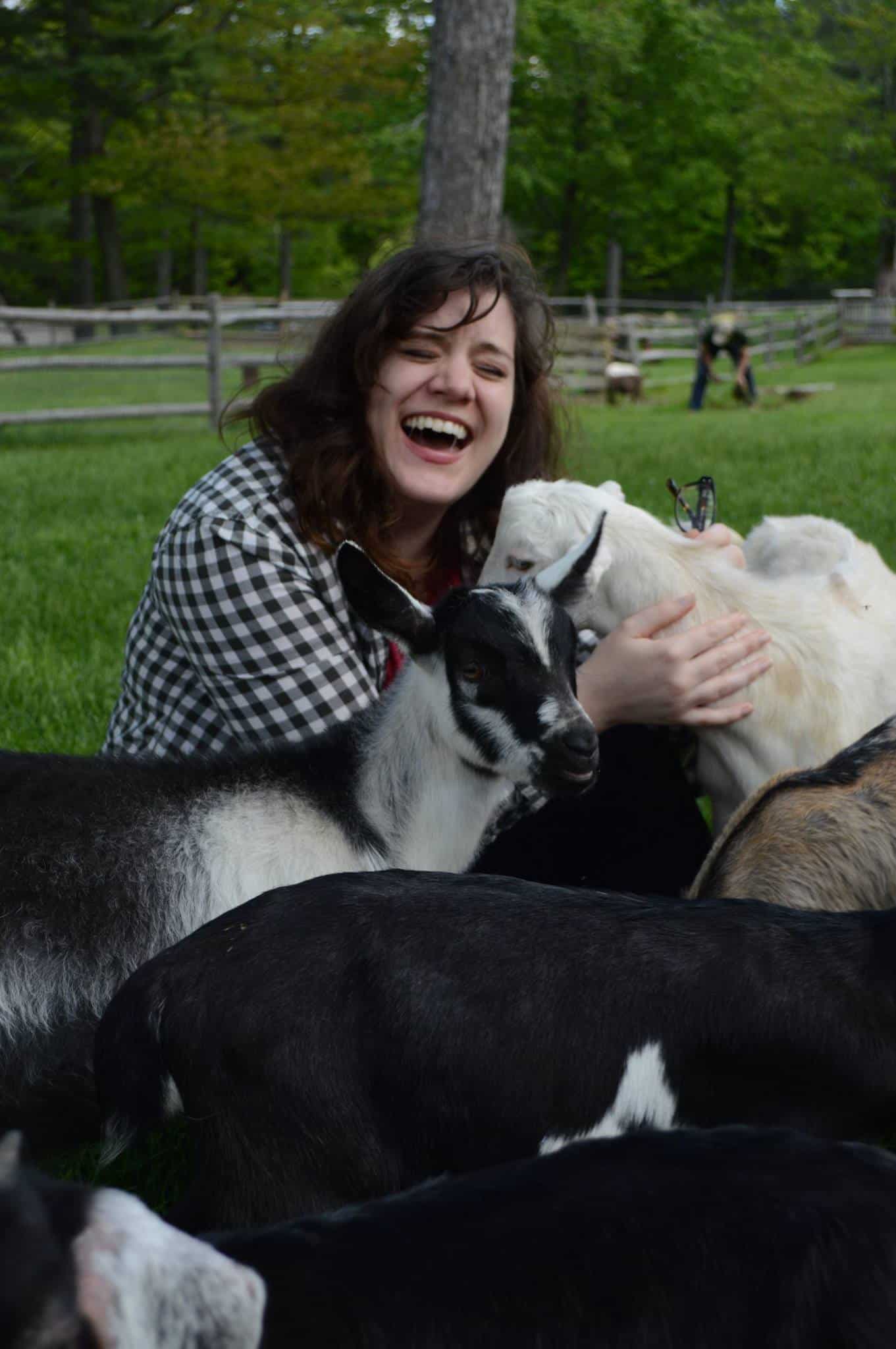 Amy Hartle is the founder and Editor-in-Chief of New England With Love, a comprehensive resource for travel in the New England region. Amy has been exploring New England since 2001. She lived in Vermont for many years and is a graduate of Plymouth State University in New Hampshire. Amy has been writing about travel for over a decade. On this site, Amy aims to share her love of New England and help you to have the best possible adventures!
Amy has been a full time blogger since 2012, and is also the publisher of Two Drifters, where she writes about couples travel and relationships, as well as Let's Adventure Baby, a family travel site. When not traveling the world or creating epic blog content, Amy can be found cuddling with her husband, son, and cats, & drinking a maple latte.