If you find yourself in Massachusetts and you love learning, you're in luck! There are so many great museums in MA, especially around the Boston area, for travelers of all interests.
From museums about the famous Dr. Seuss to those with an interesting history, this list truly has it all. Plus, many of these days also have their own free museum days throughout the year, as well as student discounts, which makes it an affordable place to spend the day.
Here are all of the most unique museums in MA that you won't want to miss out on!
Berkshire Museum
Located in Pittsfield, the Berkshire Museum is perfect for families visiting the area. It focuses on natural history and art and also covers some ancient cultures throughout its exhibits. It's very family-friendly because many of the spots throughout the museum are interactive and hands-on!
Some of their exhibits are permanent while they occasionally have ones that cycle through. They also occasionally host very contemporary exhibits, like "Living Ink: The Art of Tattoo." They've even had exhibits ranging from aquariums to rocks and even innovation.
The museum is open every day of the week but does have shorter hours, usually between 10 a.m. to 5 p.m., unless it's a Sunday. They also have holiday hours on Christmas Eve and New Year's Eve. Members of the Berkshire Museum as well as children age 3 and under can enter the museum for free.
Museum of Science
Though there are many museums in Boston, the Museum of Science is one of the best! It's located right on the Charles River and features an indoor zoo as well as many exhibits about science and history, including dinosaurs.
What makes the Museum of Science in Boston so incredible is that they truly have tons of different ways of learning. You can look at their classic exhibits, see an Omni film, watch a planetarium show, or even marvel at a 4-D film.
Plus, there are live presentations and other public and adult events that you can attend. No matter what way you learn best, there's probably something for you at the Museum of Science!
The museum also has its own restaurant, the Riverview Café, as well as a Starbucks, Hearth restaurant (for pizza and mac and cheese), the Chalkboard Grille (for burgers) as well as a grab-and-go spot for sandwiches and salads.
Museum of Fine Arts Boston
When it comes to museums in MA, the Museum of Fine Arts Boston is one that all art and history lovers can't miss out on. It's right in the historic Fenway neighborhood (it's literally a short walk from Fenway Park) and is massive.
Inside, there are over a hundred different galleries with thousands of artifacts and art pieces that you can explore. It's spanned over a few floors, so you'll want to make sure to grab a map. Trust me when I say it's easy to get lost here, and you'll want to plan at least an entire afternoon to be spent exploring.
The museum also has some special exhibits that rotate throughout the year, and there's a lovely cafe with some of the best sweet treats around right near the entrance of the museum. Because it's such a popular Boston museum, visit during the week if you can to avoid the crowds.
The Amazing World of Dr. Seuss Museum
Located in Springfield, fans of children's literature should pay a visit to The Amazing World of Dr. Seuss Museum. It's a newer museum that opened back in 2017, and now stands inside the old location of the Connecticut Valley Historical Museum.
Throughout the museum, there are fun galleries about Dr. Seuss as well as interactive spots where children can play, like the Giant Marble Maz and the Lorax Recycle Game. The museum is closed on Mondays, so plan your trip wisely. Children under 3 can enter for free as well as Springfield residents.
As part of the Springfield Museums, you can enter this museum as well as four others with the same ticket. It's worth it to spend a day here so that you can explore all of them in depth!
Isabella Stewart Gardner Museum
The Isabella Stewart Gardner Museum has one of the most interesting stories of all time. Founded back in 1903, this museum was actually the location of a heist back in 1990 when $500 million worth of art was stolen and never found.
Today, though, the museum is a bit of a sanctuary. It's near the MFA in Boston right in the Fenway neighborhood and features a lovely garden area where you can sit, relax, and be surrounded by gorgeous art and architecture.
This museum, because it's a bit smaller, has limited hours throughout the week and is closed on Tuesdays. Children under 18 are free and so are members. When you visit, be sure to explore the rest of the surrounding area of Fenway!
Hammond Castle Museum
The Hammond Castle Museum is one of the museums in MA right on the coast, in Gloucester. Dating back to the 1920s, this museum and castle was the home of an inventor named John Hays Hammond, Jr.
This is one of the castles in New England you won't want to miss and even has hosted many events like weddings over the years. It's somewhat of a hidden gem (despite being a castle) and is often just visited by other New Englanders.
The best way to explore this castle is to go on a guided or self-guided tour. This way, you're able to learn as you go through it, instead of just looking at the pretty views (which are other beautiful). Sometimes, the museum even hosts fun film nights throughout the year, so be sure to check their website to see if they have anything going on.
John F. Kennedy Presidential Library and Museum
Next is a museum that's also a library in Boston: The John F. Kennedy Presidential Library and Museum. It's located right at the University of Massachusetts Boston by the water. Throughout the museum are a ton of different exhibits and artifacts going through the life of JFK.
The museum is only open for certain hours and days throughout the week and is usually closed on Monday, Tuesday, and Wednesday, so be sure to plan your trip wisely. It's fairly easy to get there by using Boston's public transportation, and there is free parking available right at the museum for travelers who will be driving.
Cape Cod Museum Of Natural History
Next up is the Cape Cod Museum of Natural History located in Brewster. This small museum is all about natural history and wildlife and was opened back in the 1950s. Today, it's filled with fun exhibits as well as lectures that educate guests and visitors near and far. In total, it only takes about an hour to go through the entire museum.
One of the things that makes this museum so great is that they do many nature walks with guides. For instance, they have a Bird walk & Talk where you can learn about birds in different habitats as well as a Walk With Our Archaeologist where you can learn about the area's diverse history.
Sandwich Glass Museum
If you find yourself in Sandwich, be sure to stop by the Sandwich Glass Museum, one of the best museums in MA. It opened in the 1820s and is all about rare and local glass, and there are even spots where you can watch glass-blowing.
In fact, there are daily glass-blowing presentations where you can learn more about the art! It's truly magical to watch someone blow glass right in front of you as they twist and morph it into beautiful creations. These usually happen every hour on the hour.
The museum is located on Sandwich's Main Street and does have different hours depending on the time of year. Children 5 and under can access the museum for free. The museum often closes for a month or two in the winter, often through January.
Naismith Memorial Basketball Hall of Fame
If you love basketball, then you'll want to stop by the Naismith Memorial Basketball Hall of Fame. It's impossible to miss because it's right by the highway that most people will take to get into Boston and it features a giant silver ball!
Inside the museum, there are tons of exhibits ranging from jerseys and basketballs to the history of some of the sport's best players. They are open every day of the week besides major holidays like Thanksgiving and Christmas, though they also host a variety of special events throughout the year which could result in an unexpected closure to the public.
The museum is almost always being updated, so every time you go, there may be something different to explore. Families in particular (as well as athletes) will definitely want to stop by this great museum if they find themselves in Massachusetts!
There you have it! All of the best museums in MA in no particular order have been listed throughout this post. Enjoy your time in Massachusetts!
---
Read these next: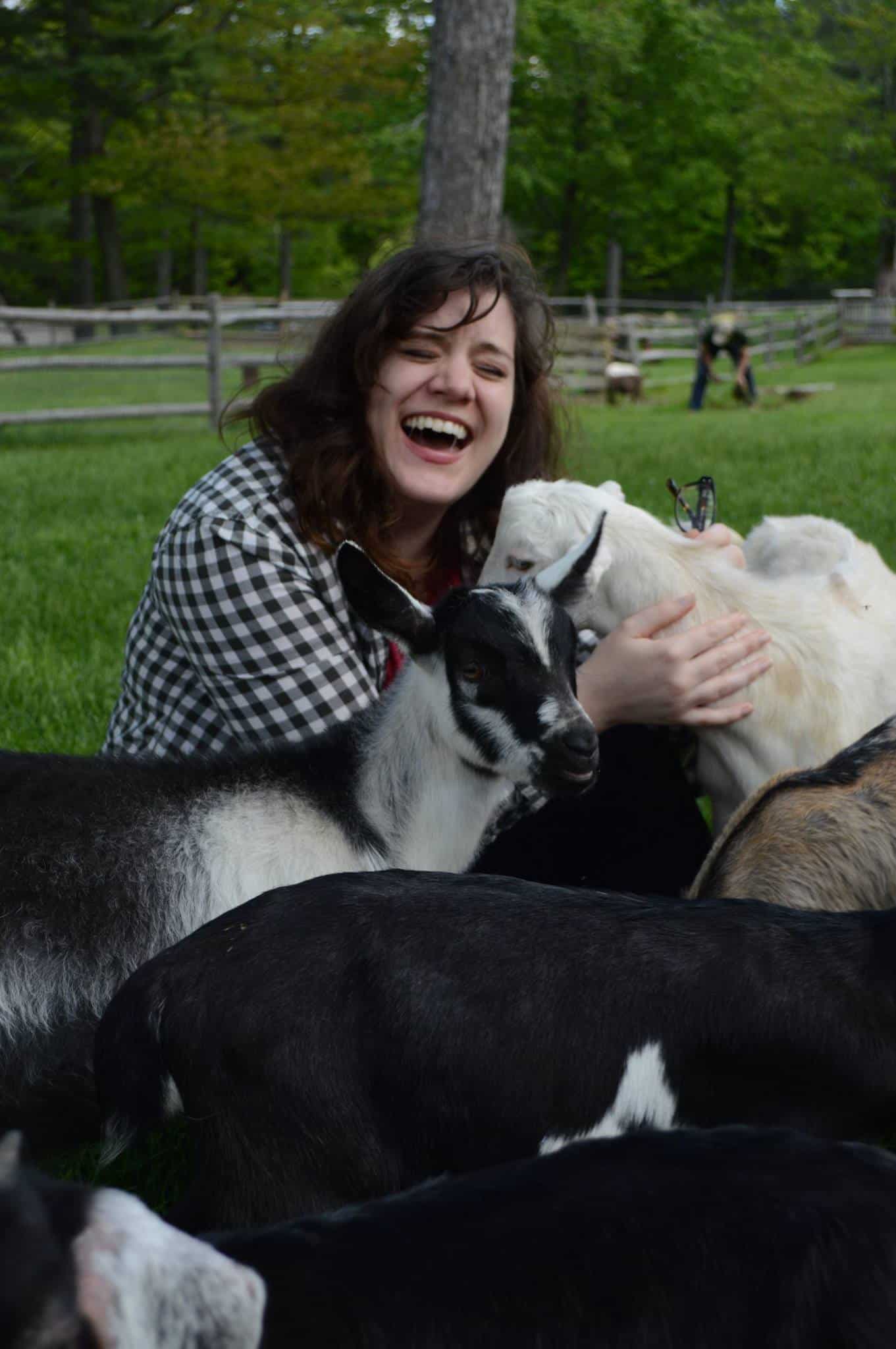 Amy Hartle is the founder and Editor-in-Chief of New England With Love, a comprehensive resource for travel in the New England region. Amy has been exploring New England since 2001. She lived in Vermont for many years and is a graduate of Plymouth State University in New Hampshire. Amy has been writing about travel for over a decade. On this site, Amy aims to share her love of New England and help you to have the best possible adventures!
Amy has been a full time blogger since 2012, and is also the publisher of Two Drifters, where she writes about couples travel and relationships, as well as Let's Adventure Baby, a family travel site. When not traveling the world or creating epic blog content, Amy can be found cuddling with her husband, son, and cats, & drinking a maple latte.