Where should you enjoy snow tubing in Massachusetts? This fun winter activity is enjoyable for all ages, and luckily, there are many places throughout MA where it can be enjoyed.
Essentially, snow tubing is a winter activity where you sit inside a tube (almost like the ones you can go water tubing with), and you use it almost like a sled as you go down a hill covered in snow. You can catch some real speed on them, and the recreational activity is one that you'll want to enjoy for hours on mountains and ski resorts alike!
Here are some of the best places to enjoy Massachusetts snow tubing.
Ski Ward Ski Area, Shrewsbury
First up is the Ski Ward Ski Area in Shrewsbury! This is one of the most popular locations in Massachusetts to visit for fun winter activities. It first opened in 1939 and is actually one of the oldest winter recreational areas that's been continually operating since its first opening.
Though they are open year-round now for outdoor activities, the most fun activity they offer is winter snow tubing. Those that are at least 6 years old and 42 inches in height are allowed to enjoy tubing among the 12 lanes that they have.
Just go up to the top of the mountain, and enjoy the ride down. There are a few hundred tubes that can be rented, so they have room for lots of families. Everything is included so that you can have the best time ever!
Hours of operation for this activity vary by the year but tend to be on the evenings from Wednesday through Friday and then all day (usually between 10-5 or 10-8) on Sundays, holidays, weekends, and local school winter vacations.
Ticket pricing is also by the hour, which is something to consider. It's a better deal to buy a two-hour pass because you get the second hour for a lot cheaper. If, by any chance, they have to close down due to snow or bad weather, you are allowed to rebook your ticket for another time.
Nashoba Valley Ski Area, Westford
The Nashoba Valley Ski Area in Westford is another great place to go snow tubing in MA! This area first opened back in 1964 and has since changed a lot over the years, expanding and growing to what it is now known for today. Many people go to Nashoba for skiing and snowboarding (psst… they also offer lessons!), but they also have incredible snow tubing as well.
In fact, they have an entire tubing park where guests can enjoy snow tubing in the winter months. Tickets are sold just a week in advance, so be sure to book quickly and early to ensure that you're able to go, as many families love making a tradition out of visiting here. They do require guests to book tickets online in advance, and they make it well-known that tickets can sell out fast!
Similar to other tubing areas, guests must be 6 years old and at least 42 inches tall in order to enjoy this activity at Nashoba. Hours are normally in the afternoon/evening, Wednesday through Friday, and then longer hours during winter vacation for local schools and on weekends. They are normally open on Saturdays, which is a bonus.
In total, Nashoba has about 16 different lanes for snow tubing, so there's lots of room to enjoy this fun activity! Keep in mind that the fresh snow is not actually the best time to go tubing… you want to wait until it's a bit packed so you can enjoy the speed.
Bousquet Mountain Ski Area, Pittsfield
Situated in Pittsfield, the Bousquet Mountain Ski Area is a great place to enjoy skiing, snowboarding, and… you guessed it, snow tubing! This is a super family-friendly area, and it's in a great location, right within the breathtaking Berkshires that western Massachusetts is so well known for.
This ski mountain first opened back in the 1930s and has been a favorite among locals for a long time. It became well known for offering night skiing back in 1936, with fun lights established among the slopes to allow visitors to see in the dark.
At Bousquet, they have 100 tubes that they can rent out and also have ten lanes. There's also a fun carpet lift that guests can use to get up to the top of the hill because we all know how tiring it is to walk up to the top with a tube in hand, especially on repeat!
Tickets at Bousquet allow for 1.5 hours of fun tubing, and it is recommended that tickets are booked in advance because they also sell out fairly quickly during the holiday season. Similar to other tubing locations in Massachusetts, tubers must be at least 42″ in height to ride one down the mountain for safety reasons.
Hours here vary but tend to be in the evenings during the week mostly and then all day on the weekends. Hours may differ on holidays. Unlike other snow tubing spots, though, Bousquet is open 7 days a week, even on Mondays, when most others are closed!
Butternut Ski Area and Tubing Center, Great Barrington
One of the most loved spots for snow tubing is the Butternut Ski Area and Tubing Center located in Great Barrington! Many people also just refer to it as "Ski Butternut," though you'll also hear locals call it "Butternut Basin." Just depends on who you talk to!
Tubing is one of the most fun activities at Ski Butternut. They do require all riders to be over the age of five, as children have to ride in their tube by themselves. Their tickets are for 2-hour time slots, and they do sell fast (as expected), so book in advance to make sure you're able to go. Booking for a weekday will mean fewer people and a higher chance of getting tickets.
Hours at Ski Butternut for tubing are in the evenings on Fridays and then all day on weekends. It's closed Monday through Thursday on a regular week, but they do offer special holiday hours, such as on Presidents Holiday Week, MLK Holiday Weekend, and Christmas Holiday Week, due to local school hours.
There are eleven lanes in total that can be enjoyed during your time at Ski Butternut. They have many tubes that can be rented, and similar to Bousquet, there is a Magic Carpet Lift that will bring you up the hill, so you don't have to tire your legs out going up the mountain on your own. They also make their own snow so that even if it's not snowy in town, there will be snow to have a fun day at Ski Butternut!
Berkshire East Mountain Resort, Charlemont
Last but certainly not least is Berkshire Mountain East Resort in Charlemont. People come from all over to enjoy winter activities at this resort, including skiing, snow tubing, snowboarding, and more! It's truly a place you could spend a whole weekend at and never get bored.
They have a special snow tubing park where the activity can be enjoyed during the winter months. They have tickets that sell out fairly quickly, so it is recommended to make a reservation online before going, especially when all the children and local families are out for the winter holidays!
Riders must be at least 42″ tall and have a waiver signed by a guardian in order to participate. They have fewer lanes than others on this list, with just three, but they do still have a Magic Carpet Lift that will bring guests up to the top of the hill for easiness.
Berkshire East Mountain Resort does have snow-making capabilities so even if it's not snowy throughout Charlemont, there will still be snow to enjoy snow tubing at the resort. They have slots that are 1.5 hours long, and are open on weekends and holidays. Groups can also reserve if there are more than 15 people for a given time.
Well, there you have it! There are so many incredible spots to enjoy snow tubing in Massachusetts. Truly, no matter where you opt to enjoy this winter activity, we know that you'll have an incredible time.
Be sure to follow these tips for the best trip possible: book in advance (even if you think you'll be able to get tickets if you wait), check the weather ahead of time, dress warmly, and make sure to check any height and age requirements, especially if traveling with any younger children. You don't want to get there and find out that you have a little one who can't participate.
Enjoy your amazing snow tubing trip, and consider exploring more of Massachusetts once you're all done!
---
Explore more of the winter season in Massachusetts: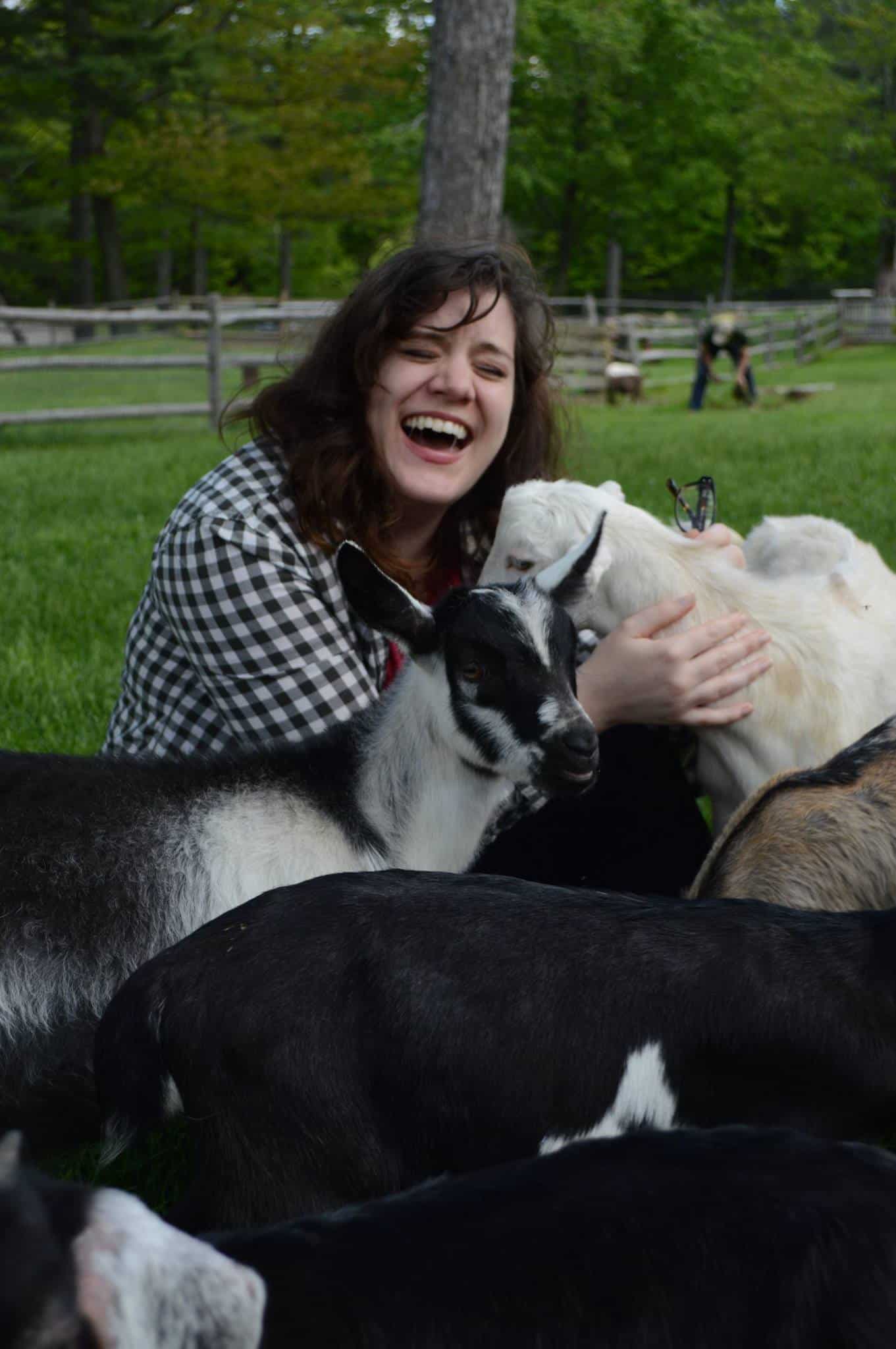 Amy Hartle is the founder and Editor-in-Chief of New England With Love, a comprehensive resource for travel in the New England region. Amy has been exploring New England since 2001. She lived in Vermont for many years and is a graduate of Plymouth State University in New Hampshire. Amy has been writing about travel for over a decade. On this site, Amy aims to share her love of New England and help you to have the best possible adventures!
Amy has been a full time blogger since 2012, and is also the publisher of Two Drifters, where she writes about couples travel and relationships, as well as Let's Adventure Baby, a family travel site. When not traveling the world or creating epic blog content, Amy can be found cuddling with her husband, son, and cats, & drinking a maple latte.