Massachusetts lighthouses are always a lot of fun to visit and photograph. Lighthouses in Massachusetts and around the world, typically allow for easy access and exploration. Often, our local guiding lights are situated in scenic and beautiful locations leading ways into safe harbors.
The settings, along coastal Massachusetts and on Cape Cod, make great seascape photography subjects and I frequently head out to capture my vision. This lighthouse road trip starts on Cape Cod and ends on Cape Ann, just north of Boston. Come and enjoy some of the most beautiful Massachusetts lighthouses!
Massachusetts Lighthouses
Nauset Beach Light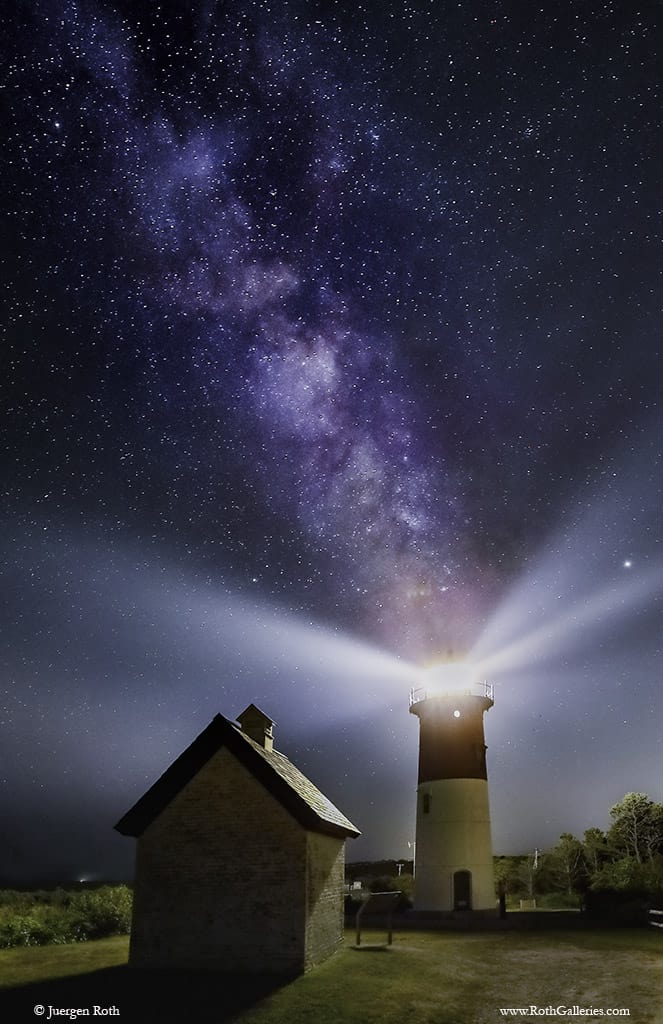 Nauset Light is on the Cape Cod National Seashore near Eastham, MA. It is worth visiting at any time of day or season, but I love coming here for chasing the nightlight and milky way. I love the iconic appearance of its tower in red and white which is in beautiful contrast with the night sky and milky way.
Nobska Light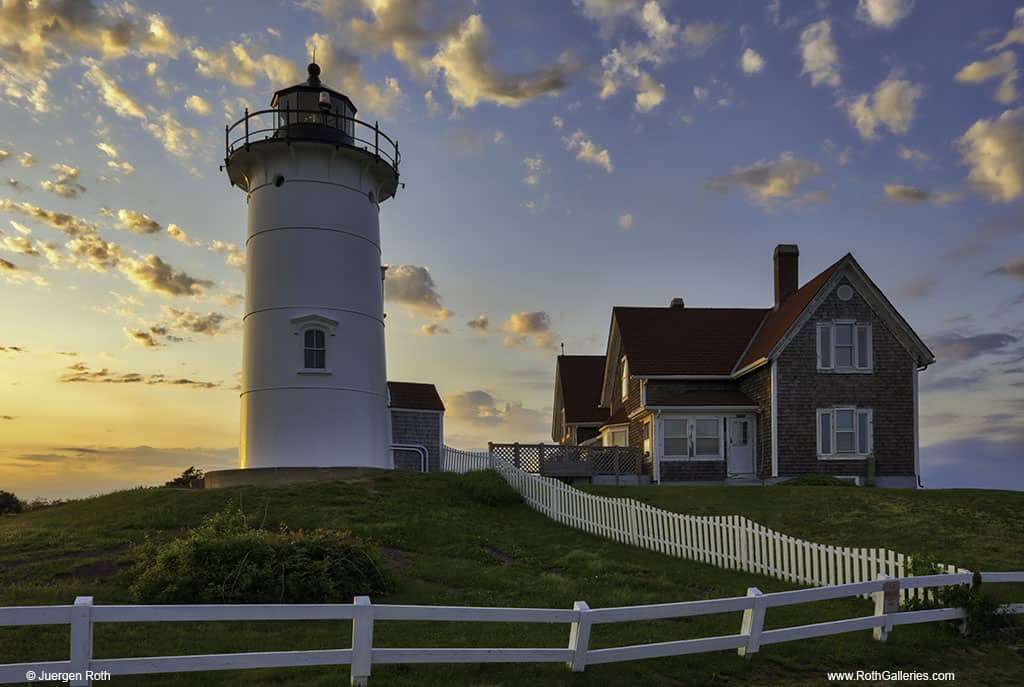 From Nauset Beach Light we travel to Nobska Light in Woods Hole, MA at the southwestern tip of Cape Cod. This beautiful Cape Cod lighthouse leads the way into Buzzards Bay, Nantucket Sound, and Vineyard Sound.
Sunset is a good time for lighthouse photography here. The white fences around this beacon of hope are great foreground elements and can also be effectively used to lead a viewer to the main lighthouse subject.
Scituate Lighthouse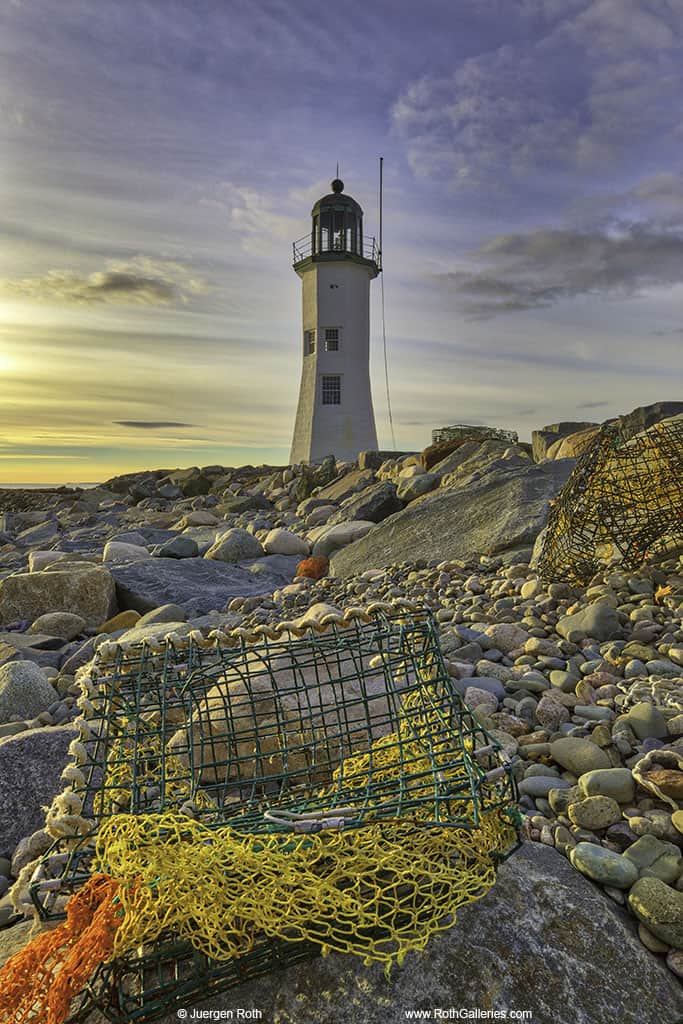 Back on the road up north, we stop at Scituate Lighthouse. This historic lighthouse is in Scituate atop a seawall that can be beautifully used in your composition. Last time I visited, a bunch of washed-up lobster traps made for fantastic foreground elements. Sunset is a great time to visit but don't ditch a full moon rise at this location. It's a real treat!
Minot Ledge Light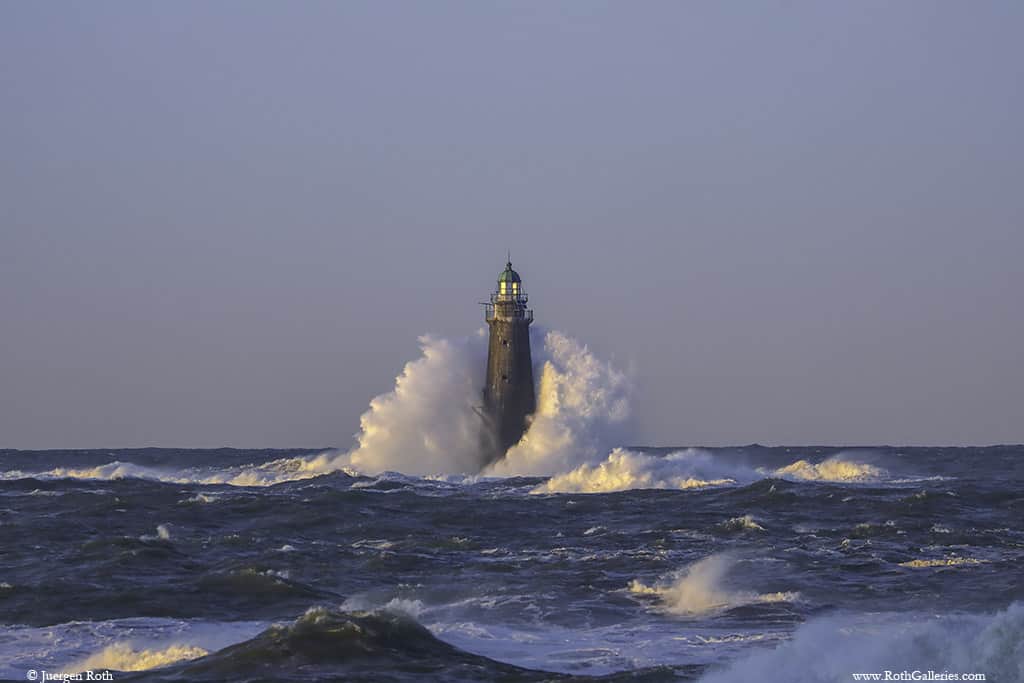 Not far from Old Scituate Light, we find Minots Ledge Light. This one is located a mile offshore has been bracing the waves of the Atlantic Ocean for ages. It's a miracle how the lighthouse withstands the sheer force of nature out in the Massachusetts waters and has not crumbled.
Storm and wave chasers alike love coming here and watching the waves explode around Minots Light. Sunrise and sunset are equally great times to capture this scenic lighthouse.
Boston Harbor Light and Graves Light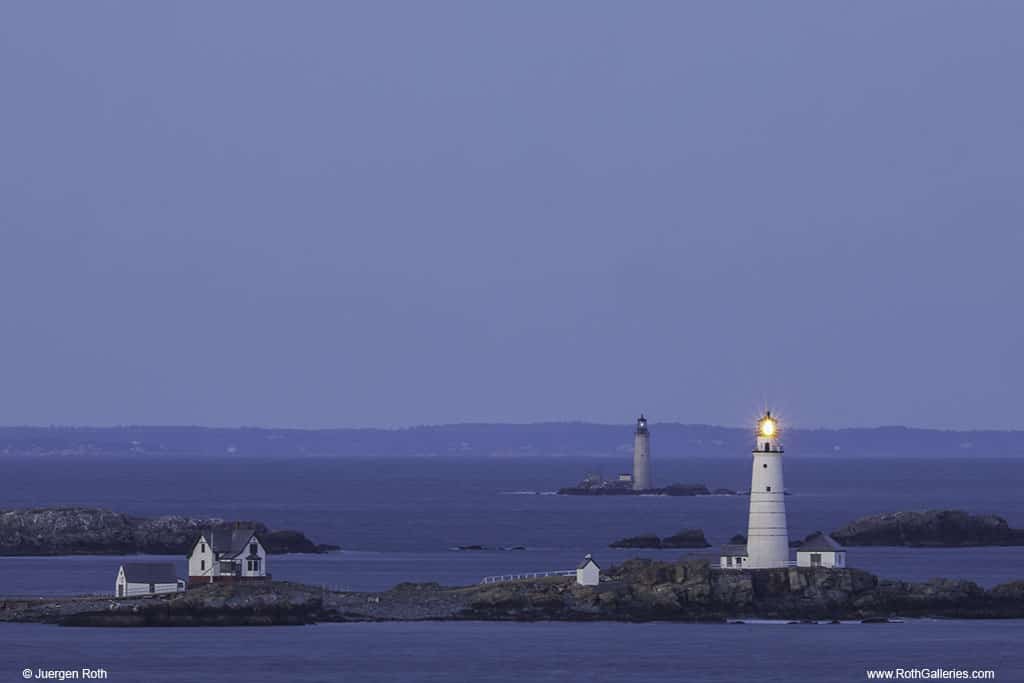 Up the road, there is a great vantage point at Fort Revere Park in Hull, MA to see the Boston Harbor Light and Graves Light in the distance. They beautifully align and great lighthouse photos can be taken.
A long telephoto lens, 600mm and up, is required for a frame-filling image. I find a tripod essential for a stable setup and non-blurry images. Golden hours around sunrise and sunset are both good times to photograph and provide pristine lighting conditions.
Fort Pickering Light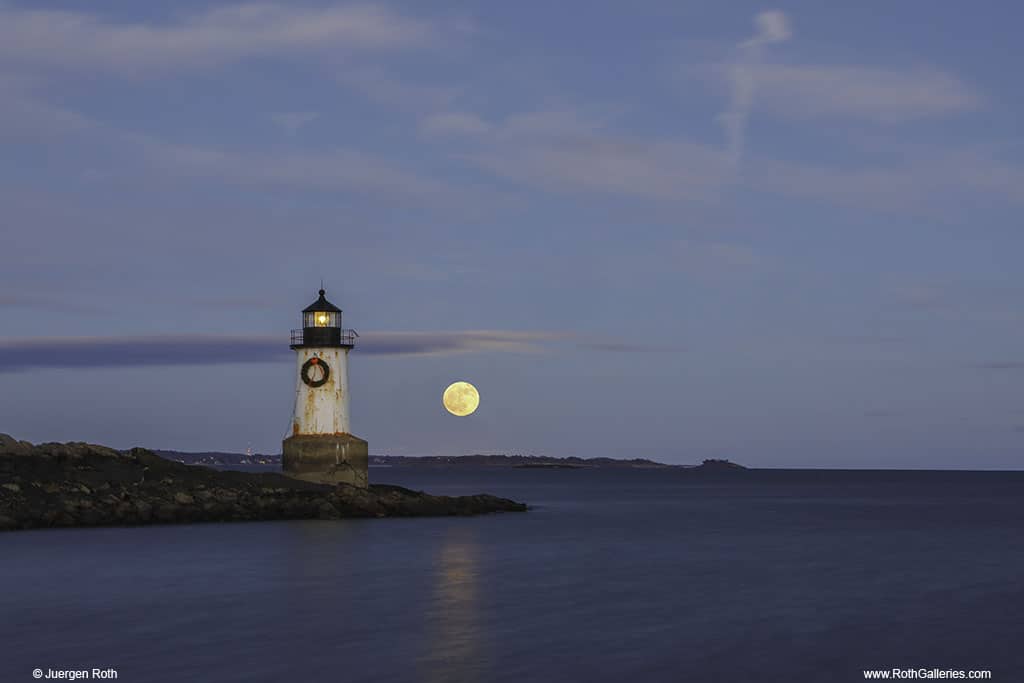 Fort Pickering Light is located on Winter Island in Salem, MA. It safely directs ships into Salem harbor. Sunrise, sunset and moonrise are interesting times to stop here to create lighthouse memories.
Rock and boulders along the island coast are great compositional features while a beautiful view of the lighthouse and waters can be found by exploring the area.
Annisquam Harbor Lighthouse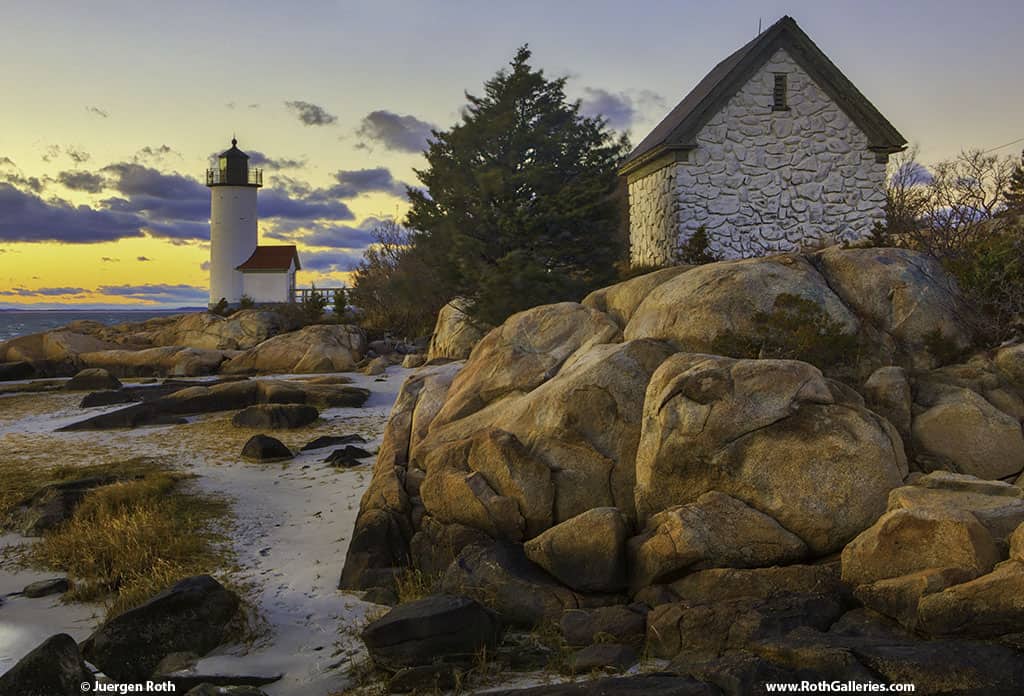 Our New England lighthouse road trip in Massachusetts concludes at Annisquam Harbor Lighthouse on Cape Ann. This lighthouse is a bit tricky to get to and parking is not easy, especially during high seasons.
Early or late arrival are your best chances to secure a spot and to capture beautiful images at dawn, sunrise, sunset and dusk. I love incorporating the wooden boardwalk into a composition and the setting along the rocky shoreline is very scenic.
There are dozens of lighthouses in Massachusetts that are waiting to be explored, hope this article and photos inspire your next visit and adventure.
Good light and happy photo making!
Images and Words by Juergen Roth. Find more of his work here:
Editor's Choice: MA Lighthouses
Sankaty Head Light
Sankaty Head Lighthouse is such an iconic MA lighthouse, and this red and white
Nantucket
beauty was almost tragically lost to the sea. It had to be moved further inland due to accelerated erosion on the bluffs below, and today it is said to be safe for at least another century!
Brant Point Light
The second oldest lighthouse in the USA, Brant Point Light is absolutely adorable! Just 26 feet tall, it's the shortest lighthouse in New England and is a welcoming sight to Nantucket visitors as they enter the harbor.
On the trip away from the lighthouse, it is said you should toss a penny into the sea in hopes a return trip to Nantucket will be in the cards for them… as if lighthouses aren't romantic enough on their own!
---
Read these next:
---
Pin this post to save for later!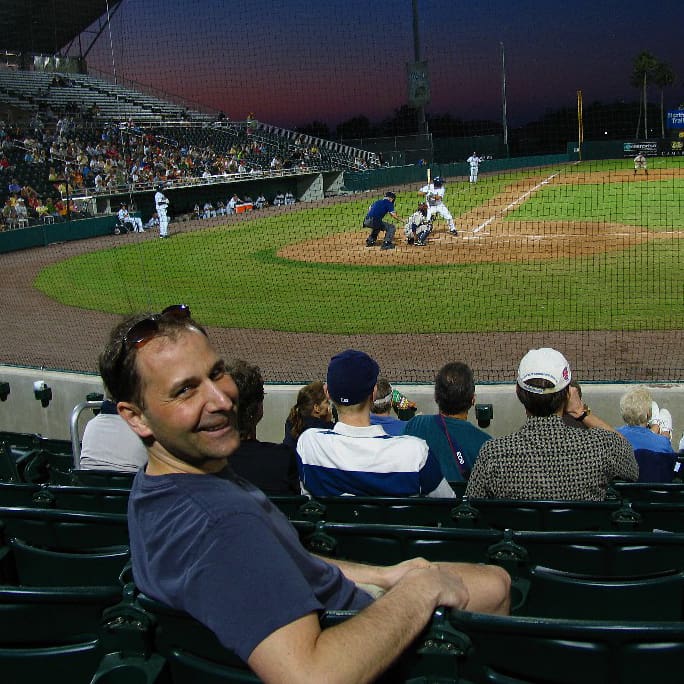 Juergen Roth is a New England and Massachusetts fine art photographer specialized in high-resolution landscape, seascape and architecture photography. His photography images transform walls into art with beautiful, ready-to-hang photo prints and large gigapixel photo murals. Good light and happy photo making! www.RothGalleries.com