The Live Free or Die State certainly has its share of New England hauntings, legends, ghost stories, and paranormal activity. Many of these often spooky tales have been passed down from generation to generation, but where does the truth lie in all of these stories?
I don't know, but I know that if you're looking for haunted places in New Hampshire, you're certainly sure to find them. Tales of intrigue at the sea that ended in tragedy and despair, children who suffered cruel lives that remain shackled to their homes even in death… these are certainly the kinds of things that might leave some residual spirit energy behind!
There are ghost towns, abandoned places, historic homes that have witnessed all facets of life and death in their many years standing. These New Hampshire haunted places are located all around the state, so chances are that if you're ghost hunting in NH, you'll be able to find somewhere to explore near you.
Let's get into it already, the most haunted places in New Hampshire await!
Haunted Places in New Hampshire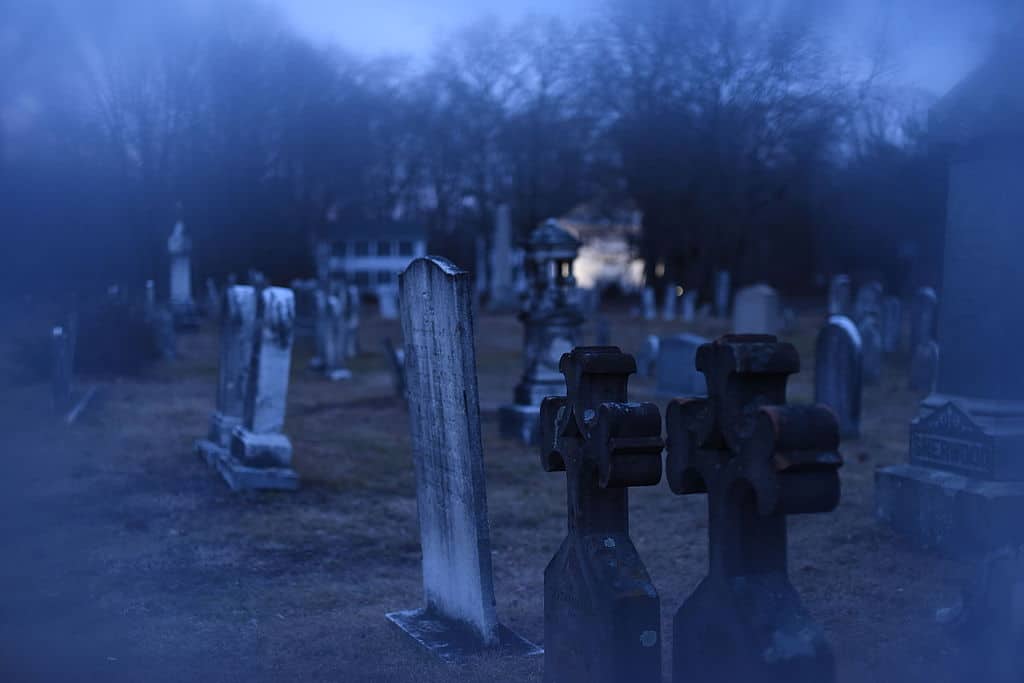 Pine Hill Cemetery, Hollis NH
Looking for a haunted New Hampshire cemetery where paranormal activity seems to run rampant? You'll want to visit Pine Hill Cemetery in Hollis.
Nicknamed the Blood Cemetery after one of its resident spirits, this plot of land was donated in 1769 as space for a new town cemetery.
There are many members of the Blood family that were interred at this haunted cemetery, but it is said to be the spirit of Abel Blood that is unable to rest here. It is rumored that Abel and his wife, Betsy, were murdered, and he continues to wander the cemetery looking for his love.
Another family was alleged to have been murdered near the grounds of the cemetery in the 1800s in a private residence. People have reported a young boy running out into the road beside the cemetery, flagging their vehicle down for help, but when they stop, he disappears.
It's thought that this might perhaps be the boy, still desperately looking for help for his murdered family.
Ghost hunting trips to this haunted cemetery have turned up a significant amount of paranormal activity, including orb sightings, strange sounds on audio recordings, cold spots, and physical sensations while onsite.
There has also been some electromagnetic interference that seems to happen to vehicles as they drive in the vicinity of the cemetery. Car radios suddenly shuffle to old timey stations, gas gauges go wild, and sometimes digital cameras will inexplicably fail to work.
There could be a few spirits still lingering at the Blood Cemetery, so if you're visiting, be prepared to encounter more than one of its spirit residents.
The Chase House, Portsmouth NH
The Chase House in Portsmouth, NH is one of the most haunted places in New Hampshire, and it has a very creepy tale, indeed.
Once a children's home for orphans, there were many young, sad souls who found themselves at the Chase House. One such soul couldn't take it anymore and is said to have hung herself in her room.
Today, it is said that you can hear footsteps moving towards the stairs on the third floor, despite there being no one physically present. There are screams late at night, in a young girl's voice. Electricity flickers on and off aned locked doors somehow unlock themselves.
The most disconcerting, however, may be the visual appearances of the young girl that have been reported. It is said that she can appear in the hallway, but when you approach or call after her, she turns and runs down the hall, seemingly disappearing into thin air.
Does the Chase House remain the home of one of the orphans that lived and died there? For these poor children who had no other home, it could be a comfort that there at least remains one place they can call home.
Read Next: 12 Wonderful Airbnb Portsmouth NH Options
Mount Washington Hotel, Bretton Woods NH
Originally built by Joseph Stickney in 1902, the Mount Washington Resort (now owned by the Omni hotel chain) has always been a fancy place.
Unfortunately, Mr. Stickney died just shortly after his gorgeous hotel was built, devastating his wife Carolyn. It is her spirit that is believed to remain at this haunted hotel, his final labor of love.
Staff members and guests have both reported sightings of the ghost of Carolyn Stickney! She has been frequently sighted looking out over the balcony, and occasionally descending the grand staircase.
Room 314 seems to be another favorite spot of hers as it was once her private suite.
Several guests have reported a ghostly apparition sitting at the end of their bed, brushing her hair. The team behind the Ghost Hunters TV show, TAPS, recorded EVP activity and determined this haunted New Hampshire hotel has definite detectable paranormal activity!
Other unexplainable phenomena has been tubs filling themselves up with water, the sudden waft of perfume, and lights that suddenly turn themselves on and off.
This grand hotel remains just as luxurious as it was when it was built, and perhaps this is one of the things that the spirit of Carolyn Stickney still finds so hospitable.
Click Here to Check Prices & Book!
Margaritas Mexican Restaurant, Concord NH
Have you ever enjoyed your enchiladas with a side of spirits… of the ghostly realm, that is?
Margaritas Mexican Restaurant is said to be quite haunted, and its location used to house something a little different: Concord Police Department!
From 1890 to 1975, the local police department conducted their business in this building, which was also home to jail cells. In fact, you can not only still see the jail cells, you can eat your meal in one!
The ghostly presence at this haunted Mexican restaurant is believed to be named George, and he's a bit of a mischievous spirit, moving furniture, drinking patron's beverages, and even throwing their food!
This sounds like a very unique haunting experience, but dinner with ghosts would be quite interesting! The Northeastern Paranormal Research Society was even able to record some paranormal activity onsite.
Kimball Castle, Gilford NH
Considered one of the most haunted castles in New England, Kimball Castle was built in 1867 for the Kimball Family, its namesake. It changed hands many times throughout the 1900s until it was purchased by the town of Gilford in the early 2000s.
Today, Kimball Castle is being renovated and revitalized, but it is private property… with its very own resident ghost! It is believed to be the spirit of Benjamin Kimball that remains within the castle walls causing a variety of unexplained phenomena.
People have seen a figure moving in the windows, furniture that moves by itself, unexplainable lights, and some have even claimed to have seen the ghostly apparition of Mr Kimball himself!
While you cannot access the actual castle as of this writing, there is an Airbnb on the grounds that is available to rent!
If you are ghost hunting in NH, staying in the Innkeepers Cottage at this haunted castle could be a great way to investigate the paranormal occurrences reported here.
Perhaps you'll see the figure in the window, too.
Click Here to Check Prices & Book!
Read Next: 8 Beautiful Castles in New Hampshire
Amos J. Blake House Museum, Fitzwilliiam NH
Are you interested in haunted museums in New Hampshire? Then you're going to love the Amos J. Blake House Museum!
Built in 1837 as a private home and storefront, this historic property has a very unique history as the son of Amos J. Blake was said to be a prolific hoarder, cramming each of the rooms to the ceiling with his treasured possessions.
While no one has drawn a direct line between the years that this historic property was hoarded and the multiple spirits that are believed to be on the premises, some have speculated if the extreme attachment that was experienced to the physical things hoarded might have extended to the home itself, tying the spirit of Blake's son to this property.
It is said that there are a whopping 11 distinct spirits that still take up residency in this haunted museum that is today, home to a variety of historic exhibits including antique toys, military paraphernalia, even theater costumes. Could the spirits have come in attached to some of these antique items?
There's even a spirit cat on the premises, said to appear and disappear before your very eyes! That would bring the number of declared spirits on the premises up to 12. That's a lot of resident ghosts for one haunted museum!
Tilton Inn, Tilton NH
Looking for haunted inns in New Hampshire? Head to the Tilton Inn in downtown Tilton, NH. Sometimes referred to as "The 1875 Inn," this inn has had a fairly trying and tortured past with not one, not two, but three large fires since being built.
Unfortunately, this did lead to several deaths, and is said to be the reason behind the haunting reported to this day.
Guests of the inn have come across the ghost of a 12-year-old girl named Laura, who reportedly perished in one of the fires in the 1800s while her family wasin residence there. She has been seen all around this haunted inn, in the dining room, hallways, and even the guest rooms.
Paranormal researchers have recorded EVPs of what is believed to be this ghost girl. She has even appeared in photographs!
Laura is said to have retained her playful nature by playing benign pranks, moving things out of place for staff and guests. It seems that passing at 12 has kept this resident ghost forever young.
Click Here to Check Prices & Book!
New Hampshire State Hospital, Concord NH
Known as the New Hampshire Asylum for the Insane when it was built back in 1842, the original building was intended to look like a stately mansion, a welcoming place for families to bring their mentally unstable loved ones.
While it might have been comforting to the family members to imagine their loved ones might find some care on these grounds, the truth was not as pleasant.
The New Hampshire Asylum was more human warehouse than hospital in the sense that we know the word now. It suffered the same fates that many other such institutions did at the time: overcrowded and underfunded, the aim of many such hospitals was essentially to keep the mentally ill away from those who were not, as opposed to any meaningful hopes towards rehabilitation.
Tales stretching all the way to the mid 1900s tell of patients kept confined in metal cages, for lack of a better word, "for their own good," and schizophrenic delusions that were essentially laughed at and ridiculed as opposed to understood.
Today, much of the hospital is abandoned, too far gone to be salvaged, but in its decay, there is said to remain haunted memories of the thousands who languished here. Sounds of former patients are said to still be heard, but in its current state, who is there to hear it?
Likely no more than were there to hear them when they existed in the physical, only to be tucked away and largely ignored by the institution that made no real efforts to treat them.
Read Next: 19 Fantastic Things to Do in Concord NH
Alton Town Hall, Alton NH
One of the most haunted buildings in New Hampshire, the Alton Town Hall is an interesting haunted location because it's still completely operational and in use to this day, and it has consistent reports by staff and visitors alike about its paranormal occurrences!
Disembodied voices and strange sounds have long been reported in the night by security guards on the property, but one of the most unique brushes with paranormal reported happened with furniture being moved.
Up above, employees heard sounds of furniture being moved, but no one was upstairs. When they went to investigate, no one could be found… but the chairs from the courtroom had been removed from the room and placed single file in a row!
No one seems to be able to pinpoint an exact origin story of who exactly is haunting the Alton Town Hall, but its long history of documented unexplainable phenomena suggests that something – or someone – certainly is!
Ocean Born Mary House, Henniker NH
Have you heard of the legend of Ocean Born Mary? This tale begins in 1720, when little Mary was born on the ocean as pirates captured the ship she was born on!
Legend has it that the pirates halted their attack when they heard the newborn's cries, and agreed to set the captives free as long as the newborn was named Mary, after the pirate captain's mother.
Hence, Mary, born of the ocean, was named.
She lived a fairly quiet life, marrying and having children, perhaps having the most exciting thing to her on the very day she was born!
She is buried in the cemetery behind the Henniker Town Hall, and for years and years, people have asserted that the Henniker house in which she lived saw much more excitement than it likely did.
It was said that Mary died in the house, that one of the pirates from the ship had come to visit her and had buried treasure on the property, and that perhaps, her spirit remained tethered to the home.
It eventually came to bear that the fellow who purchased the home after her death saw fit to capitalize on her legendary birth by building on to her story with the tall tales of the pirate visits and her death in the Henniker House.
It's a tangled web to try and follow, but the story of how Mary Wallace received her name is one of the most interesting legends in New Hampshire. Even if the Ocean Born Mary house isn't quite what it might seem!
Isle of Shoals, Portsmouth NH
Buckle up, because this New Hampshire history isn't pleasant, and there were multiple situations that occurred on the Isle of Shoals over the centuries that have created some paranormal angst.
On Smuttynose Island, the Isles of Shoals murders of 1873 was one such tragedy. Three women were brutally attacked in the middle of the night while their husbands were away, with two being horrifically murdered by an ax and the third managing to escape.
The sheer gruesomeness of this double murder was enough to send shockwaves to the tiny seaside communities for generations, and it is said that the spirits of these women remain on the Isle of Shoals, wailing in the winds.
There's also the story of the ghost child of Betty Moody, said to have been accidentally smothered to death in order to keep her silent as Native Americans approached. Could both mother and child's spirits remain?
There are other legends associated with this area as well, and as is the case with most of these islands in the Atlantic, they aren't for the faint of heart.
Read Next: 13 Best Restaurants in Portsmouth NH
Rindge Historical Society Museum, Rindge NH
The Rindge Historical Society Museum moved into its current building in 1995, and that's apparently when all the paranormal activity that this haunted NH location is known for began!
The most common is the random waft of pipe smoke that is experienced here, and it is believed that this could be from the former owner of the home, Pop Allen, who passed in the home in 1975.
Doors open by themselves, lights turn themselves on and off, objects seem to have a mind of their own (especially bells that seem to ring by themselves!), cold spots, and even the very disconcerting sound of children crying!
There have been paranormal investigations at this site, and they have confirmed the presence of multiple spirits at the Rindge Historical Society Museum.
The Inn at Jackson, Jackson NH
This New Hampshire haunted Victorian inn has an interesting claim to fame. It was named one of the 2005 Great Places to Sleep With Ghosts by the website formerly known as BedandBreakfast.com, now known as VRBO!
The hauntings that occur at the Inn at Jackson are believed to be the work of a ghost named Jason, a teen boy who had once been hired by the inn to clean.
The tale states that Jason was a good kid who fell in with a bad crowd, leading him to despair. Jason hung himself in his jail cell after being caught up to no good, but it seems his spirit returned to the inn.
Paranormal activity around the inn has included lights and water turning on and off by themselves, and one guest reported waking up to a metal bucket suddenly appearing by his bed in the middle of the night!
Ghost hunters have speculated that the spirit of Jason might remain at the inn, trying to be of value in the last place he felt good about himself.
Click Here to Check Prices & Book!
Read Next: 15 Fun Things to do in Jackson, New Hampshire
There are many haunted places in New Hampshire, but we've tried to compile the places with the most established paranormal activity and the most compelling stories for you here. If you're going ghost hunting in New Hampshire, be sure to keep your wits about you – there's a lot to be seen, heard, and felt.
You might also like: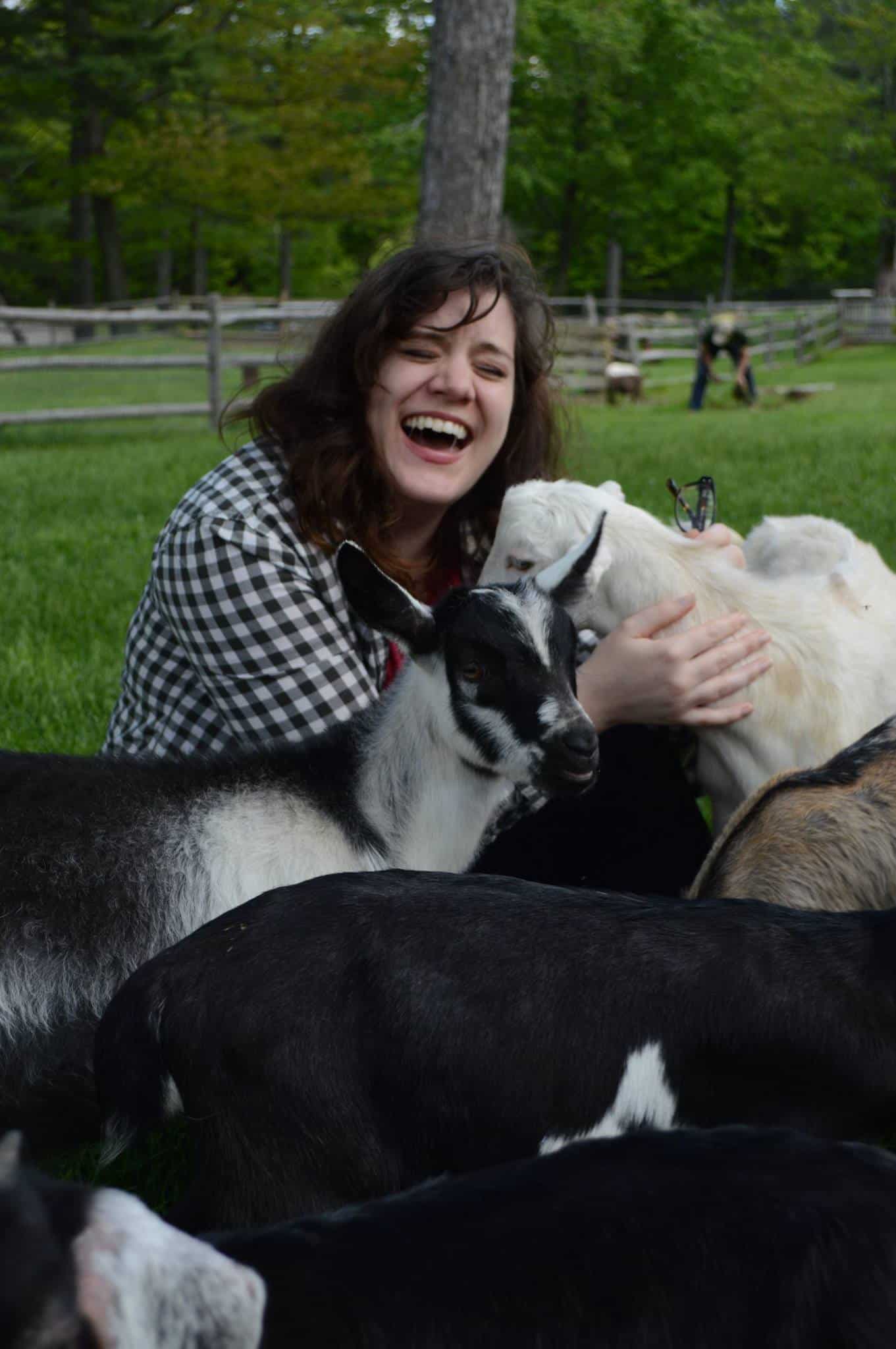 Amy Hartle is the founder and Editor-in-Chief of New England With Love, a comprehensive resource for travel in the New England region. Amy has been exploring New England since 2001. She lived in Vermont for many years and is a graduate of Plymouth State University in New Hampshire. Amy has been writing about travel for over a decade. On this site, Amy aims to share her love of New England and help you to have the best possible adventures!
Amy has been a full time blogger since 2012, and is also the publisher of Two Drifters, where she writes about couples travel and relationships, as well as Let's Adventure Baby, a family travel site. When not traveling the world or creating epic blog content, Amy can be found cuddling with her husband, son, and cats, & drinking a maple latte.