There are places that just seem to invite the paranormal, with long and dramatic histories stretching back over the centuries. New England has plenty of these spots, but some of the most chilling are the haunted places in Rhode Island!
After all, Rhode Island is home to the actual Conjuring House.
Ghost hunters have plenty to explore and investigate in the Ocean State, so if you're looking for abandoned places, ghost towns, haunted inns and more, you're in the right place.
Rhode Island's most haunted places await…
Haunted Places in Rhode Island
Chestnut Hill Cemetery, Exeter RI
We've come a long way in medical advances since the 1890s, but at the time, we didn't understand what drove disease and death in the same ways we do today.
Hence, the tragedy that happened at Chestnut Hill Baptist Church Cemetery at the beginning of a tuberculosis epidemic.
For one Exeter family, the disease first claimed the mother, Mary Brown. Then it spread to her eldest daughter, also named Mary Brown. Shortly afterwards, it took the younger daughter, a teenager by the name of Mercy Brown.
Next, it was the family's son Edwin that would come down with the "mystery illness," the same highly infectious tuberculosis that had already taken the mother and two daughters to an early grave.
At this point, the townsfolk believed that there was a supernatural cause of the Brown family's lot, and that they needed to exhume the bodies of the previously departed Brown's to see if they were vampires, preying on the living members of the family.
Yeah, I know.
Mother Mary Brown and her eldest daughter were fairly decomposed, having been buried for several months in the elements.
Mercy Brown, however, had died in the winter, and it is said she was either kept in a crypt or buried in frozen ground. Can you imagine what the state of the remains in Mercy Brown's grave might have been?
Finding fairly little decomposition compared to her mother and sister, the townsfolk were quick to point the finger at the teen as being a vampire, coming back to life each night to prey upon the townspeople.
As was the custom of the time, Mary's heart was removed from her body and burnt so that the ashes could be made into a tea and given to the sick to "cure" them. Her brother Edwin died despite this "treatment," just a short while after.
A victim of the Great New England Vampire Scare, Mercy Brown's final resting place and her remains were not treated with the respect and honor that they deserved, and some believe that her spirit still walks this cemetery at night, unable to rest.
Fort Wetherill, Jamestown RI
One of the more off-the-beaten-path things to do in Jamestown, the historic remnants of Fort Wetherill are now the sight of some of the spookiest abandoned remains in Rhode Island!
A site of military significance stretching all the way back to the late 1700s, this military fort was established in the late 1800s and in service through both world wars before being formally retired from military use.
The ghost sightings at this historic military fort are a little unique, as they aren't human!
The story goes that when the British took hold of this fort in 1776, they were frequently terrorized by a black dog that would growl and bark at them.
Today, visitors to Fort Wetherill will occasionally still see this dog, glaring and staring them down before turning away and seemingly walking through a wall! It has also growled and barked at people.
Seems this dog isn't done protecting the fort!
The Ladd School, Exeter RI
Founded in 1908, the Ladd School for the Feeble-Minded was tasked to care for those who had no other place in society at the time, including those who were mentally ill, had developmental delays, learning difficulties, criminal histories, and even occasionally, people who simply operated outside of cultural norms, like women who got pregnant out of wedlock or who had extramarital affairs!
The Ladd School suffered from many of the same things that other state schools at the time did, such as overcrowding, underfunding, sanitation and health struggles, and horrific standards of care like forced sterilization.
This wasn't a pleasant place for most, but for some, it was downright hellish.
In 1955, a developmentally delayed 9 year old patient was brutally murdered by a 20 year old patient, sending shock waves through the community and forcing Dr. Ladd himself to resign in 1956.
At this point, the school was now on the community's radar, and allegations of abuse, neglect, and overall horrific living conditions were being made public, and investigations revealed these to be true.
Even so, the Ladd School didn't shut its doors entirely until 1986!
Today, it is said that this abandoned building retains the home of many disembodied spirits who spent their lives there, with a variety of paranormal phenomena being reported over the years.
Visitors hear phantom footsteps in empty rooms, murmuring voices and whispers, even the sounds of crying. In the field surrounding the abandoned building, orbs of light have been photographed, dark shadows are seen moving with no one and nothing around, and car radios and alarms seem to go haywire.
Are some of the former residents of Ladd School unable to move on from this space?
The Conjuring House, Burrillville RI
The real life house that the film, The Conjuring, was based on, The Conjuring House is not for the faint of heart. Built in 1736, there have been many, many MANY years for history to be made – and perhaps attached, to this historic homestead.
Records of the supernatural events that took place at this haunted property began with the book that the movie would later be based on, written by a member of the Perron family who lived there between 1970 and 1980.
Paranormal experts Ed and Lorraine Watson were able to ascertain that the dark spirit of Bathsheba Sherman remained at the Perron House, and she had a very sinister past: she murdered her daughter and hung herself as a part of a ritual to bind her soul to the home.
Work has been done to separate her soul from the property, but there are other spirits that remain onsite, and you can see for yourself with guided tours and overnight stays at this haunted attraction.
Many visitors hear footsteps, see orbs of light, and some even see ghostly apparitions. This is technically a private residence, so you cannot arrive unannounced. Make a reservation and you two can stay a night at one of the most haunted locations in Rhode Island.
The Biltmore Hotel, Providence RI
Now known as The Graduate Providence, this historic hotel has been named one of the most haunted hotels in the United States many times over the years!
The Biltmore Hotel was a very ritzy place to stay in Providence when it opened in 1922, and it is said that it attracted a variety of colorful characters, including mafia leaders during the Prohibition Era which happened to coincide with numerous unexplained murders.
However, there's a little darker history that is said to have happened at The Biltmore, too.
Legend states that the construction of the Biltmore was financed by a man named Weisskopf, who was allegedly a Satanist and held Satanic rituals inside the hotel.
And if that isn't disturbing enough, when the stock market crashed and set off the Great Depression, Weisskopf was rumored to have jumped out of the window of his room on the 14th floor.
Many odd happenings have been reported by staff and guests alike over the years, including the sounds of laughing and partying coming from vacant rooms. This is one of the most haunted hotels in Rhode Island, and seems it could be that some of its guests just never wanted to check out!
Click Here to Check Prices & Book!
Cumberland Public Library, Cumberland RI
Also known as the Edward J. Hayden Library, the Cumberland Public Library is said to be haunted by a somewhat unusual spirit… that of a phantom monk.
This historic property was once the site of a Cumberland monastery, so perhaps this isn't too farfetched.
Other paranormal activity that has been reported onsite includes disembodied screams and items that seem to move by themselves from one place to the next! The ghostly monk might be moving books around, but where would the screams be coming from?
Locals believe these are the restless spirits of the nine militiamen who met their untimely deaths at the hands of Native Americans on these grounds so many years ago.
Their causes of death were particularly gruesome: they were flayed to death. This could certainly be a reason they simply cannot move on!
White Horse Tavern, Newport RI
Originally constructed in 1652 and in operation since 1673, the White Horse Tavern is the oldest restaurant in the nation. In fact, it is the tenth oldest in the world!
Both the interior and exterior of this historic property maintain the colonial-era design, with oil lamps and candles to light the tavern and a distinctive gambrel roof.
A National Historic Register of Historic Places designated space, there is a lot of history that the walls of this tavern have seen!
One particular guest at this historic tavern passed away in his sleep in the 1720s, and believing that he could have brought whatever contagious ailment to the two female workers of the tavern, they were sent away to a quarantine island.
The two contracted smallpox while on the island (imagine that!) and only one survived. Today, it is believed that the man who passed in his sleep as well as one of the women may be resident spirits of the tavern.
The man has been seen dressed in Colonial attire as would be appropriate for the 1700s, and the woman has been seen floating above the dining room table. It is said that one spirit has even been known to tap staff on the shoulders to alert them occasionally, supposedly acting as a second guardian of the tavern!
There have also been reports of a little girl heard crying upstairs near the restrooms, but no one knows what her origin story may have been.
All in all, a visit to this historic tavern should be in order not just for ghost hunters, but for lovers of American history, as well!
Nathanael Greene Homestead, Coventry RI
This incredibly preserved historic Rhode Island gem is not just a fine example of a well crafted homestead from the Revolutionary Era, it's also one of the most haunted places in Rhode Island!
The Nathanael Greene Homestead is named after its illustrious owner of the same name, a General in the Continental Army. While nothing particularly traumatic or harrowing has been recorded as occurring on these grounds, there has been paranormal activity regularly reported here over the years.
Visitors and staff of this historic home have seen apparitions, heard disembodied voices, and occasionally footsteps in rooms that are uninhabited by physical people.
The really interesting unexplained phenomenon on this particular haunted property is the sound of horses pulling a carriage outdoors! Is someone still returning home to the property after all these years?
Even if you don't experience any ghostly sightings or sounds during your visit, this historic property is still a worthy place to add to your RI haunted bucket list!
City Hall, Providence RI
Did you know there are ghosts at city hall? In Providence, Rhode Island, there are, anyway!
It is said that 12 workers lost their lives in the building of this formidable structure, but other than that, it's had a relatively uneventful run since its first cornerstone was laid in 1875. It has seen many big historical names come through its doors, such as Presidents Teddy Roosevelt and John F. Kennedy, but otherwise, it's just been business as usual at the Providence City Hall.
Well, except for all the paranormal activity and ghost encounters that staff and visitors have reported over the years!
Footsteps are heard in hallways with no one present, and the smell of a burning cigar seems to waft near staffers' desks despite there being no one smoking on the premises. Chairs sometimes move on their own, a random chill or cold spot appears, and sometimes papers seem to be mischievously misplaced.
Disembodied voices come out of nowhere, and there have even been several that have reported a ghostly apparition of a man wearing a tall Abe Lincoln style hat.
The SyFy show Ghost Hunters even did an episode here in season 8, titled "City Hell."
The Hotel Viking, Newport RI
How about another haunted Rhode Island hotel? This one is located in Newport, where there has always been quite the party scene for those with loads and loads of money to spare, and this haunted RI hotel was one of those spots!
The Hotel Viking is believed to be haunted by "residual hauntings," the energies of those who once attended the lavish gatherings hosted here during Newport's Gilded Age.
It's even been said that it could be because these entities enjoyed their time here so very much in life, that they might like to come back and visit in spirit form, too. Sounds of a raucous party happening above one of the old ballrooms has even been reported by both working staff and guests who have been awakened by the ruckus.
Other paranormal activity reports have included cold spots, footsteps, and flickering lights, but the only way to really know for yourself is to book yourself a stay at this haunted Rhode Island hotel, right?
Click Here to Check Prices & Book!
Old Slater Mill, Pawtucket RI
The Old Slater Mill is considered to be the birthplace of the American Industrial Revolution, and today it is a history museum and on the National Register of Historic Places.
It is also one of the most haunted places in Rhode Island.
This historic textile mill complex dates back to the late 1700s, and it was very dangerous work. Not only was it dangerous for the adults who worked there, but it was very, very dangerous for the children who were employed at this historic mill.
Due to their small size, children were often sent in to clean out the machines when they would jam, and it was not uncommon for children to lose a finger, a hand, or even their life while doing so.
The History Channel interviewed staffers in their documentary short titled "The Ghosts of Slater Mill," and there have been reports of hearing a child's screams, only to search far and wide and not find any children on the premises.
One staffer reported feeling as if she had walked into an argument of some sort as she moved into one of the rooms, and she described feeling as if one of the entities in the argument essentially turned his vitriol onto her, and as she left the room, she felt as if she had absorbed some of this misplaced rage herself.
There aren't any exact counts of how many men, women, and children perished while working at this historic mill, but it seems as though there are some who have not completely passed over and left the place of their death.
If you find yourself in the Pawtucket area, be sure to add a visit to this haunted mill to your list.
Rose Island Lighthouse, Rose Island RI
What would a list of haunted places in New England be without a haunted lighthouse? The Rose Island Lighthouse is a historic lighthouse that dates back to 1870, with many generations of lightkeepers keeping the lights on, so to speak.
Over the many years of lightkeepers, it only stands to reason that there might be a strong attachment between lighthouse and lightkeeper, and it seems that that is the case on Rose Island.
Most of the paranormal activity reported at this haunted lighthouse is attributed to former keeper Charles Curtis, who many say can still be seen tending to the light, or at least, his footsteps can be heard making their way up to the light and back down.
The interesting thing about this particular haunted lighthouse is that you can reserve it for an overnight stay! That's right, you can stay overnight and do your own paranormal investigations.
When Ghost Hunters visited this haunted Rhode Island property, they heard disembodied voices, experienced doors that opened and closed by themselves, and even saw unexplainable flashes of light.
Would you be willing to stay overnight in a haunted lighthouse?
Belcourt of Newport, Newport RI
Located on Bellevue Avenue, this distinguished and stately mansion holds a secret as grand as it is: it's haunted.
The Belcourt of Newport has had quite a few interesting paranormal experiences reported onsite, with one notable report of a man who seemingly turned and walked right through a wall… only for the owner to later learn during remodeling that there used to be a door exactly where the figure went through!
Another unique situation occurred with an unusual item that appears to be haunted: a suit of armor!
The story goes that as she was turning off lights, she passed by the suit of armor, only to hear something scream at her from the armor, with a loud, roaring yell. The lights flickered back on and as she reached back out to turn them off again, the armor screamed yet again.
She reportedly fled, saying it sounded as if someone was being killed!
It's not know what may be being the haunted suit of armor, but it seems as though something horrible must have once happened to its wearer, and perhaps, it hasn't let them leave yet.
A group of Girl Scouts once reported that they saw the same suit move. Clearly, something remains in this haunted suit of arms.
You can read more about the Ghosts of Belcourt Castle as compiled by the former owner for even more ghostly encounters in this Newport mansion.
Read Next: Newport RI Mansion Tours: Everything You Need to Know
If you are brave enough, there are plenty of real-life haunted places in RI. Some have witnessed tragedy and loss, and others, dark and sometimes sinister energies.
If you're the type of person who prefers to ghost hunt for themselves, this is a great place to start. Happy hauntings!
You might also like: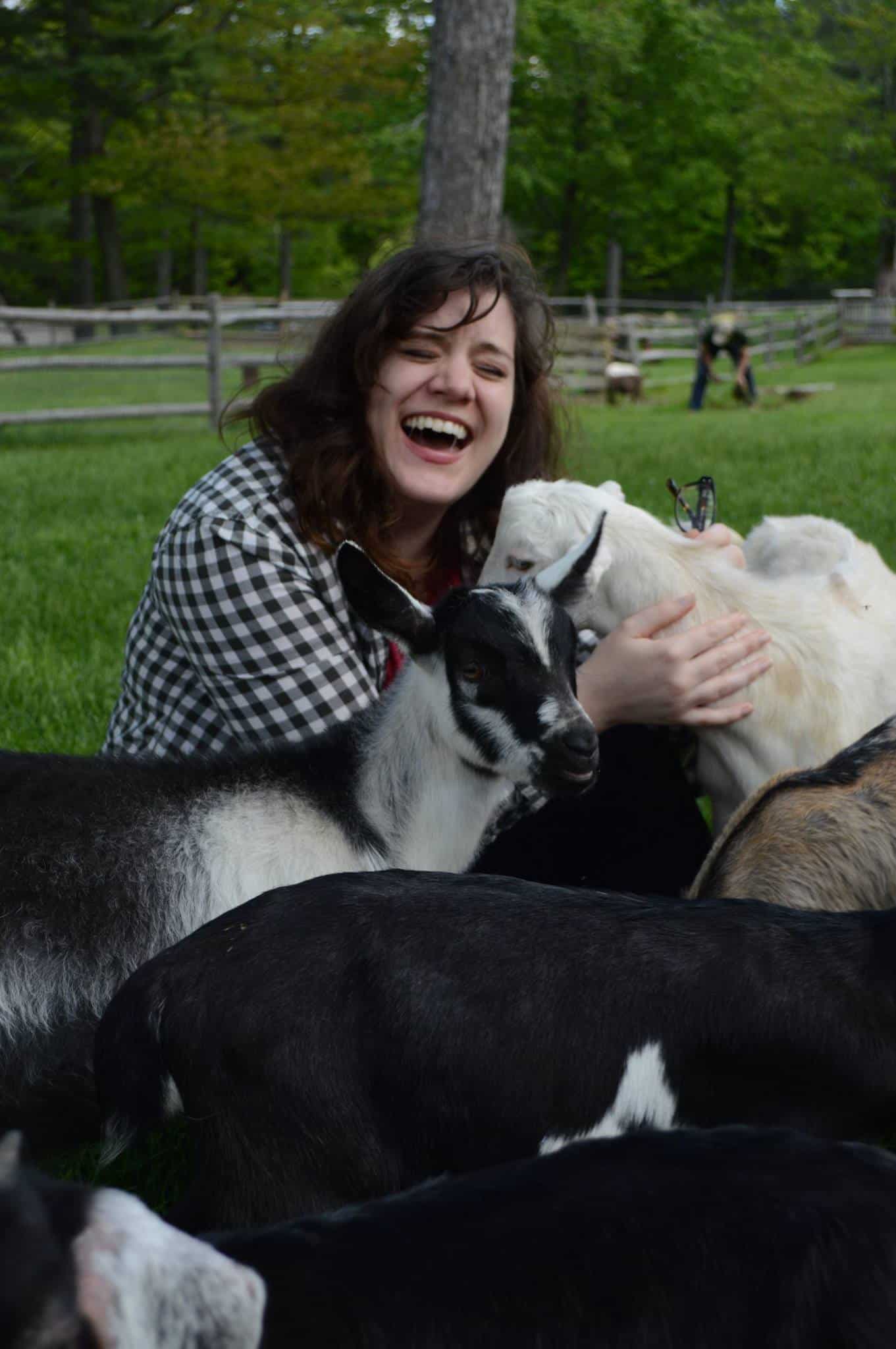 Amy Hartle is the founder and Editor-in-Chief of New England With Love, a comprehensive resource for travel in the New England region. Amy has been exploring New England since 2001. She lived in Vermont for many years and is a graduate of Plymouth State University in New Hampshire. Amy has been writing about travel for over a decade. On this site, Amy aims to share her love of New England and help you to have the best possible adventures!
Amy has been a full time blogger since 2012, and is also the publisher of Two Drifters, where she writes about couples travel and relationships, as well as Let's Adventure Baby, a family travel site. When not traveling the world or creating epic blog content, Amy can be found cuddling with her husband, son, and cats, & drinking a maple latte.