*This site uses affiliate links; if you make a purchase through these, I may receive a small commission at no cost to you.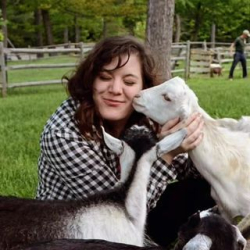 Latest posts by Amy Hartle
(see all)
Apple picking in New England is synonymous with classic fall family fun. It's without a doubt one of my favorite New England autumn activities, if not one of the best things to do in New England overall!
I've spent time reviewing, visiting, and compiling lists of the best apple orchards in New England for each state. You can find those individual state lists below. But if you're looking for the overall top spots for New England apple picking, I've included my favorites in this article from each state.
Top New England Apple Picking Spots
Holmberg Orchards – Gales Ferry, CT
Looking for a New England apple orchard that has fall fun with a twist? Holmberg Orchards in Gales Ferry, Connecticut may fit the bill! Not only will you find plenty of PYO apples at this lovely New England orchard, but in addition to the other standard farm market goodies like pies and muffins, you can also pick up some of Holmberg Orchard's hard ciders and wines! Some years they even offer a wine maze, the perfect adult fall fun activity.
Applecrest Farm Orchards – Hampton Falls, NH
Applecrest Farm Orchards has a long history of offering some of the best apple picking in New England; in fact, it claims to be the oldest continuously operated apple orchard in America! This adorable New England apple orchard goes all in on fall activities with fall festivals, live music, tractor rides, and so much more. This is the place to go for the full family fall apple orchard experience in New England!
Dame Farm and Orchards – Johnston, RI
Dame Farm and Orchards in Rhode Island offers great New England apple picking, with a beautiful twist! Not only can you pick your own fresh New England apples, but you can also cut your own zinnias, dahlias, and sunflowers in their gorgeous flower fields. Add in the wagon rides and your fall in New England experience is complete!

Honey Pot Hill Orchards – Stow, MA
Mazes, hayrides, farm animals, PYO apples: Honey Pot Hill Orchards has everything you would look for for an idyllic fall afternoon in New England. They actually have several different corn mazes to tackle, including The Big Green Monster Maze, that is a mile and a half long!
In addition to the fall activities, they have apples galore and all the products you're after, such as cider donuts and apple cider slushies.
If you want to get really excited for the coming fall season, I suggets you pop over to the orchard's website. They have a really beautiful site that just SCREAMS fall in New England.
Libby & Son U-PICKS – Limerick, ME
Libby & Son is currently nominated for the top 10 apple orchards in the USA! That's a pretty big honor, and it's no surprise, then, that it's one of the best apple orchards in New England, too.
This place is all about the pickin'; not just apples but berries, plums, and peaches, too. It's a "fruity family fun experience!"
As you stroll through the picking fields, you can often hear the sounds of live music! Afterward, enjoy some of their delicious homemade donuts. They don't just have apple cider donuts but also blueberry, strawberry, and Red Velvet! Plus fresh smoothies and hot kettle corn. Who's hungry?
Hackett's Orchard – South Hero, VT
So many of my Vermont friends have cited Hackett's Orchard as one of the top VT apple orchards. Located in South Hero, Hackett's grows 47 varieties of apple and have been doing so since 1967. In the fall, you can pick your own apples every day as well as enjoy all the traditional fall farm activities like hay rides. They also have a playground and picnic area–ideal for kids! If you love apples, this is the place. Hackett's has cider donuts, cider slushies, and other appley treats to enjoy.
While you're visiting, you can pick up some hardy mums for your fall home decor, or grab a bottle of Vermont maple syrup. Not around in the fall? In other months you can sample their other harvests, including plums, blueberries, peaches, and raspberries.
For the latest check out their Facebook page.
Mack's Apples – Londonderry, NH
You can't have a list of New England apple orchards without including Mack's. This is one of the best known, and with good reason.
Mack's Apples has a deep history in New Hampshire. As an 8th-generation family farm, Moose Hill Orchards, home of Mack's Apples, is the oldest single family-run farm in New Hampshire. That's pretty awesome. 100 of their 400 acres are dedicated to apple trees.
Stop by for pick-your-own apples, a sprawling pumpkin patch, an ice cream stand, farm market, and a general feeling of a classic New England autumn down on the farm.
Bracketts Orchards – Limington, ME
Bracketts Orchards in Maine has it all: apples, cider, apple cider donuts, a Mr. Apple Slingshot and even an apple-themed train for the kiddos to ride! If you're looking for a great New England apple orchard to take the kids to, definitely consider beautiful Bracketts Orchards.
Jaswell's Farm – Smithfield, RI
According to their website, Jaswell's Farm lies in the heart of "apple valley" in Smithfield, Rhode Island. They are proud to be the oldest operating apple orchard in Smithfield, run currently by the 4th generation of the Jaswell Family.
You can arrange special tours at this working farm, giving visitors an inside look at how it operates, and seeing how items such as apple cider are made.
The farm market is bursting with the fruits of the land, so pay a visit and find your favorite items freshly grown. Apple picking is available in September and October.
Shelburne Farms – Shelburne, VT
One of the best apple orchards in New England close to Burlington, Shelburne Farms is a 60-acre New England apple orchard that specializes in PYO apples, but also another cool apple-related specialty: apple brandy! You can find nonalcoholic apple cider, too, but apple brandy fresh from the orchard? That's a pretty neat New England apple orchard offering!
Cider Hill Farm – Amesbury, MA
Once named the best apple picking spot in North America, Cider Hill Farm is one of the best apple orchards in New England, hands down. This beautiful farm offers PYO apples, farm animals to visit, festivals, a farm store, and so much more. Cider Hill Farm is a great New England apple orchard to visit for the perfect fall family experience.
Lyman Orchards – Middlefield, CT
Lyman Orchards in Connecticut is New England apple picking at its finest. Pick your own apples then swing by Lyman Orchards Creamery for a scoop or two of delicious New England soft serve. Don't forget to check out the corn maze during your visit!
Did I miss one? What is your favorite apple orchard in New England?
---
Read these next:
---
Pin this post to save for later!