When autumn arrives in New Hampshire, it's the best time of year. There are so many things to do, places to go, and gorgeous sites to see.
Fall activities abound in every New England state, and to celebrate the season, New Englanders and travelers take time to participate in quintessential fall fun. One of the best ways to enjoy fall is by picking your own apples.
New England is filled to the brim with apple orchards, but today, we're specifically highlighting New Hampshire apple orchards.
Ready to gather a bushel or a peck under a September sun? Here are the top places to go apple picking in NH.
Apple Picking in NH
Mack's Apples – Londonderry, NH
You can't have a list of New Hampshire apple orchards without including Mack's. This is one of the best known of all the apple orchards in New Hampshire, and with good reason.
Mack's Apples has a deep history in New Hampshire. As an 8th-generation family farm, Moose Hill Orchards, home of Mack's Apples, is the oldest single family-run farm in New Hampshire. That's pretty awesome. 100 of their 400 acres are dedicated to apple trees.
Stop by for pick-your-own apples, a sprawling pumpkin patch, an ice cream stand, a farm market, and a general feeling of a classic New England autumn down on the farm.
Gould Hill Farm – Contocook, NH
Want beautiful mountain views while you're apple picking in New Hampshire? Gould Hill Farm is a spot to consider! Many varieties are grown here, available to pick from Labor Day Weekend through mid-October. Other fruit picking is available seasonally.
When it isn't the busy apple harvesting season, the farm is an idyllic place for an apple orchard wedding and they offer many special touches for weddings and other events.
During your visit, don't miss their crisp, hot apple cider donuts (which I've had myself and can attest are AMAZING), and their other baked goods. They've also got an onsite hard cider tasting room.
Applecrest Farm Orchards – Hampton Falls, NH
What a perfect fall spot. Applecrest Farm is the oldest continuously operated apple orchard in America. According to their history, visitors from Boston used to ride the "apple train" from Massachusetts up to this Southern NH apple orchard.
Applecrest embraces the fall season, holding fall festivals every weekend throughout September and October. There, families can enjoy an amazing array of fall activities and offerings. The list is HUGE but includes things such as free live music, free tractor rides, a bouncy house, face painting, cider donuts (of course!), barnyard animals, food trucks, a beer garden, and more. I'm not sure why you're still reading. Go visit this place!
Windy Ridge Orchard – North Haverhill, NH
Have a pup you want to take out for some fall fun? Here is a dog-friendly place for New Hampshire apple picking: Windy Ridge Orchard. Keep in mind that your pup will not be allowed in the actual orchard, though. This spot is farther north, up near the White Mountains, so you'll get some gorgeous mountain views while picking your apples!
Offering 18 varieties of apples, picking is generally available from the end of August through early October, depending on Mother Nature, of course. After gathering your fruit, visit their sweet barnyard animals and enjoy a homemade meal at the Cider House Cafe.
Windy Ridge is also a Christmas Tree farm, so make plans to return for festive fun in December!
Riverview Farm – Plainfield, NH
A themed corn maze awaits you each fall when you visit Riverview Farm. Cool off after your maze adventure with some of their fresh-pressed cider (100% solar-powered, too!).
This is a great fall fun destination in New Hampshire that provides everything you want in a fall weekend: a pumpkin patch, a picturesque barn store, and horse-drawn wagon rides up to the apple orchards. Autumn bliss! Don't forget your camera.
DeMeritt Hill Farm – Lee, NH
A popular New Hampshire apple orchard for those looking for great fall activities to do during their day out apple picking, DeMeritt Hill Farm in Lee is always a good choice. There are lovely trails to walk, ponds to admire, tractor rides, farm animals to visit, and of course, apples to pick! If you like spooky fall activities, DeMeritt Hill Farm also hosts a Haunted Overload attraction for Halloween!
Meadow Ledge Farm – Loudon, NH
Are you looking for the home of the best apple cider donuts in New Hampshire? Perhaps it is Meadow Ledge Farm, which is regularly found on such lists, but you'll have to come taste them and decide for yourself!
This classic New Hampshire farm has 40 varieties of apples, plus lots of other fresh farm produce and products. On the weekends, there is often live music on the farm, so you can pick apples and sip cider with a pleasant soundtrack. How's that sound for NH fall fun?
While you're visiting, grab your fall mums, pumpkins, and cornstalks, too.
Carter Hill Orchard – Concord, NH
Carter Hill Orchard has deep New Hampshire roots; there has been an active orchard here since the 1700s. Today, it's a pick-your-own spot with apples, blueberries, and peaches. It's also home of New Hampshire Cider Works and a thriving bakery. Need pumpkins? Step into their festive "Hall of Pumpkins." All the apple and fall goodness you are looking for this season can be found here at this New Hampshire apple orchard.
Currier Orchards – Merrimack, NH
If you are looking for a picturesque apple orchard in New Hampshire to go spend a fall day, then check out Currier Orchards in Merrimack. This family-owned apple farm is popular for its friendly down at the farm vibe, and its delicious selection of home-baked pies, the perfect addition to any fall day out!
Washburn's Windy Hill Orchard – Greenville, NH
One of New Hampshire's most popular apple orchards for family fun activities, Windy Hill Orchard is the place to go if you're looking for a great place to take the whole family apple picking! There are adorable farm animals, hay rides to the apple orchards, a corn maze, and a fantastic farm shop and bakery where you can sample one of their most popular offerings: the fresh baked apple cider donuts!
---
You might also like:
---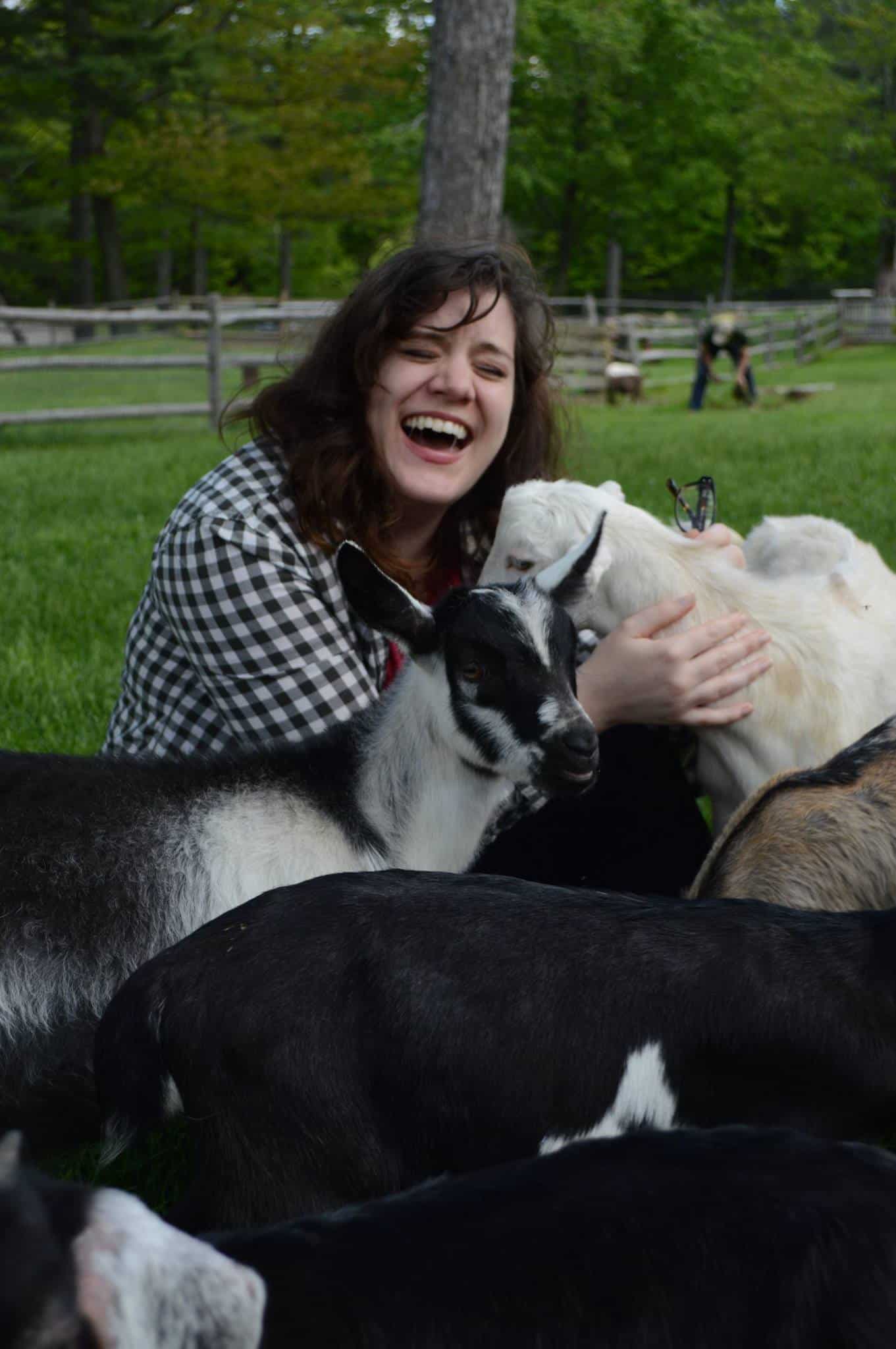 Amy Hartle is the founder and Editor-in-Chief of New England With Love, a comprehensive resource for travel in the New England region. Amy has been exploring New England since 2001. She lived in Vermont for many years and is a graduate of Plymouth State University in New Hampshire. Amy has been writing about travel for over a decade. On this site, Amy aims to share her love of New England and help you to have the best possible adventures!
Amy has been a full time blogger since 2012, and is also the publisher of Two Drifters, where she writes about couples travel and relationships, as well as Let's Adventure Baby, a family travel site. When not traveling the world or creating epic blog content, Amy can be found cuddling with her husband, son, and cats, & drinking a maple latte.