*This site uses affiliate links; if you make a purchase through these, I may receive a small commission at no cost to you.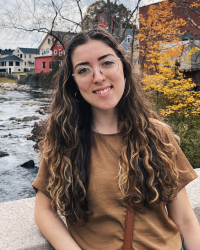 Latest posts by Jessica Vaillancourt
(see all)
Are you looking for fun things to do in Nashua NH? Having been born and raised in Southern NH, I've got your back!

Close to the MA border, this old mill city in Southern New Hampshire is the second-largest in the state and is rich in regional history. With an energy similar to Manchester, its twin city, Nashua has a wide range of options for dining, shopping, and entertainment. It also has a revitalized, vibrant downtown area that many young NH professionals have begun flocking to.
While Nashua is urban, it manages to serve up some fantastic green spaces and neighborhood feels. You can find the best of both worlds here. So check out our list of fun things to do in Nashua NH and find out what it has to offer!

Things to Do in Nashua NH
Explore the trails of Mine Falls Park.
If you're a fan of cities like Nashua where nature is never out of reach, a visit to Mine Falls Park is just the thing. This 300-acre urban park at the heart of the city is perhaps one of the most beloved assets residents have at their disposal.
With almost 10 miles of various trails to choose from, you can walk through the quiet forest along serene rivers, bridges, and the canal. It's the perfect outdoor getaway without ever having to leave the city limits.

Go indoor skydiving at SkyVenture.
Are you terrified of jumping out of a plane? Yeah, me too. Lucky for those of us who like a good adrenaline rush, without having to put our lives in the hands of fate, you can take a trip to SkyVenture for some indoor skydiving.
All you do is put on the suit, step inside the vertical wind tunnel, and float above the trampoline floor like a dive-bombing eagle. I can't guarantee you'll look as graceful, but you'll definitely have fun.
Have a Bite & a Brew at Millyard Brewery.
One of the most popular breweries in Nashua NH, there's always something fun happening over at Millyard Brewery! With Trivia Nights, live music, and alternating specials throughout the week, people love the craft brews, the delicious pub style foods, and the general atmosphere of fun always being served up at this popular Nashua nightlife spot!
See a Peacock Players performance.
Peacock Players is a youth performing arts theatre on Court Street. For forty years now, they've been putting on acclaimed mainstage theatre productions for southern NH.
What's so cool about the Peacock Players is their dedication to serving youth – aside from staging high-quality theater shows, they offer professional theater arts education programs to young people in the Nashua community. Go support their mission by catching a play!
Put on your poker-face at Boston Billiard Club & Casino.
Who said you had to drive all the way to Connecticut for a night at the casino? Nashua has its very own: Boston Billiard Club and Casino. Eat dinner and grab Happy Hour drinks in one of their outdoor igloos, challenge your friends to a game in the pool hall, or gamble in one of their various table games like roulette, poker, or Spanish 21.

Have a spa day at The Skin & Body Spa.
Been stressed at work? Has that knot in your shoulder grown to the size of a baseball? Maybe it's time for a trip to the spa. The Skin & Body Spa in Nashua is a highly-rated, quiet space for you to unwind and enjoy your favorite self-care treatments. They offer massages, facials, hair removal, and even makeup and hair services. Treat yo'self!

Find the perfect bottle at WineNot Boutique.
WineNot Boutique is a beautiful wine shop that sells over 600 different kinds of wine. Wine aficionados and newbies alike will benefit from a stop here; the owners are true connoisseurs who really know their stuff! This boutique is also one of the largest independent wine shops in the state, so there's the added bonus of supporting an independent business.
Catch a baseball game at Holman Stadium.
Home of the Nashua Silver Knights, Holman Stadium is a baseball stadium that seats 2,800. Built in 1937, it was originally used as a multi-purpose park that hosted the likes of Elvis Costello, Tina Turner, and Whitney Houston. It's fun to go catch a Silver Knights game on a warm day!

Go shopping at Pheasant Lane Mall.
For a classic shopping mall experience, you'll want to check out Pheasant Lane Mall on Daniel Webster Highway, one of NH's largest shopping centers.
With over 130 stores, you'll find familiar brands like Forever 21, Sally Beauty, Dick's Sporting Goods, Lush, and Apple. The food court has some great options as well – choose between Red Robin, Blaze Pizza, Buffalo Wild Wings, Chick-fil-A, and many more.

Enjoy the outdoors at Greeley Park.
Greeley Park is a 125-acre public park that extends from the Merrimack River, across Concord Street to Manchester Street.
There's a lot to do at this inner-city green space. Walking along the gravel paths past a pond, you can link up to some nice walking trails, use the ball fields, play tennis, launch from the boat ramp, or play with your kids on the modern playground.
Different arts events are held here throughout the year, and the bandstand is frequently used for live music performances. Greeley Park is definitely a happening place in Nashua.
Eat your heart out at Burtons Grill & Bar.
Speaking of the Pheasant Lane Mall, Burtons Grill & Bar located on site (but definitely more upscale than your average mall food) is one of the most popular dinner spots in the city.
All you gluten-free and food-restricted diners, rejoice! Similar to the 110 Grille concept, Burtons is a "scratch kitchen," which means every dish is customizable. As someone who personally can't eat gluten, digging into a juicy burger on a gluten-free bun is my definition of true joy.

Bowl a strike at Leda Lanes.
Leda Lanes is a fun candlepin bowling alley in Nashua that has a pub, a game area with billiards, and special glow-bowling nights. It's a chill spot to hang out on a Friday night, show off your perfect form in front of friends and strangers, and maybe pull a couple strikes while you're at it.
Pay Your Respects at the New Hampshire Holocaust Memorial.
This somber and touching memorial to the many lives lost during one of modern history's most brutal atrocities, the New Hampshire Holocaust Memorial is located in Rotary Common Park.
Go sledding at Roby Park.
I meant it when I said Nashua has many green spaces. Roby Park is a public park with a new playground, athletic fields, and walking trails. But unlike Mine Falls or Greeley, Roby Park has an outdoor skating rink and a sledding hill in the winter! Not a bad way to enjoy the cold weather.

Watch a movie at Chunky's Cinema Pub.
There's something satisfying about a restaurant and movie theater combo. Probably because it combines two fan favorites – pub food, and visual entertainment. At Chunky's Cinema Pub, you can dine on whatever you'd like while your chosen movie plays on a classic theater screen. It's a cool twist on your average greasy-movie-popcorn deal.

Learn how to skate at Conway Arena.
While I might not recommend this as a first date idea (been there, done that face-plant), why not take a stab at ice skating in Conway Arena? This rink holds open skate hours with rentals, as well as hockey games and figure skating.
Get your seafood fix at Surf.
Looking for an upscale seafood restaurant that's also quite lively and creative? I'd recommend you dine at Surf. This well-oiled machine has been successfully operating in Nashua since 2002, and it's got possibly the freshest seafood you'll find this far from the Atlantic.
Rebel against Prohibition at a speakeasy.
Now, this might be my all-time favorite business concept. CodeX B.A.R., which stands for "Books. Antiques. Rarities." is a 1920s-inspired speakeasy disguised as a bookstore on Elm Street.
To enter, you take a side alley to an unmarked door. Once inside, you'll be led to a bookcase from which you have to pull the correct book, triggering the door to open. Within, CodeX serves old-fashioned cocktails and pub fare, and also displays a unique selection of antique books and rarities.
Meander along the Nashua River Rail Trail.
Remember how I mentioned that Nashua has the best of both nature and city? The Nashua River Rail Trail is a perfect example.
The Nashua River Rail Trail is a paved 12.5-mile wooded trail that stretches all the way down into Massachusetts. The path winds through wetlands and waterways, and you'll have many opportunities to view some wildlife.
The Nashua River itself is one of the most unique features of the city, which cuts directly through downtown. This makes for a fantastic riverwalk along brick streets and high rise mill buildings.
Fuel up at Pressed Cafe.
Pressed Cafe serves up local, micro-roasted specialty coffee at two separate locations in Nashua. If you're hungry, they've also got delicious breakfast and lunch food like paninis and smoothie bowls. But you don't have to sacrifice time for quality – both Pressed locations in Nashua have a drive-thru, so you can be on your way in minutes.
Learn Nashua History.

A visit to the Nashua Historical Society properties is an excellent way to learn a little more about Nashua, New Hampshire! The Florence H. Speare Memorial Museum and the Abbot-Spalding House Museum are two of the most popular museums in Nashua, and both offer glimpses of this New Hampshire town's history.
There's no shortage of Nashua NH things to do, but if you'd like any more motivation to visit this cool New Hampshire town, check this out:
Where to Stay in Nashua NH
There are lots of great hotels, inns, and vacation rentals in Nashua and the surrounding areas, but right in town you can stay at a popular hotel with onsite dining, a heated indoor pool, AND a full service spa! That's right, Double Tree by Hilton has a lovely hotel conveniently located near Everett Turnpike, just waiting for you to book a room for your Nashua vacation.
Click Here to Check Prices & Book!
---
You might also like:
7 Best Weekend Getaways in New Hampshire
---