*This site uses affiliate links; if you make a purchase through these, I may receive a small commission at no cost to you.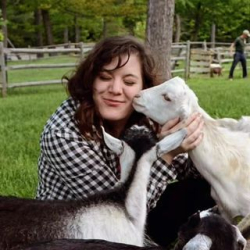 Latest posts by Amy Hartle
(see all)
If you're looking for a scenic road trip through Vermont, Route 100 is the perfect option. Luckily, this post is all about how to take the perfect Route 100 Vermont road trip. Whether you're a local or you've never been to Vermont before, you'll truly enjoy the beauty of this road trip.
This highway runs from the Canadian border to the Massachusetts border, and it offers beautiful views of the Green Mountain State. There are plenty of small towns and villages to explore along the way, and you'll also pass by some of Vermont's most popular tourist destinations.
So if you're looking for a fun and relaxing road trip, be sure to check out Route 100 in Vermont. Keep reading to learn all about how to take the Vermont route 100 road trip!
PS this is also one of the best fall road trips in Vermont, too!
Read Next: What to See in Vermont: The Ultimate VT Bucket List
Day 1: Wilmington to Londonderry (37.3 miles via VT Route 100 N)
It's officially time to start the Vermont route 100 road trip! Start off in the southern corner of the state in Wilmington, Vermont. This is a quaint small town, so be sure to spend the morning exploring it a bit to see what the small town offers.
Start off by having breakfast at Dot's Diner, one of Wilmington's best places to eat. It's a small local restaurant serving up all the best breakfast food that you could possibly want. Next, if you have extra time, consider visiting the flea market or exploring Molly Stark State Park, one of the best state parks in VT.
After you're done exploring Wilmington, head up north. You'll quickly come across the small town of Dover which is known for being home to Mount Snow. This is a famous place to go skiing within the state, so there are lots of things to do there!
Spend time heading up to Mount Snow, consider hiking on Haystack Mountain or even check out the Green Mountain National Forest waterfalls. This is also a great time to stop by Hogback Mountain, which offers a beautiful view of the surrounding area.
Finish off the day by stopping in Jamaica on your way to Londonderry. There's a beautiful park here, Jamaica State Park, filled with many hikes and picnic spots. Today is mostly about enjoying the natural beauty of the state!
Finally, head up to Londonderry to spend the night. This is another ski area with outdoor places to explore, like Lowell State Park. Great places to stay here in this area include the Inn Victoria, The Upper Pass Lodge, Snowdon Chalet Motel, and Londonderry Inn.
Day 2: Londonderry to Killington (37.1 miles via VT Route 100 N)
Whoop, whoop! Time for the second day of your Route 100 Vermont road trip. Start the morning off by exploring a bit of Londonderry if you didn't have the chance to the night before. It all depends on how late you actually got to this small town.
Grab breakfast at a local favorite like the Maple Leaf Diner or even the Garden Cafe and Gallery. If you'd rather just grab a coffee, stop at the Ungrounded Coffee Roasters or The Corner Market Deli (they also have great sandwiches). These are all excellent options depending on your budget.
Consider checking out Lowell Lake State Park, Hamilton Falls, or even Ball Mountain Dam in Londonderry. There are also many great local shops downtown that you can stop at to support the local businesses.
After you're done exploring Londonderry, it's time to get in the car and start driving. Stop in Weston first, which is a short drive from Londonderry. This town is home to the famous Vermont Country Store! Locals travel from all over the state to stop at this fantastic store filled with tons of fun items, including great food with samples.
Next, hop back in the car and make your way to Ludlow, Vermont. It will probably be around lunchtime, so try some food at a restaurant like The Hatchery, The Cookster, or even Cafe At Delight. Then, take the time to explore the beauty of Ludlow.
Like other places along this Route 100 Vermont road trip, Luudllow is known for being a ski town. If you happen to be visiting in winter, check out Okemo Mountain Resort. Other beautiful nature spots to visit here include Buttermilk Falls and Camp Plymouth State Park.
Finish the day by driving through Coolidge State Forest up towards Killington, another ski town. This is the perfect spot to spend the night. There are many places to stay throughout Killington, most of which are near the resort. The Mountain Inn, Snowed Inn, or Killington Mountain Lodge are perfect options.
Day 3: Killington to Waterbury (57 miles via VT Route 100 N)
It's officially time for the third day of the Route 100 Vermont road trip! Begin the morning in Killington by exploring it a bit before heading out. Eat breakfast at one of the local cafes or restaurants. Some excellent options include the Waffle Cabin Killington, Back Country Cafe, or Liquid Art Eatery & Coffeehouse.
Then, take the time to travel around Killington. Consider stopping by Killington Resort for a quick morning ski if it's winter. Other spots to visit include the Calvin Coolidge Historic Site (one of the best VT historic spots), Gifford Woods State Park, or the Thundering Brook Falls Trail.
Once you're done exploring, hop in the car to start your drive. You'll drive through Pittsville, Rochester, and Hancock before coming across Granville. Stopping here is a must-do! It's the perfect time to stretch your legs.
Take the time to visit Moss Glen Falls. It's one of Vermont's best waterfalls and isn't that far off Route 100, making it a super easy detour. Depending on the time of day, you may even be able to visit without anyone else.
Continue driving and make your way to Warren, where you can stop at the beautiful Warren Falls. This is a bit of an underrated stop. This is also a great local place to grab lunch. Consider stopping at Mutha Stuffers for a sandwich or The Reks if you want grilled food.
Finish the drive by heading up to Waterbury, Vermont! This is the end destination for the day. This place is most well known for being home to the Ben & Jerry's factory, where you can go on a tour. Don't forget to try a free sample at the end!
Eat dinner at a local favorite like Maxi's or Prohibition Pig. Then, spend the night at one of the hotels in the area. There aren't many, but one great place to stay is The Old Stagecoach Inn.
Day 4: Waterbury to Newport (59.7 miles via VT Route 100 N)
Day four is officially the last day of the Route 100 Vermont road trip! Finish the road trip off strong by driving from Waterbury to Newport.
Of course, the first must-do stop of the day is in Stowe. This small town is one of VT's most charming towns and also one of the most picturesque, especially in the fall. It's only a fifteen-minute drive from Waterbury so head there for breakfast.
There are many places in Stowe to grab breakfast. Some popular spots include The Skinny Pancake, Butler's Pantry, and Green Goddess Cafe. All of them are great options, so you can't go wrong no matter where you eat.
After breakfast, take the time to explore all that Stowe offers. Consider riding in a hot air balloon for great views of the Green Mountains, visiting the famous Trapp Family Lodge, or even zip-lining down Mount Mansfield if you love to get your adrenaline pumping. These spots are especially beautiful in summer!
If you have the time, you could also consider hiking to the top of Mount Mansfield. This is one of the best hikes in Vermont but can take a while.
You could also add an extra day if you wanted because you could spend an entire day in Stowe if you wanted to. There's so much to do there, including seeing a few of the cutest covered bridges in the state.

Grab lunch in Stowe while you're there because the towns start to get a lot smaller as you head north! Some great lunch options in Stowe include The Bench and Cafe on Main. Piecasso is also a local favorite.
Then, hop in your car and start heading north up to Newport! Along the way, if you have to stretch your legs, stop in the small town of Lowell. It's home to a few places where you can explore outdoors, like Hazens Notch State Park.
This is where you will finish your trip. It's right near the border of Canada and is a beautiful small town featuring a great lake! Great things to do in Newport include exploring the small town or going on a cruise on the Northern Star.
Finish the evening by spending the night at one of Newport's accommodations, like Newport City Inn and Suites or nearby Jay Village Inn & Restaurant. Be sure to grab dinner at either Lago Trattoria or Brown Cow Restaurant!
This post was all about how to have the perfect Route 100 Vermont road trip! We hope that you have a blast on your trip, as this is truly one of the best Vermont bucket list experiences that you can have. Don't forget to share this post and save it for later as you prepare for your road trip.