Dog sledding in Vermont is a unique winter activity that, for most people in the United States, is not a common activity where they live. If you're visiting Vermont and hoping to try your hand at VT dog sledding, you've got some great dog sledding/mushing options that provide this very cool experience!
Most everyone has been skiing in the winter somewhere, but dog sledding? That is a unique winter thing to do for most, and these are the top spots to go dog sledding in Vermont.
Dog Sledding in Vermont
Eden Ethical Dog Sledding Experience
If you are interested in a Vermont dog sledding experience but want to know beyond a shadow of a doubt that the sled dogs are receiving the gold standard of ethical sled dog care, Eden Ethical Dog Sledding Experience is the perfect place to go! Located in beautiful Eden Mills Vermont, you'll find these sled dogs live on a gorgeous 140-acre farm and live a life free on the farm, never chained. In addition to winter dog sledding, you can also find spring, summer, and fall rides on their scenic trail system with their wheeled sleds; no snow, no problem!
Cobble Hill Kennel, Middlebury VT
If you're looking for where to go dog sledding in the Green Mountains, check out Cobble Hill Kennel in Middlebury Vermont. This dogsled touring company also races competitively, so the dogs that will be pulling you are powerhouse athletes! They offer traditional Vermont mushing rides in the snow and fall cart rides as well, and the proceeds from their dog sledding tours help to take care of these incredible canine athletes.
Cobble Hill Kennel also has an Adopt a Sled Dog program for their sled dogs who are retiring and even the young pups who have decided they'd rather curl up on someone's couch rather than pull someone in a sled; you can take a look at their adorable pups up for adoption here.
Vermont Ventures LLC, Lyndonville VT
Vermont Ventures LLC is a dog sledding business in Northern VT that provides two interesting dog sledding experiences: a Vermont Dog Sled Day Adventure and a Vermont Dog Sled Night Adventure. Both include learning some basic knowledge about the dogs' care and commands, and a warm drink to sip by the wood stove at the end as you spend a little time playing with the dogs that just pulled you. Both experiences sound interesting, but flying over the snow in the moonlight? That sounds like a very cool Vermont dog sledding experience!
Umiak Outdoor Outfitters, Stowe and Fayston VT
Offering two locations for dog sledding in Vermont, Umiak Outdoor Outfitters allows people a day time dog sled ride that is less than two hours in Mad River Valley, and a half hour evening dog sled ride at Stoweflake Mountain Resort. Whether you opt for the shorter or the longer dog sledding experience, bundle up because it gets cold flying over the snow!
Montgomery Adventures, Montgomery Center VT
Montgomery Adventures in Montgomery Center Vermont provides a variety of guided outdoor activities in Northern VT, with dog sledding being just one of them. With years of wildlife guide experience, a dog sledding adventure at Montgomery Adventures is sure to be as informative as it is fun!
When you're planning a VT dog sledding adventure, be sure to come prepared! Each business might have their own criteria for what to bring and what to expect during your Vermont dog sledding experience, but the standard rule of layers, layers, and more layers generally applies! If you're setting up a winter dog sledding trip in Vermont, expect the cold and come prepared with several layers of protection like goggles and neck gaiters, too.
Have fun crossing this unique winter activity off of your Vermont bucket list!
You might also like: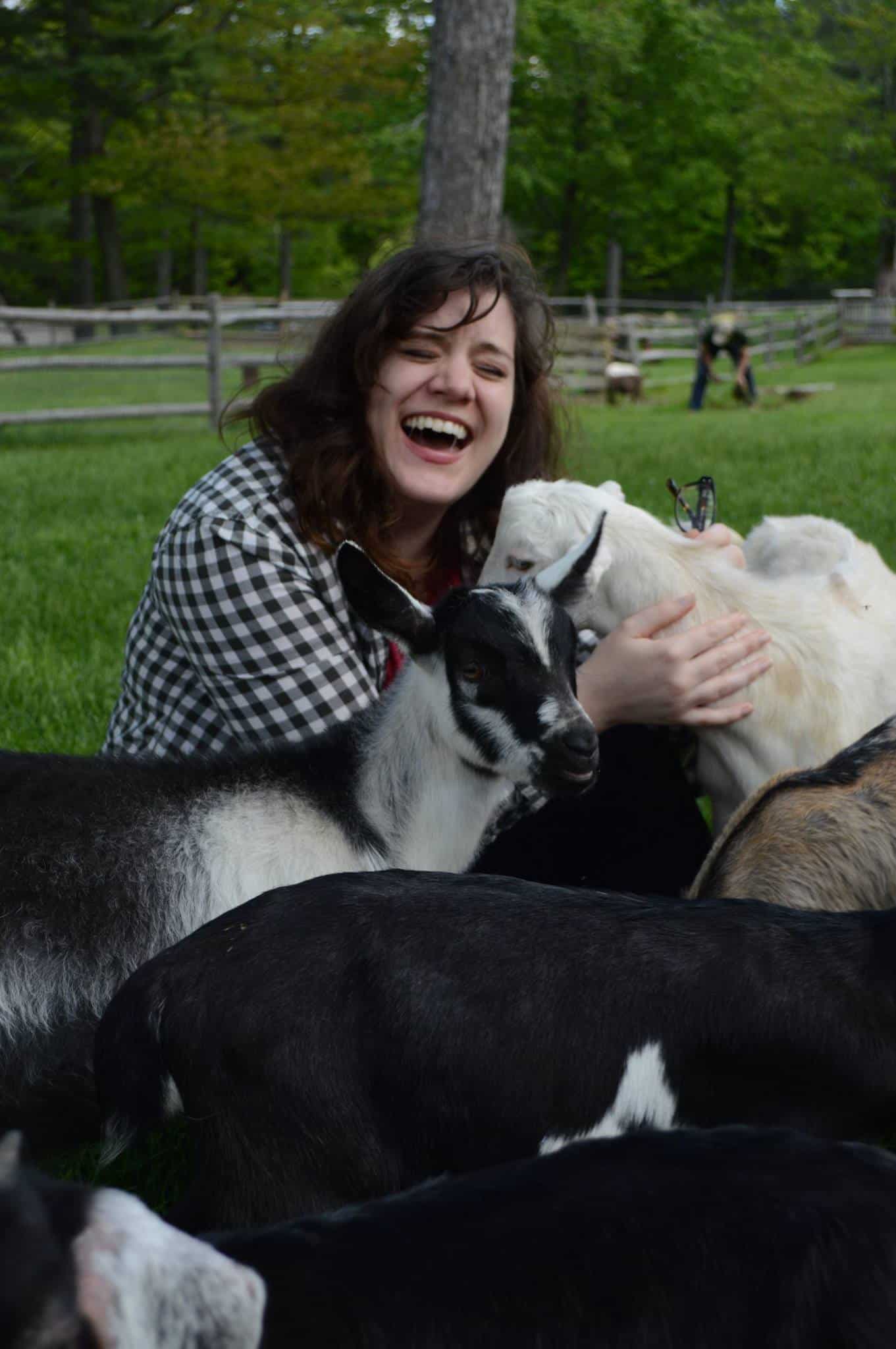 Amy Hartle is the founder and Editor-in-Chief of New England With Love, a comprehensive resource for travel in the New England region. Amy has been exploring New England since 2001. She lived in Vermont for many years and is a graduate of Plymouth State University in New Hampshire. On this site, Amy aims to share her love of New England and help you to have the best possible adventures!
Amy has been writing about travel for over a decade, and is a full time blogger, publishing both Two Drifters and Let's Adventure Baby. When not traveling the world or creating epic blog content, Amy can be found cuddling with her husband, son, and cats, & drinking a maple latte.