*This site uses affiliate links; if you make a purchase through these, I may receive a small commission at no cost to you.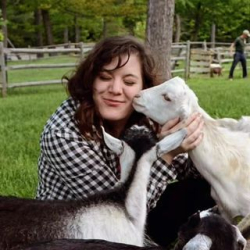 Latest posts by Amy Hartle
(see all)
It's almost spring in New England. That means warm(er) breezes, buds on the trees, and the sudden emergence of shorts and flip flops far too early!
We all rejoice when spring arrives in New England. After our long winters, longer days and greener landscapes are exceedingly welcome. I know that in April and May, and sometimes even in late March, I find myself increasingly drawn outside to enjoy the New England spring weather.
As you're enjoying this wonderful season, you might be tempted to hop in the car (or on a plane) and take a trip. Well, we've got some of the top New England spring vacation spots right here: the best destinations to enjoy the magical springtime. Take a look and start dreaming of your next escape…
7 Great Places to Enjoy Spring in New England
Niantic, Connecticut
Contributed by Sarah Lukowski
The quaint, beachfront town of Niantic, Connecticut, located on the Southeastern coast, may have a vibrant summer culture, but it's a fantastic location to visit all year round and should be on your spring bucket list! In Niantic, you can stroll through the charming Main Street that has a unique independent movie cinema, several boutiques and antique stores, and delicious cafes.
The newly restored Niantic Bay Boardwalk, open to the public for free year-round, is a popular destination to take in the beauty of the Long Island Sound. You can take a refreshing walk, swim in the Hole-in-the-Wall beach, or sit on one of the many benches to watch the waves come in.
A trip to Niantic isn't complete without a trip to the Book Barn, a fantastic used book store with four different locations across Niantic. It's an avid book lovers dream with shelves upon shelves of books spanning any genre you can think of. Every visit to the Book Barn makes for a memorable experience so visit this spring to buy some books for your summer reading list!
Nantucket, Massachusetts
Contributed by Emily Geaman Fanning
It's no surprise that Nantucket is one of the most trafficked summer destinations on the East Coast, perhaps even the entire country. Yet after years of coming to this island, I've come to know that the off- or shoulder season is one of the sweetest times to visit.
While you'll find far fewer businesses open, there are certainly enough to keep you busy and fed for a weekend trip: breakfast at Island Kitchen, lunch to-go at Born & Bread, and coffee at Handlebar, just to name a few.
You can rent a car (or scooter should you be graced with some especially warm weather!) in town and head out to Sconset on the east side of the island, where I love walking the little village, Sconset Beach, and to Sankaty Lighthouse sans summer crowds. Keep an eye on the calendar of events too—Daffodil Festival is the last weekend of April, and Food & Wine Festival is the third week in May!
Newport, Rhode Island
Contributed by Allison Herzog
Newport, RI is one of those rare towns that is pretty perfect all year long, but when the bright yellow daffodils pop up every spring and the sun starts to shine a little brighter over the harbor, it makes the city by the sea all the more special.
The explosion of blooms is a site to behold come April, and there's even an official Daffodil Days festival to celebrate the occasion. Take advantage of the added pops of color with a stroll along the Cliff Walk, starting at the Chandler hotel overlooking Easton's Beach and heading towards the famed Forty Steps. Continue on along the rocks if you dare, and be rewarded with some world-class views of the Atlantic.
Other great springtime activities include a windows-down cruise on Ocean Drive with a stop at Castle Hill Inn, a hike at Sachuest Point or Norman Bird Sanctuary, and a visit to one of the many outdoor restaurants and watering holes that begin to open their doors come spring. You can't go wrong at Black Pearl, Clarke Cooke House, Diego's, The Lobster Bar or The Smoke House, to name a few.
Wolfeboro, New Hampshire
Contributed by Sarah Pelletier at Birch Landing Home
Wolfeboro is known as "America's Oldest Summer Resort" and this hidden gem is perfect for visiting for a day trip, a week, or even the whole summer if you're lucky. Wolfeboro is situated on Lake Winnipesaukee so boating, swimming, and water sports are always in style. If that's not your thing, the downtown area is full of quaint independently owned gift shops, clothing stores, cafes, and restaurants.
Spring is a great time to visit before town gets too busy with summer residents and vacationers. But if you get the chance to visit on 4th of July, it's not to be missed! This is when Wolfeboro really comes alive – hosting the biggest parade in the state of NH.
Patriotism abounds with flags and bunting all over town, along with politicians and stars (Jimmy Fallon is a regular visitor). The parade is also host to the world-famous "Lawn Chair Drill Team" which is always so fun to watch.
Read More: 15 Fun Things to Do in Wolfeboro NH
Woodstock, Vermont
Baby animals, anyone? If you're in Woodstock, VT in the springtime, you just might catch Baby Animal Day at Billings Farm, an annual tradition where you can meet the farms' lambs, calves, chicks, and piglets. I can't think of anything that better represents a New England spring than the emergence of these precious animals!
Even if you don't make it for that event, the Billings Farm is just one of the great things to do in Woodstock. Spring is a perfect time of year to be in this charming Vermont village, as the Green Mountain state gently returns to its famous emerald hues.
Newburyport, Massachusetts
Contributed by Marisa Fanelli
Massachusetts can lay claim to its fair share of seaside towns. Yet few have the character and vibrant feel to match Newburyport.
As you meander down the winding streets in the city center, you'll first notice that this is a city ripe with food options for every palate. From pasta, to Indian, to seafood…if you are a foodie, there are enough mouthwatering options here to make your head spin.
Newburyport is a city filled with life. There's a certain pulse to it, a beat that leaves you wanting more. The fresh energy of bustling shops and spas is an interesting juxtaposition to the old-timey feel of the town center, where you can enjoy an ice cream cone and people watch as you window shop.
Speaking of stepping back in time, you don't want to miss out on a trip to Oldies while you are there. This enormous antique shop by the water is divided into decades, and you'll be tempted to spend hours exploring all of the goodies from generations past.
If you are looking for the ultimate spring day trip, Newburyport has it all: ocean, shopping, food, and endless ways to keep yourself entertained.
Kennebunkport, Maine
We couldn't leave Maine out on this list of spring getaways in New England! This pretty coastal town looks extra brilliant during the sunny days of March and April. You'll love walking along the beach in a cozy sweatshirt and then returning to your quaint bed and breakfast.
Prices are lower in this "shoulder season," so you'll enjoy quiet and privacy in one of Maine's top vacation destinations.
If you're coming to Maine for some whale watching, you're also in luck. Mid-April is when the humpbacks make their way to the waters off of Kennebunkport and other coastal areas of Maine. This is a must-do activity when traveling in Maine and spring is when it all begins.
Spring in New England is such a lovely time to visit this beautiful region, so wherever your travels take you as the weather warms up and the flowers begin to bloom, you're sure to enjoy your trip!
Read these next:
---
Pin this post to save for later!