This is not a drill, I repeat, this is NOT a drill! Burlington, Vermont is in the path of totality for the 2024 total solar eclipse! It is expected that viewers in Burlington VT will see about three minutes and fifteen seconds of this incredible solar event on April 8th, 2024.
If you are looking for information related to the solar eclipse in Burlington VT, like hotels to book and where go to see this phenomenal event, you're in the right place. We're sharing some of the best local spots for viewing the solar eclipse, Burlington style, including what else to do and see during your visit.
2024 Solar Eclipse in Burlington VT
What is a total solar eclipse?
A total solar eclipse happens when the moon completely blocks the face of the sun while passing between the sun and the earth, and this is not a frequent event. In fact, the next time a total solar eclipse will be visible from the contiguous United States is August 23, 2044!
Do I need special glasses to view a total solar eclipse?
The quick answer here is yes, you do need eye protection to view a total solar eclipse, but sometimes eclipse glasses sell out quickly. If you do not have a pair of ISO certified eclipse glasses, you can make a pinhole projector or view through telescopes or binoculars with safe solar filters on them.
You can find a great list of eclipse glasses and other safe solar viewers here, or order your solar eclipse glasses from Amazon.
What Time is the Solar Eclipse in Burlington VT?
The solar eclipse is on April 8th, 2024, with a partial eclipse starting at 2:14 pm. The start of the total eclipse will begin an hour later at 3:26 pm, lasting for three minutes and fifteen seconds. A partial eclipse will continue until 4:37 pm.
Where to See the 2024 Solar Eclipse in Burlington
For the best eclipse activity in Burlington VT, there are many gorgeous outdoor spaces to gather. Most of the top places to see the eclipse in Burlington are on and near the waterfront, and these are some of the top recommendations.
Waterfront Park
10 College Street, Burlington, VT 05401
Waterfront Park is one of the most beautiful lakefront parks in Burlington, and it's going to be a popular place to see the solar eclipse in 2024. This large park hosts events and festivals throughout the year, so it's not uncommon to find fun things happening at the Waterfront Park.
There is paid parking nearby, but it is limited. If you're able to catch a ride or walk from downtown, that will be your best bet!
Leddy Park
216 Leddy Park Rd. Burlington, VT 05408
Leddy Park is home to a playground with swings, beach access, grills, walking trails, indoor ice arena, restrooms, and more, and there is a parking lot onsite but it will be busy, so planning to get a ride in will probably be best.
Battery Park
1 North Avenue Burlington, VT 05401
Battery Park is going to be a very popular spot for the solar eclipse in Burlington, as it sits near the waterfront on just a bit of a hill, offering beautiful views of Lake Champlain, the Adirondacks, and the 2024 solar eclipse!
You'll find a playground, monuments, and plenty of space at this 14 acre park, but parking is street only and will be very difficult to find. There are no restrooms at Battery Park, either, so heads up.
North Beach Park
North Beach Park Burlington, VT 05408
North Beach Park is home to the largest beach in Burlington, and it does offer ADA compliant beach access! This will be a lovely place to enjoy the 2024 solar eclipse from. There is an onsite playground and some parking, but it's limited and will still be best to find a ride in.
Oakledge Park
Oakledge Park Flynn Avenue Burlington, VT 05401
Located near the southern edge of Burlington, Oakledge Park is one of the coolest outdoor spaces in the city. With a playground for the kiddos, beach views, a natural Earth clock, and an accessible treehouse, this is going to be a fun place to spend the day of the 2024 eclipse in Burlington.
Restrooms are seasonal and parking is very limited, so make arrangements with this in mind!
ECHO Leahy Center for Lake Champlain
1 College St, Burlington, VT 05401
Any of Burlington's waterfront parks would be great for eclipse viewing, but ECHO Leahy Center for Lake Champlain adjacent to Waterfront Park is one of the top science and nature museums in the state for kids, and they'll likely have a repeat of the festivities they put on for the last solar eclipse in 2017 with space and science-themed activities.
If you're looking for kid-friendly places to see the solar eclipse in Burlington, Vermont, this could be an excellent choice as it will be informative, engaging, and on the waterfront!
Church Street Marketplace
Church Street Marketplace is an ideal spot to spend time in Burlington. This cool open air mall is full of delicious restaurants, cozy coffee shops, great shopping, and more, so it's always on the list of top Burlington things to do!
The beauty of it being open air is that during totality, all you have to do is step out of wherever you are and look up (with your eye protection, of course!) and it's likely there will be plenty of buskers and other live entertainment out on the street that day, too.
If you're concerned about obstructed views and crowds – which could be a potential issue – the waterfront is less than a ten minute walk from Church Street, so it's basically a win all around!
Staying near the waterfront is a great bet for solar eclipse viewing in Burlington.
Solar Eclipse Events in Burlington VT
Looking for the best eclipse activity in Burlington VT? As we get closer to the date of the eclipse in Burlington, events will start being publicized, like the Great North American Eclipse of 2024 viewing gathering at the Waterfront and the Total Solar Eclipse 2024 brewery crawl.
Check here for more Burlington VT solar eclipse events!
Where to Eat in Burlington
You'll find that Burlington has a fantastic foodie scene, so any one of these Burlington restaurants, breweries, breakfast spots, and coffee shops would be a great choice, but these are a few you might look into:
For a delicious lunch or dinner out made with local Vermont ingredients with a cool bar atmosphere, check out Juniper Bar & Restaurant. This would be a fun place to go grab dinner and drinks after the eclipse!
Another very popular Burlington sit down restaurant is Hen of the Wood, with a classy yet cozy atmosphere and an elevated menu that changes daily – you'll find the local farms where the veggies were sourced listed on the menu.
If you're looking for a great brew pub type experience, check out American Flatbread at Burlington Hearth & Brewery for a fantastic menu of fire-roasted flat bread options and lots of great local beers on tap.
If you're looking for great takeout restaurants in and near Burlington, these are some of the top spots: Tiny Thai Restaurant in Winooski, and Burlington's Hong's Chinese Dumplings and Leonardo's Pizza.
Where to Stay in Burlington: Eclipse 2024
If you're looking for where to stay during the 2024 Solar Eclipse in Burlington VT, the bad news is that you've got competition from everyone else also coming in to town for the eclipse. The good news is that there are tons of options, both in Burlington and within easy driving distance.
Hotel Vermont
Hip and modern, Hotel Vermont is definitely one of the best places to stay in Burlington during the 2024 solar eclipse. Not only does this hotel have plenty to offer like it's onsite restaurant, Juniper Bar & Restaurant, and its complimentary coffee and tea station on each floor, but its proximity to the waterfront and other Burlington attractions that will be perfect for solar eclipse viewing, like Battery Park, is ideal.
Click Here to Check Prices & Book!
Green Mountain Suites
Green Mountain Suites is one of the coolest Burlington hotels, and a great choice if you're looking to stay near the airport and the highway! There's an indoor pool, jacuzzi and fireplace rooms, fresh hearty breakfast each morning, and more at this cute Burlington inn.
Click Here to Check Prices & Book!
Hilton Burlington Lake Champlain
Hilton Burlington Lake Champlain is a very conveniently located place to stay during the solar eclipse and beyond, with easy access to both downtown Burlington and the waterfront. They have onsite dining, an indoor pool, and pet-friendly rooms, too!
Click Here to Check Prices & Book!
Essex Resort & Spa
If it's luxury accommodations near Burlington you're searching for, Essex Resort & Spa has got to be on that list! This gorgeous resort is just a few minutes up the road from Burlington, but has all the top amenities you expect with a luxury resort like an onsite spa, celebrated restaurant, and elegant guest rooms.
Click Here to Check Prices & Book!
If you're booking last minute, you'll likely need to look for accommodations outside of Burlington, so you might try these hotels and inns within easy driving distance of town.
Residence Inn Burlington-Colchester
With an indoor pool and super easy access to I89, Residence Inn is just outside of Burlington proper in Colchester, so it will likely book up fast too, but worth a shot!
Click Here to Check Prices & Book!
Courtyard by Marriott – Williston
Just a few minutes outside of town in Williston, Courtyard by Marriott has a heated indoor pool and is not just convenient to Burlington solar eclipse viewing, but also to other local attractions… like the Ben & Jerry's Ice Cream Factory in nearby Waterbury!
Click Here to Check Prices & Book!
Home2Suites Hilton – Williston
With a fantastic Williston location, Home2Suites is one of the top pet-friendly places to stay near Burlington for the solar eclipse, and the indoor pool and complimentary breakfast are pretty attractive, too.
Click Here to Check Prices & Book!
Best Western Plus – Waterbury
This Best Western Plus is about a half hour drive from Burlington, but it's just a straight shot up I89 to the city! There is an indoor pool and hot breakfast is served daily.
Click Here to Check Prices & Book!
Just beyond Waterbury is Stowe, Vermont, only about a 40 minute drive from Burlington. If you're coming up short for lodging in Burlington for the 2024 solar eclipse, don't forget to look in Stowe for hotels and vacation rentals, too!
Another option for lodging near Burlington is to look in the state capital of Montpelier. It is also in the path of totality, but will receive only one minute and thirty-five seconds of total eclipse, so will likely see less crowds than Burlington. You can check out a list of Montpelier VT hotels here.
Lakefront Vacation Rentals
There are so many cool Airbnbs and VRBOs on Lake Champlain to check out for a private waterfront spot to enjoy the eclipse! If you're traveling to Burlington for the solar eclipse with a group of friends, you might consider one like this waterfront VRBO with a gorgeous patio and fire pit that sleeps up to eight and could be the perfect spot to post up and watch the 2024 solar eclipse in Vermont.
This one is a pet friendly Lake Champlain vacation home that can accommodate up to seven, and it has kayaks and a game room with a pool table, so this could also be a great place to stay for eclipse viewing in VT in 2024!
Burlington Airbnbs and VRBOs
Of course, there are plenty of vacation rentals in Burlington VT that aren't on the water, like this very conveniently located Burlington VRBO near Church Street Marketplace that sleeps up to six. Plus, it has its own hot tub!
The April 8, 2024 eclipse totality in Burlington VT is likely to be very well attended, so get those Burlington eclipse itineraries set up sooner rather than later!
You might also like: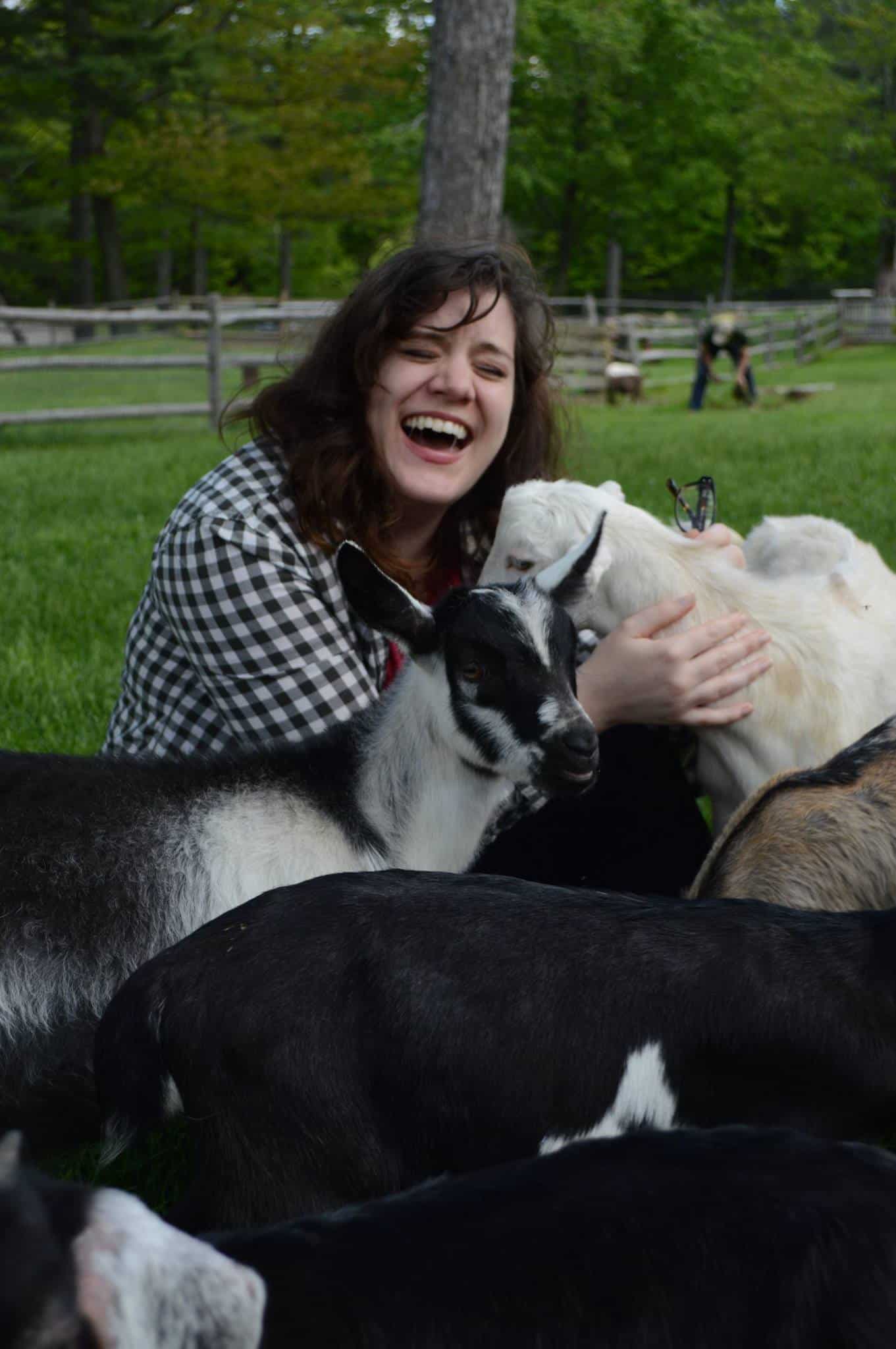 Amy Hartle is the founder and Editor-in-Chief of New England With Love, a comprehensive resource for travel in the New England region. Amy has been exploring New England since 2001. She lived in Vermont for many years and is a graduate of Plymouth State University in New Hampshire. Amy has been writing about travel for over a decade. On this site, Amy aims to share her love of New England and help you to have the best possible adventures!
Amy has been a full time blogger since 2012, and is also the publisher of Two Drifters, where she writes about couples travel and relationships, as well as Let's Adventure Baby, a family travel site. When not traveling the world or creating epic blog content, Amy can be found cuddling with her husband, son, and cats, & drinking a maple latte.