Vermont is truly one of the most beautiful states in New England and can be traveled any time of year. Many people love visiting Vermont with their loved ones, friends, family, and more. That's because there are tons of fun things to do in Vermont with kids!
Whether you are traveling and prefer to stay indoors and visit museums or head outdoors and explore nature, Vermont really does have it all. Throughout this post, you'll learn all about some of the best activities that you won't want to miss out on for almost any type of traveler.
So what are you waiting for? Here are all the best things to do in Vermont with kids!
Snap a Photo at the Rock of Ages Granite Quarry
One of the more unique things to do in Vermont with kids is to snap a photo at the beautiful Rock of Ages Granite Quarry. It's located in Graniteville, Vermont, and is about 600 feet deep. It's also one of the oldest quarries in the entire state, which is why it's so interesting to visit.
They do have particular hours throughout the year and tend to open around June for the season. There usually are about four tours a day, but they are first-come, first-serve. The tour is definitely the best way to experience the beauty of the quarry as you'll be with a guide who is well-educated about it. Children under 6 are free, and there is a small fee for adults, seniors, and children between 6 and 13. Don't forget to bring your camera because the beauty of this quarry is truly unmatched!
Tour the Ben & Jerry's Factory
Obviously, no list of things to do in Vermont with kids (or even without kids) is complete without mentioning the Ben & Jerry's Factory in Waterbury, Vermont. When most people think of Vermont, they either think of maple syrup or ice cream, so why not head to the actual Ben & Jerry's Factory?
Kids will absolutely love going on the free factory tour, which brings guests behind the scenes to see exactly how Ben & Jerry's ice cream is made. Plus, guests are given a free sample of whatever flavor is being made that day at the end of the tour.
Be sure to stop at the Ben & Jerry's store on your way out, where you can grab some fun ice cream souvenirs and even an ice cream cone to go!
Explore the Shelburne Museum
For a more educational activity with children in Vermont, consider going to the Shelburne Museum. It's located in Shelburne, Vermont, and it's truly a unique experience. It features around 40 buildings, many of which are historical and have been relocated to the museum.
Plus, the area that it is located in is absolutely breathtaking, right along Lake Champlain. Throughout the Shelburne Museum, you can find many exhibits, artifacts, and more. There are many educational experiences throughout the museum as well, where kids can learn.
Have a Maple Creemee in Bennington
Trying maple ice cream is an absolute must when visiting Vermont with kids. You can pretty much find the soft serve Maple ice creams anywhere throughout the state, but honestly, some of the best ice creams can be found in Bennington, Vermont. Located in the southern part of the state, Bennington is a genuinely historic town that you won't want to miss out on.
There are two places in particular that you want to stop by if you want to have a maple syrup soft serve in Bennington. The first one is Tastee Freeze which is located right across the street from a deer park which kids will love. The other is called Billy T's Northside Dairy Bar, which also happens to be right next to a bowling alley that kids will also adore!
Both of these small restaurants are only open seasonally in the summer, but they have tons of outdoor seating and also offer great dishes like hamburgers, hot dogs, fried fish, fresh french fries, and more. Plus, they're both locally owned!
Go Skiing at a Vermont Ski Resort
If you happen to be visiting Vermont in winter, consider visiting some ski resorts with kids! Many ski resorts are located more in the northern part of the state, so be sure to plan wisely when planning your trip.
Even if your kids haven't skied or snowboarded before, don't worry! Some guides give lessons for a fee at each of these resorts. You can also teach your kids yourself if you're really up to the task, as most of the ski resorts feature bunny hills, which are perfect for learning.
Don't worry about bringing your own ski gear, as that's all available to rent at the ski resorts throughout the state! Skiing in Vermont is truly an absolute must-do as it's one of the best spots in the country to enjoy the winter weather and get outdoors.
Visit All the Covered Bridges
One of the lesser-known things to do in Vermont with kids is to visit all of the covered bridges throughout the state! They truly are located everywhere, and many locals will make a road trip out of it to try to visit all of them, or at least most of them.
Kids will love even going on a short road trip around just the southern part of the state as they stay on the hunt to try to find covered bridges. Be sure to bring your camera so you can snap photos at each one and turn it into a game!
To save yourself time, consider going online to find a map of the covered bridges throughout the state, or you might be aimlessly looking on your drive.
Tour the Vermont Teddy Bear Factory
One of the best things to do in Vermont with kids is to head to the Vermont Teddy Bear Factory. The tour is given by an official bear ambassador and includes behind-the-scenes on how the bears are made. You even get a fun look at the bear hospital, where bears who have injuries are fixed.
There is a small fee to do tours which, as of spring 2022, costs $5 per adult, but kids under 12 are completely free. The tour lasts about 30 minutes, and the factory is open 7 days a week. On average, people tend to spend around an hour or two at the factory, so plan accordingly. Don't forget to bring home a bear when you're done!
Ride a Bike on the Burlington Greenway
One of the more laid-back activities with kids is riding a bike on the Burlington Greenway. If you didn't bring a bike, don't worry; there are quite a few places throughout Burlington where you can rent one because this Greenway is so popular.
This is a more recent addition to the city of Burlington, as it was just completed in 2017. It is a paved bike path right along Lake Champlain and is 8 miles in total. When riding with kids, you definitely don't have to bike the whole thing, but even just biking a small portion of it and maybe having a picnic along the way is the perfect way to spend a warm day in the city.
If you're traveling with younger children who can't necessarily bike, this is also a walk-friendly path, and it is paved so you can push your stroller on it if needed.
Go on the Green Mountain Railroad
One of the other lesser-known things to do in Vermont with kids is actually riding the Green Mountain Railroad. It was founded back in 1964, and it's perfect for kids who are interested in trains and adults who just want to enjoy the beauty of the state.
The train ride starts in either Chester or Burlington, Vermont. The types of rides change throughout the year, but often there is a more romantic dinner ride for adults and more fun rides like the Independence Day Flyer Trip, where fireworks are set off while you're on the train. This is what kids will absolutely love!
At any time of year, you're welcome to go on to the Green Mountain Railroad website, where you can check out upcoming train rides and also purchase tickets in advance. Kid-friendly railroad rides tend to have tickets from around $15, while adult rides can be closer to around $400 because they include luxury meals.
Hike, Fish, or Boat in a Vermont State Park
Kids absolutely love getting outside, so why not have some fun out of Vermont state park? There are quite a few state parks around the state, so no matter where you'll be visiting, you will most likely be able to find one close by.
These state parks are perfect no matter what type of outdoor activities you want to do. In many of these parks, you can go hiking, fishing, boating, and of course, picnicking. Plus, a lot of them also have lifeguards, so you can also go swimming or even just make sandcastles on the sand if you want with younger children.
One of Vermont's most fun state parks is none other than Emerald Lake, located near Manchester. This state park, in particular, has a lovely lake area, great playgrounds, boats available to rent, and other incredible amenities.
This post was all about the best things to do in Vermont with kids! Hopefully, you were able to plan your incredible family itinerary in this beautiful state. Don't forget to save this post and share it for later!
---
You might also like: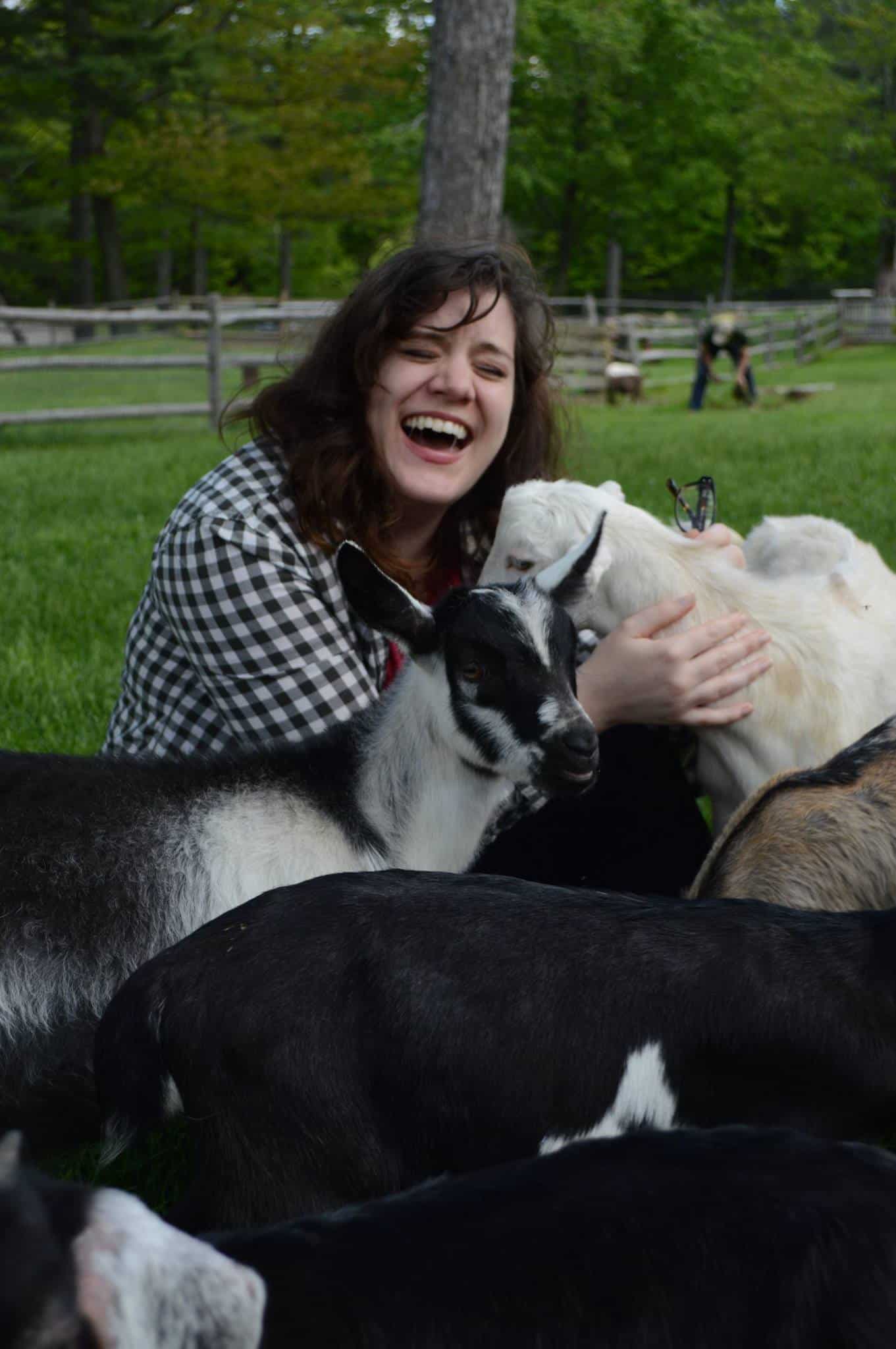 Amy Hartle is the founder and Editor-in-Chief of New England With Love, a comprehensive resource for travel in the New England region. Amy has been exploring New England since 2001. She lived in Vermont for many years and is a graduate of Plymouth State University in New Hampshire. On this site, Amy aims to share her love of New England and help you to have the best possible adventures!
Amy has been writing about travel for over a decade, and is a full time blogger, publishing both Two Drifters and Let's Adventure Baby. When not traveling the world or creating epic blog content, Amy can be found cuddling with her husband, son, and cats, & drinking a maple latte.