Believe it or not, but there are quite a few famous people from Vermont! Even though it's a small state in New England, authors, investors, politicians, and even singers have been born and raised in VT. Plus, there's a healthy number of winter athletes, such as skiers and snowboarders, who have been nationally recognized by the state.
Luckily, we've put together the ultimate list of VT famous people to save you the time of searching and scouring the internet yourself. So, what are you waiting for? Kick back, relax, and start learning about some of Vermont's most famous residents over the years!
JoJo
Famous early 2000s pop singer JoJo was born in Brattleboro in 1990 as Joanna Noëlle Levesque and rose to fame with songs like "Too Little, Too Late" and "Leave." She spent most of her childhood in Foxborough MA and Keene NH where she was raised, and today, has even been featured on TV shows like The Masked Singer.
John Deere
Born in Rutland, John Deere went on to become the inventor behind the first steel plow that was successful commercially in the 1830s. He attended Middlebury College and had 9 children, though he did move to Illinois later in life.
Chester Alan Arthur
Chester A. Arthur was the 21st President of the United States between 1881 and 1885 and was also vice president for James Garfield right before. He was also a lawyer for a time and was born in the small town of Fairfield.
Grace Potter
Grace Potter is a musician who is part of Grace Potter and the Nocturnals, which was founded in 2002. She was born in Waitsfield, and the band continued on until 2015 when it split, which resulted in her releasing Midnight, a solo album.
Thomas Davenport
Born in Williamstown, Thomas Davenport was a well-known blacksmith in the 1830s. He was married to his wife, Emily, and had 2 children. He's most well-known for creating the first electric motor that was commercially successful.
Carlton Fisk
Known for being an MLB catcher for the Boston Red Sox, Carlton Fisk was born in Bellows Falls, Vermont. He had .269 batting average and 376 home runs during his career and was also inducted into the Baseball Hall of Fame back in 2000.
Jody Williams
Jody Williams is another Vermonter who hails from Rutland, where she was born in 1950. She's a political activist who is one of the less than 20 women (as of 2022) who has won the Nobel Peace Prize since 1902. She's most well known for her work banning anti-personnel landmines.
Billy Kidd
Billy Kidd is easily one of the more well-known famous people from Vermont, as he's a two-time Olympian who spent most of his childhood in both Stowe and Burlington. To this day, he's said to be the first alpine ski racer to gain national recognition.
Calvin Coolidge
Another President of the United States hails from Vermont: Calvin Coolidge! He was the 30th president, who served between 1923 and 1929. He also served as governor of Massachusetts for a time. Calvin was born in Plymouth but passed in Northampton MA.
Gabriel Mann
While Vermont doesn't have many famous actors, it does have Gabriel Mann, who was born in Middlebury. He's most well known for his work on the TV show Revenge where he plays one of the main character's close friends, Nolan Ross. He's also been on media like The Bourne Identity and The Life of David Gale.
Wilson Bentley
Born in Jericho, Wilson Bentley is a photographer and meteorologist who most young Vermonters learn about in elementary school. That's because he was the first person (known) to have ever taken snowflake photos that were so detailed, people were finally able to see their features up close!
Aaron Lewis
Aaron Lewis is both a singer and guitarist for the band Staind which is a metal band! They've recorded numerous albums over the years and even had a solo career starting in 2010. He was born in Rutland, like many others on this list.
Ethan Allen
Though born in Litchfield CT, many people refer to Ethan Allen as a Vermonter due to being considered one of the state's founders. He passed in Burlington after a life leading many lives, ranging from a patriot in the American Revolutionary World (having been involved with Fort Ticonderoga) to a farmer.
Suzy Chaffee
Another famous Olympian from Vermont is Suzy Chaffee, who was an Alpine ski racer. She was born in Rutland and attended the University of Denver in Colorado, and lived a few other lives as a model for Ford and even as an actress.
William Griffith Wilson
Hailing from East Dorset, William Griffith Wilson (also sometimes just known as Bill Wilson) is most well known for being one of the co-founders behind Alcoholics Anonymous. He was born in the 1890s and his program has helped millions of people worldwide.
Ross Powers
Ross Powers was born in Bennington through spent much of his childhood in South Londonderry. He's a halfpipe snowboarder and world champ who now works at the Stratton Mountain School, where he is the snowboarding program's director.
Justin Morrill
Known for being a politician in the USA House of Representatives for Vermont, Justin Morrill was born in Strafford in the early 1800s. He was also an entrepreneur and was one of the members who served in Congress at the time.
Dorothy Canfield Fisher
Though born in Lawrence KS, Dorothy Canfield Fisher is often thought of as a Vermonter, and she passed in Arlington. She was known for being a best-selling author as well as an activist and fought a lot for women's rights.
Atle Lie McGrath
Atle Lie McGrath was born in Burlington and is Norwegian. His first time on the podium as an alpine ski racer for the Norwegian World Cup was in 2020 and he got his first win in March 2022 in Austria, at just 22 years old.
Nettie Stevens
Nettie Stevens is the female scientist who first founded sex chromosomes in the 1900s! She was born in Cavendish, Vermont, and was one of the first-ever female scientists to make such a big discovery.
Judith Jones
Judith Jones was born in Vermont and attended Bennington College, later on making a name for herself in books as both an author and editor. Today, she's most well known for being the one who took The Diary of Anne Frank out of the reject pile, and many say she's the reason it ended up published.
Hannah Teter
Hannah Teter is another snowboarder hailing from Vermont, having been born in Belmont! She is a gold medal Olympian, having won the 2006 halfpipe at the Winter Olympics in Italy. She also participated in the Vancouver Winter Olympics in 2010, where she received silver.
Keegan Bradley
Keegan Bradley was born in Woodstock, attended Woodstock Union High School, and is a golfer who won the PGA Championship in 2011, and has easily made a name for himself. He's married to Jillian Stacey and they have one child together.
Tana French
Tana French is an author who was born in Burlington, Vermont. She's most well-known for her novel In the Woods, but has also written others like The Trespasser, The Witch Elm, and The Secret Place, among others. She attended school at Trinity College Dublin and lives in Ireland.
Orson Bean
Born in Burlington, Orson Bean was well-known in entertainment up until he passed in 2020. He worked as a producer, actor, writer, comedian, and more. He was also fairly well known for being on the show To Tell the Truth.
Richard Morris Hunt
Richard Morris Hunt was born in Brattleboro in the 1820s and went on to become a very established architect. Today, many remember him for his work on places like The Breakers, the pedestal for the Statue of Liberty, and Biltmore, among others.
Damon Wayans Jr.
Damon Wayans Jr. is the son of comedian Damon Wayans and is a famous actor. He was born in Huntington and has been in entertainment like Let's Be Cops, Happy Endings, and, more recently, Love, Guaranteed.
John Dewey
John Dewey was born in the 1850s in Burlington and was a psychologist and philosopher. He's remembered today for his work in education and pragmatism.
Matt Salinger
Matt Salinger is another actor most known for being in Captain America and Revenge of the Nerds. He's from Windsor, where he was born in the 1960s. He went on to attend both Columbia and Princeton Universities.
Elisha Graves Otis
Elisha Graves Otis was the founder of the Otis Elevator Company, which was founded in the 1800s. He was born in Montpelier and has most notably created an invention that stops an elevator from falling if there's ever an instance where a cable doesn't work!
Dan Tyminski
Another famous VT person is Dan Tyminski, who was also born in Rutland like many others on this list. He is part of a band called Union Station but also has had some solo albums that he has released over the years.
Susan Bennett
Born in Burlington, Susan Bennett is a famous voice actor who actually is the Siri voice in the US if you choose the female American voice on your phone! She was first featured on the iPhone 4S over ten years ago.
Noah Kahan
Noah Kahan is an American singer hailing from Strafford, Vermont. He rose to fame in 2018 after his song "Hurt Somebody" started to gain traction with Julia Michaels and has become more well-known after the release of his Stick Season album in the fall of 2022.
Levi P. Morton
From Shoreham, Levi P. Morton is most well known for being vice president of the United States between 1889 and 1893. He was also the governor of New York for a time and served as an ambassador of the US in France for a time.
Henry Wells
Last but certainly not least is Henry Wells, who was born in Thetford. He's most well known as the businessman who founded both Wells Fargo and American Express! He also founded Wells College.
Well, there you have it! Some of the most famous people from Vermont, all put together in a list. Did any of them surprise you? Be sure to save this post and share it with others who might want to learn some Vermont fun facts!
---
You might also like: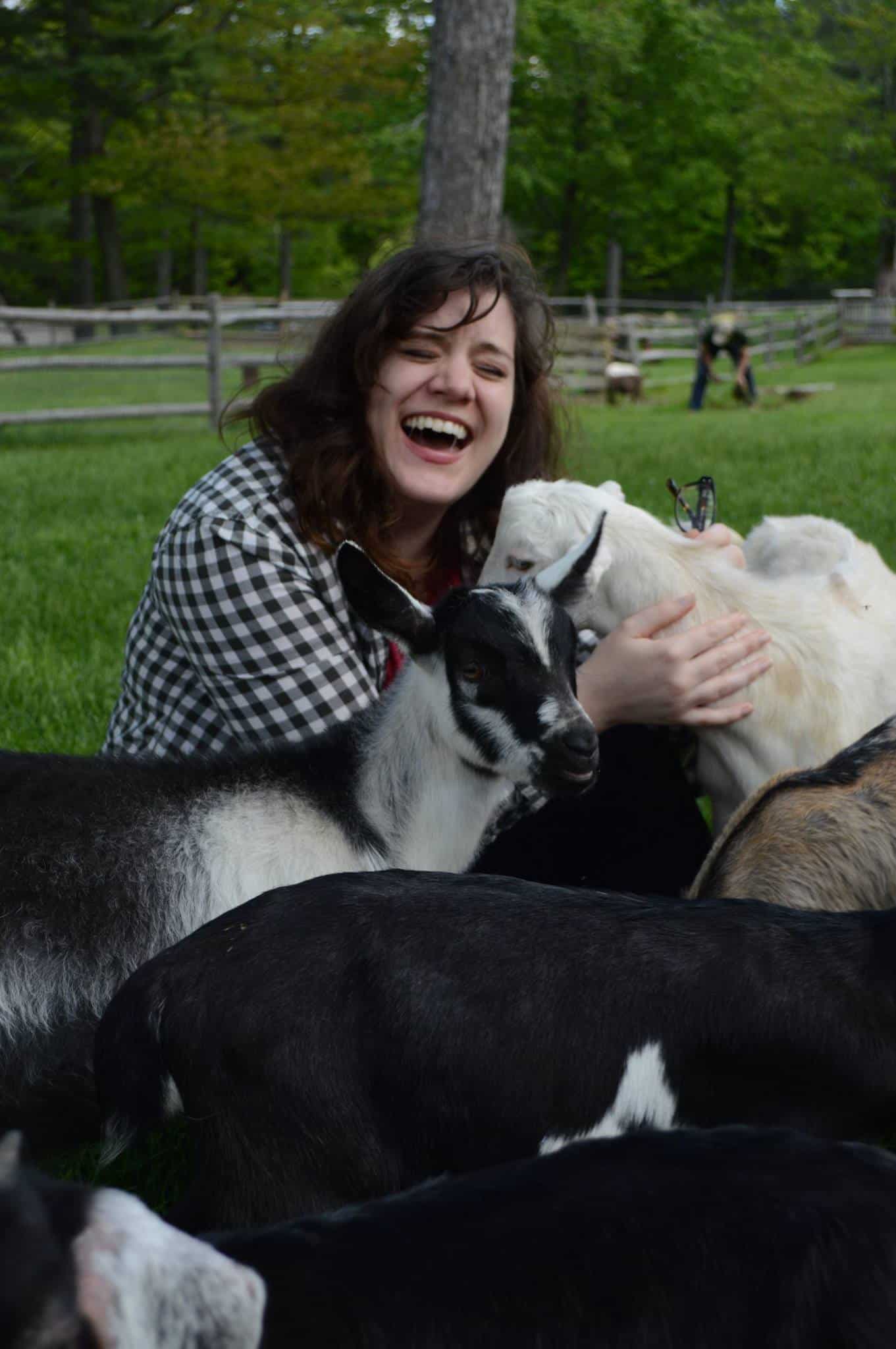 Amy Hartle is the founder and Editor-in-Chief of New England With Love, a comprehensive resource for travel in the New England region. Amy has been exploring New England since 2001. She lived in Vermont for many years and is a graduate of Plymouth State University in New Hampshire. Amy has been writing about travel for over a decade. On this site, Amy aims to share her love of New England and help you to have the best possible adventures!
Amy has been a full time blogger since 2012, and is also the publisher of Two Drifters, where she writes about couples travel and relationships, as well as Let's Adventure Baby, a family travel site. When not traveling the world or creating epic blog content, Amy can be found cuddling with her husband, son, and cats, & drinking a maple latte.