*This site uses affiliate links; if you make a purchase through these, I may receive a small commission at no cost to you.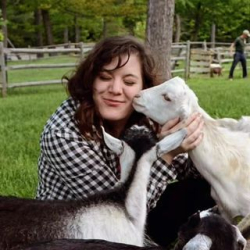 Latest posts by Amy Hartle
(see all)
There are so many incredible bakeries in Vermont, from ones specializing in warm, tasty bread to even scrumptious cakes to satisfy your sweet tooth! No matter where you're visiting in the state, you're sure to find one nearby.
This list of amazing Vermont bakeries was put together with sweet-lovers like you in mind. The bakeries are located all over the state, and most of them are locally run, so grabbing a treat from there is the perfect way to support the locals.
So, are you ready to add these bakeries to your Vermont to do list? Here are the best VT bakeries.
Mother Myrick's Confectionery, Manchester
First on this list of incredible bakeries in Vermont is Mother Myrick's Confectionery in Manchester, Vermont. This bakery dates back to 1977, when it first opened, and quickly became rather popular for its fudge!
What makes this bakery so great is that they're really involved in the Manchester community. In fact, over the years, they've hosted reading programs, decorate-a-cake days, Easter egg hunts, and more for the community. They've also won the Vermont Culinary Award before.
Mother Myrick's Confectionary has different offerings throughout the year, but you can normally expect to find an array of sundaes, cakes, brownies, and cookies on their menu. No matter what you try from this bakery, you're sure to enjoy it.
Red Hen Baking, Middlesex
Located in Middlesex, Red Hen Baking is another of the amazing Vermont bakeries that you'll want to add to your must-visit list. Premium foods are the name of the game at Red Hen Baking, and they use traditional baking methods to achieve this mixed with the best high-quality ingredients.
The cafe side of the bakery has pretty much every type of baked good your sweet side could imagine. You can find apple pie, biscotti, croissants, coffee cake, and more. They even have a unique "spicy brownie" that's made with cayenne pepper!
In addition to their baked goods, the cafe operates as a restaurant, too, serving up sandwiches and bread. They also have a variety of coffees, teas, beers, and wines on their menu throughout the year.
Mirabelles Bakery, South Burlington
If you find yourself up north, be sure to stop by Mirabelles Bakery in South Burlington, founded by two amazing graduates from New England Culinary Institute. The business was opened in 1990, and you know it's good because the founders even trained in London, England, and Reims, France!
Mirabelles Bakery always has new offerings because they have rotating daily specials, so every time you go, they may have something different. They also of course have tasty cakes, like their scrumptious chocolate-raspberry mousse cake.
If you're not hungry quite yet, Mirabelles Bakery also has a wide variety of different take and bake options which you can find at shops throughout the area. These usually include pies, croissants, and more.
Morning Light Bakery, Winooski
Morning Light Bakery in Winooski is another incredible Vermont bakery; what makes them so unique is that they are actually an international bakery known for its Hong Kong-style buns. Seriously, just one bite, and you'll understand why they are a favorite!
This Asian local bakery has tons of different sweets on its menu. You can find classic sweet buns like red bean buns or taro buns and even savory options like roasted pork buns or curry chicken buns. They even have unique hot dog buns with kitchen, mayonnaise, and cheese!
Of course, they also have steamed bao pastries, tarts, and mochi on their menu too. Morning Light Bakery is easily one of the more unique bakeries in Vermont, so if you find yourself in the Winooski area, be sure to swing by.
Nunyuns Bakery & Cafe, Burlington
Located in Burlington, Nunyuns Bakery & Cafe is an incredible place to get some sweet treats and fresh bread. This small neighborhood bakery offers everything from donuts to cinnamon buns and everything in between.
Some of their great baked goods include scones, muffins, coffee cakes, bagels, pies, brownies, cakes, and cookies. They also have more savory items like stuffed bread, English muffins, and other loaves of bread.
In addition, because they're also a cafe, Nunyuns offers great breakfast and lunch options, too. There's french toast, eggs with fries, breakfast sandwiches, burgers, grilled cheese, and even some daily specials!
Sticky Fingers Bakery, West Dover
Sticky Fingers Bakery in West Dover is an incredible spot to buy fresh and hand-crafted bakery items. They start baking early in the morning, and it's the type of place where you can smell it as soon as you park your car.
One of the best things to order from Sticky Fingers Bakery is their cinnamon rolls. Seriously, they have regular OG cinnamon rolls and even three-tier cinnamon roll cakes! Talk about a tasty dessert that can serve a whole family.
Of course, they also have tons of other great treats on their menu too, like croissants, cookies, danishes, and bread. In addition, they have smaller individual desserts like tiramisu and eclairs that you can order, too.
Sweet Alchemy Bakery and Cafe, Essex Junction
If you find yourself near Essex Junction, then you must absolutely stop by Sweet Alchemy Bakery and Cafe, one of the top bakeries in Vermont. They offer a variety of plant-based sweets and also have gluten-free options available on their menu, too.
When it comes to Vermont bakeries, Sweet Alchemy Bakery and Cafe is truly family-run. The owner, Bhava, even met their husband back in South India when they were children, so they've known each other for ages! Plus, Bhava's entire family can also be found at some time or another in the cafe, either to help with washing dishes or making their famous chai.
Their baked goods are incredible because they have so many options. There are chocolate chip cookies, maple donuts, blueberry lemon scones, upside-down peach cake, and of course, classic peanut butter chocolate chip cookies. They also have iced drinks, from lavender lemonade to classic Indian golden milk.
Bohemian Bakery, Montpelier
The Bohemian Bakery is an amazing bakery in Vermont, serving up all types of sweet treats and coffee to pair with them! They have been around in the Montpelier area for a while, having opened in 2003.
The pastry menu at Bohemian Bakery is incredible, including everything from escargot aux chocolate (chocolate swirl) to kouign amann (Breton butter cake). They also have quiche, tarts, croissants, cake, and other dishes.
Of course, there are drinks that you can pair with your sweet treat too. Pretty much every type of coffee or tea is available and made to order, like cappuccinos, mochas, chais, and more. If you want something savory, their menu also includes ham and swiss croissants, quiches, and salads.
Klinger's Bread Company, South Burlington
Next is Klinger's Bread Company in South Burlington, which has incredible artisan bread and delicious treats that they sell right at their cafe location. Klinger's moved to Vermont in 1993 and easily became known for their European artisan bread, so that's a must-try at this place.
They rotate what bread is available depending on the day, but don't worry, they're all so delicious and hearty! Throughout the week, some of their bread types include farm rolls, parmesan, roasted garlic, maple oat walnut, and even cranberry pecan, among others.
If you have a sweet tooth, don't worry, they have a sweet menu too. There are tarts, cookies, sticky buns, and coffee. They also make sandwiches to order with their incredible bread, which is a must-eat.
Stowe Bee Bakery & Cafe, Stowe
Located right in Stowe, one of the most beautiful towns in New England, Stowe Bee Bakery & Cafe is the perfect place to grab a local sweet treat. This bakery makes everything from scratch, and they're known for their high-quality dishes, including their coffee. It's also one of the best places for breakfast in Stowe!
When it comes to sweets and treats, there are many amazing pastries to order from Stowe Bee Bakery & Cafe. They have full cakes, whoopie pies (a traditional must-try New England food), bread, brownies, cheesecakes, cookies, eclairs, and cupcakes.
For a real unique dish, try their amazing cake in a jar, which is offered in a variety of flavors. There's everything from classic vanilla confetti buttercream to lemon raspberry dream. They are just what they sound like; cake served in a jar, so there's no mess and you can eat it on the go!
Superb Cupcakes, Williston
Obviously, this list of incredible bakeries in the Green Mountain state wouldn't be complete without at least one cupcake spot! So, say hello to Superb Cupcakes, located in Williston. They're known for their tasty cupcakes which come in a variety of different flavors, including ones that are rather unique.
This gourmet cupcake shop makes everything in single batches, and they source their ingredients well to make sure they're of the utmost quality. They also make their cupcakes daily, so you know they're fresh.
Some of the great flavors on this list (wait, get ready to have your mouth water) include Butterfinger, butterscotch cookie cups, chocolate cream cheese ganache, blueberry muffins, and even mint cookies and cream.
Flavors are rotated through, but you can also call and order ahead to order special batches for gatherings or parties if you need to. Try to order multiple to save money but also save yourself time because you'll want to come back for more after just eating one!
This post was all about the best bakeries in Vermont; enjoy your trip and we hope this helped to satisfy your sweet tooth!
---
You might also like:
47 Fun Facts About Vermont That Will Amaze You