Massachusetts is home to a plethora of wonderful cities and towns. We know about Boston (of course), Salem, and Hyannis on Cape Cod. But, there's a hidden gem in Massachusetts you need to know about.
That hidden gem is a city called Northampton. Northampton is a bustling city in western Massachusetts. It's only a half-hour drive from Springfield and an hour and forty-five minutes outside of Boston. It's a city known for its academic and artistic nature.
It's also a city where people with many different backgrounds and interests can find something to do. Here are some of the best things to do in Northampton MA.
Shop at Thorne's Marketplace
One of the best things to do in Northampton Massachusetts is shop at Thorne's Marketplace. Thorne's Marketplace is a three-story mall you'll find at the end of the rainbow (the rainbow crosswalk, that is). The charming mall has a number of stores to shop at, including a small bookstore, a candy store, and a natural wellness market.
There are also places to grab lunch and a cup of coffee at the mall, so you can grab a bite or a drink while you do some shopping. You can also make a pit stop at a shop where you can get a chair massage and relax a bit.
Thorne's Marketplace is located in an area of Northampton that has heavy foot traffic, so once you're done there you can take a look at the other small shops along Main Street. You can also stop at a local cafe or restaurant along Main Street to relax and take in the wonderful atmosphere of downtown. For some ideas on where to stop, check out our recommendations for the best coffee shops in Northampton, including one that is located inside Thorne's.
Visit the Botanic Garden of Smith College
One of the most beautiful places you can visit in Northampton is the Botanic Garden of Smith College. The Botanic Garden is a beautiful space that houses ten different garden types and a greenhouse. You can browse a number of outdoor gardens, including a Japanese garden and a woodland and wildflower garden. You can also schedule a group tour or do self-guided tours around the campus.
According to the Botanic Garden, there are more than 6,600 different kinds of plants in the garden collection, so there's no shortage of beauty in this Northampton gem. It's open year-round too, so it's a nice place to escape to if you're feeling the winter blues.
Tour the Smith College Museum of Art
After you're done with the Botanic Garden, you can take a tour of the Smith College Museum of Art. It's one of the best things to do in Northampton, as it houses an impressive collection of art. Specifically, the collection includes more than 27,000 pieces of art dating from antiquity to the present. These pieces have been created by artists around the globe.
Visitors to the museum often compliment how much wonderful art is jam-packed into this hidden gem. You can find pieces from Federigo Barocci, Claude Monet, and Diego Rivera.
In addition to housing wonderful art, the museum also serves as a place where artists can teach and learn. It's an interdisciplinary teaching museum that offers year-round programming for the campus and local communities.
Participate in a Zombie Pub Crawl
Yep, you read that right. Salem isn't the only place in Massachusetts where you can have some fun on Halloween. There's a zombie-themed pub crawl that happens in Northampton each October. If you go, you'll see dozens of people clad in zombie makeup and enjoying the night as they go from bar to bar.
The pub crawl is a tradition that's been going on in Northampton for years, so if you participate in it, you'll be participating in a little part of Northampton history. If you find yourself in the area in October, make sure you bring your best zombie getup!
Catch a Sunset from Skinner State Park
If you are looking to catch spectacular views, consider a visit to Skinner State Park. Here, you can hike or drive to the top of Mt. Holyoke. And sunset is a perfect time of day to do so.
Want some more options for hiking? Mount Tom State Reservation is just outside of Northampton, in Holyoke, and offers several hiking trails (of varying skill levels) to choose from.
Paddle Down the Connecticut River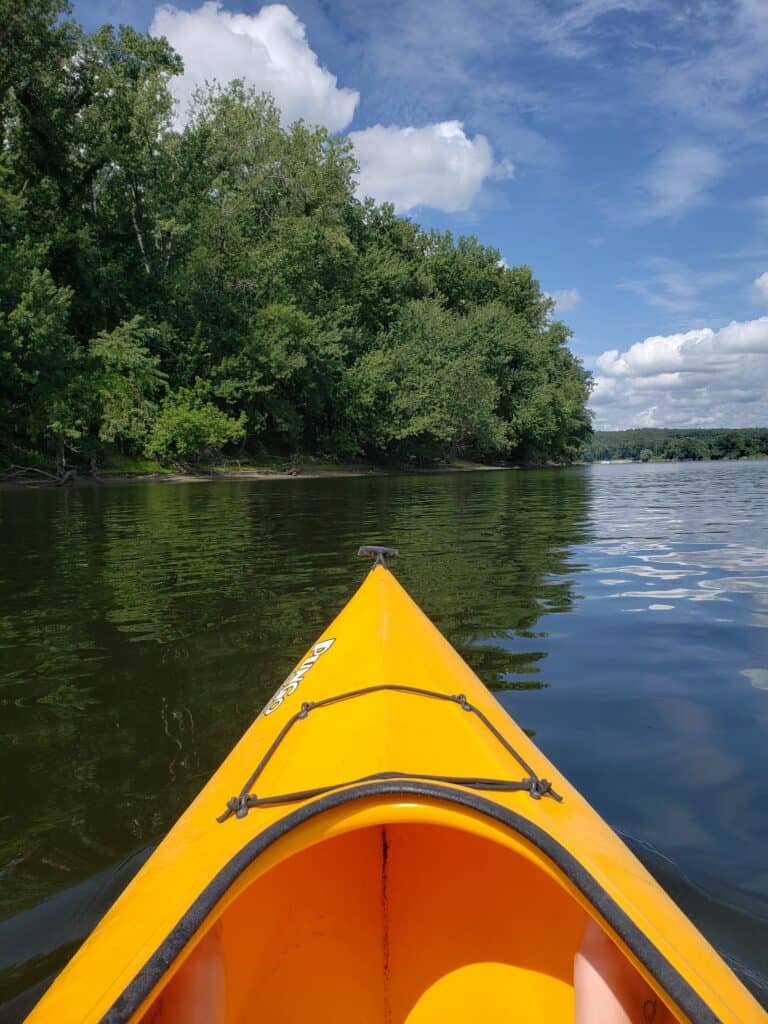 In nearby Hadley, you can rent kayaks for a day spent on the water. When my husband and I visited Northampton, we did exactly this on a late summer day, and it was a blast. The views are gorgeous, the water is perfect for beginning kayakers, and it is a great way to experience the Connecticut River.
Go to an Outdoor Movie
It's no secret that New England can have some severe weather, but when it's nice out, you can do some really fun activities. One of the coolest things to do in Northampton Massachusetts is going to see an outdoor movie. During the summer, tourists and locals can catch a free outdoor movie through Cinema Northampton.
According to its website, Cinema Northampton started in 2013 to bring free movie screenings to the community. It's a great way to entertain yourself during the summer without breaking the bank. If you plan on visiting Northampton in the summer, make sure you see an outdoor movie before you leave.
Visit the Farmers' Market on Tuesday
If you're in Northampton on a Tuesday between May and November, be sure to stop by Northampton Tuesday Farmers' Market. The Farmers' Market is located right behind Thorne's Marketplace and provides fresh produce for people in and around Northampton to buy. The Farmers' Market also serves as a place where people can socialize and relax while shopping for food that enriches their lives (and stomachs).
If you're visiting Northampton on a Tuesday in the spring, summer, or fall, this has to be a spot you go to. You can pick up fresh produce while chatting with locals and learning more about the wonderful area.
Browse a Used Bookstore
Do you LOVE browsing used bookstores? Then I don't need to tell you twice; you should totally put Raven Used Books on your Northampton MA itinerary. It's a classic used bookstore that fellow bibliophiles will fall in love with.
Walk or Bike Norwottuck Rail Trail
If you're into hiking or biking, one of the best things to do in Northampton Massachusetts is explore the Norwottuck Rail Trail. This trail is actually a 10-mile bike path on the old tracks of the Boston and Maine railroad and connects the towns of Northampton and Hadley. The trail goes over the Connecticut River, so you can stop and take some wonderful pictures along the bridge as you make your way down the trail.
You'll see a beautiful landscape while walking the trail, and there are places where you can stop and have a picnic if you'd like. Don't be surprised if you see many people there, though. This trail is popular among tourists and locals.
Try New Food During Restaurant Week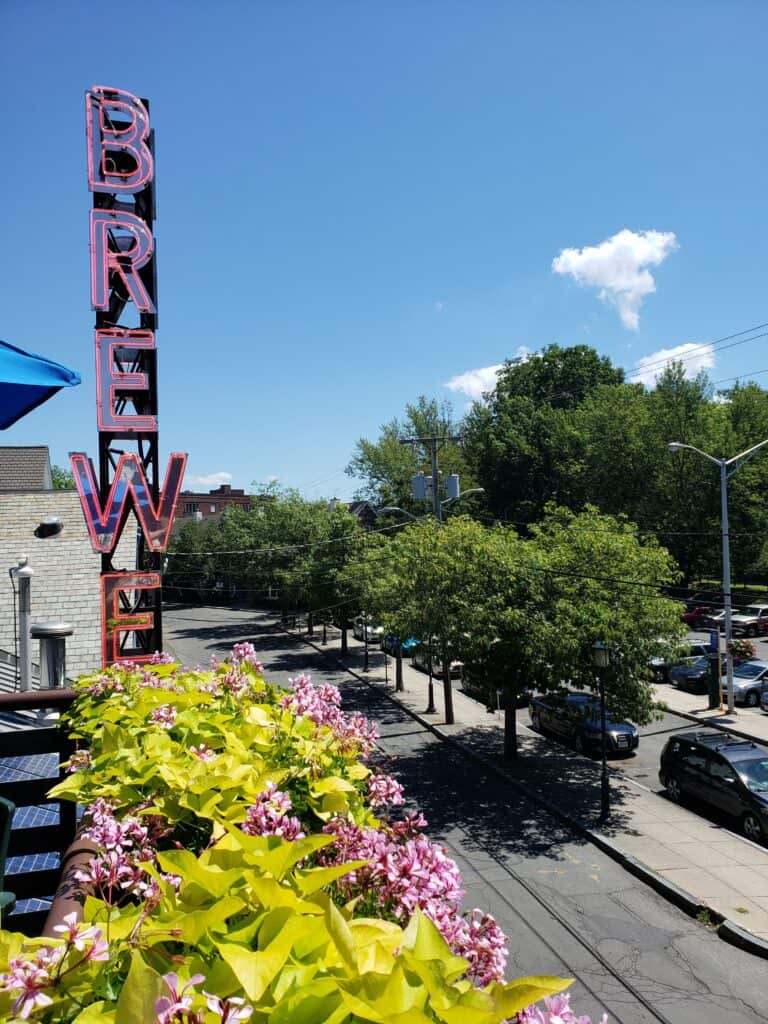 If you find yourself in Northampton during the month of June, you can participate in a delicious annual tradition. Each year, the Northampton Restaurant Week event encourages people in and around Northampton to dine in Northampton restaurants. These are generally within a 10-minute walk of one another and offer three-course meals for $20 and $25.
This week-long event is a win-win for locals and restaurant owners. The locals get to dine out each night at an affordable rate, while the restaurants get to draw in customers and create new dishes for the event. If you're a self-proclaimed "foodie", this event is right up your alley.
Visit the Happy Frog Statue
One of the most unique things to do in Northampton Massachusetts is to visit the Happy Frog statue. The bronze statue is pretty easy to find as you stroll along Main Street. When you find it, you'll see a happy looking frog laying on its side.
This statue serves two purposes in the community: it displays art, and it also helps those in need. The statue doubles as a collection point for cash, and the money goes towards helping to feed the homeless. This statue truly captures the spirit of Northampton: fun, unique, and community-oriented.
Have a Picnic at Look Park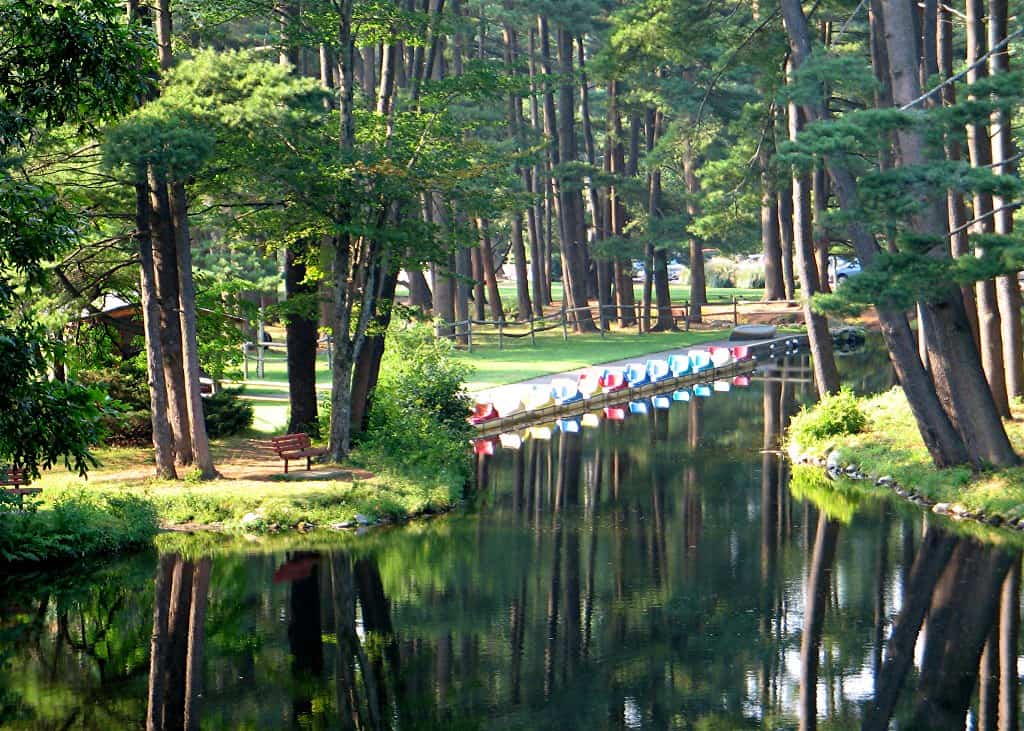 There is an incredible amount to do at Look Park! I highly recommend this as one of the top things to do in Northampton MA with kids. Your tots will enjoy the steamer train, paddle boats, playgrounds, mini golf, and even a zoo!
Visitors of all kinds will like the walking trails in Look Park, and packing a picnic to bring is a great suggestion for a day out. Put together a basket of delicious food and drink from a shop such as Provisions. This gourmet grocer and wine shop has everything you could possibly need for a perfect picnic.
Go on a Ghost Tour
If you're into the spookier things in life, one of the coolest things to do in Northampton Massachusetts is to go on a ghost tour. Northampton, like many towns in Massachusetts, has a lot of history within it. Some of that history includes haunted history. If you visit Northampton from April to October, you'll be able to walk around and hear about the city's ghosts.
Some key stories you may hear include the tale of a pair of star-crossed lovers and the tales of former residents at the Northampton State Hospital…who may still be patients in the afterlife. This is an especially intriguing activity to do if you're in Northampton around Halloween. If you're feeling brave, book a tour with some of your friends and get a rundown of Northampton's haunted history.
Sink Deep Into an Outdoor Hot Tub
Finally, at the end of your day or weekend in Northampton (or however long you stay) you deserve some sweet relaxation. East Heaven is a spa right in the city where you and a partner or friends can enjoy serene, private indoor or outdoor hot tubs. My husband and I absolutely loved this experience when visiting Northampton.
The outdoor hot tubs offer views of the starry Massachusetts sky, and can be a truly romantic experience. You can also combine your tub time with services such as massage or skin care. Be sure to check this place out!
—
There are plenty of things to do in Northampton Massachusetts. The best part? There seems to be a little something for everyone. If you love food, art, shopping, hiking, and if you like all things spooky, you could find something to do in this city. It's a must-see spot in New England that you'll want to visit more than once.
Northampton may be a bustling small city, but it has a strong sense of community. You can tell the people who live in this city truly love it. That's one of the things that makes it a great spot in western Massachusetts. So, don't be surprised if you feel right at home when you visit. Take the time to walk around, meet some local people, try some of the incredible local food, and take in everything the city has to offer. You'll be telling your friends and family about this hidden gem in no time!
---
You might also like:
---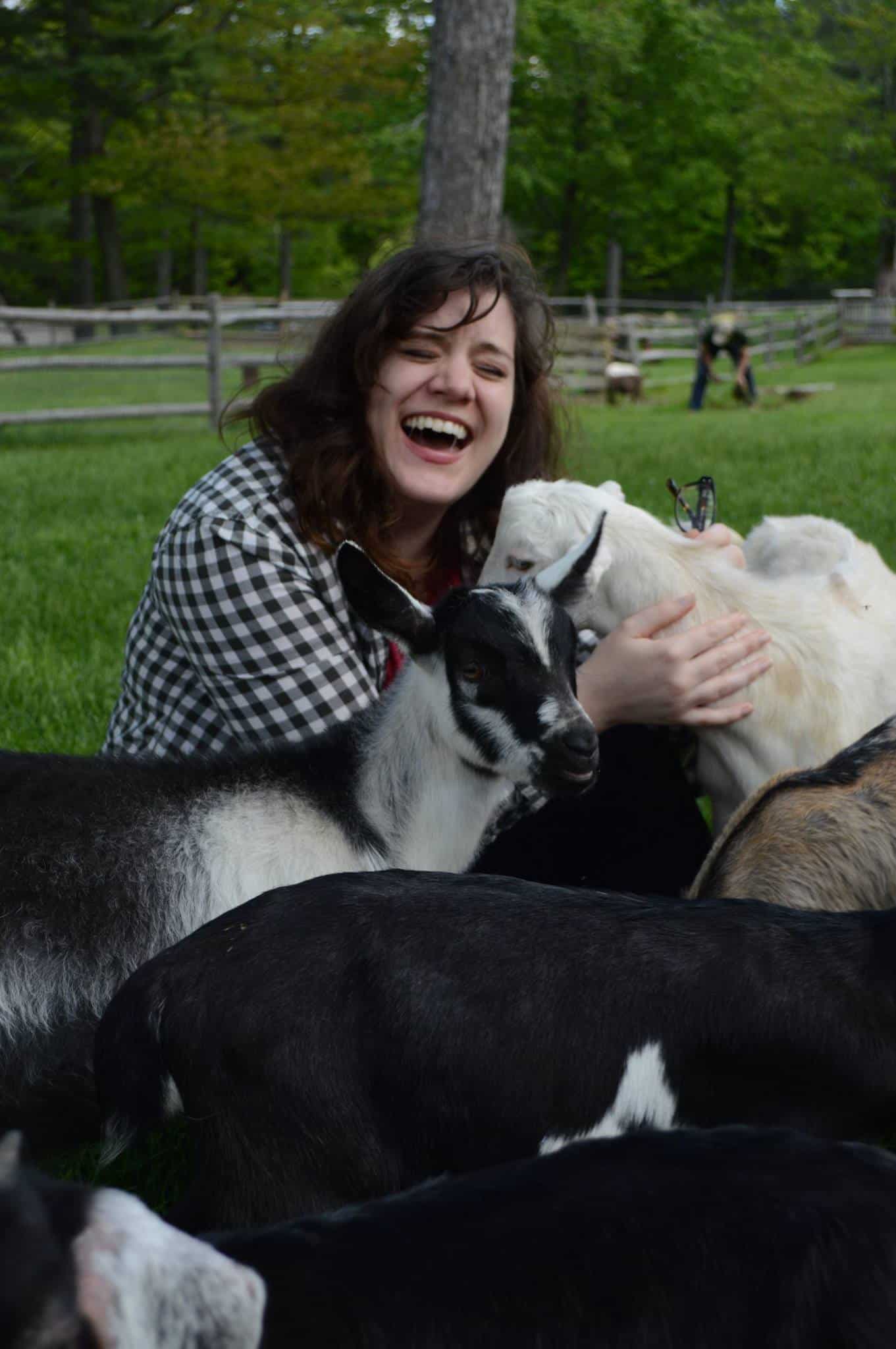 Amy Hartle is the founder and Editor-in-Chief of New England With Love, a comprehensive resource for travel in the New England region. Amy has been exploring New England since 2001. She lived in Vermont for many years and is a graduate of Plymouth State University in New Hampshire. Amy has been writing about travel for over a decade. On this site, Amy aims to share her love of New England and help you to have the best possible adventures!
Amy has been a full time blogger since 2012, and is also the publisher of Two Drifters, where she writes about couples travel and relationships, as well as Let's Adventure Baby, a family travel site. When not traveling the world or creating epic blog content, Amy can be found cuddling with her husband, son, and cats, & drinking a maple latte.