While there are many great things to do in Western MA, there's a region that is extra special.
There is a small section in Western Massachusetts that I would describe as the 'hidden gem' of the Bay State. The folks that did not grow up in this area know it as the Connecticut River Valley. But to the locals, it is known as the Pioneer Valley. Made up of the three counties of Hampden, Hampshire and Franklin, the Pioneer Valley is rich in diversity and culture, and filled with many places and activities to enjoy in every season. The Pioneer Valley is more than just a place I grew up in. It is home.
I invite you to grab a cup of coffee, find a comfortable seat, sit back and relax as I take you on a tour through the many adventures to be had in Western Massachusetts.
Things to Do in Western MA: Pioneer Valley
The 'City Life' of Hampden County
Urban Park Adventures
One of my favorite childhood memories I can recall is visiting Forest Park in Springfield with my grandparents. I would enjoy feeding the ducks and geese, and exploring the ponds in the woods. The area offers many hiking trails, picnic areas, and a zoo with a variety of animals. During the holidays, Forest Park features Bright Nights; a festive splendor with countless displays of holiday lights that folks can enjoy without leaving the comfort of their car.
Museums, Casinos, and Entertainment, Oh My!
Looking for cultural and family friendly activities? The many museums located in Hampden County include the Springfield Science Museum, the World of Dr. Seuss Museum and Gardens, The Children's Museum in Holyoke, Amelia Park Children's Museum in Westfield and a variety of fine art museums. From concert performances at MGM Casino to hosting a child's birthday party at the Basketball Hall of Fame, Hampden County has so much to offer its visitors.
If you are an antique collector, be sure to keep your eyes (and ears) open for when the Brimfield Antique Flea Market opens up. This large flea market attracts visitors from all over New England. This amazing event is hosted for an entire weekend in May, July, and September because it is impossible to go through the entire area in just one weekend.
New England Fairs
Across the Connecticut River heading into the towns of West Springfield and Agawam, the area is brought to life when the Eastern States Exposition comes to town. Dubbed the "Big E", these fairgrounds host carnival rides, vendors from all over the world, demonstrations, concerts and various events, and lets not forget about the overwhelming variety of delicious foods. From cream puffs to deep fried Oreos, from the Maine baked potato to the buttered lobster roll, one certainly needs a hardy appetite before attending the Big E. There is plenty to 'fill' one's plate with here in Hampden County.
The Rural and Farming Communities of Hampshire County
Hiking, Biking, and A Whole Lotta Food
The towns here offer a wide variety of adventures, especially for the outdoor enthusiast. One unique mountain I love hiking through is the Mount Tom State Reservation. Extending through the towns of Holyoke and Easthampton, Mt. Tom offers several miles of beautiful forested trails. Activities can include watching sunsets by the towers, hiking along Bray Lake, exploring through the New England Trail (NET) and Metacomet-Monadnock Trail (M-M Trail), and hosting cookouts in designated picnic spots.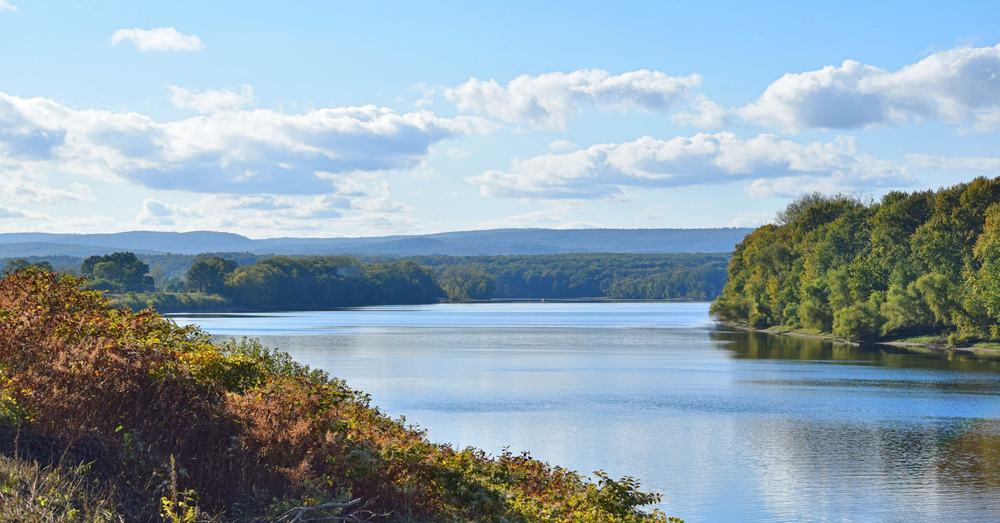 During the Western MA summer, I make sure I head down the west side of the mountain into Easthampton to get myself a strawberry ice cream cone at Mt. Tom Homemade Ice Cream Shop, and enjoy it while walking along the boardwalk next to Nashawannuck Pond.
Spending the majority of my time outdoors, I enjoy viewing wildlife along the trails of the Mass Audubon's Arcadia Wildlife Sanctuary, or kayaking along the Connecticut River. The Oxbow in Northampton is another popular spot for canoeing or kayaking. Simply let go and relax while drifting along in a unique U-shaped body of water off the Connecticut River.
If you are not much of a kayaker, but you enjoy a good bike ride, take a leisurely stroll down one of the many bike paths that meander throughout Hampshire County. Enjoy many sights and scenic landscapes with family or friends from any of these bike paths: the Manhan Rail Trail in Easthampton; the Norwottuck Rail Trail in Hadley, Amherst and Belchertown; and the Northampton Bikeway in Northampton, Florence and Leeds which will take you straight through Look Park. Look Park offers family picnics, a zoo, firework displays to celebrate July 4th, and summertime train rides throughout the park.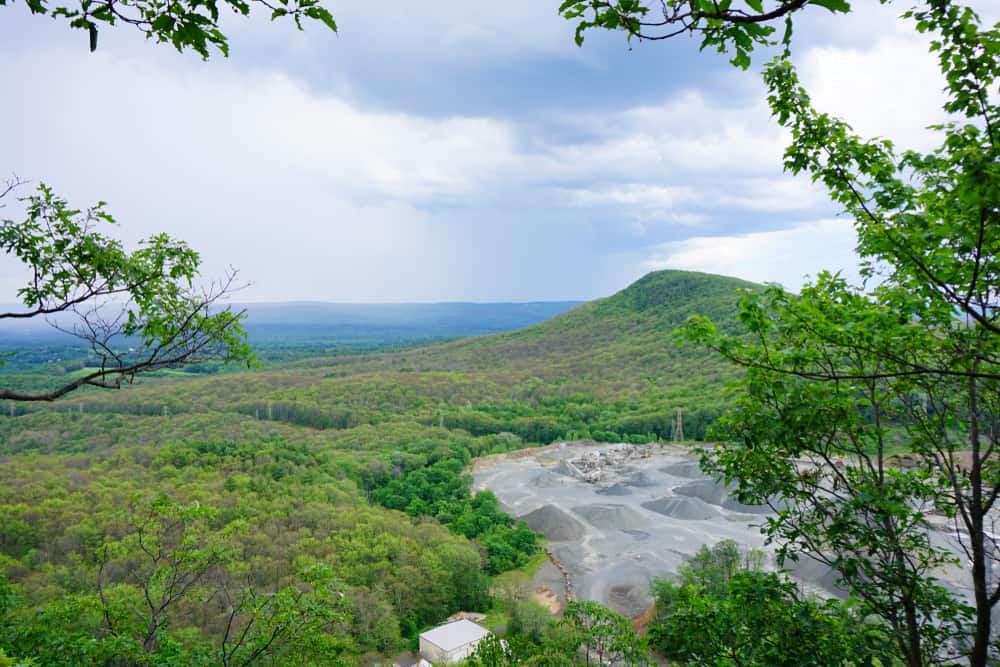 If I want a more challenging adventure, I will plan a Mount Holyoke Range traverse. Also known as the Seven Sisters, the Mount Holyoke Range begins as part of the NET that starts in Hadley and finishes in Amherst. This day hike takes me through a variety of hardwood and hemlock woodlands with some strenuous scrambles over many geologic structures. Be sure to have plenty of water and snacks to enjoy this journey.
Farm Fresh
After a long day of hiking, I will stop by Barstow's Dairy Store and Bakery for lunch, or a slice of their chocolate cream pie. Barstow's Bakery is located at Longview Farm along Rt. 47 in Hadley, and they are just one of many dairy farms that make up the farming community in Western Mass. From homemade ice cream enjoyed at Flayvors of Cook Farm during the summer to challenging your nerves on a hunted hayride at McCray's Farm in the fall, there is so much to enjoy while visiting a neighboring farm. Don't forget to stop by a roadside stand to buy fresh tomatoes, cucumbers and corn, among many other varieties, for farm-fresh meals to prepare at home.
Looking for a 'sweeter' farm fresh product? How does fresh maple syrup sound? Don't go without visiting a sugarhouse during the sugaring season. North Hadley Sugar Shack is just one of many sugarhouses to visit and pick up a bottle of their fresh maple syrup.
One farm field along Rt. 47 attracts hundreds of visitors every year at the largest outdoor flea market. From late April to early November, visitors can gaze upon the several tables filled with unique treasures, antiques, gardening plants and food truck vendors.
Shopping in NoHo
If the weather forces you to stay indoors, take a drive over to Northampton and venture through the many shops and boutiques at Thornes Marketplace. Amanouz Café, Fitzwilly's, Eastside Bar and Grill, and Bela are just some of the multitude of restaurants (and coffee shops!) located in Downtown Northampton if one was looking for ethnicity to their cuisine. From the farm towns to the hill towns of Western Mass, boredom is not something one will find.
The Rural and Somewhat Remote Areas of Franklin County
Festivals Are the Best-of-Alls
From shopping at Kringle Candle in Bernardston to walking along the canal at the Great Falls Discovery Center in Turners Falls, there is an array of activities to enjoy in Franklin County. Held on the grounds of Greenfield Community College is the annul Green River Festival. The Green River Festival is a summer event held for one weekend every July hosting music concerts, local food, a craft fair, and a variety of activities that include a nighttime hot air balloon glow. A fantastic summer event indeed!
If you enjoy fall festivals, my favorite one to attend is the North Quabbin Garlic and Arts Festival. This festival is a perfect combination of a handmade craft fair and a farmers market. They host local cuisines from around Western Mass, provide energy saving demonstrations, and entertain visitors with live music. The unique qualities about this festival if that the entire area is run on solar power energy! They have minimal trash reciprocals because they compost almost all of the waste. Hosted for only one weekend, by the end of their festivities they would have collected approximately 3 bags of trash. Wow! Not only do I love attending this festival every year, but also it has become a tradition to attend among my family members.
Anything But Average Village
Taking my travels west along the Mohawk Trail on Rt. 2, I love visiting the Village of Shelburne Falls. The first place I visit is Boswell's Books. I love venturing through small local bookstores, especially the ones that have a friendly feline waiting to greet me when I visit. Okay, so I don't know many or any bookstores that have resident cats, but this one certainly does. Even if I am not in the mood to purchase any books, I always leave Boswell's with at least one purchase.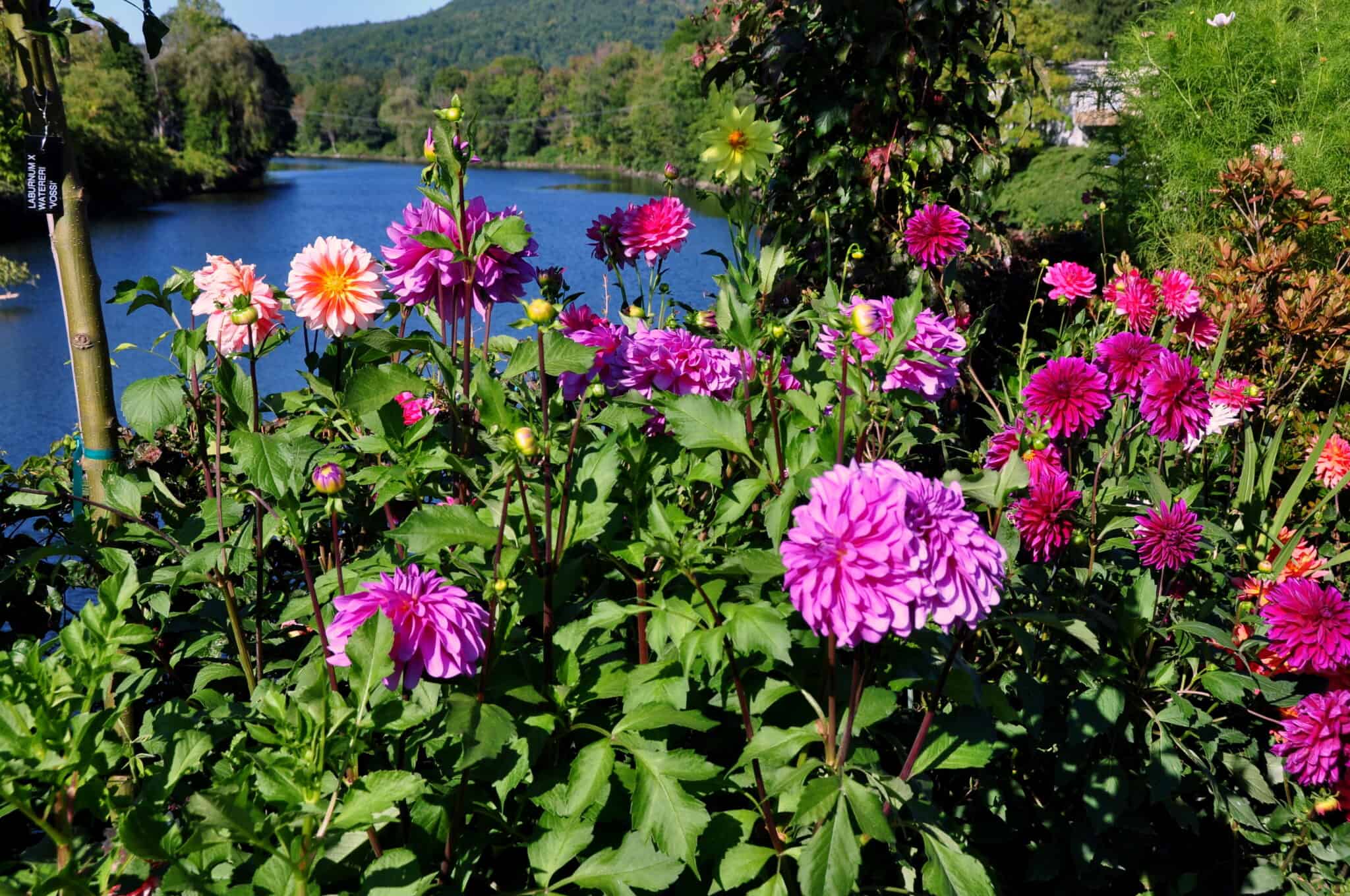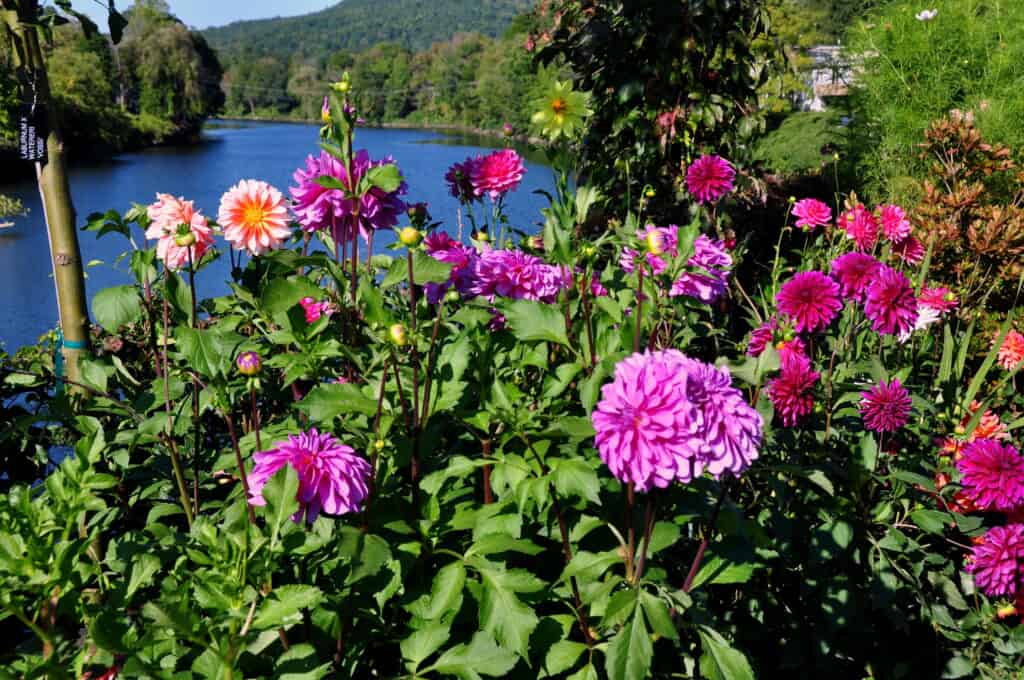 As I make my way down Bridge Street I take a slight turn to walk across the oh-so-beautiful Bridge of Flowers. Although the bridge is closed during the winter, during spring, summer and fall there are a wide variety of beautiful flowers lining up each side of the footbridge. Personally, my favorite time of the year to walk across the Bridge of Flowers is mid August when the sunflowers have bloomed. Sunflowers are my absolute favorite flower, and I just love the way they brighten up the landscape.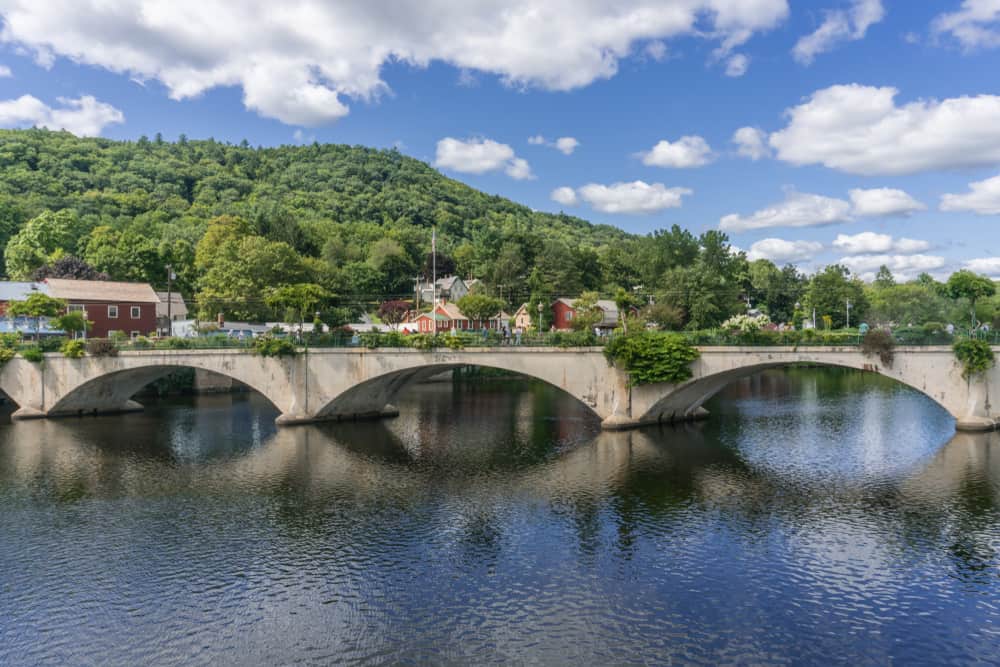 Hungry? There are many restaurants and cafés that will be sure to provide a little variation to your appetite. Enjoy a meal at the West End Pub overlooking the Deerfield River, or a unique fare at the Blue Rock Restaurant, or a heartwarming cappuccino at Mocha Maya's Coffee House.
The Great Outdoors
Looking for a rugged adventure in Franklin County? Book a white water rafting trip with Zoar Outdoor Adventures. When I booked my first trip, I was impressed at the well-kept schedule they provide to ensure everyone has an unforgettable time. At the end of the adventure, all of the visitors that day gathered around to enjoy a delicious barbeque cookout together.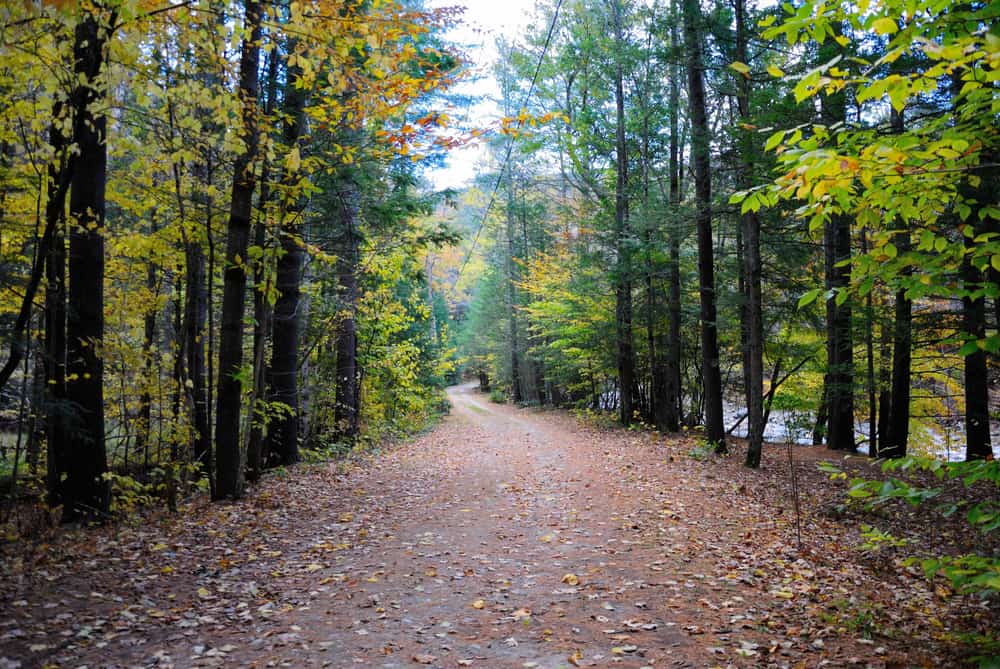 Not much of a white water rafter? Then enjoy a hike along the trails of the Mohawk Trail State Forest. Explore mountain ridges, gorges, and enchanting woodlands that decorate the landscape. The most popular times to visit the forest are during the fall season. The foliage in this region is simply breathtaking! There are more moderate to easy trails in the forest that are perfect for snowshoeing during the winter months. There is plenty to enjoy in the Franklin County region of the Pioneer Valley in every season.
Small Valley, Endless Adventures
Whew! What an adventure! There is so much to do here in the Pioneer Valley, and there is still so much that I have not mentioned or have yet to enjoy myself. After a long week spent at work, it's nice to spend a Friday evening planning my weekend activities, and there is much to choose from. When my biggest decision of the day is trying to figure out which restaurant to go out to eat, that is when I know I am enjoying myself.
If you are entering Massachusetts from Vermont, be sure to look for the small green sign on the southbound lane of I-91 that reads "Welcome to the Pioneer Valley". It would not be much of a special place if there were no welcome sign waiting to greet you as you entered.
---
You might also like:
---
Greetings! I am Jennie Curran-Wage. I live along the river, in the mountains, and among the trees. I am from the beautiful and vibrant Pioneer Valley of Western Massachusetts. I became a resident of the Great North Woods area of New Hampshire with my husband, Jim, and our crazy lovable German Shepherd, Madison. I am a scenic and wildlife photographer, and I am so fortunate to have beautiful places to explore right in my own backyard. I enjoy writing and journaling, and connecting with Nature through meditation and creating. My love for the White Mountains of NH lead me to become a volunteer Alpine Steward through AMC (Appalachian Mountain Club) so that I can help educate about the importance of preserving our sacred lands. My passion is in the great outdoors.  If you see me out on a trail, I'll be sure to greet you!