*This site uses affiliate links; if you make a purchase through these, I may receive a small commission at no cost to you.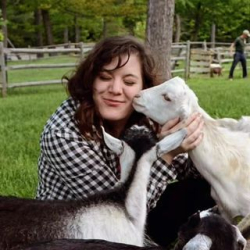 Latest posts by Amy Hartle
(see all)
Located in western Massachusetts, Northampton is one of the more underrated places to visit in the state! There are tons of great things to do, local stores to shop at, and even places to eat at with so many great restaurants in Northampton MA.
Luckily, this post will cover all of those restaurants; by the end, you'll know exactly where you should eat during your trip to Northampton. Plus, many restaurants on this list are owned by locals, so you won't be able to eat this great food elsewhere!
Here are all of the top restaurants in Northampton MA.
Fitzwilly's Restaurant & Bar
Location: 23 Main St, Northampton, MA 01060
First up is Fitzwilly's Restaurant & Bar, easily one of the most popular restaurants in Northampton MA! It's situated inside a historic building from the 1890s and serves some of the best pub and bar fare in the entire town, which is what it's pretty well-known for. Plus, it's located right on Main Street, so it's pretty impossible to miss.
The interior of the building is super old school yet elegant, with wood everywhere you look and dark, brick walls. Plus, the main centerpiece is a huge bar area where you can order almost every drink imaginable.
The restaurant has been around since the 1970s and has quickly become a favorite among locals. On the menu, you can find unique dishes like cheeseburger mac and cheese bites or gorgonzola garlic bread to traditional dishes like bolognese or shepherd's pie.
Local Burger
Location: 16 Main St, Northampton, MA 01060
If you want "fast food," then you'll want to stop by Local Burger. This small restaurant serves up the best burgers that you can get in all of Northampton. Plus, it has a super funky black and white sign that will surely catch your eye when you're exploring downtown.
Inside, you'll feel like you're in a modern diner. There are black and white checkerboard floors and wooden walls. Plus, there's ample seating throughout the interior and some spots to eat outside if the weather is nice.
Everything you could imagine is on the menu. There are giant shakes, french fries, burgers, and more. Plus, they have some really great poutine that you won't want to miss; it's perfect for splitting between two people!
Osaka
Location: 7 Old S St, Northampton, MA 01060
Another of the best restaurants in Northampton MA is Osaka, a Japanese restaurant that's perfect for eating at if you're in the mood for hibachi or sushi. The restaurant is still generally located in the downtown area and is one of the more popular places to eat at. So, if you want to sit at the hibachi, be sure to make a reservation if you can!
The building that it's located in is relatively large, and there's quite a bit of outdoor seating so that you can enjoy the lovely Northampton weather, especially in spring or fall. The decor inside is rather minimalistic, but there are wooden accents everywhere that help lighten up the space.
Everything on the menu is about $15 to $20, with appetizers costing significantly less. There's teriyaki, salads, soups, sushi, tempura, age mono, donburi, udon, fried rice, and more. The menu is pretty extensive, so you may have difficulty choosing what to eat!
Roberto's Restaurant
Location: 223 Pleasant St, Northampton, MA 01060
Easily the top Italian restaurant in Northampton is Roberto's Restaurant. This is a popular place to eat among families and can also be perfect for a date night out on the town. The food is so incredibly hearty that you'll want to come back for more after eating there once!
Roberto's is not your average Italian restaurant. Sure, they have traditional dishes like lasagna or pasta with meatballs, but they also have fun entrees like seafood stew, salmon pesto alfredo (yes, you read that right), and butternut squash ravioli. Plus, they have unique sauces, including horseradish sour cream or gorgonzola!
With both indoor and outdoor seating, Roberto's Restaurant is an excellent option if you're wondering where to eat in Northampton. The inside of the restaurant will make you feel like you're right at home with the warm lighting and dark wooden walls.
Jake's
Location: 17 King St, Northampton, MA 01060
Jake's is a fantastic American restaurant on King Street in Northampton! It's known for having great seasonal dishes for both brunch and lunch. Plus, there's usually some sort of special on the menu that will remind you of mom's homecooked meals.
The ambiance of the restaurant is very bright and cheerful. With yellow walls, wooden tables, and some booth-style seating, Jake's really knows how to make a comfortable space. There's also a small patio with seasonal outdoor seating.
Breakfast is served all day at Jake's, so if you're a late riser, you don't have to worry. Choose between egg dishes, quinoa bowls, and even breakfast burritos. There are also tons of burgers, sandwiches, salads, soups, and more for lunch. After, you can stop at one of the best coffee shops in Northampton.
Eastside Grill
Location: 19 Strong Ave, Northampton, MA 01060
Eastside Grill in Northampton is an excellent restaurant if you're in the mood for seafood or steak. It's mainly a popular restaurant among families in the area and is perfect if you're looking for a spot to host a bigger group.
The food served at the Eastside Grill will honestly fill you up with the size of the plates that you get for the price! Each meal is so hearty, and there's even dessert to try after. Some shining stars on their menu include french onion soup, classic popcorn shrimp, and fried brussels sprouts with smoked honey aioli.
At this restaurant, there's indoor and outdoor seating. It can be a pretty popular place to eat on the weekend, so try calling ahead to see if you can make a reservation, especially if you'll be visiting with a larger party.
Mama Iguana's
Location: 271 Main St, Northampton, MA 01060
Obviously, this list of the best restaurants in Northampton MA would not be complete without including at least one Mexican restaurant: Mama Iguana's! This Mexican restaurant is everything you'd want and more.
Mama Iguana's has such a lively atmosphere with fun decorations and lights inside. Even the tables have colorful table clothes that will make you so excited to dig in and eat. No matter what you order here, you're truly in for a treat.
Every type of Mexican dish that you can imagine is on the menu here. There are quesadillas, burritos, chimichangas, fajitas, tamales, salds, and more. Don't forget to try the guac with chips as an appetizer while you wait for your entree!
Pita Pockets
Location: 193 Main St, Northampton, MA 01060
A great place to eat in Northampton if you're on a budget is none other than Pita Pockets. While this restaurant may not look like much from the outside, it's genuinely somewhat of a hidden gem because the food is incredible.
Pita Pockets serves Mediterranean food like falafel and shawarma. Honestly, there's pretty much every type of traditional Mediterranean food that you can think of on the menu. Plus, it's very affordable and fast!
The restaurant itself is minimalistic on the inside, but there are a lot of different booths where you can eat your food right after it's made. You could also take it to go and eat somewhere outside in Northampton instead if you'd prefer.
Thai Garden
Location: 2 Bridge St, Northampton, MA 01060
Thai Garden is one of the best casual restaurants in Northampton MA, serving delicious Thai food! With its beautiful exterior featuring golden letters, it's genuinely impossible to miss this building on Bridge Street.
Even though it's casual, the interior of Thai Garden has a touch of elegance with its beautiful ambient lighting. There are also many different tables inside, but the restaurant is not that big overall. Try to slightly beat rush hour, especially if you'll be eating there for dinner!
Some great dishes on the menu include spring rolls, tofu triangles, dumplings, tempura, soup, wings, seafood, and more. Each menu dish is mostly around $8 to $15, so it's a reasonably affordable place to eat in Northampton.
Northampton Brewery
Location: 11 Brewster Ct, Northampton, MA 01060
Last but not least is the Northampton Brewery, the perfect place to eat it if you are in the mood for a cold pint and tasty pub food. The brewery has been open since the 1980s and is one of the places in Northampton that you won't want to miss.
Most people will opt to eat outside in the beer garden, which is surrounded by beautiful flowers. Plus, there are fans to keep you cool, which is a huge pro if you'll be eating there in the summer. The patio is also covered in case there is rain.
In addition to their excellent drinks, the menu is filled with classic dishes like chicken tenders, wings, nachos, and more. They also have more unique dishes like beer-battered catfish bites that are worth trying if you want something different!
This post was all about the best restaurants in Northampton MA. Surely you've now found an excellent new restaurant to try in this lovely city! Don't forget to save this post for later to help other travelers who may be visiting the area.
—
You might also like: