*This site uses affiliate links; if you make a purchase through these, I may receive a small commission at no cost to you.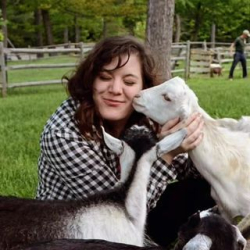 Latest posts by Amy Hartle
(see all)
Known for being a quintessential Vermont town, Woodstock is an ever-popular New England destination. While there are so many great things to do in Woodstock during your visit, one of the best is to eat at some of the tastiest restaurants in Woodstock Vermont!
There are a ton of great places to eat in Woodstock, these are just a few to check out during your stay.
Wicked Awesome BBQ
Location: 93 Beswick Dr, White River Junction, VT 05001
First up is none other than Wicked Awesome BBQ, a humble barbecue restaurant in Woodstock that doesn't look like much from the outside but serves up some of the tastiest food you can find in town. While it's not technically located in Woodstock, it's just a short drive from town.
The bright red building will catch your attention as you're driving by, and the inside is comfortable and warm. Try the Root Beer Pulled Pork and Maple Rubbed Pulled Chicken Combo… yum!
Worthy Kitchen
Location: 442 Woodstock Rd, Woodstock, VT 05091
For traditional American cuisine, look no further than Worthy Kitchen. They specialize in serving farm-to-table meals, so everything you eat is local. Plus, they have a fantastic craft beer selection that pairs nicely with any meal you might order.
They're open only for dinner most of the week but do open for lunch at around 11:30 am on the weekends. Get there early if you want a seat for dinner; they always seem to be pretty busy!

The Daily Catch Woodstock
Location: 61 Central St, Woodstock, VT 05091
New England is known for its fantastic seafood, and you can experience it yourself by visiting The Daily Catch Woodstock. Small, yet mighty, The Daily Catch specializes in seafood staples like calamari and scallops so delectable they practically melt in your mouth!

The staff is known for being incredibly friendly, and the food is delicious. Because the restaurant is small, there is often a wait; just another sign of how great this restaurant really is!
Angkor Wat Restaurant
Location: 61 Pleasant St, Woodstock, VT 05091
Angkor Wat Restaurant is the place to go in Woodstock if you're in the mood for Cambodian or Thai food. This Asian fusion restaurant is super laidback and is open starting in the late afternoon through dinner.
The menu includes everything from crispy pork shank to stir fry sweet and sour chicken. They also have a tasty dessert menu and offer both dine-in as well as carry-out.
Melaza Bistro
Location: 71 Central St, Woodstock, VT 05091
Did somebody say Tapas? Melaza Bistro is one of the best restaurants in Woodstock for Caribbean tapas. Plus, everything on the menu is made from local ingredients, which only adds to the allure of this restaurant.
This bistro has unique menu items like pulled pork chicken chili nachos and coconut shrimp to traditional plates like caesar salad. For a real treat, consider ordering coffee and chili-dusted filet mignon medallions! A kid's menu is available as well, which includes dishes like chicken tenders and buttered pasta.
Mangalitsa
Location: 61 Central St, Woodstock, VT 05091
Italian is what you'll find on the menu at Mangalitsa. Known for its warm ambiance and locally-sourced ingredients, Mangalitsa specializes in hospitality and is a favorite for a romantic night out.

The menu is seasonal and inspired by what local farmers and artisans are producing, with small plates and handcrafted entrees coming to life when accompanied by the craft cocktails that are created specifically for Mangalitsa.

The Prince & The Pauper Restaurant
Location: 24 Elm St, Woodstock, VT 05091
One of the most romantic restaurants in Woodstock is The Prince & The Pauper Restaurant, located in the center of Woodstock Village. This historic restaurant features an antique bar that is absolutely stunning.
Reservations are required, but anyone that has ever eaten at this comfortable fine-dining restaurant will assure you it is well worth the planning in advance to eat there! Save room for the dense, flourless double dark chocolate and peanut butter cake, you won't regret it.
Sushi Yoshi
Location: 1807 Killington Rd, Killington, VT 05751
While technically located in Killington, Sushi Yoshi is only a short drive from Woodstock, making it one of the best places to eat in the area. Sushi Yoshi serves amazing Asian dishes; they also have a hibachi table, so prepare to be entertained during your meal!

The menu is lengthy, as is often expected at a hibachi restaurant. Expect to take a little time at Sushi Yoshi; it's well worth it!

The White Cottage Snack Bar
Location: 863 W Woodstock Rd, Woodstock, VT 05091
Sometimes fast food is just what you're in the mood for. Instead of going to a big brand name's chain, head to The White Cottage Snack Bar, one Woodstock's favorites.
This local joint serves traditional fast food delicacies, like onion rings, burgers, and lobster rolls with Maine lobster.

They're open for both lunch and dinner every day of the week, with ample outdoor seating. This is a classic summer spot!
The Red Rooster
Location: 14 The Green, Woodstock, VT 05091
The Red Rooster is a great restaurant with an elegant vibe in the Woodstock Inn and Resort, one of the best places to stay in Woodstock. The restaurant opens for breakfast and then closes for an hour and a half before opening up again for lunch and dinner.
Whether you're there for the full breakfast buffet or arriving later in the day to sample the artisinal Black Bean and Squash Burger, you're sure to find something to please the palate at The Red Rooster!

Pizza Chef
Location: 450 Woodstock Rd, Woodstock, VT 05091
Everybody loves pizza, and your best bet for pizza in Woodstock is at Pizza Chef. You'll find a great selection of classic pizza and Italian dishes like salads, subs, and more. Cheese and tomato sauce and Italian seasonings… can it get any better than that?

Prices are about what you'd expect, in this fun, comfortable pizza joint.

The Ransom Tavern
Location: 4778 S Rd, South Woodstock, VT 05071
Last but not least is The Ransom Tavern, located in the Kedron Valley Inn. This restaurant features an authentic Italian menu, including signature dishes like salads and pasta.
There's a fantastic wine, craft beer, and signature cocktail menu as well, so finding the perfect beverage to enjoy with your dinner is not a problem at The Ransom Tavern!
Woodstock is filled with great places to eat, so the biggest issue you will likely face during your Woodstock getaway is going to be how to fit all these delicious spots into your trip!
Read these next: