New England is pretty well-known for its lighthouses, and the same can be said of Connecticut. In fact, the lighthouses in Connecticut are some of the best historical landmarks in the state. Plus, they're pretty beautiful, too, especially around sunset!
This post will introduce you to some of the most well-known Connecticut lighthouses to visit. They're located all over the state's coast, and since Connecticut is relatively small, you'll most likely be able to find one that's not too far away!
Keep reading to learn all about the best lighthouses in Connecticut.
Lighthouses in Connecticut
Fayerweather Island Light
The Fayerweather Island Light is one of the most beautiful lighthouses in Connecticut. It's located in Bridgeport and is also referred to as the Black Rock Harbor Light because it overlooks Black Rock Harbor.
The lighthouse opened in 1808 and is made of granite. It stands at around 40 feet tall and is a classic lighthouse; it's white with black on top, and the area it's in is incredibly scenic. Just imagine the photos that you can take while visiting here!
For a lovely time, consider packing a picnic to have right along the water while overlooking the lighthouse. It's a breathtaking view. Keep in mind that if you're not from Bridgeport, you may have to pay a higher fee to park near the lighthouse in the parking lot.
New Haven Harbor Light
Next up is the New Haven Harbor Light. It's located in none other than New Haven and was opened in 1845. Many people also refer to it as the Five Mile Point Lighthouse, so you may hear locals refer to it as that.
It has a similar look to the Fayerweather Island Light, as it's both black and white. However, this one is twice the height as that one, as it stands at 80 feet tall and is located in Lighthouse Point Park.
The lighthouse was in use for 70 years, and even though it's retired, it's still a popular lighthouse to visit in Connecticut. There's quite a bit to do in the area that surrounds the lighthouse, including having fun at the splash pad (perfect for children), riding the carousel, or relaxing and grabbing a refreshment from the concession stand.
Sheffield Island Lighthouse
One of the more unique and non-traditional lighthouses in the state is the Sheffield Island Lighthouse. It's in Norwalk and is built out of a building that has ten different historic rooms filled with old furniture! And before you ask, yes, the house can be toured during specific seasons of the year.
The lighthouse is from the 1860s but was officially restored to keep up with maintenance in the late 1900s. Today, one of the most romantic things to do in Connecticut is to set up a picnic right near the lighthouse and take in the view!
If you happen to be hosting an event in Connecticut, consider booking the building for your gathering. It can be booked for nearly anything and is perfect for a dream fairytale wedding on the coast!
New London Ledge Light
Another of the unique lighthouses like the Sheffield Island Lighthouse is the New London Ledge Lighthouse. It's also built out of a building, but this one is bright red! It's impossible to miss as it's looking out onto the bright blue waters near Groton, Connecticut.
The lighthouse stands at 58 feet high and is one of the newer ones built in 1909. The best time to visit to see the lighthouse is in the summer because that's the only time of year where there are tours offered for visitors that go right up to the lighthouse. Be sure to book one with the Ledge Light Foundation, the lighthouse's official tour company.
You can still look out onto the lighthouse from the coast if you're visiting out of season. There's nothing better than watching the sunrise or the sunset right over the bright red lighthouse!
New London Harbor Light
Believe it or not, but New London actually has multiple lighthouses! This is Connecticut, after all. The New London Harbor Light is one of the more traditional lighthouses in Connecticut, as it's bright white with black on top. This one's rather historic, having been opened in 1760. In fact, this is the oldest lighthouse that the state has to offer.
It's about 90 feet tall and looks out on the Long Island Sound. A short drive from Pequot Point Beach, this is a great place to visit, especially with kids. Many locals refer to the lighthouse as the Pequot Avenue Lighthouse so that it doesn't get confused with the New London Ledge Light.
The grounds where the lighthouse is can be difficult to visit. That's because the area is actually owned privately. However, a walk around the neighborhood can offer you some unobstructed views of the lighthouse if you venture out during the day.
Penfield Reef Light
The Penfield Reef Lighthouse is one of the most beautiful lighthouses in Connecticut. It's right near Fairfield and is from the 1870s. It's in incredibly great shape, located on an island of rocks featuring a distinct square shape.
The best way to see the Penfield Reef Light is to go to Fairfield Beach. From there, you can look out and see it in the distance pretty easily. Consider visiting at sunset (just like with all the other Connecticut lighthouses) to see the gorgeous colors of the sky reflect against the water. The reef that the lighthouse is located on is said to be dangerous, so for now, the best way to see it is from afar.
The lighthouse looks like it's in such excellent condition because it was restored in 2016, so it looks very well-kept and preserved compared to some other lighthouses in the state.
Avery Point Light
Avery Point Lighthouse is in Groton, right on Uconn's Avery Point. It's another newer lighthouse, having been built in the 1940s. It's a beautiful lighthouse that's very light and overlooks the Eastern Point Bay.
Believe it or not, but the lighthouse was actually supposed to be demolished at one point. Luckily, it wasn't and is still available to see today. It stands at 41 feet high and lights up in the evening with a green jolt of color.
If you're looking for a great place in Connecticut to walk along the water, this is it. There's a public parking lot nearby, and you'll be in awe of how great the view is. While you're there, you can also wander around the gorgeous campus if you'd like.
Green's Ledge Light
The Greens Ledge Light is in Norwalk, Connecticut, and is another of the state's historic lighthouses worth seeing. It's considered to be a sparkplug lighthouse (which is now rare) and is made out of cast iron. It was first opened back in 1902 and can still be visited today.
The lighthouse was recently acquired by locals who are working to maintain it and keep it in the best condition possible so it can be visited by generations to come. The best way to see it is from afar, but you can also rent a kayak and go out on the water to see it a bit closer and get more details.
The lighthouse itself is on a rocky island and is red and white color-blocked. It was re-painted in 2021, so it's brighter than ever, as the old red was more of a maroon. It looks like a beacon out in the water!
Latimer Reef Light
Next is the Latimer Reef Light, which is actually up to debate as to whether it's a Connecticut lighthouse or not. Some people say that it's a New York lighthouse. However, it's only a few miles off the Mystic coastline in Fishers Island Sound! So, for the purposes of this article, it's definitely a lighthouse in Connecticut.
It was opened in 1804 and is a classic white lighthouse on a rock island that can be seen in the distance. A maroon stripe runs through it, which helps set it apart from other lighthouses in the area.
This is one of the lighthouses in New England that is not open to the public because it's still in use today by the US Coast Guard. However, it's worth seeing it on a clear day if you happen to be visiting the Mystic area.
Read Next: 11 Best Restaurants in Mystic Connecticut | 13 Best Hotels in Mystic, Connecticut
Saybrook Breakwater Light
One of the most beautiful Connecticut lighthouses is the Saybrook Breakwater Light. It's near Old Saybrook and was built in the 1800s. There's a gorgeous rock landscape that leads right out to it; it's genuinely one of the most picturesque spots in the state.
It's not as easy to get to as some of the other lighthouses in the state, but it's still worth seeing if you have the time. The area it's located in is pretty fancy, and you might get the best view by going out on a boat or a kayak if you can.
If you recognize the lighthouse, that's because it's on one of the state license plates for Connecticut! It's definitely what you think of when you think of a traditional New England lighthouse.
Stratford Point Light
Located on the Mouth of the Housatonic River, Stratford Point Light is private property. Although you can't tour Stratford Point Light, it is worth a look as it is definitely one of the most darling lighthouses in CT! Built in 1881, this forty foot tall tower sits prettily on the coast to this day, painted a bright white with one distinctive red stripe.
Now you know all about the best lighthouses in Connecticut. Hopefully, this post has introduced you to some that you didn't even know about! Enjoy your trip to Connecticut; it's worth seeing at least one lighthouse during your trip.
—
You may also like: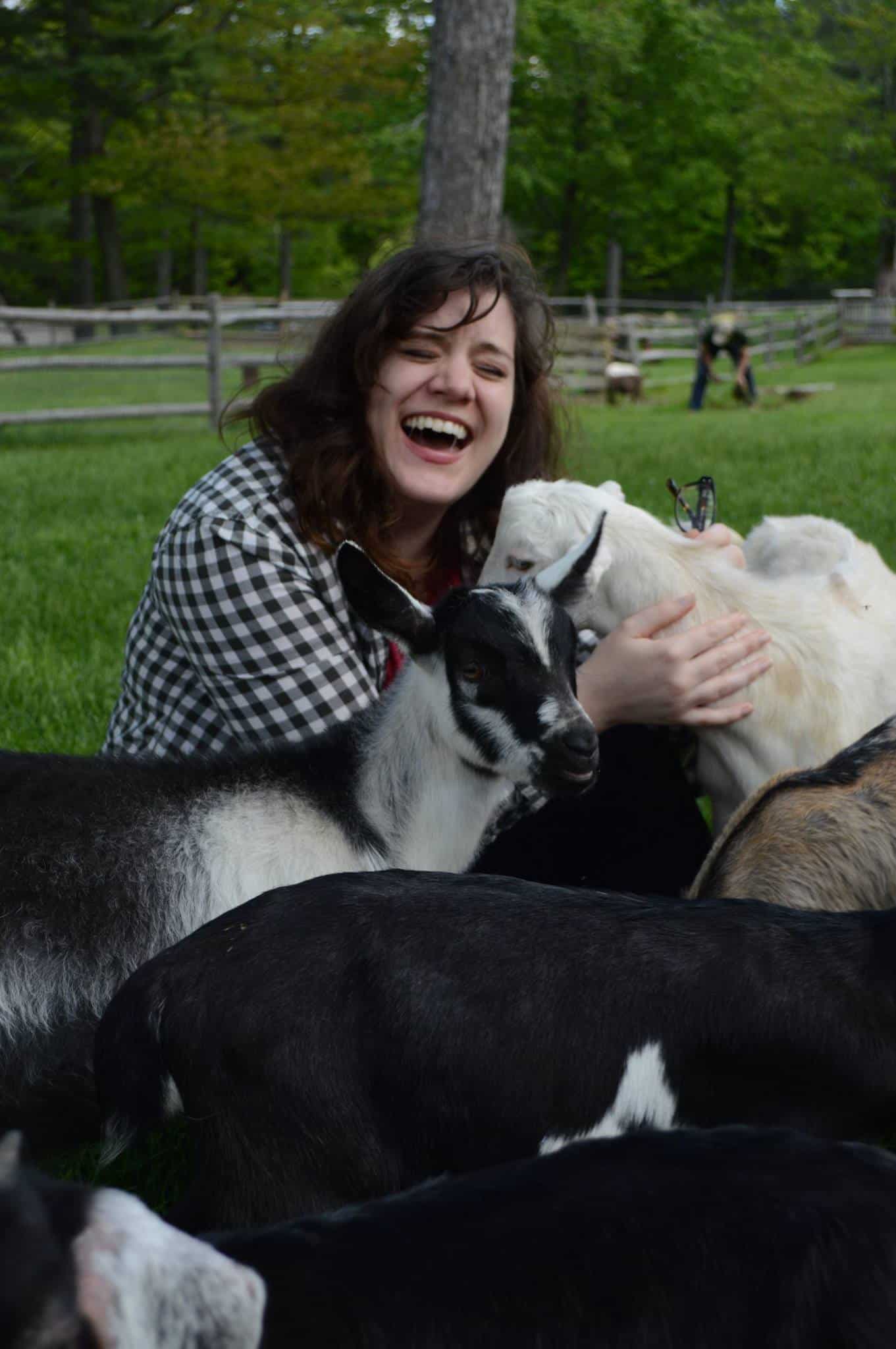 Amy Hartle is the founder and Editor-in-Chief of New England With Love, a comprehensive resource for travel in the New England region. Amy has been exploring New England since 2001. She lived in Vermont for many years and is a graduate of Plymouth State University in New Hampshire. On this site, Amy aims to share her love of New England and help you to have the best possible adventures!
Amy has been writing about travel for over a decade, and is a full time blogger, publishing both Two Drifters and Let's Adventure Baby. When not traveling the world or creating epic blog content, Amy can be found cuddling with her husband, son, and cats, & drinking a maple latte.