From attending local festivals to stargazing, there are so many fun things to do in Glastonbury CT! Whether you've been there before or this is your first time visiting, you're sure to find a fun activity on our list.
The town of Glastonbury, Connecticut is a historic one, dating back to 1636, named after the English town of the same name. It's located right along the beautiful Connecticut River and is a short drive from Hartford, making it the perfect day trip from there. Known for its gorgeous scenery and eclectic food scene, Glastonbury is one place you'll want to visit.
Here are all the best activities in Glastonbury to help you plan your perfect day (or longer trip) there!
Dine at Max Fish
The best place to dine in all of Glastonbury is Max Fish, a luxurious and posh restaurant that serves the tastiest seafood around. New England is fairly well-known and famous for its seafood, and Max Fish is truly the perfect place to try it.
The inside of the restaurant is upscale with an industrial vibe, featuring warm leather seats, lots of big windows for natural lighting, and a bar area that serves as the focal point. There's truly an abundance of seating, so even when it's busy, you won't have to wait too long for a seat.
Their menu features everything from "shark bites" (their list of appetizers) to seafood pasta and everything in between. Prices are in the mid to high range.
Learn at the Webb Deane Stevens Museum
Why not do some learning while in Glastonbury? There are a few museums in the area, but the Webb Deane Stevens Museum is one of the more underrated ones. While there's lots to do there, the must-do activity is to tour some of the 18th-century homes that they have, including the Joseph Webb House and the Isaac Stevens House.
Tours are offered during certain days at pretty specific times, and the hours do change throughout the year, depending on the season. However, prices are generally $15 per adult, with special pricing available for AAA members, active military, seniors, students, and children. There's also a family rate that includes two adults and children.
Stargaze at Glastonbury Planetarium
For people who love learning about astrology, be sure to stop by the Glastonbury Planetarium. The planetarium serves to educate the public through a variety of community events and other educational resources.
The best way to enjoy the planetarium is to visit during one of its public events. These can be found on their website and vary throughout the year. For instance, in the fall, they will normally have the Autumn Equinox, and sometimes a Halloween-themed event called Spooky Space.
During these events, visitors can first spend time learning and then take a tour of the constellations and planets. It's truly a unique experience, and it's fun for all ages!
Take a ride on the Rocky Hill-Glastonbury Ferry
Believe it or not, but the oldest ferry that's still in operation today in the United States is the Rocky Hill-Glastonbury Ferry! You can take a ride on it still to this day. Dating back to the 17th century, this ferry is truly a fun ride for all ages.
The ferry normally has a seasonal opening and is often open just between April and November, and then is closed in the winter months for obvious reasons. It's usually only closed on Thanksgiving, with hours that are fairly long every other day. The cost is just $2 per pedestrian, but you can also bring your vehicle for $5-6, depending on the day.
Check out the ghost town ruins at Gay City State Park
There are some interesting stories of ghost towns in Connecticut, and you can actually find the ruins of one of them in Gay City State Park. The town here was built after some religious fights with the people in the town of Hartford but eventually ended up becoming a ghost town.
There's tons of fun things to do at Gay City State Park. In addition to finding the ruins, you can go camping, hiking, biking, fishing, swimming, and more. There are also tons of picnic spots throughout the park where you can enjoy a meal in nature with a view.
Have a sweet treat at Dee's One Smart Cookie Bakery
One of the best things to do in Glastonbury CT is to satisfy your sweet tooth, so make your way to Dee's One Smart Cookie Bakery, which serves up a variety of gluten-free, allergen-free, and dairy-free treats.
They are most well known for their tasty cupcakes that feature organic ingredients that are non-GMO. Other great treats at the bakery include cakes, bars, squares, cookies, muffins, doughnuts, bagels, and more. They are closed normally on Sunday and Monday, so plan your trip wisely!
If you want something not sweet, don't worry. The bakery also has soup, pasta, pizza, granola, and other non-sweet delicacies.
Rock climb at Central Rock Gym
I know what you're thinking… Rock climbing in Connecticut? But, yes, you can practice your rock climbing skills at the Central Rock Gym! It's the biggest indoor rock climbing place in the entire area, and the walls inside are just covered in spots that you can climb.
One of the things that are so great about this place is that they do have lots of bouldering that you can enjoy if you're a first-time climber. Bouldering is a great introduction to rock climbing, and it doesn't require any type of reservation, so you can decide to go fairly last minute if needed.
Attend the Glastonbury Apple Harvest & Music Festival
There are a few different festivals that are hosted right within Glastonbury, but one of the more interesting ones (that's also fairly well-known is the Glastonbury Apple Harvest & Music Festival. It's normally hosted during October, so it's a great activity for fall in Connecticut.
During this event, visitors can enjoy live music, fun amusement rides, a 5K race, a pub with great drinks, and tons of local food trucks. Even though there are lots of pub drinks, this is still a great activity for children.
Explore Riverfront Park
Riverfront Park is a charming green space where visitors can enjoy the view, walk around, or even host an event. There's tons of fun amenities to enjoy in this area, like basketball courts, baseball fields, boat storage, a dog park, lacrosse fields, a playground, picnic areas… and the list goes on.
For anyone who wants just to enjoy the fresh air during a visit to Glastonbury, this is a great place just to meander around and get outdoors. It's definitely less busy during the weekdays but still beautiful on the weekends.
Camp at River Highlands State Park
Another of the Connecticut state parks in the Glastonbury area is River Highlands State Park. It's a fairly large state park (just shy of 200 acres) and is located right along the Connecticut River, so the views there are impeccable.
For a truly fun time, consider camping at this park, which is one of the park's best activities. There are two campsites there located right along the river which are open between May and the end of September for camping.
Other great places to camp nearby (which are a bit further from Glastonbury but still along the river) include Hurd State Park and Gillette State Park.
Enjoy a pint at Hops on the Hill Farm Brewery
This list wouldn't be complete without including at least one brewery, so consider stopping by Hops on the Hill Farm Brewery. The brewery is in such a tranquil area that's incredibly picturesque. They have a variety of seating both indoors and outdoors.
Throughout the year, they also host many different types of food trucks, ranging from BBQ to sandwich trucks and even hibachi. They also host fun car nights, acoustic nights, and even comedy nights if you're up for a good laugh. It's the perfect place to go on a date in Glastonbury.
Visit Rose's Berry Farm
Last but not least is Rose's Berry Farm, a great spot to go berry picking! This is truly fun for all ages and is a great way to get some fresh produce while actually enjoying the process of picking it yourself.
It's an older farm that opened in the early 20th century. In addition to their berry picking though, the farm is fairly well known for their "Breakfast-With-A-View-Sundays" which take place through early October. During this time, you truly do get to enjoy a tasty breakfast between 8 a.m. and 1 p.m. and then take in the view. Consider going in early fall to enjoy the changing of the leaves, too.
There you have it! There are so many fun things to do in Glastonbury CT, and no matter what you do, you'll truly have a great time.
---
You might also like: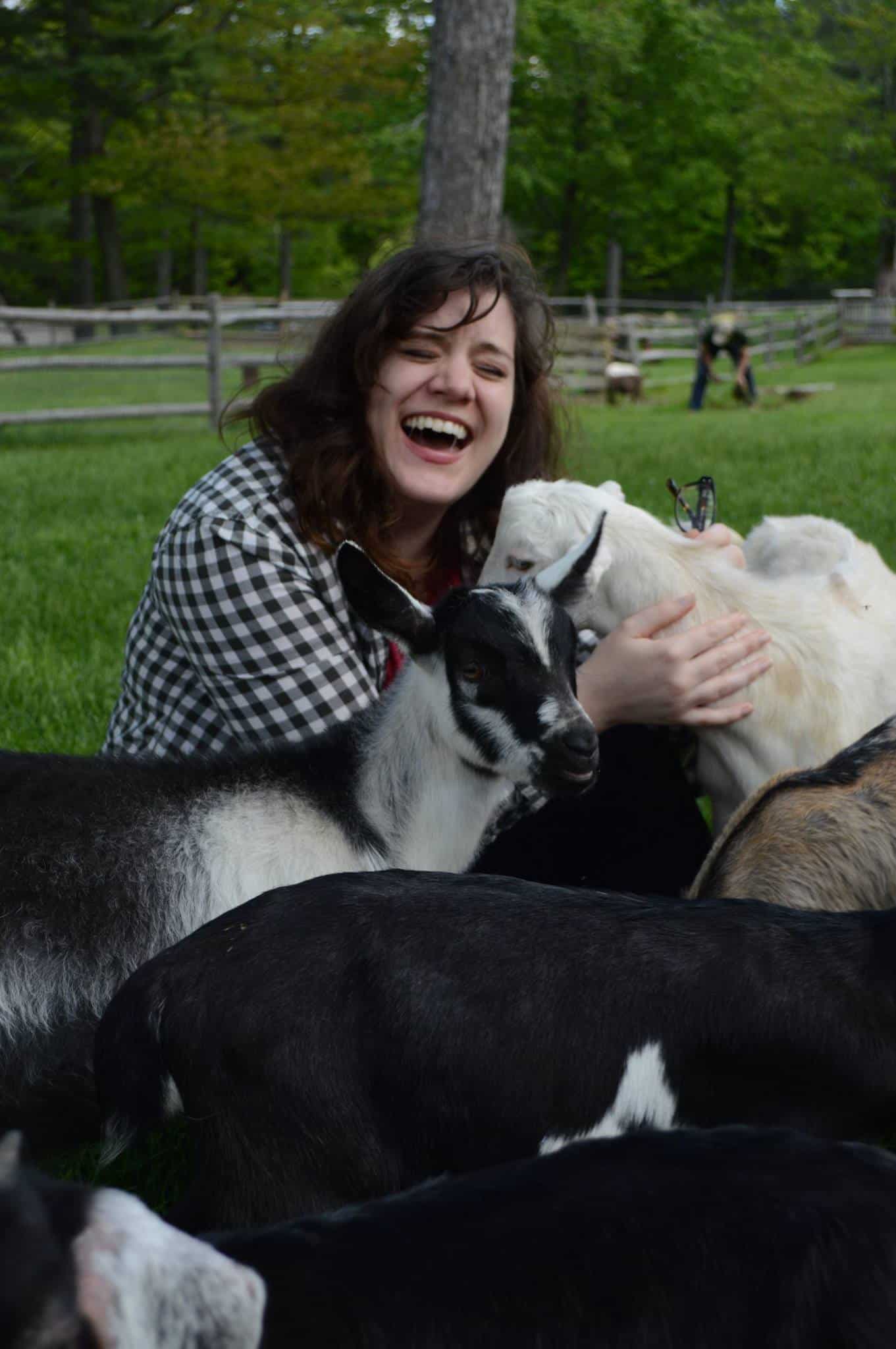 Amy Hartle is the founder and Editor-in-Chief of New England With Love, a comprehensive resource for travel in the New England region. Amy has been exploring New England since 2001. She lived in Vermont for many years and is a graduate of Plymouth State University in New Hampshire. Amy has been writing about travel for over a decade. On this site, Amy aims to share her love of New England and help you to have the best possible adventures!
Amy has been a full time blogger since 2012, and is also the publisher of Two Drifters, where she writes about couples travel and relationships, as well as Let's Adventure Baby, a family travel site. When not traveling the world or creating epic blog content, Amy can be found cuddling with her husband, son, and cats, & drinking a maple latte.