Are you looking for fun winter in Connecticut vacation ideas? The Nutmeg State has a ton of awesome options for winter fun, including ways to be active and have fun in the snow, ways to relax and stay comfy cozy indoors, and everything in between; there are so many ways for you to enjoy a fantastic winter in Connecticut!
PS if you're looking for current happenings like things to do in Connecticut this weekend or what to do in Connecticut today, be sure to check out this Connecticut events calendar to see what's happening during your visit!
Winter in Connecticut Vacation Ideas
Attend an Annual CT Winter Event
Winter in Connecticut sees a lot of fun annual events across the state! Welcome in the New Year with Hartford's First Night Celebration, beginning on the afternoon of December 31 and continuing through midnight with live entertainment, art exhibits, tasty treats, and a scavenger hunt style walk through downtown Hartford, with a final culmination of fireworks at Bushnell Park at midnight. Hartford is full of cool things to do (and awesome breweries) so choosing to ring in the New Year in Connecticut's capital city is a pretty safe bet when you're looking for great CT winter fun!
Plan to have a dinner at Cava Restaurant in Southington, one of the best restaurants in CT, to ooh and ahh at their magnificent holiday decorations. They go all in every year for their mesmerizing Winter Spectacular, featuring new and unique themes each year that utilize over 150,000 lights! It's truly something that has to be seen to be believed, so plan a winter Connecticut dinner date before February 1st to see it for yourself.
Head to Lyman Orchards in Middlefield for their Dazzling Liffe Lantern Festival, open through January 31st and featuring a magical one mile walk through lighted wonderland of lanterns and displays.
In New Britain on select evenings December through February, you'll find the Walnut Hill Jazz Series at the New Britain Museum of American Art. Live jazz and libations make these intimate art events a Connecticut winter favorite; New Britain is home to one of the best breweries in New England, too!
Get Out in the Connecticut Snow
Connecticut does get snow during the winter, especially in the Northwest corner of the state. In addition to the snow that falls naturally from the skies, Connecticut's most popular ski areas all feature great snowmaking potential, so there's plenty to play in! There are multiple ski areas and resorts to choose from, with Ski Sundown being a strong favorite with a variety of trails and terrain parks on 70 skiable acres with excellent grooming and snowmaking capabilities. Plus, its close proximity to Hartford makes Ski Sundown an even more attractive option!
You'll also find snow tubing and sledding options around the state, like at Powder Ridge Mountain Park and Resort in Middlefield, another favorite ski spot in CT. Powder Ridge even offers ski biking, which is basically exactly what it sounds like if you're not familiar! If you're looking for even more Connecticut winter fun, you can also check out the ice climbing opportunities with Ascent Climbing.
There are lots of great options for getting out to play in the snow during your Connecticut winter vacation!
Rest and Rejuvenate in a CT Winter
Are you looking forward to a quiet and calm winter in Connecticut? There are several places that fit the bill. One of the best bets for tranquility is to look for areas that are favorite warm-weather destinations and take advantage of "off-season" prices of a hotel in a town on the coast, like Gold Coast's Greenwich.
There are lots of great things to do in Greenwich, but during the winter season, Greenwich Point Park's beachfront goes from a crowded, fight-for-your-space spot to a tranquil place to enjoy the sounds of the winter waves; Tod's Point is considered one of the most beautiful spots in the state. Plus, rooms at the luxurious Delamar Hotel, one of the most gorgeous hotels in New England, are a little easier on the pocketbook in the winter months, too! The onsite restaurants, entertainment, and spa make the Delamar a one-stop-shop vacation destination.
Click Here to Check Prices & Book the Delamar
Another option for a restful winter getaway is to head to Connecticut's Quiet Corner, specifically to the quaint little town of Woodstock. One of the best places to visit in CT, Woodstock is the perfect spot for a tranquil winter getaway. The Inn at Woodstock Hill offers comfy cozy rooms, many with fireplaces, for the perfect spot to cuddle up and shelter from the winter weather outside; add in a phenomenal onsite restaurant and a gourmet breakfast, you'll feel like you're pampered in all the best ways.
Click Here to Check Prices & Book The Inn at Woodstock Hill
Take a Romantic Winter Connecticut Getaway
If it's a romantic getaway you have in mind, you're in luck because Connecticut in winter is the perfect setting for romance! All across the state are dreamy bed and breakfasts that offer sweetness, charm, and of course, fantastic breakfasts. Take, for example, Manor House Inn in Norfolk. Not only is this incredible property a throwback to Gilded Age grandeur, but it also delivers big on warmth and charm, with 5-acres of beautifully manicured grounds to enjoy, and a fantastic location in charming Litchfield Hills, where you can take in a show at the historic Infinity Music Hall in Norfolk.
Click Here to Check Prices & Book Manor House Inn!
If you'd like a romantic getaway with a view, look no further than Saybrook Point Resort and Marina. Spectacular views of the Long Island Sound can be easily arranged in this gorgeous hotel, and the onsite restaurant and spectacular spa services only serve to add to the sheer perfection of this sweet romantic getaway spot! They also host an incredible New Years Eve party, if you and yours are looking to ring in the new year together on your romantic vacation; the sweet little town of Old Saybrook has plenty to keep you busy, too!
Click Here to Check Prices & Book Saybrook Point Resort!
Enjoy Connecticut Christmas Charm
If your winter in Connecticut vacation ends up overlapping with the holiday season, you're in luck because Christmas in Connecticut is full of fantastic things to do and see! Mystic has so many awesome things to do year-round, but during Christmas, you'll find great events like the Festival of Lights at Olde Mystick Village, the Ghosts of Christmas Past Strolls, the Mystic Lighted Boat Parade, and so much more! There are also lots of great places to stay in this cute waterfront town.
Plus, Hallmark has filmed a couple of their Christmas movies in Mystic, so watch "Holiday for Heroes" and "A Very Nutty Christmas" to see if you recognize anything during your Mystic winter getaway; it is a quintessential Hallmark Christmas movie town!
The Litchfield Hills region of Connecticut is always a safe bet when it comes to Christmas charm and cute small town Christmassy things to do. Visit Torrington to meet Santa at the Christmas Village and sip hot chocolate with his elves, or go shopping in downtown Kent and enjoy sweet small-town boutique shopping with a little bubbly during their Annual Holiday Champagne Stroll. Plus, Litchfield Hills is full of fun things to do, so it's always a great choice for a CT getaway.
Cozy Up in a Charming CT Winter Cabin
Connecticut is full of neat vacation rentals, including charming cabins, lakefront cottages, and even interesting treehouses for exceptionally unique stays. There's The Little Lake Cabin in New Fairfield, the perfect spot to get away from it all during your winter in Connecticut. Toast marshmallows in the fire pit outside before heading to the outdoor hot tub to warm up a bit!
If you're looking for something with a fireplace, there are a ton of options for that, too! Check out this A-Frame Cottage off Candlewood Lake in New Milford. Not only does this adorable A-frame offer lovely views of Candlewood Lake, but there's nothing cozier than watching the snow come down outside as you're snuggled up toasty warm next to the crackling fireplace. You're also near Lovers Leap State Park, one of Connecticut's coolest state parks, too!
There are so many great ways to enjoy your next winter in Connecticut; wherever you end up in the Nutmeg State, enjoy your winter getaway!
Read these next: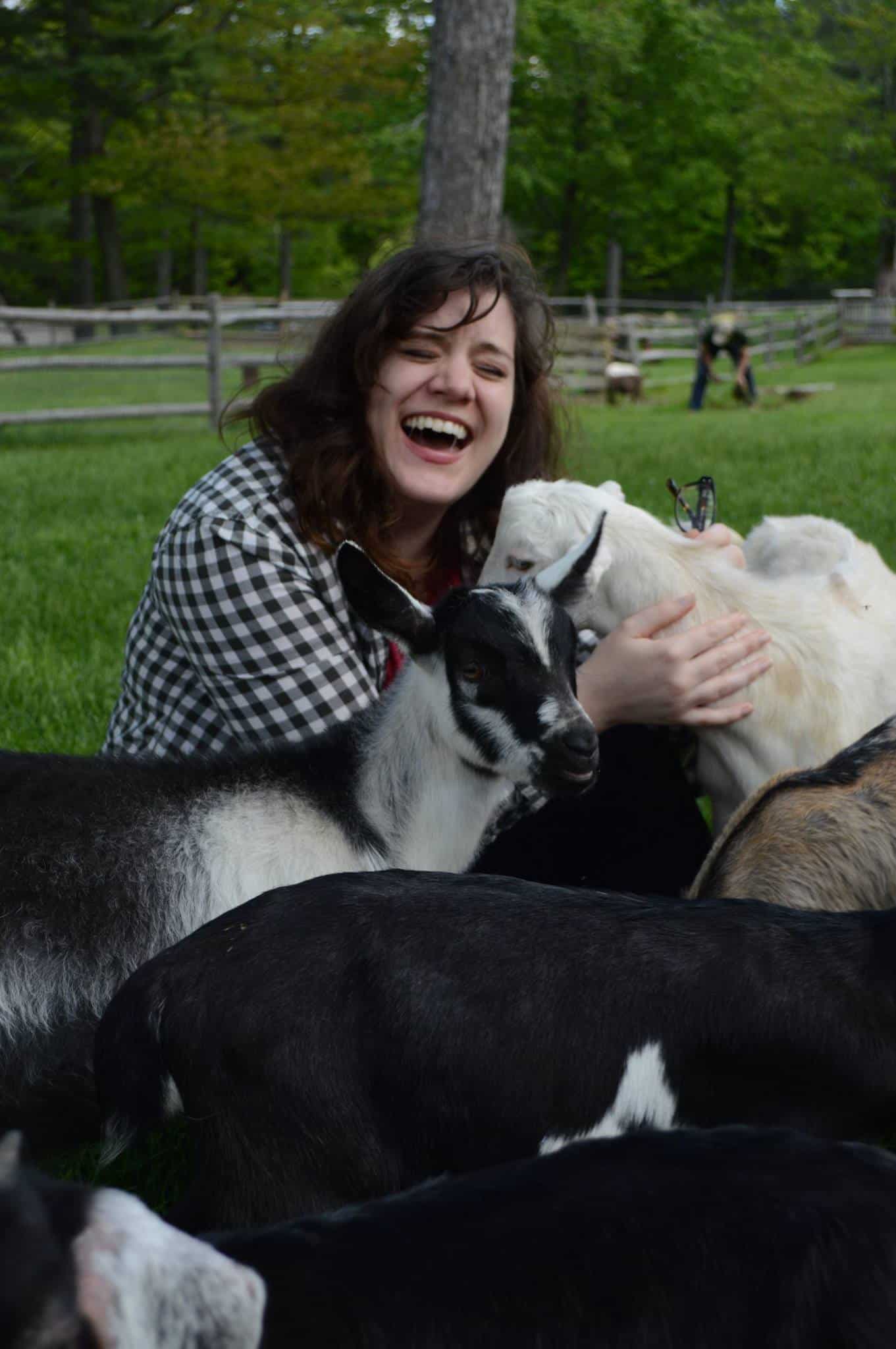 Amy Hartle is the founder and Editor-in-Chief of New England With Love, a comprehensive resource for travel in the New England region. Amy has been exploring New England since 2001. She lived in Vermont for many years and is a graduate of Plymouth State University in New Hampshire. On this site, Amy aims to share her love of New England and help you to have the best possible adventures!
Amy has been writing about travel for over a decade, and is a full time blogger, publishing both Two Drifters and Let's Adventure Baby. When not traveling the world or creating epic blog content, Amy can be found cuddling with her husband, son, and cats, & drinking a maple latte.