---
*Links in this article may be affiliate links, from which we may earn commission. See our
Privacy Policy
for full details.
---
You may be surprised to learn that Connecticut is a great vacation destination, but the state is home to several must-see locations and an endless amount of things to do. Connecticut's lakes provide a place to spend the day on a boat or in the water, have a relaxing lakeside picnic, or even just take in the beautiful scenery Connecticut has to offer. Here are some of the best lakes in Connecticut to keep in mind during your travels.
Candlewood Lake
First up on our list is Candlewood Lake, the largest and most popular of Connecticut's lakes. Located in western Connecticut, this lake spans 8.5 square miles (5,420 acres) and features 12 islands. Camping is unfortunately prohibited at Candlewood Lake, but the long list of activities that are permitted more than makes up for this drawback.
Fishing, boating, water skiing, wakeboarding, and several other water sports are popular activities on the lake, while those who prefer to stay out of the water can go hiking, play golf, or try geocaching. Candlewood Lake's waterfront restaurant, Down the Hatch, boasts beautiful views from its outdoor seating.
Within swimming distance of Green Island is one of the lake's best-known spots: Chicken Rock, which allows visitors to jump into or swing over the water from 25 feet up.
Thanks to the old village of Jerusalem that lies under the water, scuba diving is another popular activity at Candlewood Lake. According to their website, crashed airplanes, farm equipment, and large structures can be seen in Candlewood Lake when diving.
Candlewood Lake is bordered by 5 towns– Danbury, New Milford, Brookfield, Sherman, and New Fairfield– so there are several places near the lake to keep you busy as well.
Crystal Lake
Formerly known as Wabbaquasset Lake ("place where cattails grow") by the Nipmuc Indians, the 187 acres of Crystal Lake can be found in the towns of Ellington and Stafford in northern Connecticut. While the local village of the same name is purely residential, Crystal Lake is open to the public for various outdoor activities.
Sandy Beach is the lake's most popular area for swimming, fishing, sailing, and boating. In the winter, visitors to Crystal Lake enjoy ice fishing, hockey, and skating.
Birds and other wildlife can be seen around the lake and throughout the surrounding forests as well, making Crystal Lake an even more beautiful place to take pictures.
Lake Waramaug
Within the 95-acre Lake Waramaug State Park lies the eponymous lake in Connecticut's town of Kent. Lake Waramaug is the second largest natural freshwater lake in the state, spanning 656 acres. Visitors can participate in typical water activities such as fishing, swimming, and scuba diving.
Canoes and kayaks can be rented by the hour or for the day as well. Or, if you prefer to stay out of the water, mountain biking, hiking, and field sports are common around the lake. Camping is also available via the state park, with more than 70 sites, found in both wooded areas and more open settings.
Lake Waramaug is best known for its natural beauty, especially during the fall months, when the trees' multicolored leaves reflect on the surface of the still, quiet water. The prohibition of motorized boats makes Lake Waramaug the perfect place to relax and enjoy the calming sights and sounds of nature. It's easy to see why Lake Waramaug was featured in the book 1000 Places to See Before You Die.
Gardner Lake
If you're looking to visit multiple state parks in Connecticut, look no further– Gardner Lake can be found in three state parks, all of which are within a few miles of each other.
At the lake's south end lies the small but charming Gardner Lake State Park in Salem, Connecticut. Gardner Lake State Park features a dock for fishing, a boat launch, and a beach with an area for swimming.
Northeast of Gardner Lake lies the slightly bigger Hopemead State Park, found in the towns of Bozrah and Montville.
Finally, as its name suggests, Minnie Island State Park is located within Gardner Lake, accessible only by boat. This park is less than 1 acre in size, making it Connecticut's smallest state park. With no facilities, Minnie Island State Park is often deserted. However, its relative privacy occasionally attracts visitors interested in picnicking or fishing on the island.
The Bolton Lakes
Although this one actually consists of three separate lakes, their close proximity leads to the bodies of water being known collectively as the Bolton Lakes. Separately, the lakes are simply called the Lower, Middle, and Upper Bolton Lakes.
The biggest and most popular of these three is Lower Bolton Lake at 175 acres, followed by Middle Bolton Lake at 121 acres and Upper Bolton Lake at 50 acres. Additionally, Bolton Notch Pond can be found roughly a mile south of Lower Bolton Lake, near both Freja Park and Bolton Notch State Park.
The Bolton Lakes feature a boat launch and a public beach, and the nearby parks provide miles of trails for hiking and mountain biking. On the eastern side of Lower Bolton Lake is Indian Notch Park, which includes a basketball court, baseball field, picnic areas, grills, and a fresh food market during the summer.
The Bolton Lakes are popular locations for swimming and boating, as well as year-round fishing. Bolton's motto is "a town for all seasons," and after a visit to these beautiful lakes, it'll be easy to see why!
Lake Lillinonah
Lake Lillinonah is Connecticut's second largest lake at 1900 acres. Identified by their website as "one of Connecticut's premier fishing lakes," Lake Lillinonah hosts fishing tournaments each summer at the lake's Steel Bridge. Boating, picnicking, and hiking are also popular activities around the lake.
The lake has its own bald eagle observation area, highlighting the most popular feature of Lake Lillinonah: its wildlife. The nearby George C. Waldo State Park is a great spot for hunting and horseback riding, and the Upper Paugussett State Forest features hiking and mountain biking trails as well as even more spots for fishing and boating.
If you have the time, definitely check out Lovers Leap State Park, which provides visitors with a beautiful view of Lake Lillinonah from one of its scenic hiking trails.
Mashapaug Lake
Located in northeastern Connecticut, Mashapaug Lake is another popular spot for year-round fishing. Around the lake you can find both Nipmuck State Forest and Bigelow Hollow State Park in the surrounding town of Union. Nipmuck State Forest is host to snowmobiling trails and ice fishing in the winter months, while boating and swimming are common in warmer weather.
Combined, the forest and Bigelow Hollow State Park contain over 30 miles of hiking trails, so be sure to bring a map and compass!
Hop Brook Lake
The 553-acre Hop Brook Lake in the towns of Waterbury, Middlebury, and Naugatuck draws visitors from all around with its abundance of natural wildlife. Hop Brook Lake contains a 21-acre recreational pool where swimming and water sports take place, as well as a beach, picnic areas and grills, athletic fields, and 7 miles of hiking trails.
It's also a popular place for fishing, especially trout. Hop Brook Lake is host to several volunteer programs and nature-related activities as well, including ranger education and dam tours.
Deer, beavers, hawks, squirrels, turkey, chipmunks, and many other animals and birds call Hop Brook Lake home. The lake permits motorless boats only, making it the perfect spot for a peaceful walk through the woods or a serene picnic in the park.
Bantam Lake
Only 14 miles separate the aforementioned Lake Waramaug from the next item on our list, Bantam Lake. Located in Morris and Litchfield, Bantam Lake is the largest natural lake in the state of Connecticut and is home to the country's oldest water skiing club.
A few miles west of Bantam Lake is Mount Tom State Park, and just south of the lake lies Camp Columbia State Park and Forest. Two beaches, Morris Town Beach and Sandy Beach, can also be found at Bantam Lake. Several fishing tournaments take place at Bantam Lake each year. Camping, bird watching, and boating are also among Bantam Lake visitors' favorite activities.
Mansfield Hollow Lake
Last but certainly not least is Mansfield Hollow Lake, a "hidden gem" in the towns of Windham and Mansfield. The lake lies in Mansfield Hollow State Park, offering over 4 miles of trails for hiking, mountain biking, and cross-country skiing.
Fishing, boating, and water sports are popular lake activities, although swimming is not permitted. Mansfield Hollow Lake is also surrounded by mountain biking and horseback riding trails.
All of these lakes are worth a visit! Have you been to any of these Connecticut lakes?
---
You might also like:
---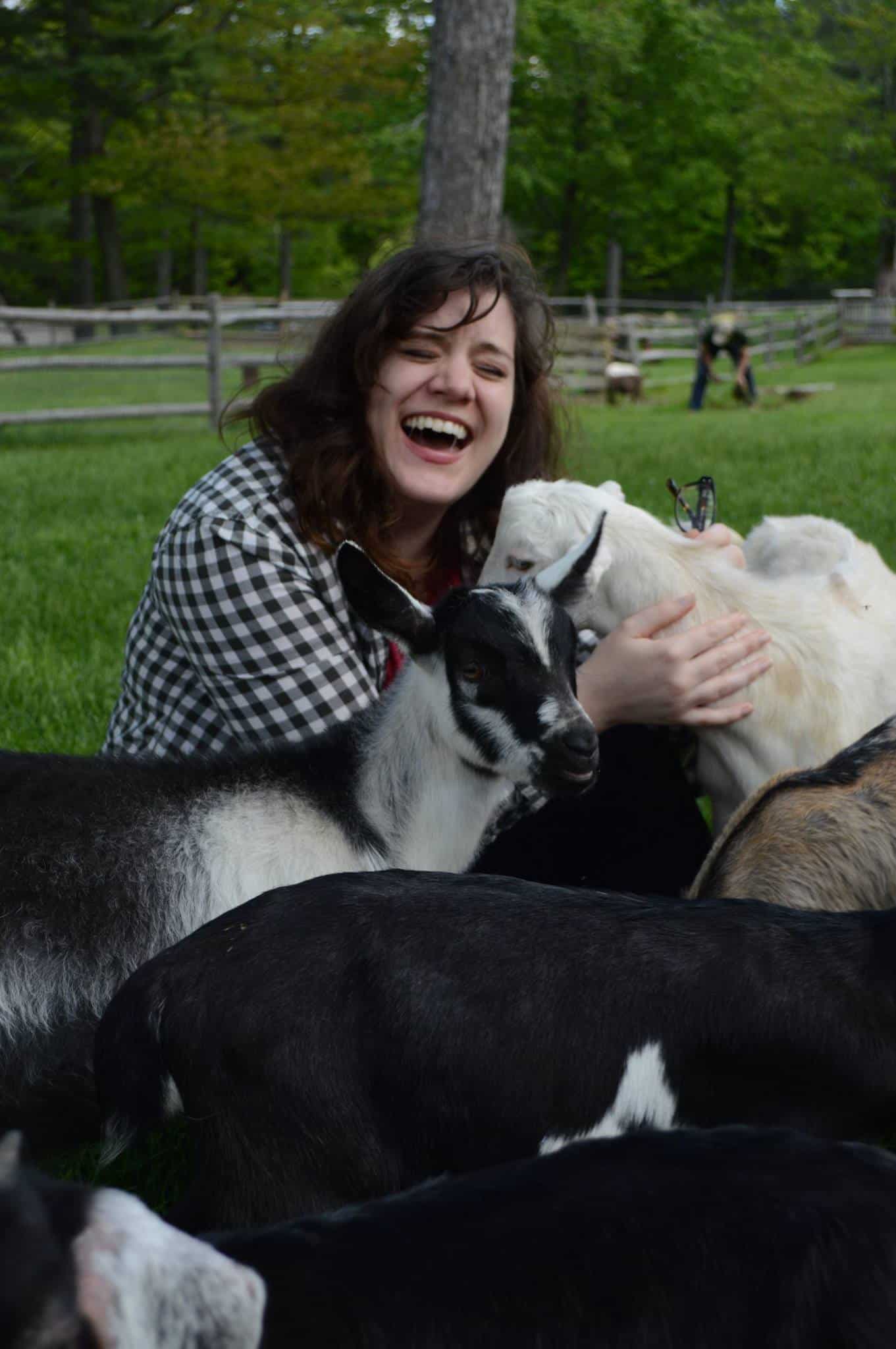 Amy Hartle is the owner and editor of New England With Love, a comprehensive resource for travel in the New England region. Amy lived in Vermont for 15 years, attended Plymouth State University in New Hampshire, and continues to travel regularly around the entire New England region. On this site, Amy aims to share her love of New England and help you to have the best possible adventures!
Amy has been a full time blogger since 2012, and is also the publisher of Two Drifters, where she writes about couples travel and relationships, as well as Let's Adventure Baby, a family travel site. When not traveling the world or creating epic blog content, Amy can be found cuddling with her husband, son, and cats, & drinking a maple latte.