Waterbury, Connecticut, also known as the Brass City, is a lively city to visit filled with history. With a population of just over 100,000 people, this city is one of the bigger ones in the state, so there are tons of things to do in Waterbury, Connecticut.
It's filled with tons of great outdoor and indoor activities, so whether you're an adventurous traveler or you prefer staying inside and visiting more cultural and educational attractions, you'll find something great to do in Waterbury.
Below, learn all about the best things to do in Waterbury, Connecticut!
See a show at The Palace Theater
First up is The Palace Theater, a historic theater in Connecticut that opened in the 1920s. Since it first opened, it quickly became a go-to place for those who want to see some sort of performance, and people will even travel from other nearby states just to check it out.
The theater is quite quaint inside, which is perfect for more intimate performances versus those that you might see if you're at an off-Broadway theater in Boston. Plus, the architecture of the theater is absolutely magnificent, and it's built in a Renaissance style.
They have different performances throughout the year, so be sure to check online to see what may be playing during your visit. Be sure to purchase tickets ahead of time, especially if it's for a popular performance!
Learn at Mattatuck Museum Arts and History Center
Take some time to learn more about the history of the city at the Mattatuck Museum Arts and History Center, one of the best things to do in Waterbury. Not only does this museum extensively cover Waterbury, but it also covers the Central Naugatuck Valley.
Throughout the museum, there are exhibits about art, history, and more. This is the perfect place to go if you want to take the time to educate yourself about where you are visiting. This is always one of the best things to do when visiting an area, especially for the first time.
The museum was founded back in the 1870s and has been a staple to the area ever since. Visit in the afternoon to avoid the crowds because this place is the busiest right in the morning.
Swim at Hop Brook Lake
Hop Brook Lake is a giant body of water in Connecticut's New Haven County. It's right by Waterbury and is super easy to get to from the downtown area. This area is perfect for outdoor recreation, especially if you want to cool off on a hot summer's day.
In addition to swimming, Hop Brook Lake is filled with tons of other fun things to do in Waterbury, Connecticut. There are spots for outdoor picnics, fields where you can play sports if you'd like, and even just areas that you can walk right along the water to take in the view.
Relax in Library Park
Head to Library Park in Waterbury to relax and stroll around in a green space. Sometimes it's great just to get some fresh air, and this is one of the best spots to do it in Waterbury. Historically, the park first opened back in the 1890s and has changed a lot over the years.
While it's not the largest park out there, it's beautiful to get some peace and tranquility. Walk around the path, stop by the rotunda, and enjoy the serenity. Library Park also hosts many different festivals and celebrations throughout the year as it's a popular meeting place for the town.
Tour Fascia's Chocolates
Who doesn't love some delicious chocolate? Head to Fascia's Chocolates, a local favorite in Waterbury. Touring Fascia's Chocolates is easily one of the best things to do in Waterbury because the chocolate is absolutely delectable!
The tours are called the "full chocolate experience" and include everything you'll want to know about the chocolate-making process at Fascia's. Plus, you can pay an extra $5 if you want to make your own chocolate bar too, which is highly recommended. Tours are about an hour long, and the times of the tour change depending on the time of year.
Visit the Harrub Pilgrim Memorial
The Harrub Pilgrim Memorial is one of the more historical spots to visit in Waterbury. This memorial was created to honor Rhoby Harrub as well as the Pilgrims. It was built back in the 1930s, and due to its size, it's pretty hard to miss it.
The memorial was created by Herman Atkins MacNeil and was carved right into a 175-ton piece of French granite. Once you check out the monument, it's also worth walking around to check out some of the other memorials and monuments in the area. One of the ones nearby is dedicated to those who initially settled in Waterbury in the 1600s.
Go to a minor league game at Municipal Stadium
Want an evening or day out supporting locals? Go to the Waterbury Municipal Stadium in Waterbury. It has a somewhat unique setup compared to other baseball stadiums that you've been to because it was initially created as a dog track back in the 1930s.
The stadium is actually massive, though, and can hold about 6000 people. Local teams play here a lot, especially minor league teams, so stop by the stadium to watch some ball! This is perfect if you're traveling to Waterbury as a family.
See the clock tower at Union Station
Visiting the Union Station is one of the best things to do in Waterbury, Connecticut. It's a historic building and tower that was first built in the early 1900s, and the tower portion of it stands at just shy of 250 feet.
The clock tower itself is said to be one of the most iconic landmarks to see in Waterbury, so you won't want to miss it. It's located right across the street from Library Park, so you could easily check out both of these landmarks in the same afternoon. Because of its height, it's impossible to miss it.
Eat a hot dog from Frankies Hot Dogs
I know what you're thinking… eating a hot dog is one of the best things to do in Waterbury, Connecticut? The answer: yes, it truly is. Frankie's Hot Dogs was founded in Waterbury, so it's a local favorite that has since become pretty popular. It was opened in the 1930s and is run by a local family.
They have a few different locations across Connecticut, but of course, there's three right in Waterbury. The menu consists of their famous Frankies in addition to seafood, sandwiches, sides, and drinks. They also have a separate menu just for kids.
Attend the Waterbury Symphony Orchestra
Are you a music fan? Then head to see the Waterbury Symphony Orchestra to catch a show, one of the best things to do in Waterbury, Connecticut. This amazing orchestra was founded back in the 1930s, and the music that they perform is absolutely incredible.
The Waterbury Symphony Orchestra travels quite a bit and performs a lot throughout the northwestern part of Connecticut. They have different events throughout the year, which dictates where exactly they'll be, so be sure to check them out online to reserve tickets ahead of time and check the event schedule.
Have a blast at Laser Planet
The perfect place to act like a kid again is Laser Planet! It's located in Sunbeam Park in Waterbury, and you can play laser tag there. Plus, it's inside, so if it happens to be dreary weather during your visit, this is the perfect thing to do.
Laser Planet is best for kids over the age of thirteen as well as adults. If you're looking for the perfect place to host a celebration or even a birthday, Laser Planet does that as well. This place is incredible!
Stay for more than one game to save some money per game. One game is $8, while three games is $20. They also have specials occasionally running, which include three games of laser tag in addition to access to their VR or even UFO Bumper Cars.
Rollerskate at the Roller Magic
Have a retro time by going roller skating at Roller Magic! This roller skating rink has a wooden rink area and often even has a DJ playing so you can have even more fun out there. Don't worry about bringing your own roller blades, you can rent them right at Roller Magic.
They have a public schedule when everyone can come and skate. Plus, they host special events throughout the year, which can make your skating experience even more fun. Even if you've never been skating before, you'll absolutely love roller skating to the music at Roller Magic!
There are so many amazing things to do in Waterbury. Plus, since it's a great place to visit no matter the time of year, you're guaranteed to have a truly unforgettable experience.
---
You might also like:
---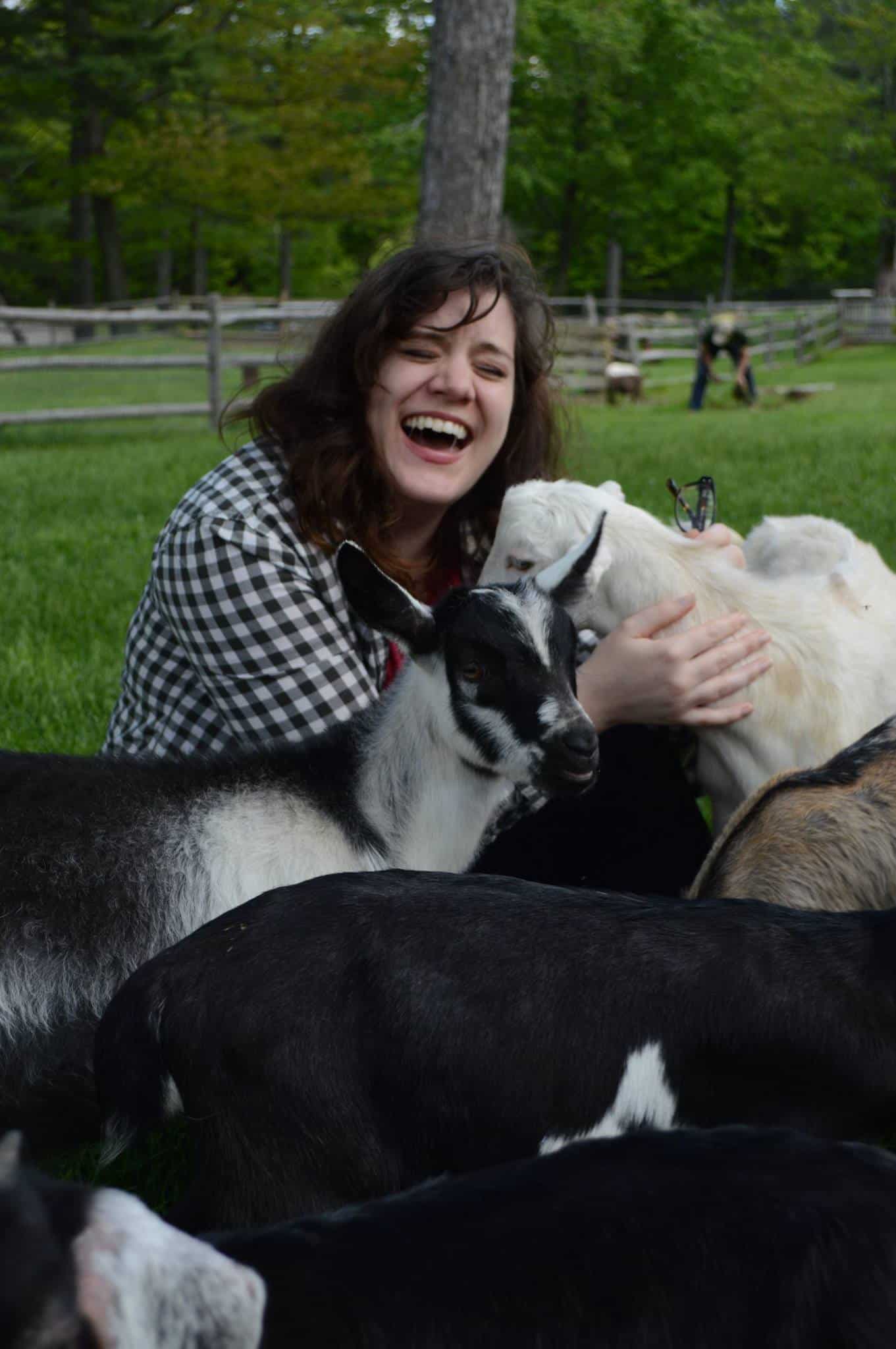 Amy Hartle is the founder and Editor-in-Chief of New England With Love, a comprehensive resource for travel in the New England region. Amy has been exploring New England since 2001. She lived in Vermont for many years and is a graduate of Plymouth State University in New Hampshire. On this site, Amy aims to share her love of New England and help you to have the best possible adventures!
Amy has been writing about travel for over a decade, and is a full time blogger, publishing both Two Drifters and Let's Adventure Baby. When not traveling the world or creating epic blog content, Amy can be found cuddling with her husband, son, and cats, & drinking a maple latte.